10 Best Glycolic Acid Lotions – 2022
Get spotless, clean skin by removing excess sebum and dirt from your face.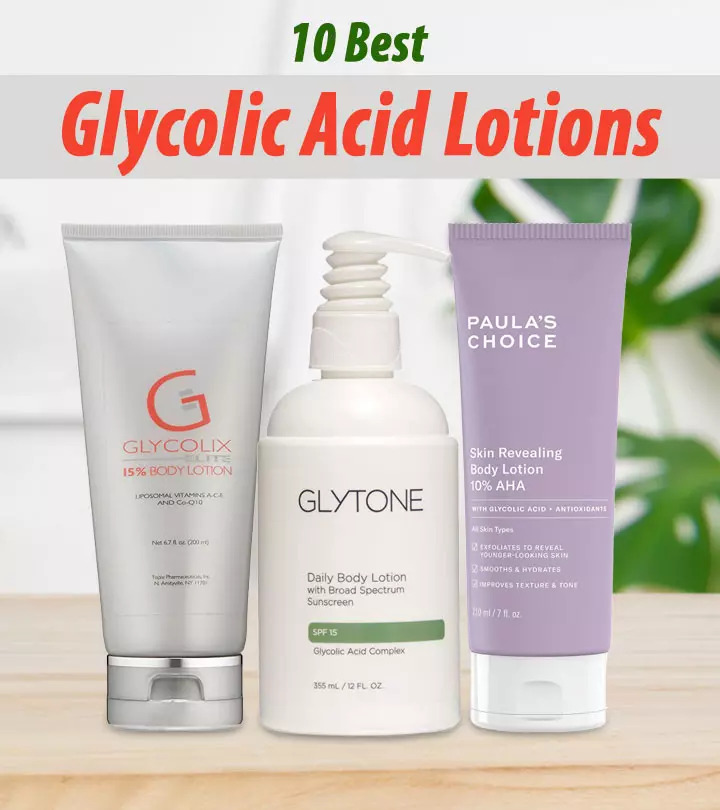 The best glycolic acid lotion can keep your skin smooth, soft, shiny, and young. Glycolic acid lotion deeply penetrates the layers of your skin, removing excess sebum, dirt, and helping to unclog your pores. It also promotes the production of collagen, which keeps your skin firm and slows down the process of aging. If you haven't bought one, take a look at our list of the top glycolic acid lotions you should purchase. Scroll down for more information!
10 Best Glycolic Acid Lotions – 2022
Alpha Skin Care Renewal Body Lotion is a moisturizing lotion for all skin types. This body lotion has a pH of 4.0 and claims to promote a healthy, radiant, and even skin tone. It is an excellent option for skin issues like wrinkles and fine lines. This anti-aging lotion contains 12% glycolic acid that relieves dry skin, leaving your skin soft and smooth. The natural ingredients like sugar cane, vitamins, and minerals in this lotion boost collagen production to moisturize and soothe your skin.
Pros
Suitable for all skin types
Reduces the appearance of fine lines and wrinkles
Natural ingredients
Moisturizes theskin
Cruelty-free
Fragrance-free
Paraben-free
Cons
GLYTONE Exfoliating Body Lotion is the best lotion for keratosis pilaris and dry skin. This rich moisturizing lotion is packed with 17.5% glycolic acid to exfoliate dead skin cells and treat rough bumps and dry patches. The high concentration of glycolic acid in this lotion helps rejuvenate and retexturize the skin. It improves your skin texture to reveal youthfuland radiant skin. It is great for treating skin conditions like scaly plaques, red bumps, cracked heels, rough, elbows, and bumpy skin on the knees.
Pros
Treatskin conditions like keratosis pilaris
Reduces dryness
Fragrance-free
Smoothens rough bumps and dry patches
Non-comedogenic
Spreads easily
Suitable for dry skin
Cons
Not suitable for sensitive skin
The pump might not work properly
Glytone Rejuvenating Lotion is specially formulated for oily skin. It is the most powerful lotion in this range with its 20 free acid value of glycolic acid. This rejuvenating lotion increases cell turnover and reduces fine lines and wrinkles. It is a lightweight and oil-free lotion with a mattifying formula that hydrates, exfoliates, and smoothens the skin. The microcapsules in this lotion keep your skin fresh and shine-free.
Pros
Reduce fine lines and wrinkles
Even out the skin tone
Treatacne
Lightweight
Oil-free formula
Great for photodamaged skin
Suitable for oily skin
Cons
None
Planet Eden Gly-Lactic Exfoliating Lotion is an excellent product for mature and sensitive skin. It contains a blend of 10% glycolic acid and 10% lactic acid for the rapid exfoliation of dead skin. This lotion brightens dull skin, lightens skin damage caused by sun exposure, tightens pores, and increases collagen production for wrinkle reduction. It is infused with natural ingredients like papaya, sugar cane, and pineapple extracts for more exfoliation and hyaluronic acid for superior moisturization.
Pros
Reduces fine lines and wrinkles
Reduces dark spots and dullness
Intensely moisturizing
Treats damaged skin
Silicone-free
Cruelty-free
Natural vanilla fragrance
Natural ingredients
Cons
Perfect Image Gly + Sal Exfoliating Body Lotion is an ultra-light lotion that softens sun-damaged and dry skin. This body lotion is a combination of 10% glycolic acid and 2% salicylic acid to help reduce the appearance of wrinkles, fine lines, and uneven skin texture. It also contains natural ingredients like green tea, papaya, bearberry, and licorice. It exfoliates dead skin cells, minimizes pores, and improves skin texture. It gets absorbed quickly for maximum hydration. It improves cell rejuvenation and protects your skin from free radical damage.
Pros
Lightweight
Reduces dark spots
Reduces breakouts
Treats keratosis pilaris
Paraben-free
Sulfate-free
Phthalate-free
Gluten-free
Cruelty-free
Cons
The pump might not work properly
Sticky formula
Paula's Choice Skin Revealing Body Lotion is the best exfoliant and moisturizer for skin that is prone to keratosis pilaris (KP). The 10% glycolic acid in this lotion exfoliates dull skin, provides hydration, and unclogs pores. It has a pH range of 3.5-3.9 and contains glycerin and shea butter that provide rich moisture to dehydrated skin. This antioxidant-rich formula provides anti-aging benefits.
Pros
Reduces fine line and wrinkles
Treats for keratosis pilaris
Fragrance-free
Paraben-free
Cruelty-free
Suitable for all skin types
Perfect for use in winter
Cons
None
Glytone Daily Body Lotion is a skin-refining and protective body lotion. This retexturizing moisturizer is specially formulated with Novasome Technology to time-release glycolic acid. It helps exfoliate and eliminate dead skin cells and dry patches. This nourishing lotion contains shea butter to hydrate your skin. It also has SPF 15 to protect your skin from the harmful UV rays. This exfoliating body lotion contains 17.5% glycolic acid that softens, rejuvenates, and re-texturizes your skin.
Pros
Improves skin texture
Reduces dark spots
SPF 15
Hydrates the skin
Fights free radical damage
Fragrance-free
Spreads easily
Cons
Greasy formula
Not suitable for sensitive skin
Glycolix Elite 15% Body Lotion is a light, oil-free lotion. It contains antioxidants that help you achieve a softer and smoother skin tone. Its lightweight formula is enhanced with green tea extract and liposome-encapsulated vitamins that heal the damage caused by free radicals. The glycolic acid in this lotion reduces sagging, wrinkles, hyperpigmentation, and acne. It also reduces redness to give a youthful look to your skin.
Pros
Moisturizes the skin
Repairs damaged skin
Exfoliates dead skin
Smoothens skin texture
Cons
None
Glycolix 15% Body Lotion is formulated with 15% glycolic acid that sloughs off dry skin. This lotion provides moisture and exfoliates dead skin cells on the body to help you achieve a softer and smoother skin tone and texture. The fast-absorbing formula of this lotion delivers vitamins and soothing aloe to condition your skin. The blend of glycolic acid and salicylic acid helps transform your skin.
Pros
Exfoliates dead skin cells
Moisturizesthe skin
Unclogs pores
Reduces fine line and wrinkles
Gets absorbed quickly
Cons
None
Lilah James KP Exfoliating Lotion is great for reducing the red bumps caused by keratosis pilaris (KP). It exfoliates and moisturizes your skin. This lotion is formulated with 14% glycolic acid and 2% salicylic acid to reduce redness and irritation. It has a low pHof 3.2 that allows more free acids to reduce keratin blockages.
Pros
Reduces KP-related redness and skin bumps
Exfoliates dead skincells
Revitalizes skin
Fragrance-free
Cruelty-free
Cons
Why Trust StyleCraze?
Oyendrila Kanjilal, the author of this article, is a certified skin care coach. She provides researched-backed articles to her readers and understands that glycolic acid is a great exfoliant that also slows down the process of aging. She analyzed hundreds of reviews and user feedback on various forums to provide her readers with the best glycolic acid lotions. These lotions promote collagen production, keep your skin firm, and minimize the appearance of wrinkles.
Frequently Asked Questions
What percentage of glycolic acid is effective?
Glycolic acid is most effective at 8-10%.
Can I use 10% glycolic acids daily?
Yes. You can use 10% glycolic acid every day or 30% glycolic acid once or twice a week.
Does glycolic acid lighten skin?
Yes, glycolic acid can lighten your skin. Glycolic acid-based exfoliants remove dead skin cells and improve the complexion of the skin.
What happens if you use too much glycolic acid?
Too much glycolic acid may cause burning, stinging, and temporary redness. Glycolic acid also dries out your skin, which can result in flaking.
What should you not mix with glycolic acid?
You should not mix vitamin C with glycolic acid as it can destabilize the pH balance and cause skin irritation.
Recommended Articles