Top 10 Goat Milk Lotions – 2021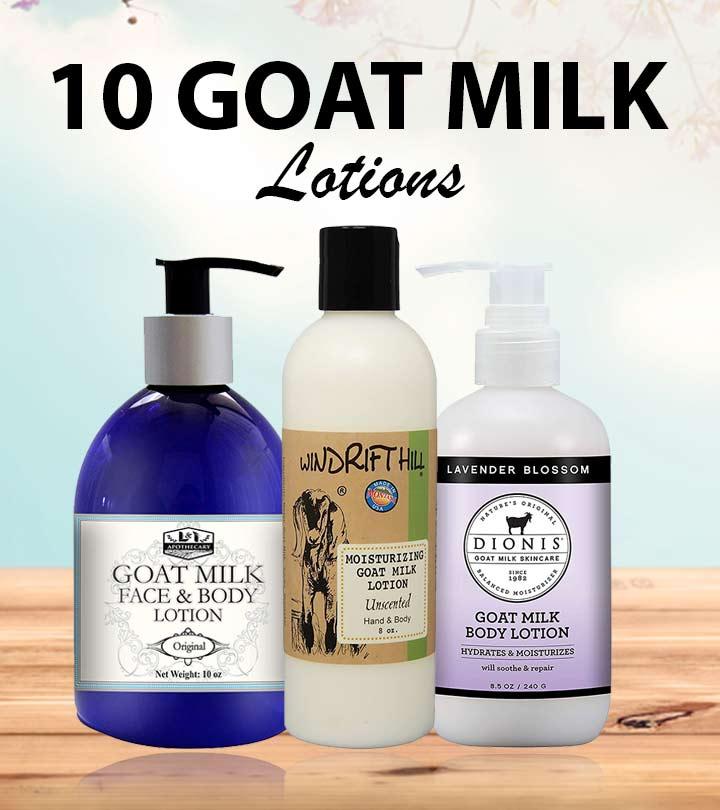 If you have dry skin all through the year, a goat milk lotion should be your skin care staple. It does more than just moisturize your skin. Goat milk has a pH that is similar to human skin and is naturally rich in skin-loving ingredients like lactic acid, amino acids, vitamins, and minerals. This ensures that your skin stays healthy, hydrated, and supple.
What has made goat milk lotions so popular? The reason is that they are anti-inflammatory, antibacterial, and moisturizing. They can help in healing many skin conditions, like acne, eczema, and psoriasis. Without further ado, let's check out the 10 best goat milk lotions you can try.
10 Best Goat Milk Lotions
The Dionis Goat Milk Lotion is rich and creamy and is formulated to make your skin smooth and silky by easing rough skin. It soothes dry or cracked skin and does not make it greasy. Dionis also has an unscented variant for people with sensitive skin. With regular use, it heals and repairs the damage that has already been caused. 
Pros
Comes in a convenient pump bottle
Non-greasy
Dermatologically tested
Cruelty-free
Paraben-free
Sulfate-free 
Cons
Overwhelming scent
Not as effectively moisturizing for everyone.
The Canus Goat Milk Lotion is the perfect choice for people with sensitive skin. If you are looking for a goat milk lotion that has been made with ethically sourced ingredients and is cruelty-free, this product will not disappoint you.
It is made with fresh goat milk and contains essential fatty acids, retinol, potassium, niacin, selenium, and zinc. It makes your skin silky, soothes dry/damaged skin, and is free of any skin-irritating chemicals. This lotion gives your skin a luxurious feel. 
Pros
Heals dry and damaged skin
Non-greasy
Ethically sourced ingredients
Cruelty-free
Paraben-free
Deeply moisturizes skin 
Cons
The Bend Soap Company Natural Goat Milk Lotion moisturizes your skin naturally. It works great for sensitive skin and is gluten-free and hypoallergenic. This lotion also helps in healing signs of eczema and psoriasis. The Bend Soap Company has a policy of using only non-allergen and non-irritating ingredients in their products.
This goat milk lotion has a thick and creamy formula that is non-greasy. It does not feel heavy on the skin either and blends in quite well. It also contains vitamins A, D, B1, B6, B12, and C that replenish your skin and enhance its health.
Pros
Gluten-free
Paraben-free
Non-greasy
Hypoallergenic
No harsh chemicals
Great for sensitive and dry skin
Helps with eczema and psoriasis 
Cons
May not be effective for all skin types
Expensive
The Ziaja Goat's Milk Body provides the skin with essential nourishing ingredients. It firms the skin and prevents dehydration. It smoothes and revitalizes the epidermis (the top layer of the skin) and soothes skin irritation.
It contains goat milk complex that reduces oil production in the skin and prevents skin irritation caused due to excessive sebum build-up on the surface. It also contains panthenol that moisturizes your skin and protects it from drying. Vitamin A revitalizes the skin and restores its elasticity, while vitamin E protects your skin from radical damage and moisturizes it.
Pros
Leaves your skin softer and smoother
Softens rough skin
Soothes irritation
Firms the skin
Non-greasy 
Cons
Nubian Heritage Goat's Milk and Chai Body Lotion is a luxurious and aromatic moisturizer that will make your skin feel hydrated and soft. It contains goat's milk, shea, chai, and rose extracts that work in combination to nourish and rejuvenate your skin.
The proteins, vitamins, and minerals in goat's milk nourish your skin. Shea conditions your skin, rose extracts calm irritation, and chai is rich in antioxidants that protect your skin from free radical damage and help maintain a youthful appearance.
Pros
Repairs damaged and dry skin
Great for use after shave
Lasts all day 
Cons
Overpowering scent
Too thick to get out of the bottle
The Beekman 1802 Snow Forest Goat Milk Lotion is lighter in comparison to the other lotions and is a great choice for your skin. It has a non-greasy formula and does not feel heavy on the skin, unlike other moisturizers.
The lightweight and quick-absorbing formula contains mineral-rich goat milk that nourishes and moisturizes your skin and leaves it feeling soft and smooth.
Pros
Lightweight and hydrating formula
Paraben-free
Sulfate-free 
Cons
Problems with the pump
Packaging issues
If you have acne-prone skin or are dealing with eczema and dry skin issues, the Bates Family Farm Goat Milk Lotion can help you out. It works great for both oily skin and dry skin. This goat milk lotion comes packed with natural antibacterial and antimicrobial properties. It is quickly absorbed and stimulates the healing of cracked or chapped skin.
The goat milk in this lotion contains lactic acid, vitamin A, and selenium that slough off dead skin cells, provide long-lasting hydration, and nourish and brighten the skin. This lotion comes in a variety of scents, including unscented if you are sensitive to fragrant lotions.
Pros
Works well for eczema or acne-prone skin
Comes in 13 luscious fragrances
Ultra-moisturizing
Quickly absorbed 
Cons
Some scents do not smell good.
Not effective for everyone.
If you have super sensitive skin and are looking for a lotion that helps in repairing dry and chapped skin, the Legend's Creek Farm Unscented Goat Milk Lotion is a perfect choice. It has a deeply nourishing formula that contains rich emollients like almond, coconut, cocoa, hemp, and shea oils.
It comes in six different scents and an unscented variant. This lotion leaves your skin extremely hydrated and smooth. It is very helpful for those with dry or itchy skin, acne, and eczema. The formula is thick and creamy, not greasy, and is absorbed fast. This lotion can be used on both your body and your face.
Pros
Comes in 6 different scents
Soothes eczema
No harmful ingredients
Alcohol-free
Paraben-free
Gluten-free 
Cons
Pump issues
Not all scents have a natural fragrance.
The Windrift Hill Moisturizing Goat's Milk Lotion contains a blend of fresh goat's milk and jojoba and essential oils. This lotion is fast-absorbing and non-greasy and does not plug the skin pores. It gives you silky smooth skin. Its lightweight texture makes it suitable for use under makeup.
Pros
Alcohol-free
No chemical ingredients
A creamy and rich formula
Smells heavenly 
Cons
Comes in a flip-top lid that is not as convenient as pump bottles.
10. L&I Apothecary Deeply Moisturizing Goat Milk Lotion
True to its name, the L&I Apothecary Goat Milk Lotion is deeply moisturizing and lasts all day, leaving your skin soft and silky. It contains essential oils, shea butter, and natural goat milk extract and is chemical-free and additive-free. The lotion has a soothing and calming effect on your skin and brightens it with regular use. It has hydrating properties that help your skin become healthier with daily use.
Pros
Non-greasy
Soothes and calms irritation
Hydrates and nourishes the skin 
Cons
Contains parabens
Does not last long
That was our round-up of the 10 best goat milk lotions. The lotions listed in this article contain essential oils, natural botanicals, and other moisturizing ingredients that can help make your skin soft and radiant. Take your pick from the above list and slather yourself in the moisturizing goodness. 
Frequently Asked Questions
How long does goat milk lotion last?
Goat milk lotion lasts from two weeks to a year, depending on the temperature it is kept in. It is advisable to keep the lotion in a refrigerator to extend the product life. However, if you notice an unusual odor developing, discontinue use of the product and throw it away. Keep in mind that goat milk lotion has a natural aroma, but an unusual odor is a bad sign.
What is the difference between goat milk lotion and a basic skin lotion?
Basic lotions are chemical-based and leave your skin feeling greasy and heavy. Goat milk lotions, on the other hand, have natural ingredients and are lightweight. They are non-greasy and do not cause any irritation to your skin.
With basic lotions, there is a chance of breakouts, and due to the chemicals present in them, they are not safe to be used on a daily basis. Goat milk lotions, unlike basic lotions, do not cause such breakouts with daily use. They are completely natural and maintain the pH balance of your skin.
Is goat milk lotion good for wrinkles?
Yes. Goat milk lotions are known for their skin firming properties and are a great choice for reducing wrinkles. They contain alpha-hydroxy acids, like lactic acid, that are known for their anti-aging properties. They are effective because they are known to break down the bonds that are responsible for holding dead skin cells together. This makes fine lines and wrinkles disappear and gives way to more healthy-looking skin. Goat milk lotion can slow down skin aging by making it look firm and ensuring that it is well hydrated.
Can I apply goat milk lotion underneath makeup?
Yes. You can apply goat milk lotion underneath your makeup. Makeup can make your skin drier than usual. Goat milk lotions protect the natural barrier of your skin and do not strip it of its natural moisturizing agents. You can also use it in your daily regimen to keep your skin naturally healthy.
Recommended Articles
The following two tabs change content below.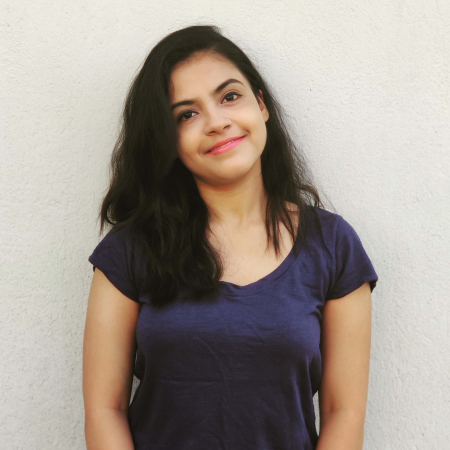 Oyendrila Kanjilal has a Master's Degree in English Literature. As a Beauty and Lifestyle writer, she writes about everything that the modern woman needs to know about grooming and self-care. She also reviews makeup, skin care, and lifestyle products to help readers make the best purchase. She is a trained classical dancer and loves binge-watching web series of different genres.