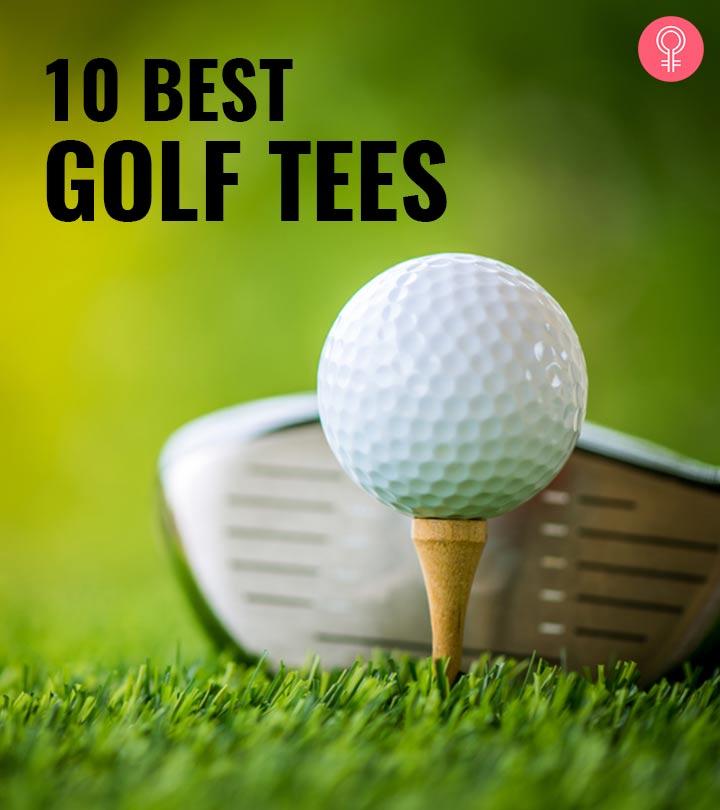 At the beginning of every golf game, you get a great advantage of using a golf tee. These tees help you get a speed start and allow you to score higher in the game. Hence, having a golf tee that matches your game style perfectly is essential. If you are in search of the perfect golf tee, you have come to the right place. In this article, we have listed the ten best golf tees available online. Take a look!
10 Best Golf Tees
The Pride Professional Tee System consists of tees made of 100% hardwood. The tees are stronger and more durable. They are color-coded according to their length and appropriate positioning. The tees are ideal for drivers over 360 cc.
Pros
Strong
Durable
Color-coded for easier identification
Ideal for drivers over 360 cc
Cons
None
The Martini Golf Tees are made of plastic. These tees can be stronger than the old-fashioned wooden tees. They are made of proprietary polymer resin blend. They can be reused dozens of times. The tees give longer and straighter drives when compared to wooden tees. Their large cups give the ball a 20% tilt towards the hole.
Pros
Stronger than wooden tees
Reusable
Sturdy
Give a 20% tilt to the ball
Allow longer and straighter drives than wooden tees
Cons
Color might not be attractive
The Pride Golf Tees are made of 100% solid hardwood. They are engineered to provide maximum performance. These tees have an elegant and smooth finish. They feature non-toxic, lead-free paint – making them a safer option to the environment as well as the golfers.
Pros
Engineered to provide maximum performance
Elegant and smooth finish
Made of non-toxic, lead-free paint for added safety
Cons
The GoSports Golf Tees feature a premium tour design that offers maximum distance. The tees are made of sleek hardwood, which limits club resistance. This helps boost optimal performance over the golf course. The tees provide maximum durability for multiple uses. They are painted with vibrant colors that can be easily detected in the grass.
Pros
Come in vibrant colors for easy detection in grass
Sleek hardwood material limits club resistance
Help boost optimal performance
Durable
Reusable
Cons
None
The Champ Zarma FLYtee Golf Tees feature a 6-prong head and a shallow cup. The tees are designed to reduce surface contact and increase distance and accuracy. They also feature reinforced ribs that add strength and durability. These tees come in four different sizes.
Pros
Reduce surface contact
Increase distance and accuracy
Reinforced ribs add strength
Durable
Comes in four different sizes
Cons
None
The Wedge Bamboo Golf Tees are engineered from specific species of bamboo. This ensures the golf tees last long. The tees are stronger than regular wooden tees. They also are biodegradable. The tees have a tensile strength similar to that of rival steel.
Pros
Long-lasting
Strong
Biodegradable
Tensile strength similar to rival steel
PGA-Approved tees
Cons
None
The Zero Friction Victory Golf Tees come with a patented 5-prong design. This design reduces the contact area between the golf ball and the tee. This helps produce longer, straighter drives. The tees are built for long drives and add five extra yards to your swing. They have a height system striping for easy and convenient placement. The tees are made from bio-composite materials.
Pros
Patented 5-prong design
Produces longer, straighter drives
Made from bio-composite materials
Height system striping for convenient placement
Cons
None
The Callaway Golf Tees are limited edition. They are made using a durable plastic base and rubberized head. They have a unique cupped top and stiff, sharpened tip. This promotes a low-spin launch for added distance. The tees can also double as groove cleaners and a divot repair tool. These tees are virtually unbreakable and can last for many rounds.
Pros
Durable
Made with a plastic base and a rubberized head
Double as groove cleaners and a divot repair tool
Sturdy
Can last for many rounds
Cons
None
The Green Keepers Golf Tees come with flexible 6-prong tips. They reduce club resistance and allow better contact. The tees help reduce ball spin, which, in turn, increases control. The tees are durable and can last for over 100 drives.
Pros
Durable
Lasts for over 100 drives
Reduce ball spin
Reduce club resistant
Increase control
Cons
None
The Maxfli Performance Golf Tees provide maximum performance. The tees have a 4-prong design. This minimizes the contact between the tee and the ball, maximizing performance. The tees provide less drag, which translates to more distance. The tee has an optimal launch system that uses three bands that promote consistent height.
Pros
Sturdy
Durable
Provide maximum performance
Minimize contact between tee and ball
Offer less drag and increase distance
Cons
None
These are the best golf tees available online. The following buying guide can help you make a better purchase decision.
Best Golf Tees – Buying Guide
You may consider the following factors before going for golf tees: 
Golf Tee Length: A golf tee has a length between two to four inches. You may go for a tee length that is preferable to you. However, a long tee will give you maximum length while a shorter tee will help you with accuracy.
Golf Tee Material:
Wood Tees – Many golf tees available on the market are made of wood. You will not find any added features while buying a golf tee made of wood.
Bamboo Tees – The tees made from bamboo are unbreakable and last long when compared to wooden tees. These tees are also cheaper and biodegradable.
Plastic Tees – The plastic tees have become popular among golfers as they are available in various sizes and colors.
Rubber Tees – Rubber tees are ideal for places where a mat is used instead of grass.
Golf Tee Style:
Standard Tees – Standard tees are preferred by most professionals. These tees are easy to buy in bulk and can be customized according to individual preferences.
Brush Tees – These tees are made from plastic and have bristles on which the golf ball is kept. They come in a variety of sizes and colors and help with adding distance.
Zero Friction Tees – These tees help in reducing friction, which results in longer and straighter shots.
Golf is a fun game that also needs great skill. If you want to get better at the game, you must ensure you have the right tools. A golf tee is one such tool. Pick your favorite set of tees from this list. We are sure the tees will enhance your play experience.
Recommended Articles