8 Best Golf Winter Gloves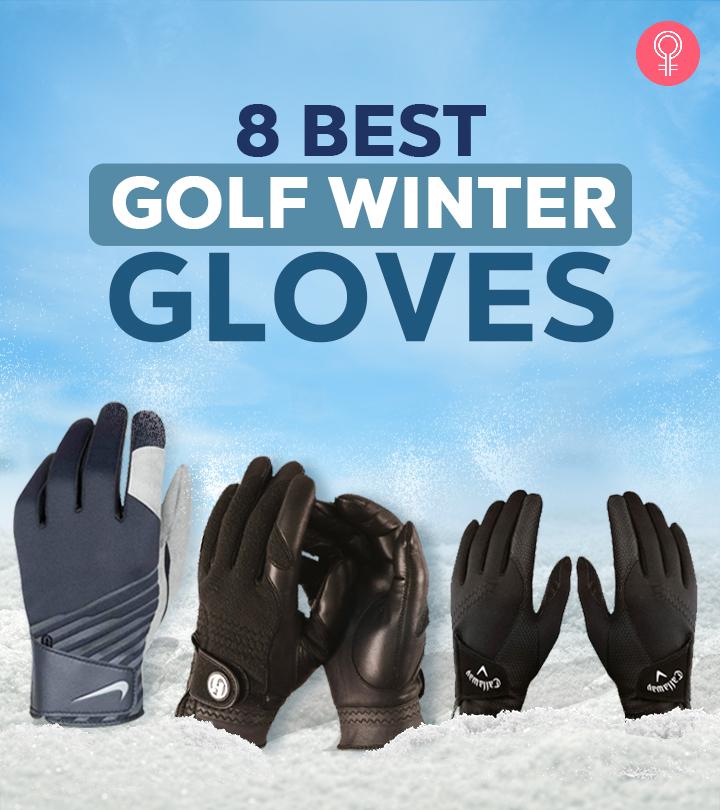 Cold weather should not mean you need to postpone your game of golf. With the right gear and equipment to keep you warm, you can play golf in winters as well. One such piece of gear is a pair of winter gloves. Golf winter gloves provide safety from the icy weather and a firm grip to carry on with your game without hassles. In this article, we have compiled a list of the eight best golf winter gloves available on the market. Check them out!
The 8 Best Golf Winter Gloves
The FootJoy Women's WinterSof Golf Gloves have a great cool-weather grip. They are proven to be water-resistant and have a sure-grip autosuede-knit palms. They offer a soft feel and a consistent fit with a secure grip. The gloves have an extended knit cuff that will keep the warmth in and the cold out. They have a reflective piping in the back that provides high-visibility on and off the course. The gloves are made from waterproof structured nylon. The backside of each of the gloves is made from weather shield foam fleece that retains warmth.
Pros
Water-resistant
Extended knit cuff keeps you warm
Foam fleece back retains warmth
Provides secure grip
Cons
None
The Kpang Golf Women's Winter Golf Gloves are made from premium white cabretta leather palms. This material gives an excellent grip even in cold weathers. Each glove has a warm pink polar fleece back that protects from the cold. The gloves have knitted cuffs that keep the wind out while golfing. They also appear stylish.
Pros
White cabretta leather palms for excellent grip
Warm pink polar fleece back
Knitted cuffs keep cold wind out
Cons
None
The HJ Women's Winter Performance Golf Glove is a great pair of winter gloves. The gloves are made from thermal fleece. The material is soft and keeps the hands warm. The palms of the gloves are made of leather. The gloves are durable and soft. The gloves also provide excellent grip.
Pros
Made from soft material
Durable
Provides excellent grip
Cons
None
The Callaway Women's Winter Golf Gloves are made from digitized synthetic leather. This material improves the grip in wet conditions. The outer shell of the gloves has optic shield microfiber. This repels water and provides protection from cold winds. The gloves have an inner lining made of optic thermal fleece that keeps the hands warm. The gloves are thin, light, and have a secure fit.
Pros
Provide improved grip in wet conditions
Optic shield microfiber repels water
Lightweight
Cons
None
The Finger Ten Women's Golf Gloves will keep your hands warm in cold weather. These gloves provide flexibility and also improve your grip. Each of the gloves has an added pad on the palm. These pads are positioned in key areas to extend the life of the gloves. The gloves are made from flexible spandex that provides great mobility. It has a 3-directional tab closure that ensures a secure fit and maximizes comfort.
Pros
Provide flexibility and mobility
Durable
3-directional tab closure for a secure fit 
Cons
None
The Glove It Women's Golf Gloves come in various vibrant colors and with signature prints. The gloves are made from stretch lycra and have a soft cabretta leather palm that offer UV 50 sun protection. The gloves provide maximum grip and are comfortable.
Pros
UV 50 sun protection
Provide maximum grip
Comfortable
Cons
None
The Wilson Staff Winter Golf Gloves have a brushed fleece top that provides ample warmth and comfort. The gloves' premium microfiber suede palm provides superior fit, feel, and durability. This also provides excellent grip even in wet and damp conditions. The gloves have a stretch knit cuff that keeps the cold winds from entering.
Pros
Stretch knit cuff prevents cold winds
Microfiber suede palm for a superior fit
Brushed fleece top for warmth and comfort
Durable golf gloves
Cons
None
The Orlimar Women's Fleece Golf Gloves are made from 100% water-resistant polar fleece material. They provide safety from icy winds during the winter season. The gloves have synthetic textured palms that ensure an excellent grip irrespective of the weather. The gloves also have an elastic wrist band that keeps wind and water away.
Pros
Made from water-resistant polar fleece material
Synthetic textured palm for excellent grip
Cons
None
Winters don't have to be a deterrent to your golf practice. With the right gloves that offer enough warmth, you can indulge yourself in a challenging game of golf.  Pick the right gloves from this list and start using them today!
Recommended Articles
The following two tabs change content below.

Latest posts by Sucharita Mishra (see all)

Sucharita Mishra
Sucharita Mishra has a Master's degree in Biotechnology and specializes in writing on Health and Wellness. She has worked on determining various heavy metals present in green tea for her Master's dissertation at CSIR- CFTRI, Mysuru. After completing her degree, Sucharita decided to pursue her passion for writing. She is addicted to all things black and aspires to become a bat one day.