10 Best Gooseneck Kettles – Reviews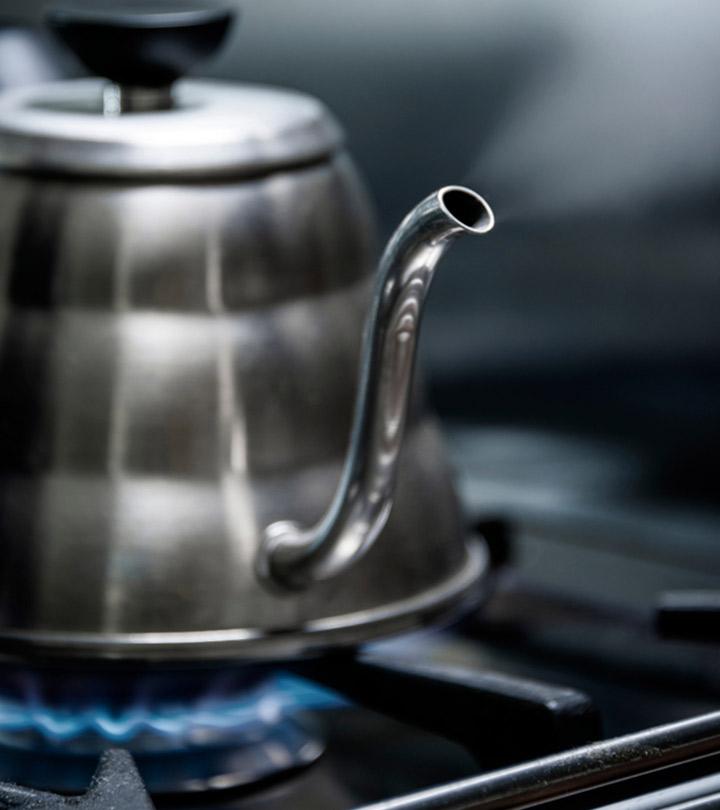 Gooseneck kettles provide a better way to replace your regular coffee kettle or a hefty coffee making machine. They are specially designed to enhance the flavor and texture of the coffee. These ultimate pour-over coffee devices are lightweight and easy to store and carry.
Top Picks
A perfect gooseneck kettle should be safe to use, leakproof, have a pouring control, and not give a toxic, chemical-like flavor to the brew. If you are looking for a suitable gooseneck kettle to add to your kitchen and kickstart your day, you have landed at the right place. Here, we have listed the 10 best gooseneck kettles available online. Read on to know more about all of them.
10 Best Gooseneck Kettles – Reviews
Price at the time of publication: $69.99
Price at the time of publication: $159
The Bodum Gooseneck Kettle has a sleek and compact design. It is equipped with a power-packed electric base and an extended spout. The kettle is extremely efficient and stylish. It helps with the proper release of complex oils, flavors, and aroma. Its non-slip ergonomic cork handle provides a comfortable grip and protects your fingers from heat. The kettle's lid is made with natural renewable European cork that offers a handy grip.
The kettle has a solid base that boils water in no time. It also features an indicator light with an automatic shut-off feature.
Specifications
Dimensions: 8.26 x 11.79 x 6.29 inches
Weight: 2.1 pounds
Capacity: 0.7 liters
Pros
Non-slip handle
Non-slip lid
Comfortable grip
Water speed control
Water consistency control
Easy to clean
Auto shut-off feature
Cons
Price at the time of publication: $38.99
Price at the time of publication: $79.99
Price at the time of publication: $27
Price at the time of publication: $149.99
Price at the time of publication: $39.99
The Hario Gooseneck Coffee Kettle is entirely made with stainless steel and has an ergonomic design. It comes with a slender spout that allows controlled and steady pouring while preventing spills. It works perfectly with a ceramic coffee dripper from Hario.
The kettle also allows you to boil water over an electric or gas stove before wetting the coffee grinds. It forms ripples over the coffee grains before the coffee begins to steep in. It can make 2 to 3 cups of coffee in one go.
Specifications
Dimensions: 10.63 x 6.69 x 6.77 inches
Weight: 1.76 pounds
Capacity: 0.8 liters
Pros
Lightweight
Suits both electric and gas stoves
Cons
Price at the time of publication: $72.48
Price at the time of publication: $64.99
Price at the time of publication: $149
These are the top 10 gooseneck kettles available online. The following buying guide helps you make a better purchase decision.
What To Consider Before Buying The Best Gooseneck Kettle
Capacity: Most kettles can hold approximately 1 liter of water. But some brands have a slightly higher capacity. Brewing a beverage for a large number of people requires a kettle with a higher capacity. However, if you want it just for your personal use, you may go for a kettle with half a liter capacity.
Also, ensure you are not filling the kettle to the brim as it may cause spills.
Comfort: Look for a gooseneck kettle with a comfortable handle design. You should be able to hold it easily and pour your drink with convenience and safety. Some kettles have an ergonomic handle design that also keeps them from slipping.
Flow Rate: A kettle that pours too fast or too slow does not make the right choice. Therefore, go for a kettle with a consistent flow rate.
Design and Material: Most gooseneck kettles are made of high-quality, food-grade stainless steel that is durable but could also be prone to rust. Hence, look for a kettle with an anti-rust coating. The kettle should also be easy to clean and maintain.
Kettles made of cheap quality material could wear off and develop rust easily.
Features: Check for a kettle that comes with additional features like temperature control, 360-degree swirl base, auto shut-off mechanism, and an LED light indicator.
Gooseneck kettles are better alternatives to hefty coffee machines and regular coffee pots. They are feature-filled and more durable. We believe this article has given you enough information to make a wise purchase decision. Go ahead and buy your favorite gooseneck kettle today.
Can you use a gooseneck kettle for tea?
Yes, gooseneck kettles can be used for making tea as well.