13 Best Granite Kitchens Sinks Of 2020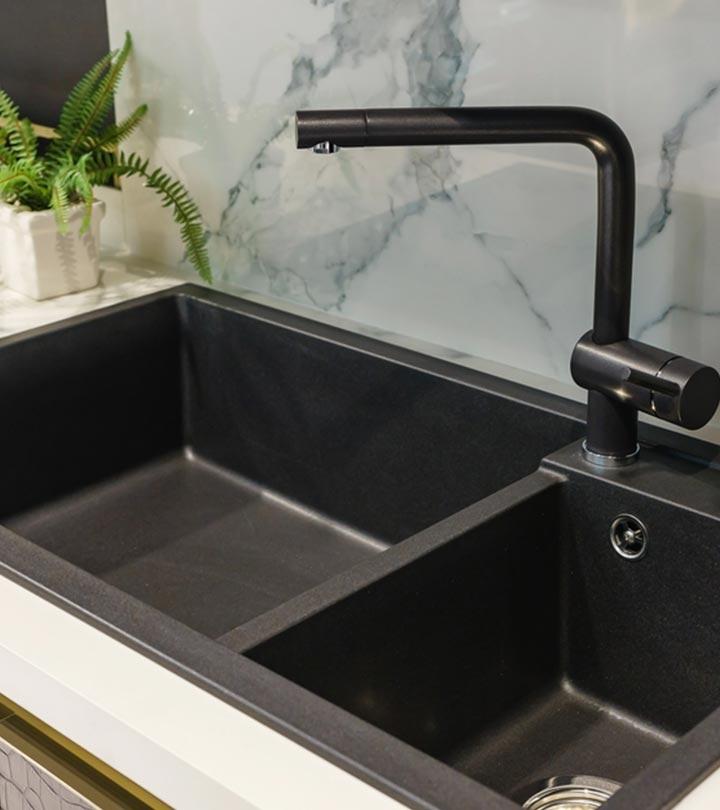 One of the most important tasks during kitchen construction or remodeling is choosing the sink! Just like everything else, there are plenty of options now available among kitchen sinks, and the sinks of the moment are composite granite sinks. Steel and ceramic sinks have been here for decades now, but granite sinks are changing the sink game and how. With never heard before features, multiple color choices and lots of different bowl styles, granite composite sinks are worth a thought. Let's not waste any more time and jump right into this list and review the best granite kitchen sinks of 2020.
Single Bowl Granite Kitchen Sinks
Single bowl sinks are preferred by those who cook for large families as they offer you a single large bowl to wash your bigger and wider dishes, specially baking trays and pasta or chilli pots. Large dishes fit easily in single bowl sinks and you don't have to struggle with cleaning up after.
Double Bowl Granite Kitchen Sinks
Double bowl sinks are ideal for those kitchens where 2 or 3 people cook at the same time. This gives you freedom of movement and operation, and you can easily turn the tap on without realizing that the noodle water was being drained into the sink at the same time. Even when washing dishes, you can apply some dishwashing liquid and leave the prepared dishes in one bowl, and rinse them in another.
Let us now move on to the list we have compiled for you of the 13 best granite kitchen sinks of 2020.
13 Best Granite Kitchen Sinks Of 2020
The Blanco Biscotti 441219 DIAMOND SILGRANIT Drop-In or Undermount Bar Sink is a granite composite sink that works best as a sink in the butler's pantry, or as a bar sink or simply as a second sink in the kitchen. The sink size is 15 x 15 x 8 inches and needs a minimum of 15 inch cabinet base for the drop in version of the sink to sit easily and at least a 17 inch cabinet base for the undermount to fit well. This small granite sink is easy to clean, is non-porous and is resistant to alkaline and acidic food items.
Pros
Can be placed as an undermount sink or drop in
Stain, heat, chip, impact, and scratch-resistant
Made using durable, food friendly and hygienic patented material
Cons
It may not age very well in cities that have very hard water.
The Kraus KGU-413B 31 inch Undermount Single Bowl Onyx Granite Kitchen Sink is a black undercounter sink that offers a seamless surface between the kitchen sink and the countertop. This seamless transition makes it easy to wipe away crumbs, water, and any other liquid straight into the black granite kitchen sink without being much of a hassle. The sink size is 30.5 x 17 x 9 inches and the minimum cabinet length required to fit the sink is 33 inches in length. The depth of the cutout however must be 14.5 inches for the sink to sit securely. Made using 80% of natural granite, this sink has rock solid strength and a low depth which ensures water is not splashed out, and large pots and dishes can be washed with ease.
Pros
Vibration and noise free
Enriched naturally with silver ions that naturally repel germs.
Grime and dirt-resistant
Low maintenance surface
Surface-protected with UV so color doesn't fade with time and hue is consistent and rich
Cons
The sink may develop some spots if white detergent is used.
Resistant to chipping and scratching, the BLANCO 440148 PRECIS SILGRANIT Super Single Undermount Kitchen Sink requires cabinet size on the outside to be 36 inches. The sink bowl is 9.5 inch deep while the dimensions of the sink are 32 inch long x 19 inch wide. The bowl is 2 inches smaller than the sink size which means some of the rim is visible on the countertop. The angular design of this Blanco composite granite sink makes sure water drains out faster from this non-porous sink. The material of the sink is long lasting and doesn't require too much fuss while cleaning.
Pros
Sink can resist heat up to 536°F
Includes cut out template that reveals ⅛ inch of the rim
Consists of solid granite that makes up 80% of the material and SILGRANIT that has feel and touch of a natural stone
Includes undermount clip
Cons
The drain is not included with the sink
Enriched with ions of silver so that germs are repelled, the Kraus KGD-54 Forteza Granite Kitchen Sink is naturally hygienic. The color of this composite granite kitchen sink is non-fading and is protected by UV so that the hue will not become dull with time. This single bowl kitchen sink is 33 inches long, 22 inches wide and 9 ⅝ inches deep. The Kraus sink has a dual mount option that lets you choose if you want to install it as an undermount sink or as a dropped-in one. The minimum length of cabinet size that is required is 36 inches in length.
Pros
Comes with a complete set that includes Sink, silicone mitt and trivet, drain assembly, mounting hardware and cut out template.
Resistant to thermal shock and impact, resists heat up to 650°F.
Features a single pre-drilled hole for faucet and 4 other knock-out holes that can be easily drilled.
The engineered material looks like stone and reduces vibration and noise for a quieter sink.
Surface is low-maintenance and lets dirt and grime come off easily.
The drain is offset from the centre which increases the available workspace inside the sink.
Cons
The sink may develop some discoloration around the drain hole.
The Ruvati 33 x 22 inch Granite Composite Kitchen Sink in Juniper Green comes in a fabulous matte finish. The sink can be installed as a drop in sink as well as a top mount sink based on your preference. This crushed granite sink also includes a single pre-drilled hole and 4 additional part-drilled holes that can be knocked out. The bowl size on the inside is 29 inches wide, 16 ⅜ inches long and 9 inches deep. The minimum size of the base cabinet should be 36 inches. The drain opening is a standard size of 3.5 inch and can fit any garbage disposal unit easily.
Pros
Constructed with 80% natural granite which is crushed for use and 20% proprietary resin so that the sink is non porous and shows strong resistance to chemicals.
Sink displays antibacterial properties and stain resistance
Resistant to heat up to 536°F
Includes mounting clips and cut out template.
Cons
Water may leave marks in the sink if you do not wipe it dry after use.
The Swanstone QZ03322AD.077 Granite 1-Hole Dual Mount Single-Bowl Kitchen Sink in color Nero can be used as a drop in as well as undermount sink in your kitchen. The standard size of 33 x 22 inches makes it ideal for brand new kitchens or even kitchen remodel projects. The inner bowl size is 29.5 x 18 x 10 inches and has an additional elevated platform inside which is 6 inches high, so that the sink consumes less water and drains the water out quickly too.
Pros
Made using 80% actual granite
Pre-drilled with one hole for the faucet and marked with 4 additional knockout holes.
Includes a 6-inch raised platform that acts as a storage area for food prep
Cons
The raised platform may make keeping a single large dish in the sink difficult.
Designed to be a drop in sink the Elkay ELG2522GY0 Quartz Classic Single Bowl Drop-in Sink in Dusk Gray is the perfect sleek addition to your kitchen. The size of the sink is 25 x 22 x 9.5 inches and requires a minimum cabinet size of 30 inches to fit properly and comfortably on your countertop. The single bowl of this granite composite sink lets you have an uninterrupted and wide space so you can wash large dishes easily. The sink is also very quiet and will not let you suffer through a cacophony while doing the dishes.
Pros
Sink is resistant to impact and scratches, chipping, banging and heat up to 535°F.
The sink is very easy to clean and any mark comes off with water and soap.
Liquid and food stains do not last on the sink.
The color is smooth and matches well with steel fitting and appliances in the kitchen.
Cons
The outer surface of the sink may be a little jagged or rough.
The One Kraus Quarza KGD-422 Kitchen Sink in Black can be used as a drop-in or an undermount sink, whichever you prefer. The total dimension of the sink is 33 x 22 x 10 inches and requires a minimum cabinet size of 36 inches for a perfect fit. This dual bowl sink is heat and impact resistant and can manage up to 650°F. The divider between the two bowls is much lower so even bigger and wider trays and dishes can be washed and rinsed. The angular bottom of the sink lets water drain quickly and dirt and grimes doesn't stick to the bottom of the sink.
Pros
Includes sink, bracket strain, drain assembly, mounting hardware, cut-out template and a complimentary towel too.
The sink is engineered to have no vibration or sound during use.
The sink is made of hygienic and natural material that is enriched with ions of silver that repel germs and keep the sink clean.
Cons
Only dawn products may work best for cleaning this sink.
The Blanco Performa Cascade Silgranit Undermount Kitchen Sink with Colander can withstand heat up to 536°F, which is much more than baking and boiling temperature. This undermount kitchen sink is food-safe and hygienic and the Patented Hygienic Plus Formula doesn't let dirt and bacteria stay on the sink. This granite composite sink is made of 80% granite and is very durable. The bowl depths are 10 inch and 7.75 inch whereas the outer dimensions of the sink are 32 x 19.5 inches. The drain in this double-leveled sink measures in at 3.5 inches.
Pros
Includes a free stainless steel colander that lets you rinse vegetables and fruits hands-free.
The sink has a raised platform that can fit the colander easily
The color of the sink can be matched to your kitchen counter using the Blanco Silgranit mobile app.
Cons
The sink may develop scratches with use.
The Swanstone QZ03322LS.076 Granite 1-Hole Dual Mount Single-Bowl Kitchen Sink can be installed as an undermount sink or as a self-rimming drop in sink, whichever is preferred by you and goes well with your kitchen aesthetics. This double bowl sink is as hard as a diamond and does not get damaged by normal residential kitchen use. This granite composite kitchen sink works well for a new kitchen construction and remodel too. It has a standard size of 33 x 22 inches hence can easily fit into your kitchen counter if you were previously also using a standard size sink. The left bowl of the sink measures 17.25 x 18 x 10 inches and the right bowl measures 11 x 15.25 x 7 inches.
Pros
The sink is pre-drilled with a single faucet hole and has additional drill outs for 4 more holes.
The divider in the sink is set low so that larger dishes and trays can be washed easily.
The smaller bowl has a shallower depth ideal for food prep.
Cons
The drains may not be included with the sink and have to be purchased separately.
The  BLANCO DIAMOND SILGRANIT 60/40 Double Bowl Undermount Kitchen Sink With Low Divide is designed so that it fits a cabinet that has minimum width of 36 inches. The double bowl sink is heat-resistant up to 536°F and is very hygienic and food-safe too. The bowl depth is 9.5 inch for both the bowls and the sink is very easy to clean as long as a non-abrasive cleaner is used with soap.
Pros
Resistant to stains, scratches as well as household alkaline and acidic solutions
Resistant to heat up to 536°F
Ability to be extremely clean which is backed by 7 patents
Includes a cut out template which lets ⅛ inch of the rim to be revealed.
The divide bowl is at a low height so that you can use the entire width of the sink in an uninterrupted manner.
Cons
The sink does not include drains and may have to be purchased separately.
With a built in sanitized and protective barrier the Franke EDOX33229-1 Sink in Onyx can fight bacteria even in between cleaning processes. The bowls are 9 inches deep and offer lots of space for tall pots and glasses. The minimum size of cabinet required is 36 inches so the sink can be installed easily. This Franke granite composite sink is made using granite with an onyx finish and can be installed as an undermount or a top mount sink. The large bowl in the sink is 16 ⅞ inches wide.
Pros
Resistant to stain, scratch, and heat
Includes one pre-drilled hole for the faucet and three more holes can be pushed out if required.
Includes hardware for installation as well as cut-out template
Cons
It may require to be installed professionally if undermount style is chosen.
The Elkay Quartz Classic ELGLB3322SD0 Equal Double Bowl Top Mount Sink with Aqua Divide in Sand is designed to be a top mount sink so it can be dropped right into the counter of your kitchen and demand attention. This double bowl kitchen granite sink is resistant to heat, impact and scratches and the quartz sand that is molded to make the sink can also resist chipping and banging as well as 535°F heat. The sink can be easily cleaned with soap and water and liquid does not stain the sink easily.
Pros
The divide between two bowls is low making it easier to wash baking trays as well as pans with long handles.
Both the bowls are of equal size and can be used for separate household tasks at the same time.
The sink is made using a non-porous and ultra-fine structure so that liquid and food doesn't stick to it and bacteria stays at bay.
Cons
May cause water to be splashed if the faucet installed with it is too high.
Here is a buying guide that will help you finalize on the best granite kitchen sink for your new project!
Buying Guide
Top Granite Sink Quick Chart
Granite composite kitchen sinks are still relatively new in the market and before you jump on the bandwagon, be sure about what elements should be taken into consideration when judging which is the best granite sink for you and if it fits your lifestyle or not. Below are the top features you should be scrutinizing when researching your desired granite composite sink: 
Quality: The quality of the composite granite sink is without doubt the most important feature that must not be compromised on. However be sure that the amount you pay for the sink is justified by the quality you receive. This does not mean only the expensive sinks are good, rather if you do your research well you may be able to find a good quality sink at a reasonable price too.
Durability: Sinks are subject to heavy pots, pans and ceramic dishes. Not to mention the poor quality hard water that is supplied in many places, the sink goes through a lot of wear and tear. Look for sinks that have thicker bottoms, or ones that feel more natural than others, as the higher amount of granite in the sink the stronger and more durable it will be.
Dimension (Inches): The dimension of the sink you are about to purchase should be studied well. If you wish to install it on a pre-existing kitchen counter make sure it fits within the counter limit. If you are selecting a sink for a brand new kitchen, you may even design your counter around the size of the sink. In such situations, look for a sink that is large enough to fit your biggest baking tray or pot.
Installation: Installing sinks is not a piece of cake for everyone, and can sometimes involve more technical know-how than you imagined. Especially with sinks that have the rim showing, you need to be very sure about what size the cut out in your kitchen slab should be so that no mistakes are made to be regretted later on. Hence, look for a sink that is easy to install and requires a minimum amount of additional materials.
Constant color: Granite composite sinks are made up of 80% natural granite and 20% chemicals and binding substance which make it possible for the sink to have a single monochrome effect. 
Sound deadening: No one likes to be in a kitchen when pots and pans clank against each other while washing, but the worst sounds are when they hit against the surface of the sink and make an ever more irritating noise. Some composite granite sinks have special sound absorbing features that make a huge difference and should definitely be on the lookout for.
Resistance to agents that could cause damage: The kitchen sink is one accessory in the kitchen that is overused and subjected to the harshest materials, agents, and contrasting temperatures. While most granite kitchen sinks are pretty good when it comes to being resistant to damage, some may not be as promising as others. Make sure you read the fine print as well as reviews before you make the purchase. 
Hygiene: The level of hygiene that kitchen sinks offer should not be overlooked. Not only does food come in constant contact with your sink, but so do your crockery, dishes, raw vegetables, and fruits. Keep in mind to look for a non-porous sink that does not react with your raw or cooked food in any way. 
Heat-safe: A sink that can take higher temperature if heat as compared to other granite composite kitchen sinks is a better option so that you can work freely in the kitchen without having to be cautious at all times. If your sink cannot take a lot of heat, a hot pan or pot may lead to cracks in the sink. 
Scratch resistance: A sink that does not take on scratches easily is a blessing, so that you do not spend hours trying to figure out how to get rid of the scratches. Scratches obviously do not look good, but also result in soap remnants getting stuck in the narrow grooves that are created, making the sink dirtier than it should have been. 
Easy cleaning: It is pains to own items or appliances in the kitchen that require extra love and care especially when it comes to cleaning them to maintain a spic and span kitchen. A granite composite sink that is darker in color, has a layer of protection against spots and stains and that has an easy drain angle will make the cleaning process easier for you.
Advantages Of Granite Sink 
Heat-resistant: Granite composite sinks have a decent resistance to heat and neither do they fade nor get discolored when they come in contact with high heat. 
Durable and damage resistant surface: The composite granite sink surface is well protected and no amount of acid, scratching, chipping or staining takes place.
Abundant color options in matte finish: Because the granite is composite literally any color is possible to make the sink in, and brown is the most popular as it is not found in any other material.
Long life: The composite granite sinks are long lasting because of all the above qualities making them a popular option for sinks right now.
Durability and look of natural stone at less than half the price: What you get at the price you pay is almost like a steal.
Disadvantages Of A Granite Sink
Special care against piping hot pans: Piping hot pots and pans must be allowed to cool down a little and only then placed in the sink as the heat on a vessel when it is just off the flame can be a bit much for the sink to handle, which may result in cracks.Regular maintenance is a must: Composite granite sinks require regular maintenance but a fairly easy one, just to make sure no water remains or food remains are left in the sink and they are patted dry after use. Lighter colors may show stains. The finish of the sink may start becoming dull because of waterborne minerals if cleaning is not regular.

The quality and features of a kitchen sink are just as important as those of a hob, oven or chimney. If you love design as well as cooking, then composite granite sinks are just for you. They let you enjoy the benefits of both a great look as well as great benefits at the same time from one single piece of kitchen accessory. Cleaning granite composite sinks is also easier than other sink materials and your kitchen looks upgraded with a single change. Let us know in the comments section which is your favorite composite granite kitchen sink color, and if you prefer countertop sinks or those that fit under the counter!
Expert's Answers for Readers Questions
Are granite composite sinks durable?
Granite composite sinks are hygienic, nonporous and resistant to stains, scratches and heat and chips. They are a good durable option for kitchen sinks and cna have a long life.
Are composite granite sinks better than stainless steel ones?
The features of kitchen sinks depend a lot on your use and style of cooking and washing. Granite sinks are way better than steel sinks when it comes to being hygienic and resistant to scratches and dullness, however if you are used to draining boiling hot water into a colander right at the sink, then steel sinks are a better option for you.
Is there any difference between a composite sink and a granite sink?
Yes there is a difference between the two. Each natural granite sink will be unique and will have variations in color and pattern across the sink whereas a composite granite sink is composed of 95% granite and 5% resin, because of which all sinks will look almost the same and will have a monochrome surface.
What are the daily care instructions for a granite sink?
A simple cleansing ritual is enough for granite composite sinks. Soapy water and a regular but soft sponge can keep your kitchen sink spic and span. Do not forget to dry off the sink by wiping it after a wash.
Could vinegar or ammonia harm a granite composite sink?
Products that are high in alkaline or acidic content are not advised to be used for cleaning a granite acrylic sink. Even pouring these products into the sink while washing can prove as a threat and they should be washed down immediately or the resin coating will develop some abrasion.
What is a self-rimming sink? Is it the same as top-mount installation?
Self-rimming sinks are those that are made with a lip that is beyond the circumference of the bowl. This lip sits on top of the kitchen counter top while the sink bowl drops into the cutout. Yes, both self-rimming and top mount are the same thing, and are also the most common types of sinks that are available out there.
Are granite sinks hard to keep clean?
No, they are not hard to clean at all. They don't show as many scratch marks and dull spots the way steel sinks do, and are way ahead of ceramic sinks as far as basic black marks are concerned. As long as composite granite sinks are cleaned using soapy water and a sponge, they will not show any stains or marks.
Can granite composite sinks crack?
Yes granite composite sinks can crack if hot water is poured directly into them, or a hot vessel is placed into the sink. Heavy pots and pans also have a tendency to cause chipping in these sinks so one has to be very careful and cautious.
Can granite cracks be repaired?
Yes, they can be repaired depending on how large the crack is. If it is a thin crack, they can be easily repaired either by using the same color epoxy or an acrylic to glue the split pieces together. A very large crack may be harder to repair and conceal.
Can I use Windex on granite?
No, do not use Windex or any acid or bleach on granite sinks. The sealant of the composite sink will weaken and it may develop cracks. The good news is you do not use any special type of cleaners for granite composite sinks. Just simple soapy water will suffice.