The 11 Best Gravity Water Filters & Buying Guide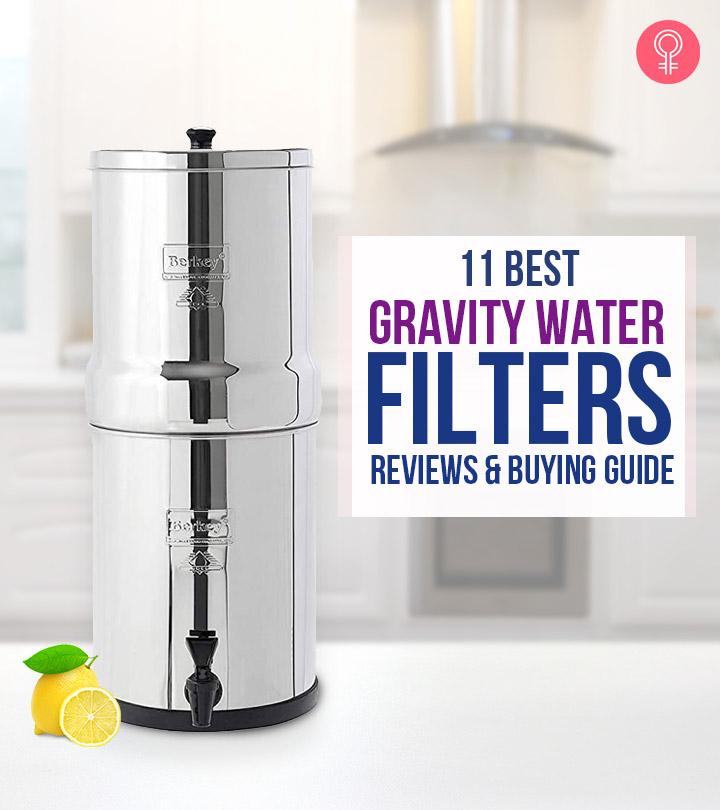 If you stay in an area with power issues or do not prefer RO, UF, or UV water filters, a gravity water filter is your best option. A gravity-based water filter system works on the principle of gravity that pushes the water down while it filters. It does not need any power supply to work and uses the simple technique of reverse osmosis or distillation. But with so many variants on the market, it is easy to get confused when choosing one. Don't worry. We compiled a list of the best gravity water filters to ease your confusion. Check it out.
11 Best Gravity Water Filters
The SimPure Gravity Water Filter is made of FDA-certified food-grade plastics. It has a 0.1-micron ultrafiltration membrane attached with a 5-micron coconut shell and 0.2 micron PP fiber filter. This filtration system removes 99.99% heavy metal, chlorine, and other contaminants to give you clean drinking water. This gravity water filter comes with a 3-liter food-grade storage bag. It includes an extension tube to draw water from ponds, rivers, or any water source. It is portable, and you can carry it anywhere you want to.
Specifications
Size: 9.8 x 1.1 inches
Material: ABS plastic
Flow rate: 450 ml per minute
Water Capacity: 3 liters
Pros
FDA-certified
BPA-free plastic
Portable
3-stage filtration
Cons
Travel Berkey is a 1.5-gallon portable water filter. It is equipped with two pairs of the Berkey Purification Elements that purify over 99.99% of metals, minerals, pathogenic bacteria, and protozoa. The Berkey Purification Elements last for 6,000 gallons before replacement. This water filter is tested in various third party labs and is an efficient gravity-fed filtration system.
Specifications
Size: 7.5×7.5 x18 inches
Material Used: Stainless steel
Flow Rate: 0.05 gallons per minute
Water Capacity: 1.5 gallons
Pros
Rapid filtration
Tested for quality
Durable
Cons
This highly efficient gravity water filter claims to purify 99% of the chlorine, fluorides, rust, and bacteria. The Santevia Gravity Water Filter uses an eight-stage filtration technique. It has a 0.3-micron ceramic pre-filter that removes microplastics, sediments, bacteria, and parasites from the water. The porous Maifan stones in the filter help oxygenate the water, and the fluoride filter removes chemicals and heavy metals. It also adds beneficial minerals to your drinking water.
Specifications
Size: 13×13 x10 inches
Material Used: BPA-free plastic
Flow Rate: 0.15 gallons per minute
Water Capacity: 1.3 gallons upper tank, 2.6 gallons lower tank
Pros
Microplastic filtration
Optimal pH balance
BPA-free
BPS-free plastic
Cons
This product claims to be the fastest water gravity water filter. The Gravity Well Ultra Water Filter gives you over 9000 gallons of purified water. It has Ultraviolet water sterilizing capacity and three black carbon filters that remove the contaminants and particles of about 2 microns. The UVC lamp in this filter is rechargeable by either a hand crank dynamo charger or solar energy. It has a 7-gallon storage capacity, sufficient for 2-3 people.
Specifications
Size: 18 x12 x13 inches
Material: High-quality plastic
Flow Rate: 0.058 gallons per minute
Capacity: 7 gallons
Pros
Durable
Easy to operate and assemble
Includes hand pump
Includes filter cleaning tools
Cons
The LifeStraw Gravity Water Filter has a carbon-fiber capsule to purify water and eliminate the contaminants. The filter in this product exceeds US EPA drinking water standards and NSF 53 standards and removes bacteria, parasites, heavy metal, and lead contamination efficiently. It has a two-stage filtration process that also removes 99.99% of protozoa and microplastics. This portable water filter is best for outdoor activities and travel.
Specifications
Size: 11 x 3 x 5.5 inches
Material: Food-grade plastic
Flow Rate: 0.125 gallons per minute
Capacity: 1 gallon
Pros
Durable
Compact
lightweight
Multiple filters
3-year warranty
Cons
This gravity water filter has ceramic candles that remove pathogenic bacteria, turbidity, and pollutants from the water. The activated charcoal filtration system can remove particles as minute as 0.9 microns. The filters can be cleaned and are reusable. The water filter has a capacity of 4.2 gallons, is made from eco-friendly materials, and is easy to operate.
Specifications
Size: 12.6 x 16.5 x12.8 inches
Material: Ceramic and food-grade plastic
Flow Rate: 0.0044 gallons per minute per candle
Capacity: 4.2 gallons
Pros
Easy to install
Easy to use
Reusable candles
Moderately priced
Cons
This gravity water filter system is ideal for camping, traveling, and outdoor activities. The filter has a capacity of 2.11 gallons, 1.05 gallons in the clean reservoir, and 1.05 gallons in the dirty reservoir. The Platypus GravityWorks Water Filter System meets EPA and NSF guidelines to provide the purest water. It removes 99.99% germs, bacteria, parasites, and other contaminants from the water.
Specifications
Size: 9.5 x 3.25 inches
Material: Polyethylene
Flow Rate: 0.46 gallons per minute
Capacity: 1.05 gallons
Pros
Lightweight
Portable
No pumping
Filters quickly
Meets EPA/NSF guidelines
Cons
The Miniwell Gravity Water Filter is perfect for hiking and other outdoor activities. It can efficiently filter over 500 gallons of water in its lifetime. It can filter contaminants with 0.1 microns pore size. The gravity water filer has a sidelock design and wide-mouth opening for easy fill-ups. This filtration system can be connected inline. It comes with a tree strap, pocket-size filter, carry bag, hose and hose-clip, collapsible bottle, and unfiltered water reservoir. This product is approved by FDA and CE certified.
Specifications
Size: 7.56 x 1.85 x 4.06 inches
Material: Plastic
Flow Rate: 0.158 gallons per minute
Capacity: 0.92 gallons
Pros
Easy to use
Portable
Lightweight
Environment-friendly
Backflushing
Cons
Cannot filter heavy sediment
The Sawyer One-Gallon Gravity Water Filtration System is a single bladder filter for outdoor usage. It is a dual-thread filtration system with a 0.1-micron inline filter with easy on and off functions. It is ideal for filtering even highly contaminated water and easily removes all pollutants and pathogens. The filter is durable and long-lasting and can filter up to 100,000 gallons of water in its lifetime.
Specifications
Size: 5.8 x13.8 x 2.8 inches
Material: Hollow fiber membrane
Capacity: 1 gallon
Flow Rate: Not specified
Pros
Quick filtration
Lightweight
Portable
Durable
High flow rate
Cons
Not suitable for sandy water
The Katadyn Gravity Water Filter is a high-quality product and complies with EPA standards. It has a collapsible 0.79-gallon hydrapak soft bottle flask. It is easy to clean and requires no backflushing or cleaning tool. It can filter up to 264 gallons of water and has free-flow channels for a better flow rate. The filter is made of BPA-free thermoplastic polyurethane and is perfect for traveling and outdoor activities.
Specifications
Size: 9 x 2.9 x 17.6 inches
Material: Thermoplastic polyurethane
Flow Rate: 0.52 gallons per minute
Capacity: 0.79 gallons
Pros
Easy to use
BPA-free
Easy cleaning
Cons
The ZeroWater Gravity Filter has a 5-stage filtration process and is NSF certified for safe drinking water. It holds of 40 cups ready-to-pour water and is suitable for kitchens and offices. The filter can remove 99.6% of contaminates, germs, lead, and heavy metal and is tested for high performance. It has a no-drip push-to-pour spigot and is easy to use.
Specifications
Size: 11x 9.75 x19.75 inches
Material: Glass and stainless steel
Flow Rate: 2.5 gallons per day
Capacity: 2.50 gallons
Pros
Elegant glass body
Compact
NSF certified
Cons
Inconsistent flow
Flimsy spigot
These are some of the best-rated gravity water filter models that you can buy online. Before you pick any of these, consider a few points.
Things To Consider Before Buying A Gravity Water Filter
1. Filter Capability
Check if the water filter performs efficiently. Go for the one that filters a high percentage of contaminants from the water and works at a decent speed.
2. Filter Capacity
This is another critical point to consider. Water filters have different storage capacities. Some are best for a single person, and some are suitable for families. Buy one that you think can meet your needs.
3. Household Size
The size of the water gravity filter you buy is directly proportional to your household size. If your family size is 2-3 persons, go for a slightly bigger variant.
4. Filter Replacement Frequency
Ensure that the filters work for a couple of months or have a usage potential of at least enough gallons before you need to replace them.
5. Chamber Material
The two most commonly used chamber materials are stainless steel and plastic. It is best to go for stainless steel to ensure both quality and durability. Plastic ones may be affordable but are not durable.
6. Durability
There is no point in buying a filter that needs frequent servicing. Check the lifespan of the product. Check how long the filter may serve before it needs servicing or repairing accessories.
Compared to RO and electric filters, gravity water filters are affordable and convenient to use. They come in a variety of models that are also travel-friendly, ensuring a steady supply of pure water. We have provided a list of products that are appropriate for home as well as outdoor use. Pick any of them that fits your needs.
Frequently Asked Questions
How do gravity water filters work?
The upper chamber of the filter holds impure water and filters it. The filtered water then permeates to the lower chamber while the pollutants are blocked.
What are the benefits of buying a gravity water filter?
Gravity water filters are easy to install and maintain. They can be portable, travel-friendly, and do not need any power supply.
What kind of maintenance do gravity water filters require?
You may need to replace the filter annually or twice a year. The tubes may need to be cleaned once in two months.
Do gravity water filters remove beneficial minerals?
No. Gravity water filters work on principles of permeability and reverse osmosis and retain most of the beneficial minerals.
Can gravity water filters remove chloramine?
Yes. They remove almost all external pollutants and heavy metals, including chloramine.
Recommended Articles
The following two tabs change content below.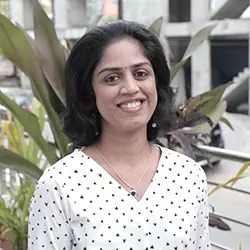 As Head Of Content Operations, Harini sets the tone and editorial direction for StyleCraze to deliver engaging, interesting, and authentic...
more