9 Of The Best Green Concealers To Cancel Out Redness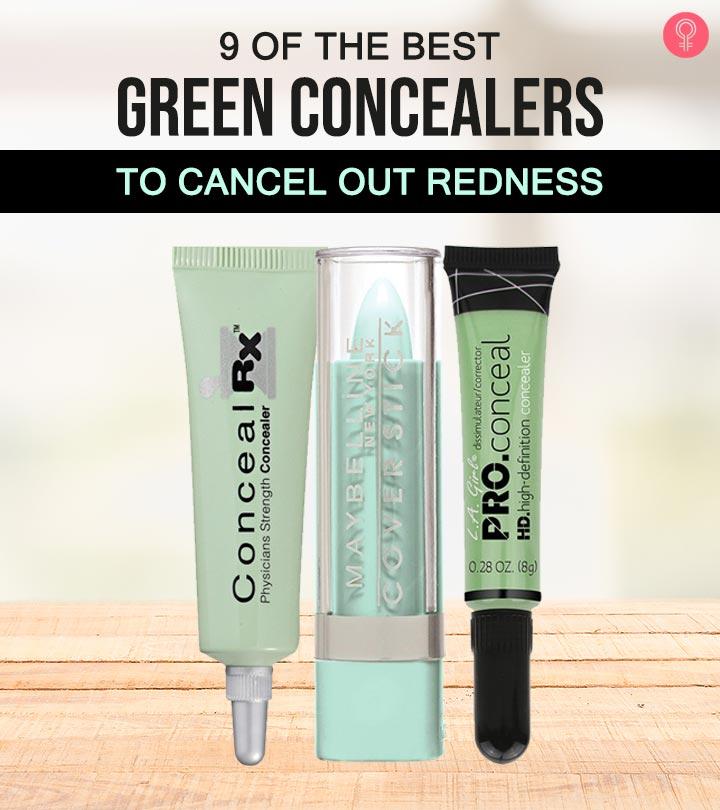 A green concealer is your golden ticket to neutralizing the red zones on your face. Whether you are dealing with blemishes or red spots, this color-correcting technique works wonders to tone down redness caused by inflamed pimples and rosacea. To help you pick a formula, we have rounded up some of the best green concealers on the market right now that will give you flawless skin in no time.
The 9 Best Green Concealers To Instantly Tackle Redness
Review
This color corrector from LA Girl has enough green pigment to camouflage any amount of redness effectively. Its creamy consistency makes it super easy to build and blend, making it an excellent pick for beginners. At its super cheap price, this formula is a total steal. It works well on all skin types and is ideal for medium to dark skin tones. la girl green concealer is the best concealer for dark circles.
Pros
Easy to apply
Lightweight
Long-wearing
Crease-resistant
Inexpensive
Cons
None
Similar Products:
Review
This emollient-based concealer from NYX hides redness and discoloration without looking caked-on or clumpy. Its special advanced formula hides imperfections seamlessly and does not crease. Its light green color is perfect for fair skin. Remember to use it judiciously as a little bit of this product goes a long way.  It is one of the best concealers for redness.
Pros
Blends easily
Long-wearing
Buildable
Budget-friendly
Cons
None
Similar Products:
[ Read: Top 5 Concealers For Dry Skin That Are Available In India ]
Review
This gel-serum concealer takes some effort to blend, but its redness-covering results are absolutely worth it. Its formula is infused with pineapple extract to help brighten your skin and improve its texture. Just dip, dot, and blend on all your problem areas to neutralize before you conceal.
Pros
Long-wearing
Full coverage
Natural finish
Suitable for all skin types
Affordable
Cons
None
Similar Products:
Review
Maybelline's Cover Stick Corrector gives you perfect coverage in an easy-to-manage stick. It is infused with plenty of green pigment and paired with a gentle, hypoallergenic formula is the best concealer for acne-prone skin. It works to reduce the appearance of redness without clogging your pores. 
Pros
Waterproof
Hypoallergenic
Long-wearing
Buildable coverage
Affordable
Cons
None
Similar Products:
[ Read: Best Solid Concealers Available In India – Our Top 10 ]
Review
The Clinique Redness Solutions SPF 15 Calming Makeup features an innovative liquid formula that color-corrects and blurs flaws instantly while leaving your skin looking bright and illuminated. It contains several calming ingredients that minimize flare-ups. The oil-free concealer also has SPF 15 to protect your skin from sun damage.
Pros
Contains SPF 15
Oil-free formula
Long-lasting coverage
Lightweight
Cons
Review
This green-toned primer from Smashbox is a must-try if you want to cover larger problem areas or keep red splotches out of sight. It is guaranteed to reduce the appearance of redness by balancing your complexion for a true photo finish. It is great for anyone with overall redness and can be used with a heavier concealer to spot treat.
Pros
Lightweight
Brightens skin
Long-wearing
Easy to apply
Value for money
Cons
None
Review
This oil-free cream corrector from Cover FX calms redness and neutralizes skin discoloration caused by acne, dryness, and rosacea. Its formula is ultra-blendable and pigmented enough to cancel out skin discoloration and even out skin tone instantly. Its convenient stick form allows for easy application and ultimate portability. It is the best drugstore green concealer.
Pros
Lightweight
Long-wearing
Ideal for beginners
Suitable for sensitive skin
Cons
[ Read: 14 Best Drugstore Concealers To Try In 2019 ]
Review
If you have extremely sensitive skin, this drugstore green concealer is just what you need. Its formula is infused with an advanced technology that ensures a smooth, matte finish. You can blend it over rosacea, acne, scars, age spots, bruises, and hyperpigmentation for total coverage that lasts throughout the day.
Pros
Easy to apply
Versatile
Long-wearing
Hypoallergenic
Cons
None
Review
This vegan color corrector from Palladio helps disguise the angriest of red blotches caused by acne and rosacea. Its formula is enriched with vitamins that not only mask flaws but also help reduce puffiness and eliminate the build-up in toxins from your skin. It is also luxuriously creamy, easy to blend, and will never cause breakouts! It is the best green concealer for acne prone skin.
Pros
Lightweight
Blends well
High coverage
Paraben-free
Cons
None
Green concealer is a game-changer in the beauty game. When using a green concealer, use a makeup brush to apply it before your foundation and keep the product confined to your red zones. You should see its effect on your redness shortly after applying. It may add also add a slight green tint to your skin. However, once you apply your foundation and concealer on top, you will notice a significant reduction in redness. Be careful not to over-apply, as it will make your regular concealer difficult to apply.
That was our round-up of the nine best green concealers on the market. Which one are you looking forward to trying? Let us know in the comments section below.
Recommended Articles