11 Best Green Tea Cleansers – 2022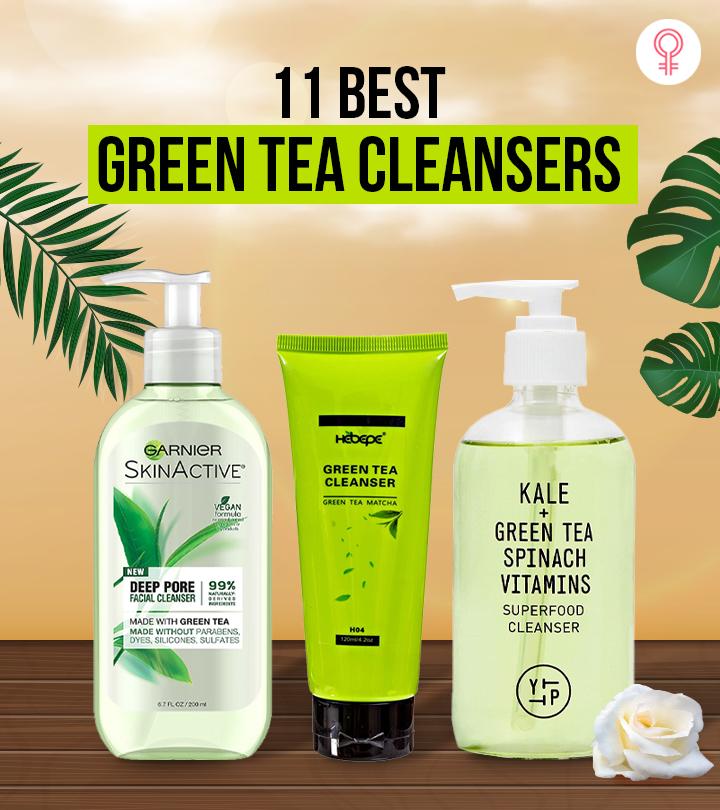 Green tea works as a magical ingredient in the beauty industry. Therefore, it is no news that the best green tea cleansers are always on demand. This natural ingredient is a blessing for acne-prone skin and ideal for people with premature aging signs. Green tea cleansers serve as an essential part of every skin care routine as they add the lost glow to the skin. Our article lists the 11 most preferred green tea cleansers available on the market. Swipe up for details!
11 Best Green Tea Cleansers For Healthy Skin
The Youth to the People Superfood Cleanser is packed with cold-pressed antioxidants to give a boost of nutrition to the skin. Its gel-like consistency hydrates and soothes the skin while getting rid of dirt and bacteria.
The formula is enriched with superfoods like green tea, kale, and spinach that have anti-inflammatory properties and are rich in phytonutrients. It effectively unclogs pores and improves the moisture content to give the skin a natural and healthy glow. This pH-balanced cleanser is gentle enough to be used twice daily and has a fresh herbal scent that alleviates the senses. It has a non-drying formula that rinses off quickly without stripping the skin of natural oils. Click this video to learn more about the product.
Pros
Natural ingredients
Non-comedogenic
Gentle
Smells good
Paraben-free
Sulfate-free
Phthalate-free
Mineral oil-free
Dimethicone-free
Vegan
Cruelty-free
Cons
May cause skin irritation.
This antioxidant cleanser from Lily Sado is enriched with powerful leaf-based phytonutrients and vitamins to deeply cleanse the skin. It eliminates dirt and acne-causing bacteria and leaves your skin feeling soft and supple.
This lightweight cleanser is formulated with matcha green tea and vitamin C that detoxify the skin and reduce pore size and sebum production. It also provides protection against harmful UV rays and free radicals to prevent premature aging and plump and firm the skin. The formula also contains aloe and rosehip that accelerate tissue regeneration, lock in moisture, and promote collagen production to improve skin texture and fade wrinkles.
Pros
Hypoallergenic
Non-comedogenic
Lightweight
Gentle
Smells good
Non-drying
Cruelty-free
Vegan
Cons
Not suitable for sensitive skin.
This cleanser from Garnier deeply cleanses the skin of impurities and makeup buildup to give it a shine-free, radiant glow. It is enriched with green tea that has antioxidant properties and protects the skin against free radicals to minimize the signs of aging. It also unclogs and tightens the pores. This green tea cleanser is made with 96% naturally derived ingredients that reduce oil production without drying the skin.
Pros
Gentle
Smells good
Paraben-free
Silicone-free
Sulfate-free
Dye-free
Vegan
Cons
This Hydrating Cleansing Foam from Innisfree contains green tea from Jeju island that deeply hydrates and cleanses the skin. It also effectively washes off makeup buildup and dirt while unclogging blocked pores to brighten the skin tone. The Jeju Green Tea Extract gently cleanses the skin using microbubbles. It leaves the skin feeling fresh, bright, and smooth without leaving behind any residue. Learn more about the product in this video.
Pros
Mild
Foams well
A little bit goes a long way
Vegan
Mineral oil-free
Dye-free
Sulfate-free
Paraben-free
Cons
This cleanser from Some By Mi is specially formulated with 16 different tea extracts and naturally sourced BHA to unclog the pores and provide concentrated blackhead care. The live green tea leaves combined with konjac granules act as natural exfoliants, while the tannins tighten the pores and improve skin elasticity. The BHA foam deeply penetrates the follicles to remove dead skin cells and excess sebum and combats acne and sun damage. This mild cleanser washes away impurities quickly without stripping the skin of natural moisture. It can also be used as a face pack to unveil clearer, smoother skin. This video gives you more information about the product. This video gives you more information about the product.
Pros
Non-comedogenic
Smells good
Alcohol-free
Dermatologically tested
Cons
This green tea powder face wash from By Wishtrend has anti-inflammatory properties that calm irritated and sensitive skin. It is enriched with coconut-derived surfactants, papain enzymes, and baking soda and can also be used as a scrub. The cleanser gently exfoliates dead cells, unclogs pores, and eliminates blackheads while keeping the skin hydrated. Mix the powder with a small amount of water to work up a lather that refreshes and cleanses the skin of all impurities.
Pros
Natural ingredients
Pleasant scent
Cruelty-free
Vegan
Dye-free
Artificial fragrance-free
Cons
May cause skin irritation.
The St. Ives Green Tea Cleanser is enriched with green tea and salicylic acid to exfoliate dead cells and reduce skin irritation. The antioxidant and anti-inflammatory properties of green tea improve skin health by combating acne breakouts and reducing oil production. This lightweight gel-based cleanser is non-sticky and gently removes makeup and dirt while leaving no residue on the skin. It has a mild scent of green tea that leaves the skin feeling refreshed and clean.
Pros
Non-comedogenic
Hypoallergenic
Dermatologist-tested
Oil-free
Paraben-free
Oil-free
Cons
Not suitable for dry skin.
This cleansing foam from A:T is packed with acne-fighting ingredients that remove excess oil and dirt from the skin. The unique combination of xylitol and fruit extracts exfoliates the skin and replenishes its barrier while reducing moisture loss. It also contains vitamin C and tannins, antioxidants that protect the skin from everyday pollutants and UV ray damage. The powerful blend of fruit extracts and green tea fights the signs of aging and reduces the appearance of fine lines. This cleanser deeply penetrates the skin to clean clogged pores and reveal a youthful glow.
Pros
Hypoallergenic
Gentle
Smells good
Lathers well
Paraben-free
Alcohol-free
Mineral oil-free
Cons
Not suitable for sensitive skin.
The Replenix Green Tea Cleanser restores the moisture barrier to keep the skin soft and supple. It is enriched with green and white tea polyphenols that have antioxidant properties that reduce the visible signs of aging and calm skin inflammation. The blend of vitamins provides essential nutrients to the skin as they fight against free radical damage. This cleanser is also fortified with CoQ10 and protects the skin against UV ray and sun damage.
Pros
Non-comedogenic
Gentle
Non-drying
Soap-free
Paraben-free
Oil-free
Chemical-free
Fragrance-free
Cons
This cleanser is made with green tea, grape seed, and kiwi extracts that have strong antioxidant properties. Its gentle formula cleanses the skin of makeup and dirt without disturbing its natural moisture levels, making it an ideal option for soothing rosacea and skin irritation. The green tea in the formula naturally boosts collagen production to promote healthy, supple skin. This product can also be used as a shaving gel and scalp cleanser.
Pros
Non-irritating
Gentle
Non-drying
Softens the skin
Cons
The Hebepe Green Tea Cleanser gently washes away oil, dirt, and makeup. It is enriched with green tea extract, citrus peel extract, collagen, and vitamins C and E that unclog pores and remove impurities to combat acne and blackheads. The green tea matcha in the formula reduces inflammation and strengthens the skin cells to prevent aging, while collagen moisturizes the skin and makes it soft and supple. The vitamins C and E brighten and soothe your skin, enhance the skin barrier, and impart a healthy glow to the skin.
Pros
Natural ingredients
Non-drying
Gentle
Lathers well
Paraben-free
Cruelty-free
Cons
Why Trust StyleCraze?
Shiboli Chakraborti is a certified skincare coach who has an in-depth knowledge of skincare brands, their products, and formulations. She understands the science behind these formulations and how it affects the various skin types. Her research on customer feedback helped her curate this list of the best green tea cleansers for you. These skin-friendly cleansers not only clean your acne-prone skin effectively but also help keep your skin's natural oil and moisture balance intact.
Recommended Articles