10 Best Grill Pans – Reviews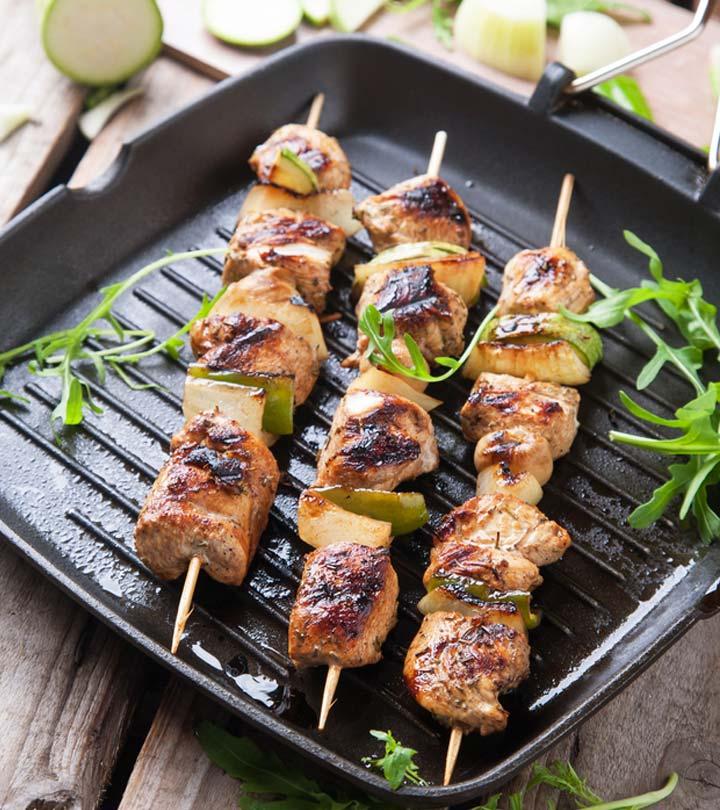 Grilling food is a fun way of cooking that none can resist. Such food gets you salivating every time. With grill pans, you can grill your food any time right from the comfort of your home. You can also take it along on picnics, camping, BBQ gatherings, family get-togethers, and even parties in your backyard. Apart from grilling meat, the pan can also be used for cooking veggies, bacon, sausages, and toasting bread and sandwiches.
Here, we have rounded up the 10 best grill pans on the market. Take a look.
How Does A Grill Pan Work?
A grill pan features a series of raised ridges arranged in a parallel design. The heat radiating from the pan is transferred to the meat, veggies, and other food products placed directly on it. The raised grill ridges are arranged 2 to 3 centimeters apart. They are usually 0.5 centimeters high from the pan's base and accumulate the juices that trickle down the grilled food. The pan features strong ergonomic handles on the sides for a firm grip while grilling.
The following list encompasses the best grill pans available on the market.
10 Best Grill Pans – Reviews
The Lodge Grill Pan is specially designed for various purposes. It is ideal for almost all cooking surfaces, campfires, picnics, BBQs, and grills. This grill pan is made of high-quality materials that ensure a longer service life and excellent grilling. You can sauté, fry, grill, broil, braise, stir, bake, and sear meat items and other recipes in this pan. The timeless classic design of the Lodge Pre-Seasoned Cast Iron Grill pan ensures an enjoyable grilling experience.
The pan is oven-safe as well. It is particularly seasoned for an easy-release finish. It comes with excellent heat retention and even heating.
This grill pan is also easy to maintain. You can simply wash the cast iron with a mild soap. Dry promptly with a lint-free cloth. Rub a light layer of vegetable oil over the pan while it is still warm. You may then hang it in your kitchen.
Specifications
Dimensions: 17.25 x 10.5 x 2.63 inches
Weight: 6.5 pounds
Material: Cast iron grill
Design: Square-shaped
Pros
Oven-safe
Easy-release finish
Heats up faster
Long-lasting
Better heat retention
Easy to maintain
Cons
Price at the time of publication: $21.9
The TeChef – Stovetop Korean BBQ Grill Pan is a non-stick piece of cookware. It is highly durable and perfect for grilling, as it is coated 5 times with Teflon. Its special construction and design pattern allow the oils to be drained easily. This pan gives meat more flavor, aroma, and a sumptuous taste.
The pan is oven- and dishwasher-safe. It has a unique swirled channel and dome-shaped bottom that helps drain grease with ease.
Specifications
Dimensions: 12 x 12 x 2 inches
Weight: 3 pounds
Material: Thick cast aluminum
Design: Unique swirled channel design
Pros
PFOA-free
Cadmium-free
Lead-free
Oven-safe up to 450 degrees Fahrenheit
Dishwasher-safe
Drains grease easily
Easy maintenance
Cons
Prolonged use can wear out the thermal coating
The All-Clad Anodized Grill Pan can grill larger quantities of meat, chicken, sausages, bread, sandwiches, bacon, and more. Its sides are higher and keep the contents from leaking out. Itsridged bottom prevents accidental skids and keeps it firm on the oven while grilling. The grill pan allows fast cooking, even heating, and easy cleaning.
It has a PFOA-free, scratch-resistant, and non-stick coating. Its countered,  stainless steel handle offers a comfortable hold. The pan is oven-safe (up to 500oF) and dishwasher-safe. It also has an anti-warp base.
The grill pan has a limited lifetime warranty.
Specifications
Dimensions: 21 x 11 x 3 inches
Weight: 3.5 pounds
Material: Hard-anodized aluminum
Pros
Scratch-resistant
Non-stick
PFOA-free
Firm grip handle
Oven-safe (up to 500oF)
Dishwasher-safe
Anti-warp base
Cons
Not suitable for an induction cooktop
Price at the time of publication: $58.99
The GreenPan Paris Grill Pan has a diamond reinforced coating that is incredibly durable and long-lasting. It can withstand temperatures up to 600o F in the oven. The 11-inch square grill pan is user-friendly and safe to use. The pan is made of PFOA-, PFAS-, lead-, and cadmium-free material and does not release any toxic fumes even if accidentally overheated.
Its tough anodized body is scratch-resistant and also promotes even heating. It is dishwasher-, metal utensil-, and broiler-safe. Its contoured stainless steel handle offers a firm grip.
Its thick base prevents warping. It suits all stovetops except induction.
Specifications
Dimensions: 20.03 x 12.24 x 3.42 inches
Weight: 3 pounds
Material: Tough hard anodized body
Pros
Durable
No overheating
Even heating
Scratch-resistant
Dishwasher-safe
Metal utensil-safe
Broiler-safe
Oven-safe (up to 600o F)
Anti-warp base
PFOA-free
PFAS-free
Lead-free
Cadmium-free
Cons
Does not suit induction stovetops
The MasterPan Non-Stick Grill Pan is built for cooking on stovetops and all types of ovens. It has a rounded, 12-inch-wide pan surface. It is capable of grilling several food items and serves multiple purposes. It can be used to sauté and stir-fry meat, vegetables, sausages, pork pieces, bacon, chicken wings, ribs, and more. The unique cookware technology used in this pan traps heat inside and enables food to be cooked more effectively. It also releases excess steam and prevents condensation on the inside – keeping your food hot and crispy for a longer time.
The lid has over 5000 laser-etched holes that keep oil from splashing out. The pan's low and wide ribs can also be used to stir fry and sauté food.
The pan is free of PFOA and other heavy metals. It has a ceramic reinforced, non-stick, and scratch-resistant coating.
Specifications
Dimensions: 15 x 12.25 x 2.1 inches
Weight: 4.75 pounds
Pros
Oven-safe
Traps heat for effective cooking
Scratch-resistant
PFOA-free
No heavy metals
Cons
Price at the time of publication: $52
The Vremi Pre-Seasoned Grill Pan specifically suits gas and electric stovetops. It gives your grilled food a BBQ flavor. The pan is ideal for searing meat, grilling vegetables, chicken, fish, turkey, duck, lamb, pork belly, and more. It is a smart, classy, and lightweight alternative to other outdoor cooking appliances.
This cast iron grill pan is flat and promotes efficient warming. It is also deep enough to keep the food from splattering. It has a heat-resistant silicone handle cover.
The pan comes pre-seasoned and builds flavors with each use. However, it is not dishwasher-safe.
Specifications
Dimensions: 11 x 11 x 2 inches
Weight: 6.6 pounds
Material: Heavy-duty cast iron
Pros
Oven-safe (up to 480ºF)
Easy to clean and maintain
Ergonomic, comfortable handle
Cons
The Calphalon Contemporary Grill Pan ensures even distribution of heat throughout the grilling process. It keeps the food from getting burnt. You can use the pan for cooking chicken breasts, ribs, wings, meat, lamb, pork, hamburgers, hot dogs, sausages, salamis, burgers, sandwiches, vegetables, bacon, and more. The pan's multi-layered, non-stick cooking surface ensures durability.
The pan is made of heavy gauge aluminum and is dishwasher-safe. The interior of the pan has three layers of non-stick coating. While two layers offer added durability, the third one provides an easy-release performance. Its stainless steel, brushed handles stay cool.
The pan is also oven-safe. Its deep ridges add an authentic grill flavor to your food.
Specifications
Dimensions: 20.25 x 11.5 x 1.5 inches
Weight: 2.64 pounds
Material: Heavy gauge aluminum
Pros
Low-fat cooking
Dishwasher-safe
Does not overheat
Adds authentic grill flavor
Cons
No lid
Not suitable for induction stoves
Price at the time of publication: $62.68
The Le Creuset Grill Pan gives a classic signature statement to your kitchen with its unique, innovative design. The grilling surface of this pan is 10¼ inches wide. The pan is square-shaped and is suitable for indoor and outdoor cooking. You can cook meat, chicken, vegetables, and several other food preparations. This ridged grill pan has side spouts that enable you to pour out the excess drippings from the grilled food easily. Its non-stick surface prevents the accumulation and buildup of oil and grease. Its wide and open construction makes cleaning and maintenance easy.
The pan is dishwasher-safe. Its long-lasting exterior enamel is chip- and crack-resistant. Its strong iron handles offer the perfect grip. This cast iron pan performs effectively both for slow cooking and high temperature searing.
The pan offers superior heat retention and even heat distribution. It does not need additional seasoning thanks to its black enamel finish.
Specifications
Dimensions: 13.9 x 15.1 x 2.6 inches
Weight: 7 pounds
Material: Enameled cast iron
Pros
Dishwasher-safe
Durable exterior enamel
Chip-resistant
Crack-resistant
Strong handle
Superior heat retention
Even heat distribution
No additional seasoning needed
Non-stick surface
Easy to clean and maintain
Cons
The StaubPure Grill Pan is made exclusively for grilling a wide range of meat delicacies and vegetarian food items. This pan is made in France and can withstand temperatures of up to 500oFahrenheit. This ridged grill panis suitable for use on all stovetops due to its smooth enameled bottom. You do not need to season the contents.
The pan is dishwasher-safe. Its rough texture promotes exceptional browning of the contents. Its black matte enamel coating also promotes better braising and roasting. The pan is chip-resistant as well.
Specifications
Dimensions: 12.6 x 11.81 x 1.97 inches
Weight: 6.08 pounds
Material: Enameled cast iron
Pros
Easy to clean and handle
Dishwasher-safe
Chip-resistant
Anti-slip bottom
No seasoning needed
Suits most stovetops
Promotes exceptional browning
Cons
Overheating may damage the enamel
May not suit glasstop cooking
Price at the time of publication: $119.95
The Anolon Advanced Grill Pan is a heavy-duty product that gets heated up quickly. The built-in raised grills create authentic browning marks on your food. The durable, non-stick coating on the pan allows the quick release of the grilled food without burning the pan surface. It also makes cleaning effortless and quick. The spouts at the side of the pan enable you to easily pour out the grilling juices, sauces, or gravy. This pan has a 27% larger cooking space than most others found on the market.
The pan has a dual-riveted Sure Grip handle that offers the perfect grip. It is oven-safe up to 400oF. The pan is PFOA-free. It comes with a tempered glass lid that allows you to monitor the cooking process.
Specifications
Dimensions: 19 x 11 x 4 inches
Weight: 2.6 pounds
Material: Premium quality hard-anodized
Pros
Even heat distribution
PFOA-free
Superior grip
Oven-safe (up to 400oF)
Comes with a tempered glass lid
27% larger cooking area
Durable
Cons
Price at the time of publication: $39.99
These are the top 10 grill pans available online. Before you make a purchase, consider the following factors.
What You Need To Consider Before Buying A Grill Pan
Handle:Ensure the pan has long handles. They also must be made of strong and durable material like that of cast iron. A grill pan handle with a loop is a bonus. You may also check if the handle is made of a non-heat transferable material.
Body: The most commonly used material on a grill pan is cast iron, which offers durability and reliability. It is perfect for retaining heat and grilling your food in no time. Cast iron can also withstand high temperatures and can be used on stoves, burners, cooking tops, among others.
Other aterials used to make grill pans are stainless steel or anodized aluminum. These make the pan much lighter. However, they cannot withstand high temperatures.
Also ensure the pan has a larger surface area. It should be able to hold larger quantities of meat, chicken, lamb, pork, sausages, sandwiches, hamburgers, etc. It also should fit over two burners for better heat distribution and faster cooking.
Coated Surface: Grill pans made of cast iron have a pre-seasoned coating. These last longer and enable easy food release after grilling. The pre-seasoned cast iron pans are also easy to clean and are resistant to scratches, scrapes, and accumulation of grilling residue. Grill pans with non-stick coating prevent meat and vegetables from getting stuck to the surface.
On the other hand, uncoated grill pans made of stainless steel need a lot of scrubbing. Should you decide to go for one, choose a non-stick variant that is easy to clean.
Exterior: Choose grill pans with enamel-coated exteriors as they have a smooth and sleek finish. They look classy in your kitchen. Such pans are also easier to clean. They are available in various color options as well.
Raised or Shallow Ridges: All grill pans have built-in ridges that give your grilled food the brown, crispy marks and smokey flavor. Grill pans with raised ridges allow you to grill your food slowly and thoroughly. Such pans also ensure the food items do not stick to or get burnt on the surface. The raised ridges on the grill pan can accumulate more oil drippings, making your food healthier.
On the other hand, grill pans with shallow ridges grill your food quickly due to the high heat generated. The residue and drippings get stuck onto the pan and give wider markings on the grill food. The food soaks up the oil on the pan, making it fatty and relatively unhealthy.
Round or Squared: Grill pans are widely available in round or square shapes. Grilling food requires even distribution of heat. The food should also be placed on the pan in a single layer. This is easily possible with square-shaped grill pans due to their larger surface area. Square-shaped grill pans can also accommodate more meat pieces for grilling.
Pour Spouts: Certain grill pans feature spouts at the sides for easy pouring of juices and excess oil dripping from the grilled food. Ensure your grill pan has these spouts.
How To Use A Grill Pan?
Place the heavy-duty grill pan on a cooktop, stove, or burner and heat it on a full flame for a few minutes (until it turns hot). Lower the flame to medium heat and coat the pan well with sufficient oil, evenly distributing it on the cooking surface and in between the grill ridges. Add the meat pieces for grilling directly onto the pan and cook well without turning them. Continue to grill till the meat pieces begin to show the caramelized grill marks that you desire. Flip the meat pieces with a pair of tongs on the grill pan.
Using a grill pan offers certain benefits. Let us explore them in the following section.
Benefits Of Using A Grill Pan
Non-Fat Cooking: The sharp grill ridges on the pan are designed and arranged in a way to collect and drain out the fat drippings from the meat preparation. Most grill pans have side spouts that allow easy draining of excess oils as well.
Style Statement In Your Kitchen: Grill pans look sleek, stylish, and give your kitchen a classy look. They look attractive on your kitchen countertop.
Nutritious, Healthy Cooking:You can use grill pans to grill all types of meat preparations and vegetables. These include beef, chicken breasts, pork belly, sausages, hamburgers, sandwiches, hot dogs, bacon, and most vegetables. Grilling helps retain most of the vitamins, minerals, and essential nutrients in your food.
Indoor And Outdoor Cooking: Grill pans are perfect for both indoor and outdoor cooking and can withstand high temperatures. The indoor grilling pans allow you to cook your meals faster.
Different Types Of Stoves And Cooktops For Grill Pans
Grill pans are designed for grilling on all types of stoves and cooktops. The different types of stoves and cooktops suitable for grill pans include the following:
Gas stoves
Induction stoves
Electric stoves
Burners
Outdoor campfires
Glass cooktops
Metal cooktops
Conclusion
Grill pans offer versatile and healthier cooking options. You can use them at your home or in an outdoor picnic. With less oil and other unhealthy fats, you can get the best out of your foods. We believe this article has given you enough options to choose from. Make your purchase today.
Frequently Asked Questions
Can I use a grill pan on a glass top stove?
Grill pans are specially designed for grilling on all types of stoves, including glass top stoves as well. However, stovetop grill pans made of heavy cast iron are bulky and feature a concave or ridged bottom. They should not be placed on a glass top stove. The high temperatures on the grill pans can chip and crack the surface of the glass top stove and cause accidents while cooking.
Recommended Articles