10 Best Pilates Socks That Aid In Maintaining Better Posture
Practice pilates safe and stress-free with these anti-skid, moisture-wicking socks.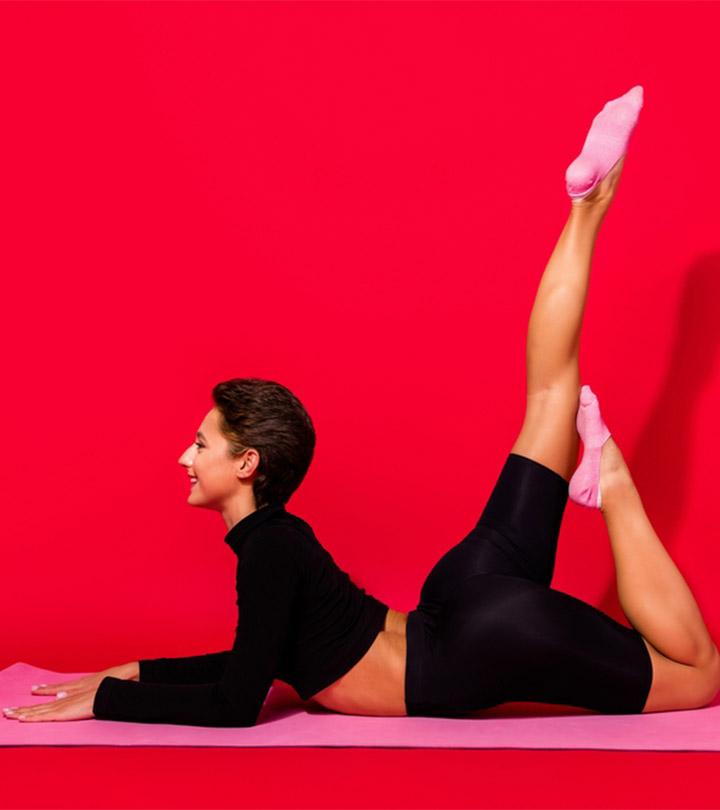 Pilate socks, aka yoga socks, are remarkably crafted with non-slip grips keeping your skin secured. These socks are ideal for low-impact movements like ballet, yoga, and barre, and they come with moisture-wicking properties to keep your feet sweat and odor-free. The best pilates socks have a unique pattern grip made of PVC or silicone material and prevent skidding.
But the common question we hear is, can't we wear regular socks for pilates which also have sweat resistance? Unfortunately, regular socks can provide sweat resistance, but they don't have a patterned grip, usually seen in pilates socks. These pilates socks also come in handy when you have no proper mat around. So, even after performing pilates, you need to have proper pilates socks for happy feet. Stretching your feet on hard floors might look exciting, but they may also damage your skin. So, these pilates socks keep your feet' skin intact, preventing multiple falls. Pilates, yoga, ballet, and barre may make you feel relaxed and build your strength. But providing good protection by picking a good gym fit is necessary and selecting pilates socks is essential. Finding the right pick from the countless pilates socks available in the market can be daunting. So, we brought forth a curated list of the ideal pilates socks that help you maintain good posture, perform well, and prevent sliding. Check them out. Keep reading through!
10 Best Pilates Socks That Stay Put Through All The Stretches
With RATIVE's grip socks, pilates sessions are about to become a breeze! The blend of 97% cotton and 3% spandex boasts plenty of breathability, so sweaty feet are a thing of the past. The dot grips on the sole guarantee superior traction, especially on slick floors. The knitted cotton blend fabric used in these pilates socks with grips is sturdy enough for even people on the advanced level while the arch support provides you with a great fit and keeps feet warm.
Pros
Pack of 3 pairs
Quick-drying
Breathable
Aids balance and stability
Extended arch support
Heel tab
Cons
Some might find them slightly scratchy
Price at the time of publication: $13.99
If you have snagged a pair of Hylaea's grip socks for pilates, you're all set! They are not only anti-skid for sleek studio floors but also have a stylish look. Cushioned, stretchable, and breathable to keep your feet dry, these pilates sticky socks are designed to protect your ankles and feet from stress during movement. While the silicone geometric-patterned grips reduce friction, the elastic arch support keeps the fit secure on these anti-skid socks.
Pros
Mesh ventilation
Anti-skid silicone grips
Well-cushioned
Comfortable sock mouth with heel tab
Retain shape
Have an ample stretch
Cons
Might not be resistant to pilling
Price at the time of publication: $13.99
Ozaiic's pilates toe socks give you strategically-placed cushioning and outsole grips for a free range of motion. You're able to spread and flex your toes with ease, maintain the correct posture, and get the most out of your workouts. The low-cut full toe pilates socks feature elastic straps for added security and encourage airflow between each toe to prevent sweat build-up. Made with combed cotton to absorb moisture, these anti-slip pilates socks are also ideal for other low-impact activities you're fond of.
Pros
Breathable
Secure elastic crisscross straps
Silicone bottom grips
Low-cut design
Well-cushioned
Pack of 3 pairs
Cons
Straps might dig in sometimes
Price at the time of publication: $14.99
If you've been on the hunt for socks for pilates classes, Wander G's pairs improve both stability and balance with a non-failing grip. The undetectable grippy material on these non-slip yoga socks feels like you're wearing nothing and won't give you a lumpy sock in the middle of a session. The instep's open design helps with breathability, supported by the 100% combed cotton construction. Ridding your feet of sweat and odor, these versatile toe socks for pilates keep you fresh to prevent fungal infections.
Pros
Pack of 4 pairs
Undetectable silicone grips
Breathable
Odor-repelling
Open design
Help with balance and stability
Cons
Might shrink slightly after the first wash
Price at the time of publication: $18.99
LA Active brings you the best grip socks for pilates in 2 fun and bright colors. The extra-strong non-slip grip pattern runs from the toe to the heel to keep you well-balanced on your feet. You can wear these cotton pilates socks for a quick session and keep them on when lounging around the house to stay toasty. The soles of these cute pilates socks are lined with a super soft and durable blend of cotton to prevent any skin irritation.
Pros
Breathable
Lightweight
Full-length grip pattern
Helps maintain balance
Moisture-wicking
Non-itchy
Cons
Opening cuff might be a bit snug
Price at the time of publication: $8.77
Lucky 21's non-slip pilates socks absorb sweat and dry quickly to keep your feet fresh through multiple sessions. No matter what your surface of choice, these socks offer excellent traction to prevent skidding. This pack of 12 low-cut pilates socks is all you need every day, especially if you're looking to stay active on vacation. Keeping your feet well-protected from injuries and infections, these pilates exercise socks stay put securely.
Pros
Pack of 12 pairs
Breathable
Quick-drying
Protects against injuries
Machine washable
Retains shape
Cons
Fabric might feel slightly thin
Price at the time of publication: $24.99
These pilates yoga socks by Tucketts give you a natural barefoot sensation while still keeping the foot protected. Composed of cotton, nylon, and spandex, these toeless yoga socks are lightweight and provide you with an enhanced range of motion. The high-performance toeless pilates socks also secure your footing while the open-toe design not only aids airflow but makes slipping into the pair a whole lot easier.
Pros
Available in 11 colors
Breathable
Moisture-wicking
Support brain-to-foot connection
Low ankle cut
Aid recovery
Cons
The cuff opening might not be tight enough for some.
Price at the time of publication: $15.97
ToeSox's grippy socks for pilates are made of cotton and synthetic materials like polyester, elastane, and elastodiene for a comfortable amount of stretchability. The 5-toe design is made to separate each toe for free movement so you can reduce sweating and itching between them. The best part is that these half-toe pilates socks have extra comfort features such as giving your arches some much-needed support, and the fitted heel prevents twisting or bunching. Chandel Stallworth, a nationally certified Pilates instructor and the owner of Curls & Pilates, a fitness company, says, "I live in Toe Sox! I wear them every single day that I workout, which is 5-6 days per week. They prevent me from sliding around on equipment when I'm in the Pilates studio, and they have so many cute styles and patterns – my clients always get a kick out of seeing new pairs that I wear!"
Pros
Available in 4 colors
Stretchable
Breathable
Moisture-wicking
Arch support provided
No twisting or bunching up
Cons
The grips might peel off slightly.
Price at the time of publication: $14
100% combed cotton is used in H-Brotaco's pilates socks with grips to prevent unnecessary friction. No matter how many workouts you ace, these socks will still hold up and allow you to perform at your finest at the next one. The little heel tab helps in putting the non-skid yoga socks on and taking them off without a struggle while also extending support to your ankle bone. To keep you fresh, the fabric of these pilates gripper socks repels both sweat and odor without trapping anything in.
Pros
Also available in black
Breathable
Soft
Minimize sweat and odor
Heel tab
Full sole grip
Cons
Might shrink slightly after the first wash
Price at the time of publication: $8
Composed with a fabric blend of organic cotton, nylon, polyester, elastane, and elastodiene, these sticky socks for pilates are a game-changer. The low-cut design of these low-profile pilates socks is muted under your shoes while hugging your ankle for support. Arch band compression in the midfoot can help alleviate pains and the fitted heel allows you to twist and stretch with no issues. These grip pilates socks are warm enough for lounging around at home, transitioning immediately when you want to sneak in a quick workout.
Pros
Available in 25 colors
Breathable
Moisture-wicking
Quick-drying
Arch support
Lightweight
Cons
The ankle opening might be slightly big for some.
Price at the time of publication: $16.55
Now that we've looked at some of the best gripper socks for pilates that you can try, let's learn how you can choose the best pair for yourself.
How To Choose The Right Socks For Pilates Workouts
There are various kinds of pilates socks out there and you can choose depending on your preference and levels of comfort.
Grip or non-slip socks can be like regular socks except that they have little grip patterns on the bottom that prevent slippage. You can also look for socks that are open-toed to give you a barefoot sensation for a natural range of motion. This covers your heel and allows you to flex your toes and maintain the pilates posture. A few types keep the top of the foot open for enhanced breathability. In the same way, you can also have your pick of sock lengths. If you like some compression or if it's cold outside, you can choose calf-length pairs and ankle-length ones for those who like no-shows.
While synthetics like polyester are superb at being lightweight, moisture-wicking, and quick-drying, they are not good for the planet. They are also known for being anti-fade, wrinkle-resistant, and color-fast. Going for fabrics like cotton can be a win-win as it is super soft, breathable, and comfortable overall. If you have sensitive skin, organic cotton can be ideal as it is not abrasive at all and gives a second-skin feeling.
Sometimes, good old comfort doesn't cut it, especially when you struggle with foot-related problems. While socks can't cure these issues, they can be a supplement to healing them gradually and provide you with relief. If you happen to face aches and pains, fallen arches, or problems like a constant pain in the balls of your feet, look for socks with built-in arch support. Additionally, socks that are cushioned and padded strategically can be a great way to find some relief and take the stress off your joints and muscles.
Why Trust StyleCraze?
The author of this article, Priyam Gupta, lives and breathes fashion. She believes that everyone can work out in style. So, she tried various pilates socks, went through numerous user reviews online, and compiled this list of the best ones available online. These socks protect your feet from any injuries and keep your feet sweat and odor-free, making them the perfect addition to your workout routine.
Frequently Asked Questions
Can I wear open-toe grip socks to club Pilates?
Yes, open-toe grip socks not only allow you to flex your toes freely but also strengthen the brain-foot connection so you can work out better.
Can you use barre socks for pilates?
Yes, socks used for barre can be worn for pilates as they have non-slip silicone grips on the bottom for a secure footing.
Why do pilates socks have holes on top?
The main reason for those openings is to aid in breathability. Socks that are open on the top allow better airflow, so there is no sweat pooling up to hinder free movement.
Do you need special socks for Pilates?
Pilates requires a lot of stretching, especially on slippery hardwood floors in studios. To prevent skidding, look for socks that are grippy on the bottom and can help secure your footing.
How long do pilates socks last?
Even if you wear your pilates socks every day, they can easily last you up to a year. Although, frequent washing and mishaps may decrease their life.
Are pilates socks machine-washable?
Yes, pilates socks can be washed in a washing machine. You can put them in gentle mode and wash them with other delicate clothing.
Can pilates socks prevent injury?
Yes, pilates socks can prevent minor injuries while exercising. They do have a good grip and provide you with a better balance to perform pilates over normal socks.
Recommended Articles