15 Best Grip Strengtheners For Your Wrists & Forearm Muscles – 2022
Designed to help you improve endurance, relieve tension, and strengthen your muscles.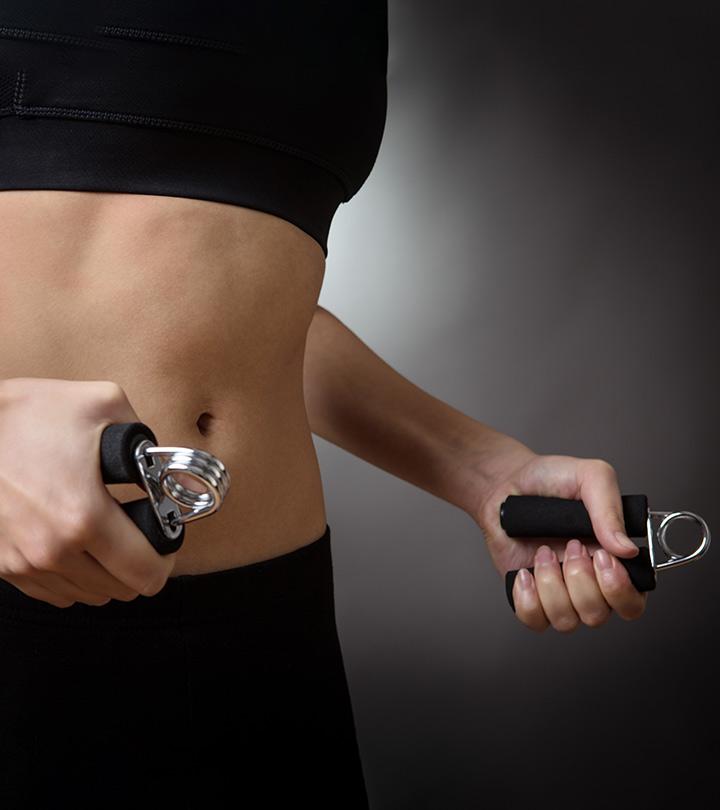 Whether you want to become an arm-wrestling champion or simply defeat your friends every time you indulge in a contest, the only way to win is to strengthen your grip. More effective than most forms of exercise, the best grip strengthener can keep muscle soreness away and help you build better endurance in your hands. This is beneficial in so many ways, such as hand-writing long papers or exams, typing all day, playing an instrument, or lifting weights at the gym.
If you want a powerful grip that will impress any interviewer and win you every arm-wrestling competition, check out our top 15 picks and choose the one that serves you best.
How To Choose The Right Hand Grip Strengthener
Correct Resistance
The resistance level is the amount of force that you need to apply to ensure it stretches every muscle in the hand, wrists, and forearm. Too much force can cause muscle soreness, while too little can be ineffective. Hence, it is crucial to choose a brand that offers levels from beginners to advanced so that you can gradually build your strength. 
Adjustable or Fixed Hand Strengthener
While you browse, you will come across two types of hand strengtheners. The adjustable ones are the ones that allow you to adjust the level of resistance. The second is the fixed type. Once you have passed the beginner's level, you can move to the next level. These strengtheners are pre-adjusted.   
Finger Strengtheners or Squeeze Grippers
Finger strengtheners or stretchers solely work on the flexibility and stamina of each finger. They are like a power-inducing band for fingers that improves blood circulation and eliminates stiffness. Squeeze Grippers, on the other hand, come in different shapes and sizes. They are more therapeutic than strengtheners as they are mostly used to relieve anxiety, stress, and rigidity in hand muscles. 
Now you are all set to browse through the list of 15 bestselling hand grip strengtheners that can help make your hands stronger. Read on to know more!
15 Best Selling Hand Grip Strengtheners
The Captains of Crush Hand Gripper is a hand grip strengthener that is popularly known in the USA and worldwide. Having a history of satisfied customers, this is one of the most trusted brands you can start with. It has an excellent grip, while the aluminum and alloy steel promise prolonged durability. If you are wondering that they cater only to professional lifters and trainers, then you are mistaken. This brand offers 11 levels of strength, making sure that it suits your needs.
Pros
Ideal for recovering from hand injuries
Durable
11 different levels of strength to choose from
Cons
This product may not be skin-friendly
The sturdiness may lead to discomfort initially
Non-adjustable
 Fidgeting is a habit observed in adults and kids alike. Curb your fidgeting habit with these egg-shaped finger strengtheners! These are great for easing tension, limberness, and strengthening muscles. They are soft, safe on skin, and help alleviate stress and anxiety while also strengthening the muscles. These are available in three variants – soft, medium, and firm.
Pros
Alleviates stress and anxiety
Suitable for kids
Cons
Not sturdy and strenuous
Suitable for lifters at the beginner's level
The Pnrskter Hand Grip Strengthener pack includes 3 pcs finger stretchers and 3 pcs hand grip strengtheners, made with high-quality silicone that offers a comfortable and solid grip. They strengthen wrists, balance the grip muscles, expand muscles, improve the fingers' dexterity, and reduce fatigue. They are color-coded where green signifies low resistance, blue-medium resistance, and orange offers high resistance. Suitable for all age groups and hand sizes, they also help people with rheumatoid, arthritis, carpal tunnel, etc. These are washable, easy to use, and travel-friendly.
Pros
A6-pack kit
Washable
Suitable for all age groups
Fits all hand sizes
Color-coded
Cons
Want to become a pro at gripping, climbing, and lifting? This workout kit has everything you need to fulfill your dream of strong and flexible hands, fingers, and forearms. Powered by durability, agility, and comfort, they work on your fingers to increase limberness and co-ordination and also strengthens your forearms. This ergonomically designed user-friendly kit is all you need in your kit. The pack contains an adjustable hand-grip strengthener, finger exerciser, finger stretcher resistant band, grip ring, and a stress relief grip ball. An all-in-one complete hand toning and strengthening workout kit!
Pros
A 5-pack kit
Ergonomically designed
Portable kit
Cons
The product may not be as sturdy as other hand grippers in the market
It is high-priced
Flawless Fitness has one goal, and that is to give you a firm and strong grip, whether you are an athlete or a musician. A strong hand is a sign of strong determination. Its super durable, anti-slip quality along with adjustable resistance levels makes it an ideal pick for physical therapy and rehabilitation processes too. And it is absolutely handy as it fits in your pockets, purse, or bags, making it your on-the-go hand grip strengthener.
Pros
Easy to adjust resistance levels
Portable and long-lasting
Anti-slip and easy to use
Ideal for rehab, physical therapy and injuries as well
Cons
The product may be uncomfortable for first-time users
It does not have a grip cushion
If you have rheumatoid arthritis, carpal tunnel, tendovaginitis, broken or fractured wrist, or have undergone a hand injury or tendon surgery, this grip strengthener from Almah is here to treat you right. This grip strengthener strengthens wrists, fingers, and hands, improves the forearm's power and flexibility, and helps in muscle building. The easily adjustable resistance can be adjusted from 10-60 kgs based on the needs. The durable handle comes with a counting function, making it ideal for everyone to exercise with. This video will give you a better insight into the features of the product.
Pros
Easy adjustable resistance
Number display
Longer handle for better grip
Cons
None
Here's the perfect trainer for your hands! The KDG Hand Grip Strengthener lets you adjust the resistance level from 10-130lbs to suit your preference. Unlike the premium models in the market, this one is simple but delivers more than it promises. The plus factor is its ergonomic design that ensures convenient use. It comes in a pack of 2 for you to train two hands simultaneously. It is great to improve your power and flexibility and recover from injury, broken wrist, carpal tunnel, rheumatoid arthritis, etc. Click here to check out a detailed personal review of this product.
Pros
Pack of 2
Easy adjustable resistance
Durable
Comfortable
Sturdy
Cons
Has a clicking sound
Might not be very suitable for very large hands
Your search for the ultimate hand grip squeezer for men and women ends here! MummyFit Grip Strengthener stands out from the rest, owing to its silent operation! And it is portable, making it easy to carry in your pockets, anywhere, anytime. It is designed using thermoplastic nylon and solid steel wheels that come with a lifetime guarantee. So irrespective of the exercises recommended to you, this grip strengthener with adjustable function, assures long-term durability and outstanding results.
Pros
Non-squeaking device
Versatile, adjustable, and safe
Ideal for beginners and experts
Cons
The product might be too smooth and slippery at times
Not suitable for all hand sizes
Expensive
Make your grip stronger by starting with your fingers first. This striking, modern, and advanced finger stretcher may look like a simple band but is much more than that. A few months of use can make you a master of climbing, intense sports activities, or even a musical instrument. They are safe, BPA-free, and long-lasting. Get your hand on this powerband that's available in three levels of force requirements today!
Pros
Ideal for rock climbers
Available in three-levels of force requirements
BPA-free, skin-friendly, and long-lasting
Cons
Not recommended for severe hand injuries
Engineered to improve finger flexibility and strength and not for hands, wrists, or forearms
Featuring an ergonomic design, this hand grip strengthener helps you build your strength and endurance with ease. Carry this compact, easy-to-adjust gripper everywhere you go and use it to release stiffness and prevent potential joint pains. It can be used by beginners as well since it has an adjustable dial for different resistance levels. Its anti-slip build promises a firm grip while you exercise.
Pros
Anti-slip build that is durable
Compact, strong, and adjustable
Highly recommended for climbers, musicians, doctors, and lifters
Cons
Adjust with caution as the spring wheels are exposed and can cause injuries if broken
If you want to strengthen your hands, wrists, forearms, and fingers then this hand grip strengthener is for you. The NIYIKOW Hand Grip Strengthener is made from heavy-duty plastic and metal alloy springs, making it a durable and user-friendly choice. It offers adjustable resistance ranging from 22lbs to 132 lbs. Its compact design is easy to store and carry anywhere, and it works great for all age groups.
Pros
Easy to use
Adjustable resistance
Suitable for all age groups
Durable
Ergonomic design
Easy to store
Lifetime guarantee
Cons
None
Regain your lost strength and dexterity using the Bomiboo Hand Grip Strengthener. Made with high quality foam, these provide a comfortable grip to your hands, ensuring painless exercising experience. The compact design of this grip strengthener makes it easy to be carried even in pockets. This is suitable for children above ten years of age and adults.
Pros
High quality foam
For children above 10 years of age and above
Compact and portable
Cons
Vive Grip Strengtheners is a pack of 6 silicone squeezer grippers. It strengthens grip and improves the dexterity of fingers, hands, wrists, and forearms. The color-coded set offers resistance from 10 lb to 60 lb to meet different levels of your workouts. The non-slip material offers a durable grip and fits comfortably for adult hands.
Pros
Odorless
Latex-free
Comes with a storage bag
Tear-resistance
Non-slip surface
Great for physical or occupational therapy
Cons
None
To build a sturdy grip, you need one of the best hand grippers in the world – the ACKSKY Hand Grip Strengthener! The robust design of the grip strengthener has an extension up to 4.3 inches, making it suitable for most men and women with different hand sizes. In addition, it comes with a strengthener button which has an added counter to count the number of times you have exercised. With adjustable resistance, it is suitable to meet your different strength needs.
Pros
Adjustable resistance
Digital counter
Durable
Comes with a stress relief ball
Suitable for all
Cons
None
The E-smart In Life Hand Grip Strengthener is crafted using superior quality foam on the grip, making it super comfortable and easy to use. Available in a set of two, they are engineered to relieve pain from conditions such as arthritis, Carpal Tunnel Syndrome, tendonitis, rheumatoid arthritis, and more. They work from the fingertip to the elbow, improving overall stamina and strength. Additionally, it can also help relieve anxiety and stress.
Pros
High-quality foam on grip assures comfort
Fits all hand sizes
Cons
Let us now take a look at the types of strengtheners.
Types Of Grip Strengtheners
First is the Crush Grip, the type where one needs to squeeze an object between the fingers and palm. For example – softballs, hand stretchers, towel wring, etc.
Second is the Support Grip, wherein a person must clutch onto a bar or hold onto an object and stretch. For example – pull-ups, carry groceries, water buckets, etc.
The last one is the Pinch Grip that determines the grip strength between the thumb and the tip of the four fingers.
Now that we know the types of grip strengtheners, we will explore the best way to use them.
Best Way To Use Grip Strengtheners
If you are using a hand therapy ball, hold it as you would hold any ball before throwing it. Press your fingers deep in it and release it. To improve your grip strength and stamina, follow this exercise 50-120 times a day. If you are using the hand grip strengthener, it is crucial to set them to the right resistance level if they are adjustable, and if they are fixed, we'd recommend you start with the beginners' level. Follow 2 to 4 sets of 8 to 10 reps to warm up the fingers, hands, and arms.
How To Improve Grip Strength For Climbing
These are some of the basic exercises to prep up your fingers, hands, and forearms for climbing.  
Try bouldering. It's one of the best ways for beginner climbers to gain the necessary strength for climbing.
Go classic and use hand grip strengtheners. Try to do them as many times as possible without fail. This will stretch your finger, hand, and forearm muscles. Also, they are so handy that you can practice them anywhere, anytime.
If you use a sturdy bar, hold onto it with your fingers for a minute or so. If you manage to, then try for longer next time.
Training with a rope helps too. Get one of those thick gym ropes and hang them from the ceiling. Make sure they can sustain your weight. Hang on to it as long as you can. And if you manage to do that for a good amount of time, try climbing up with your hands and feet.
Why Trust StyleCraze?
Shreya Vishwanathan is a health and fitness enthusiast. She recommended the best grip strengtheners after conducting meticulous research and reviewing available products on the market. Parameters like resistance, durability, and ergonomic design of the devices are also considered while shortlisting the products for the list.
Frequently Asked Questions
Do hand strengtheners really work?
Yes, they do. They are engineered to stretch every muscle from the tip of the finger to the elbow, thus improving stamina, strength, and flexibility.
Are hand grips good for arthritis?
Yes, hand grippers improve blood circulation, limberness, and endurance level, thus relieving joint pain and stiffness caused due to rigidity.
How many reps of handgrip exercises must I do?
Start with 3-5 times a day and go up to 10-12 reps of at least three sets a day. If you can easily do more than 20 reps a day, you are ready to move on to the next level.
How often should you use hand grippers?
You must do at least 2-3 sets of 10 reps a day, three to four times a week.
Why is my grip so weak?
Lack of flexibility, poor circulation, and stiffness can make your grip weak. Just like working out makes your body stronger, your grip also needs regular exercise to become stronger and resilient.
Do grip strengtheners give you veins?
No. However, performing severe cardio exercises and engaging your hands in high-level grip training helps you achieve vascular hands.
Can hand grips lower blood pressure?
Yes, hand grip exercises reduce blood pressure.
Recommended Articles