The 12 Best Gua Sha Tools For Toned And Lifted Skin – 2022
Relax your skin and prevent it from sagging and puffiness to get a youthful glow.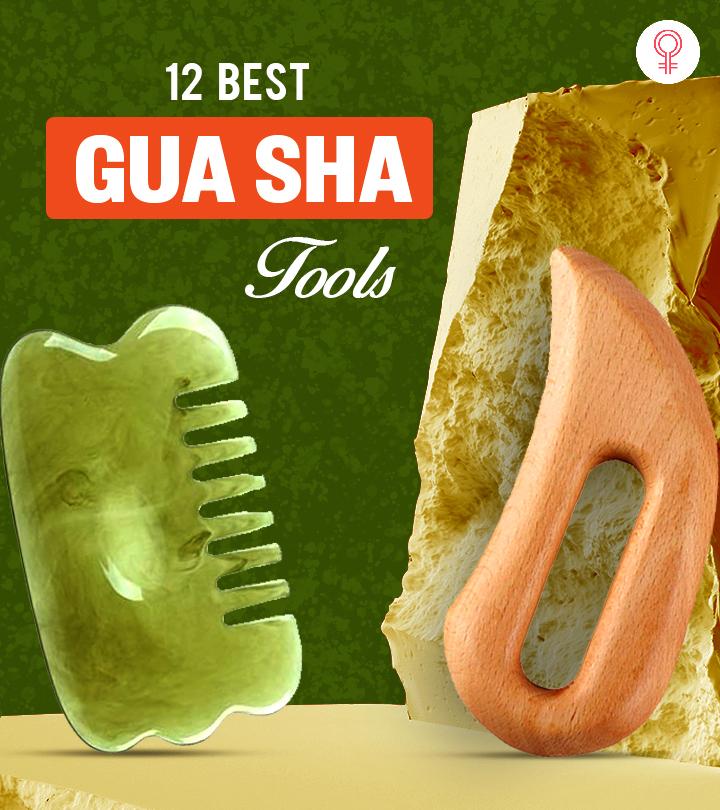 The best gua sha tools help depuff, lift, and firm your skin with just a few swipes. They can make your morning and evening puffiness go away in a flash and help you impart a youthful look. These tools are made of flat-looking therapeutic stones that relax the stiffness and inflammation of your facial skin. Here are the top 12 gua sha tools available online. Scroll down to choose your favorite product.
12 Best Gua Sha Tools Of 2022
The Verynewbee Gua Sha Scraping Tool is made of solid beech wood that has high resistance.  The ergonomic handle offers a comfortable grip that is easy to hold and does not slip. This gua sha tool stimulates lymphatic drainage, dredges the meridians, and minimizes cellulite.
The thin edge enables gua sha scraping, the thicker edge is for rolling meridians, and the tip is for massaging acupuncture points. This tool promotes blood circulation and regenerates tissues. It relieves muscular pain relief and enables faster recovery after surgeries. This product relaxes your mind and body, reducing mental and physical tension.
Pros
Made of high-quality wood
Durable
Lightweight
Portable
Easy to use
Smooth polish
Cons
None
This tool instantly depuffs and tightens the skin. It is made of 100% natural jade stone with specially designed curves. This tool aids in lymphatic drainage and blood circulation, reduces inflammation, and increases the flow of oxygen and nutrients. It reduces fine lines, relaxes facial tension and improves your skin health.
Pros
 Effective for full body
 Multipurpose
 Easy to use
 Durable
Cons
None
The Rena Chris Gua Sha Facial Tool is made of 100% natural jade stone that improves your skin health and provides you massage therapy. It enhances the microcirculation of facial blood vessels, increasing the flow of blood, lymph, and body fluids. This tool helps reduce redness, inflammation, wrinkles, dark circles, and puffiness. It also relieves migraines and headaches when massaged around the temples. This product works great on the neck, face, back hand, wrist, shoulders, and foot.
Pros
Made of 100% natural jade
Easy to use
Static-free
Cons
The Pause Fascia Stimulating Tool boosts skin elasticity, minimizes sagging, and improves skin health. It enhances blood flow, tissue nutrition, and cellular oxygenation, leaving you with firm and radiant skin. This tool is made from medical-grade stainless steel and registered with the FDA as a Class I Medical Device.
Pros
Value for money
Durable
Made of medical-grade stainless steel
Cons
None
The OHH Gua Sha Facial Tool is designed with an original rose quartz stone beneficial to your skin. It releases muscle tension, improves blood circulation, and promotes metabolism. This natural therapy tool makes you more relaxed and energetic. It is manually carved and polished into "heart", "rabbit ear", and "sheep horn" shapes.
This tool eliminates blackheads, breakouts, fine lines, puffiness, eye bags, dark under-eye circles, and wrinkles. It helps relieve fatigue, insomnia, migraine, and headaches. This product works great on the face, neck, back, chin, shoulder, hand, arm, waist, scalp, and feet.
Pros
Static-free
Durable
Easy to clean
Lightweight
Portable
Cons
None
The Mikako Gua Sha Tool promotes the reconstruction of residual toxins and fat. It helps eliminate excess fat in the lymphatic system. This tool is made of 100% natural wood that withstands heavy usage and remains corrosion-free. The edges are smooth and will not scratch the skin. This product is perfect for muscle groups like upper arms, back, hamstrings, and thighs. It can be used by chiropractors, physical therapists, massage therapists, and certified athletic trainers.
Pros
Smooth edges
Recommended by professionals
Durable
Value for money
Cons
This scraping massage tool set is made of medical-grade stainless steel that provides sensitive support. The four soft tissue tools have a double bevel design, which recovers injury, relieves muscle ache, speeds up recovery time, and treats mild tissue injury.
Tool 1 can be used for large scrapping areas like the back, shoulder, and thigh. Tool 2 can be used for the legs, abdomen, and arms. Tool 3 is designed for the neck, forearms, calves, and plantar. Tool 4 is for smaller areas, such as the face, palm, and neck.
Pros
Suitable for all body parts
Durable
Non-static
Easy to clean
Cons
None
This gua-sha massage tool is made of high quality, handmade rose quartz. It has an ultra-smooth design that never hurts your skin. This tool relieves muscular pain, reduces swelling, minimizes stress and anxiety, and increases energy flow by treating the chakra system. It is suitable for the face, back, hand, and foot areas.
Pros
Durable
Easy to use
Travel-friendly
Static-free
Cons
The HEPHEASTUSOR Guasha Tools Stone is made of high-quality agate. It helps remove facial wrinkles, fine lines, and acne. The ultra-smooth surface does not hurt the skin. This anti-aging tool helps tighten, slim, and heal your skin while reducing puffiness. It works on the neck, face, back, and foot.
Pros
Made of 100% natural material
Easy to clean
Comfortable to use
Cons
None
The FeelFree Sport Gua Sha Tool is made of high-quality stainless steel that is durable and smooth on your skin. The design is made with a hole in the middle for convenient use. It works on the back, forearm, neck, calf, and pectoral muscles. This tool conforms to your body shape and provides sensitive support during a massage.
The double oblique blade reduces muscle pain, improves recovery time, and treats soft tissue injury. This tool also treats adhesion and scars caused by surgery, injury, and muscle cramps. It enhances skin elasticity, tightens the skin, relieves facial tension, prevents fine lines and wrinkles, and helps skin care products penetrate the skin easily.
Pros
Easy to use and clean
Durable
Non-static
Easy to hold
Value for money
Made of stainless steel
Cons
None
This gua sha tool has double-beveled edges that reduce head, foot, shoulder, neck, and muscle pain. It treats surgical injuries caused by adhesions and scars and overuse of muscles. The curve design is suitable for all parts of the body and gives the best scraping angle.
This tool is made of high-quality medical-grade stainless steel, polished to a mirror-like surface. It improves blood circulation, promotes metabolism, and enhances immune function. This product dredges meridians, disperses blood stasis, strengthens skin permeability, and improves visceral function. It is used by chiropractors, physiotherapists, occupational therapists, sports coaches, and massage therapists.
Pros
Easy to use
Durable
Wear-resistant
Easy to clean
Firm grip
Cons
None
This gua sha tool is made of natural resin and features a smooth surface and edges. It does not scratch or hurt your skin or cause bleeding.
This set has seven massage tools with different shapes and benefits. It can be used on your face, eye, nose, neck, arm, leg, foot, back, head. The scraping tools are perfect for relieving anxiety, depression, irritability, muscular pain, and stress. They can also activate blood circulation, remove blood stasis, eliminate pathogenic factors, and expel toxins from the body.
Pros
Lightweight
Durable
Smooth edges
Relieves stress
Includes 7 types of tools
Cons
None
Let's now learn about the different types of gua sha tools in the next section.
Types Of Gua Sha Tools
The 'S' shaped tool was initially available only in Bian and precious stones. Recently, the stainless steel S-shaped tool has become popular among professional gua sha therapists. This medium-sized tool efficiently works for the hands, feet, laterals, back, neck, and shoulders.
The wing or fin type tool is smaller than the S-shaped tool. It is designed with three sides and actively used for scraping. This tool is broad and exerts perfect pressure on the tissues. It is made of natural materials, such as stone, semi-precious stones, and bullock horns. It is also found in resins. This tool can be used on localized parts of the hands like the biceps, triceps, and forearms.
Small wing type tools with dents on one side are also available. This modified version has excellent utility in facial gua sha. It can also be used on the chest and jawline.
Like the winged tool, this is made of semi-precious stones like jade and amethyst. It is very versatile and provides a firm grip. The unique design enables significant control to the user, and the rounded ball-like tip helps in a localized massage.
The spoon type gua sha tool offers great control and pressure while scraping. It can be used on the neck, shoulders, soles, and palms. This tool type is made of semi-precious stones, resin, and plastic. It is usually not available in stainless steel material.
This tool is thinner in the middle and perfect for working on small areas. It can be held firmly on the palm and dig hard into the muscle and tissue. This tool works wonders to relieve cramps in the calves, shoulder, and back and reduces pain in the inner and upper thighs.
The long bar tool is made of stainless steel. It works for large muscle groups like the back, thighs, calves, and hamstrings. This tool is unbreakable and can be sanitized and sterilized easily for reuse.
This tool is a bit smaller than the long bar tool and can be handled by one hand. It is suitable for small muscles of the arms, legs, neck, and shoulders. This tool is made of durable stainless steel and preferred by professionals because of its versatility and ease of sterilization.
The wave tool with multiple sides offers better grip and scrapping. It is made of a specific plastic, whose components are nylon and glass. Although not as smooth and effective as the stone or stainless steel ones, it is known for its design and shape. This tool can be used on small muscle groups like the biceps, triceps, neck, shoulders, and localized part of the back and legs.
It is a versatile full-body tool made of stainless steel. This tool has a handle hold grip and not the usual hole type of clasp. Hence, it does not hurt the finger and can be held for an extended period without any difficulty. You can use this tool on the arms, legs, back, shoulders, and neck. This tool is very durable and can be sanitized and sterilized easily.
Note: This tool cannot be used on the face.
Some factors need to be considered while buying a gua sha tool. Here's what they are.
Factors To Consider When Choosing A Gua Sha Tool
Gua sha therapy helps detoxify your body and treat chronic pain. Hence, determining the material of a gua sha tool is essential. The 'scraping' and the natural pulsating frequency of the material aids healing. A good-quality gua sha tool is designed with Bian stone, jade, rose quartz, green aventurine, or stainless steel.
Gua sha tools are available in various shapes meant for various body parts. The double-faced wing type tool is suitable for the hands, feet, and back. Small, winged type tools with dents are suitable for facial gua sha, while some rod-like tools are ideal for large areas like the back. Tools with long handles are perfect for the neck, shoulders, palm, and feet. Thus, choose a tool that serves your purpose and is ideal for the area you want to use it on.
The length of the tools depends on the body part on which they are used. For the back and legs, comprehensive tools would be useful. For the neck and small areas, small tools are convenient.  The length of the tool also depends on the ability to handle it properly. Extended tools are a bit tricky to manage.
For facial use, small delicate tools with dents to massage the chin and the jawline are ideal. Rollers are also very popularly used on the face. On the other hand, extensive and robust tools are suitable for the back and legs. Hence, pick a tool as per your requirement.
Thin devices can be challenging to hold between the fingers. They do not provide a comfortable grip and might become fragile. A very thick tool will make the job of scraping difficult. However, a thick tool with smooth edges will be convenient to use and easy to hold.
Considering the edges of a gua sha tool is essential. Blunt edges are not suitable for scraping, and sharp edges might cut the skin. The edges should be beveled but rounded at the tip to serve the purpose without causing any injury.
A gua sha tool should be durable enough to resist the pressure of scraping. Accidental dropping should not damage it. Materials like jade and other semi-precious stones have excellent resistance. Professionals usually prefer sturdy tools made of stainless steel or Bian stone.
Always use your personal gua sha tool to prevent any skin infection and contamination. Professionals sanitize, sterilize, and reuse their gua sha tools. Hence, stainless steel tools are the best. Buffalo horn, plastic, and resin tools are not easy to sterilize and disinfect.
Why Trust StyleCraze?
Oyendrila Kanjilal, the author of this article, is a certified skin care coach. She is passionate about reviewing skin care products and understands the skin and its needs at the cellular level. Her interest in this field motivates her to learn more and review the latest products. Her extensive research has helped her curate this list of best gua sha tools for your skin. These tools help relax the stiffness and inflammation of your facial skin.
Recommended Articles