10 Best Gym Bags For Women Available In India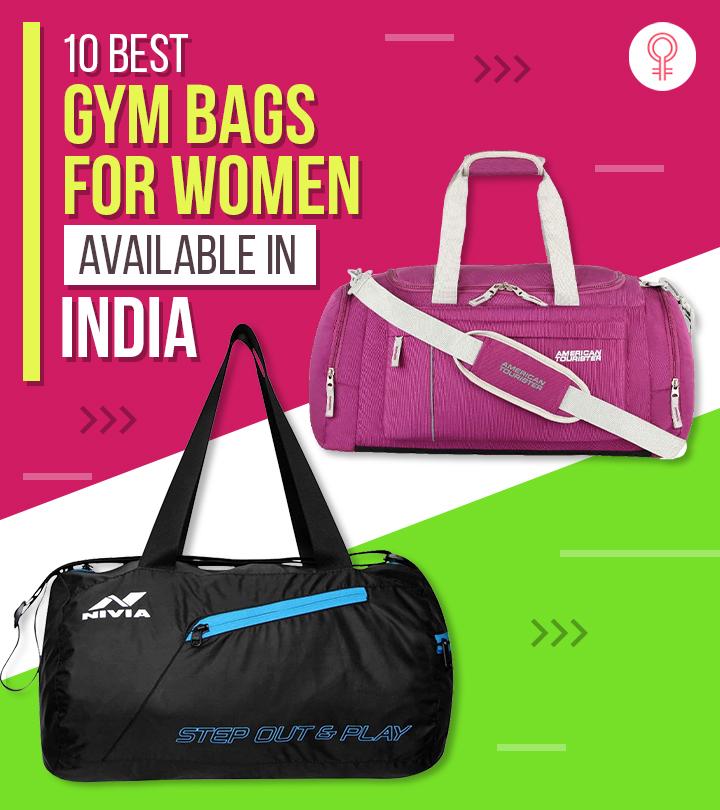 Whether you are a fitness enthusiast who regularly hits the gym or a professional sportsperson, you will need a functional gym bag to carry your essentials. This bag assists in prepping you for the gym and keeps your essentials organized for easy accessibility. Most of these bags have spacious compartments and can be repurposed for short trips. Some of them also have a convertible design and can also be used as a backpack.  This article lists the 10 best gym bags for women in India. Scroll down to take your pick!
10 Best Gym Bags ForWomen In India
This premium leatherette bag from AUXTER is made with durable, high-quality material that stays intact even after regular use. Its wide, adjustable straps do not strain the shoulders. The bag comes with a large double zip closure compartment for carrying a towel, gym clothes, shoes, or other essentials. The side mesh pocket can hold water bottles, sanitizers, earphones, and other small knick-knacks.
Specifications
Dimensions: 47x23x23 cm
Capacity: 23L
Weight: 300g
Color: Black
Pros
Easy to carry
Durable
Lightweight
Adjustable straps
Value for money
Cons
Flimsy zips
Poor stitching
This trendy bag from AMERICAN TOURISTER can carry all your gym essentials perfectly. It is made with long-lasting nylon material, which can withstand everyday wear and tear. This gym bag has a spacious main section with a U-shaped opening for complete access. The two side pockets on the outside and an additional large pocket in the front allow you to store small accessories with ease.  This bag comes with a twin-grab handle set and a wide shoulder strap that make it easier to carry around.
Specifications
Dimensions: 55x31x28 cm
Capacity: 61 L
Weight: 2000g
Color: Magenta
Pros
Durable
Spacious interiors
One-year warranty
Cons
The TopGATORgym bag is a perfect choice for the gym, camping, or hiking trips. Its non-tear dobby polyester body, with strong stitching at stress points, ensures durability. The bag has one main zipped compartment for keeping your clothes. The additional side pockets come in handy for carrying wet clothes, dirty gym shoes, and other small things. A small anti-theft pocket is added to the bag for storing valuables.
Specifications
Dimensions: 34×25.4×25.4 cm
Capacity: 34L
Weight: 280g
Color: Gray/Black
Pros
Lightweight
Compact design
Easy to carry
Adjustable strap
Water-resistant material
Budget-friendly
Cons
The trendy-looking AREO duffle bag is perfect for women who want to slay their gym look. The main compartment is deep enough to store all your essentials and is equipped with a strong and durable zip. It also has a built-in shoe compartment, ensuring that the gym clothes and other sports gear are protected. The bag features an adjustable patch and a durable hand strap for carrying this on hiking trails.
Specifications
Dimensions: 47x22x30 cm
Capacity: 25L
Weight: 295 g
Color: Black/Pink
Pros
Lightweight
Durable and sturdy material
Strong zips
Comfortable handle
Spacious
Lower grip
Cons
None
This multipurpose bag from NIViAisperfect for sporting events, gym, and short trips. It is made of soft, high-quality material that is tear-resistant and long-lasting. This bag has one central compartment for carrying your clothes or shoes to the gym, while the two outer zip pockets are perfect for small accessories. The center zipper is durable and can withstand extensive wear and tear. Its long and short handles and adjustable shoulder strap make it easy to carry.
Specifications
Dimensions: 22x22x40 cm
Capacity: 20L
Weight: 320g
Color: Black
Pros
Lightweight
Collapsible
Sleek design
Detachable shoulder strap
Cons
The premium gym bag from Sfane, made from durable polyester material, is perfect for the gym, hiking, or short weekend trips. This bag has a large capacity and keeps all your essentials organized. You get an additional zipped compartment on the outer side of the bag for storing small accessories. The inner material is durable and waterproof, ideal for carrying soiled or wet clothes.
Specifications
Dimensions: 41x23x23 cm
Capacity: 25L
Weight: 300g
Color: Black
Pros
Adjustable strap
Comes with extra chains
Budget-friendly
Cons
The fashionable and trendy KLEIO PU duffle bag is perfect for carrying essentials when heading to the gym. It has a large capacity to store a pair of gym clothes, books, shoes, and other everyday items. The polyester lining makes it durable and waterproof.
Specifications
Dimensions: 16x9x9 cm
Weight: 660 g
Color: Pink, Gold, Black
Pros
Lightweight
Sturdy zip
Comfortable handle
Spacious
Cons
None
Harrisons Gym Duffel Bag is convertible and can be used as a backpack, shoulder bag, or hand-held bag. This multi-compartment bag has a main compartment for keeping your essentials like clothes, sports equipment, etc. The additional shoe compartment allows you to carry your dirty shoes mess-free. This bag comes with a movable mesh patch to eliminate shoulder fatigue.
Specifications
Dimensions: 24 x 23 x 56 cm
Capacity: 31L
Weight: 800g
Color: Blue/Red/Gray
Pros
Quick-access pockets
Detachable shoulder strap
Durable fabric
Cons
The high-quality leather gym bag from Sfanegives a premium look and feel.  The durable material is wear-resistant and can be used extensively in the long run. This lightweight bag is perfect for sports activities, hiking, short journeys, and beach trips. The big compartment is spacious enough to hold essential sports equipment. The zipped small compartment on the outside can be used for bottles or small essentials.
Specifications
Dimensions: 45 x 23 x 23 cm
Capacity: 15L
Weight: 340g
Color: Black/Gray
Pros
Adjustable strap
Spacious compartments
Easy to carry
Foldable
Cons
This duffle gym bag from FURJADEN features a spacious main compartment to accommodate all your gym accessories, including towels, clothes, etc. This bag can be repurposed to carry your clothes for short trips. It is made of premium quality leather. The shoulder strap is long and adjustable for convenience.
Specifications
Dimensions: 45 x 23 x 23 cm
Capacity: 23L
Weight: 400g
Color: Brown
Pros
Water-resistant
Lightweight
Shoe compartment
Quick-access pockets
Cons
None
Now that you are aware of the best gym bags available on the market, here are a few pointers to help you pick one.
How To Choose The Best Gym Bags For Women
 Capacity:

The capacity is one of the key factors while selecting a gym bag. The ideal gym bag should be able to hold a change of clothes, a water bottle, a pair of sneakers, and other accessories comfortably. Pick one based on the purpose – whether you are just going to the gym or are planning to shower and head out to work.

Compartments: For more functionality, pick a bag with multiple pockets and compartments –like a separate shoe compartment, small storage inside for keeping wet clothes or small accessories, etc – to ensure easy access to your belongings.
Material: Gym bags are commonly made of leather, nylon, canvas, or polyester. While leather bags are durable, they might absorb pungent odors and smell unpleasant in the long run. Nylon and cotton bags are not only durable and washable but are also available in various designs and patterns. Ensure that the fabric is breathable so that the moisture is absorbed efficiently to prevent fungal growth.
Adjustable Straps: Go for gym bags with broad and padded straps to distribute the weight evenly and avoid straining your shoulders. Adjustable straps ensure convenient length according to your use.
 Technically, a gym bag is a functional and compact carrier that makes moving soiled shoes and sweaty clothes from the gym to your home easy. However, the bags of today have evolved to serve multiple purposes. Take your pick from the above list and add some excitement to your workout routine.

Recommended Articles
The following two tabs change content below.