The 11 Best Gym Towels That Will Keep You Dry And Comfortable
Dry your face quickly after an intensive workout with towels that can absorb sweat.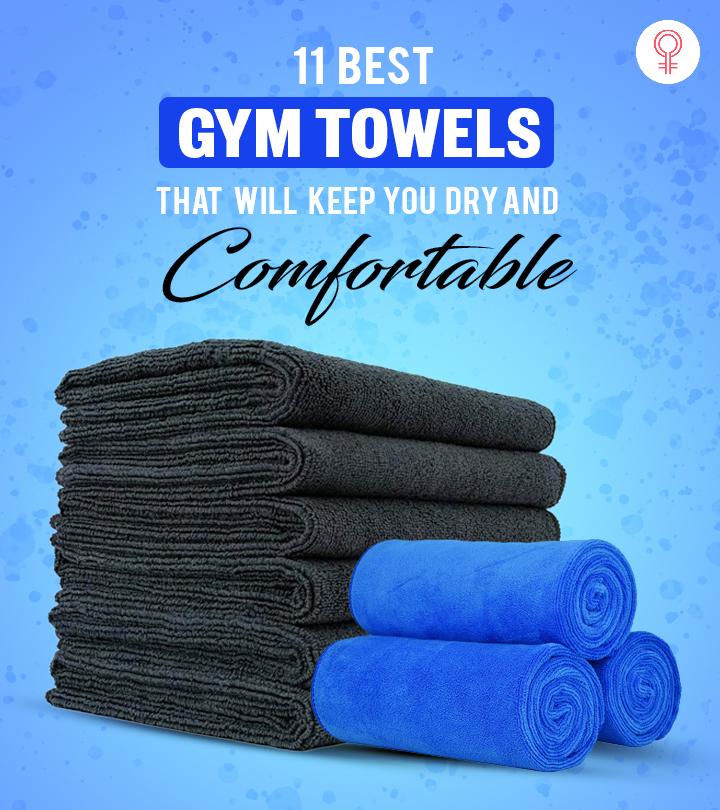 If you are a pro-gym person, moving forward in your personal transformation journey, you will need the best gym towel to dry your face instantly, keep the skin cool, and be sweat-free after an intense workout. However, selecting the best towel can be a bit tricky – there are so many factors to consider, and there are so many variants to choose from. In this article, we bring you the 11 gym towels with the best reviews, highlighting the pros and cons of each one. Scroll down to know all about them!
11 Best Gym Towels For Sweat Absorption
This microfiber towel from The Rag Company is ultra-soft, plush, and perfect for gyms and spas. It is made from highly absorbing and premium quality microfiber yarn with an 80/20 blend. This lightweight towel is quick-drying ability and has superior absorption power. It can absorb 8-10 times its weight in liquid. The perfect gym companion towel has an overlocked sewn-edged design to ensure its durability. It has around 300,000 fibers per square inch, which ensures proper shape and resilience for up to 500 washes.
Pros
Lightweight
Durable stitched edge
Convenient size
Does not lose shape
Ultra-soft
Sweat-absorbent
Economically priced
Pack of 6
Cons
Does not retain color after multiple washes.
The Gold Textiles Bulk Pack 60 Pcs Hand Towels are designed for practical use in a variety of settings. The towels are made of 100% cotton and come in a classic white color that can complement any decor. Each towel measures 15×25 inches and is soft and absorbent , making it ideal for hotels, rentals, salons, spas, gyms, pet grooming places, and households as a cost-effective option without sacrificing quality. The towels are easy to care for and can be machine washed and dried.
Pros
Machine washable
Thin
Lightweight
Quick drying
Long-lasting
Double stitched hem
Sustainable
Budget-friendly
Cons
May shed after a few washes
This pack from Futone includes four gym towels in four vibrant colors – red, blue, yellow, and gray. These best quick-drying gym towels are made with microfiber fabric that has a cooling effect and quickly absorbs heat and sweat. These fabrics are non-irritating and are made of lightweight and super-absorbent towels to aid instant absorption and evaporation of water and keep you sweat-free. The hypoallergenic towels are soft and gentle on the skin and can be used for various sports activities. Reviewers are impressed by its cooling properties and find it perfect for summers.

Pros
Lightweight
SoftHighly absorbent
Hypoallergenic
Chemical-free
Value for money
Pack of 4
Cons
May lose shape after multiple washes.
The Wise Owl Outfitters Gym Towels are a pack of four and perfect for the gym, sports, and other fitness activities. They are made from super-premium quality microfiber, which is soft, quick-drying, and highly absorbent. These gym towels absorb sweat and water 10 times faster than any other towel. They come with hanging hoops that make it is easy to dry them. This video featuring the tester's experience will give you better user insights into the qualities of the product.
Pros
Quick-drying
Comes with a hanging loop
Easy to store
Durable fabric
Travel-friendly
Lightweight
Pack of 4
Cons
The Brooklinen Luxury Super-Plush Towels are made from Turkish cotton and come in two sizes and colors. The towels are super comfortable and soft against the skin. They are great for absorbing water and dries off quickly too. The high-quality cotton is strong enough to not cause breakage and gives you spa-like comfort in your home. According to reviews, the towels are plush and look luxurious while also being highly efficient.
Pros
Super plush
Ultra durable weave
Durable
Luxurious
Cons
None
The Utopia Towels are made of 100% cotton, which makes them absorbent, and durable. These towels are available in multiple colors, although these are in white. The durable towels are machine washable, making it easy to clean and maintain. They are made of soft, hygienic material that is also quick to dry. The towels are lightweight and easy to store, making them a practical and functional addition to any place.
Pros
Machine-washable
Lightweight
Soft
Convenient size
Hemmed edges
Set of 24 towels
Cons
The Sukeen Cooling Towel pack is a set of four colorful cooling towels that provide instant relief from heat and high temperatures. The high-quality microfiber material is soft, breathable, and highly absorbent. The towels are easy to use and you can activate by soaking them in water, wringing them out for the cooling properties that stays chilled for up to three hours. The towels are suitable for a variety of activities, including sports, workouts, outdoor or indoor activities, and even hot flashes.
Pros
Reusable
Multipurpose
Storage pouch
Chemical-free
Easy to use
Breathable material
Cons
None
The Yogitoes Yoga Mat Towel is a great accessory for your everyday routine or travels. Thanks to its non-slip texture, it is made from a Skidless technology fabric that is 100% silicone nubs, which grips your mat and prevents slippage. This moisture-wicking towel is ultra-absorbent and is helpful during hot yoga or other sweat-inducing yoga practices.
The towel is machine-washable and dries quickly, making it easy to maintain and reuse. It also comes in a wide range of colors and patterns, allowing you to choose a style that best suits your personality.
Pros
Eco-friendly
Anti-slip
Lightweight
Highly absorbent
Travel-friendly
Cons
The 4Monster Camping Towel is a high-quality, antibacterial towel that is designed for outdoor enthusiasts and travelers. The towel is made of quick-drying microfiber, making it perfect for use in wet activities. The towel is made with an antibacterial agent that prevents the growth of odor-causing bacteria, keeping it fresh and clean. The compact design makes it easy to carry in a backpack or travel bag. The best feature of this towel is that it comes in a sleek black EVA material case for easy portability.
Pros
Lightweight
Soft
Antibacterial
Fast dry
Durable stitching
Cons
None
The Rainleaf Microfiber Towel is compact, portable, and ideal for sports, travel, and outdoor activities. They are made from high-quality microfiber, which is perfect for drying off after a swim or workout. The towel is fast-drying, super absorbent, and ultra-compact making it easy to carry in a backpack or gym bag. The towel is large and has a soft surface that provides ultimate comfort. It has a loop on the corner for easy hanging and drying. This versatile towel is suitable for a variety of uses and is also machine washable.
Pros
Quick drying
Absorbent
Antibacterial
Lightweight
Cons
None
The Bagail Basics Microfiber Towel is a stylish and practical accessory that can be used during sports, workouts, and outdoor activities. It is made from soft and absorbent microfiber material that quickly absorbs sweat and moisture, keeping you dry and comfortable. It is also lightweight making it easy to carry in your gym bag or backpack. The small, compact size, and zippered EVA case are two key features of the towel. Reviewers love that the towel is ideal for many activities and comes in a variety of bright and fun colors.
Pros
Zippered EVA case
Hanging loop
Lightweight
Compact
Quick drying
Machine wash
Cons
None
Gym towels are extremely important to maintain hygiene in public places. Read on to find out about the importance of having gym towels at all workout sessions.
Importance Of Having Gym Towels
An active and intense workout is bound to make you sweat. In a shared space like the gym where many people workout, no one wants to actively encounter sweaty floor or equipment. One must carry a gym towel not only for cleanliness and hygiene purposes but also to wipe down the common equipment before and after use.
There are several gym towels available on the market, and picking the best one can be tricky. Here is a comprehensive list of factors to keep in mind before getting a gym towel for yourself or your loved ones.
Things To Consider Before Buying A Gym Towel For Sweat
High absorbency is the key point to consider while picking a gym towel. Ensure that the material of the gym towel soaks up sweat or water easily to keep you dry and comfortable. Go for towels made of microfiber or microfiber mesh material as they are highly absorbent and dry quickly.
Comfort is another criterion to be considered while getting a gym towel. Look at the texture of the gym towel before buying one. Go for the gym bag accessory that is soft and does not feel abrasive on your skin while you wipe sweat or water off your face. Opt for terry textured towels that are quick-drying and gentle on the skin.
Make sure that the gym towel is made from high-quality material like microfiber and has double-stitched edges to ensure durability.
Go for gym towels that come in sets or packs to offer bang for your buck.
Frequently Asked Questions
Should I wash my gym towel after every use?
Yes. Wash your gym towel after every use to eliminate the body fluid. Accumulated sweat in the towel stinks and causes skin allergies.
Can you use a microfiber cloth as a gym towel?
Yes. Microfiber towels feature soft and delicate fibers. These non-abrasive towels do not irritate the skin and are suitable as gym towels.
What type of towel is the best for the gym?
A cotton towel is the best for the gym. It is sweat-and odor-resistant and effectively dries your body.
Can you use hand towels as gym towels?
Yes. Use hand towels to wipe sweat from your hand and face during gym sessions.
How do I keep my gym towels from smelling?
•  Follow these methods to keep your gym towels from smelling.
•  Wash the towels immediately after use.
•  Add a cup of baking soda to warm water and wash the towel.
•  Add a full cup of vinegar to clean water and dip the towel in the solution. Repeat this step once a month.
•  Let the towel air dry before folding and placing it in your gym bag.
Recommended Articles