17 Best Beautiful Hair Accessories For Gray Hair – 2023
Bring back the life into your grayish strands with amazing hair accessories.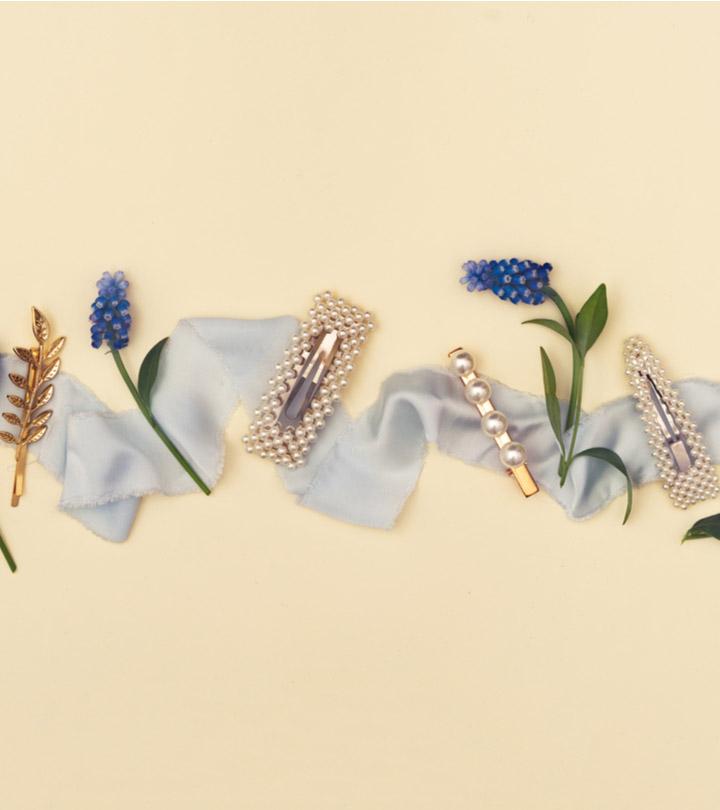 Gray hair has a charm of its own. Also, with the right accessory, the whites, the silver, and the gray strands can look gorgeous! Best hair accessories for gray hair can transform your otherwise dull hair and give it a head-turning appearance! You might have the salt and pepper look, gunmetal gray hair, or champagne gray hair; nothing can stop you from looking stylish with the right gray hair accessories. To add some color and pomp to your look and make your gray locks stand out, you can accessorize with some incredible hair bands and bobby pins. Read on to find out about some of our favorites that you will surely love!
17 Best Decorative Hair Accessories For White Hair
Pros
Suitable for hair types
Highly elastic
Long-lasting
Snag-free
Non-damaging
Cons
May be difficult to wrap around if your hair is too thin
Price at the time of publication: $5.95
The Kitsch Metallic Scrunchies hold braids, ponytails and buns, just right. The metallic sheen on your shiny gray hair will look great! These can be used to accessorize your silver streaks and also worn around your wrist. They make your hair look voluminous and gorgeous. Grab a pack of five scrunchies and style your hair in any way that you want to. You can also check this YouTuber's detailed review to know more about the results after using this product.
Pros
Soft
High-quality fabric
Optimum comfort
Good hold
Suitable for all hair types
Cons
May not be as fluffy as shown in the pic
Price at the time of publication: $7.99
Etercycle's Knotted Headband is available in many colors to match your outfits and make you look chic instantly. Who says silver hair is just plain boring? You can always pop up your favorite color to your crown area and make your hairstyle stand out. It is made of cloth and is stretchable, fitting almost every head size.
Pros
Comfortable
Non-damaging
Stretchable
Elegant style
Suits all types of hairstyles
Easy to wear
Cons
The color may be a little darker than shown
Price at the time of publication: $6.98
Hotop Snap Hair Clips are the easiest way to style your gray hair. If you are eyeing a minimalist look, you can blindly pick these up. The classic shape of these barrettes never runs out of style, and the strong material is durable. Just top one or two of these snap hair clips on your hair and effortlessly secure a few sections of your hair. These come in handy and are easy to style.
Pros
Strong
Durable
Easy to make different hairstyles
Can be painted as desired
Cons
Price at the time of publication: $7.29
If you are someone who loves the messy hair look all day long but cannot find a gray-colored messy bun, well, Reecho Updo Messy Hair Bun is here to stay! It comes in a set of two buns; one is a full thick bun of 45g and an additional bun of 20g. It easily blends with your hair color and adds extraordinary volume and shine to it. In addition, you can use any of the buns to get a new hairstyle instantly. It works great for people with wavy or curly hair types.
Pros
Adds immense volume
Easy to use
Available in natural hair colors
Blends in natural hair seamlessly
Cons
Price at the time of publication: $9.99
If you love braids but have shorter hair to achieve a fuller-looking braid, here's some good news. With the DIGUAN Braided Hair Headband, you can easily attain the braided hair look in seconds. It is made with synthetic hair fibers, appearing as natural as human hair. Plus, they are available in various colors to match your different hair shades. This fuss-free accessory is a must-have, whether a crown headband or a lower bun.
Pros
Heat-resistant
Looks natural
Wide range of color options
Adds volume
Chic
Cons
None
Price at the time of publication: $13.99
A crystal floral hairband is a great hair accessory to wear for a party, wedding, or date. The TQsuen Crystal Hair Band is made with rhinestone beads, artificial pearls, and metal wires. It has a polished look, making it catch everyone's attention naturally. You can just place the hairband around the knot or flow through your hair waves, making it look like real flowers placed into your hair. It helps accentuate your overall, simple-looking appearance.
Pros
Adds glamour
Suitable for weddings
Flexible
Long enough to try different styles
Long-lasting
Cons
None
Price at the time of publication: $5.99
Claw Clips are the most versatile hair accessory you can have in your hair basket. The CENTSTAR Claw Clips Set has 12 claw clips of different colors made of durable plastic. These are lightweight, waterproof, and offer a stronghold to your hairstyles. Whether it's a bun, a high-rise ponytail, a reverse twist, a claw clip will secure all your looks while adding color to your outfits. These are suitable for all hair types and cause no hair damage or breakage.
Pros
Durable
Matte finish
Chic
Suitable for thick hair
Has good hold
Great color options
Cons
The Hula Girl Hibiscus Hair Clips are great for party wears, brunches, and summer and spring outfits. These are available in mixed tropical island colors, and given the hibiscus design, you can dress your hair up with these for any occasion of your choice. These hair clips will make you look dolled up with realistic looking flowers and hold your hair in place, whether in your traditional functions or floral-themed pool parties.
Pros
Tropical look
Aesthetic
Lightweight
Easy to clip-on
Great color options
Cons
None
These moon-shaped hairpins with rhinestone tassel beads from Ximimark will make you look like a princess. The bright stones on the tassels glimmer and shine, ensuring never-ending compliments. You can style it on a bun, wavy open hair, knots, or simply on the sides of your hair. Attached with a simple pin, it does not tug or pull the hair, making it suitable for all hair types.
Pros
Dangling and chic
Elegant
Suitable for any occasion
Ideal for gifting purposes
Cons
None
Price at the time of publication: $6.99
The Morgles Silver Bobby Pins are here to fix your hair and amp up your style game smoothly without even being visible! These are made of high-quality metal and have smooth edges that prevent snagging and breakage. The wave design holds your hair securely, and the high polish silver color blends well into the hair. It is available in a set of 120 bobby pins, making it enough for you to lose some and replace them immediately.
Pros
High-quality
Does not fade
Long-lasting
Smooth edges
Firm grip
Cons
These vintage hairpins from Chuangdi are available in unique designs to suit all your moods and occasions! The material is durable and sturdy. These pins do not tug, pull, or damage your hair strands. You can easily create chic and attractive hairdos with the help of these eye-catching metal hairpins.
Pros
Chic and elegant
Suitable for making multiple hairstyles
Vintage look
High-quality metal
Cons
None
The Tinsow Celtic Hairpins slide on easily and are perfect for glamorous occasions where you need to show off your best hairstyles. These hairpins are made of high-quality materials, and can hold your strands together for the entire day. The smooth edges in the hairpins prevent hair breakage, wear, and tear. You can style these pins with beach waves, buns and single braids.
Pros
Vintage design
Fashion statement
Suitable for all occasions
High-quality material
Durable
Cons
The size may be a little small depending on thickness and texture.
These pearl pins from Dritz are definitely going to make your hairdo the talk of the town! Simple, elegant, yet attractive, these pins can be used to style any type of hair! You do not need any unwanted strands peeking out while you flaunt your perfect hairdo. That is when these pins come in handy. These look stunning when used on buns, braids, and curls. These hairpins are available in a set of 100, making it easier for you to continue styling your hair, even if you lose some of them.
Pros
High-quality
Stackable
Elegant
Helps keep a hair bun in place
Cons
The pin may be too short for a thick bun
The ends are sharp
Bride, bridesmaid, or mother of the bride, Ammei bridal hairpins have everyone's heart! These bobby pins can be matched with your bridal gown or simply worn at a wedding party. These pins are sturdy and prevent your hairdos from falling apart. They are easier to wear and stay at place all day long.
Pros
High-quality
Strongly pasted rhinestones
Easy to wear
Stay in place
Elegant
Cons
None
The Dreshow Flower Clips are shaped in the form of roses with an attached brooch pin. These pins can be used as complementary accessories in your hairdos. You can style them with your summer outfits and also for winter outfits! You can also wear them as brooches and attach these flower-shaped pins to your party outfits.
Pros
Soft silky satin
Prevents frizz
Can be pinned anywhere to elevate the look
Elegant
Decent size
Cons
May have an unpleasant smell
The Honbay Hair Decoration Hairpins are available in the shade 'antique bronze.' These are made of strong materials and can be accessorized with your wedding dress or party wear! For casual updos, you can wear these stylish hairpins and flaunt your buns at special events. Honbay's hairpins are perfect for thick hair and braids.
Pros
Elegant
Suitable for special occasions
Vintage style
Rustic bronzed look
Cons
There's no doubt that accessories can make or break an outfit. The same goes for your hair! A well-placed hair accessory can take your look from ordinary to extraordinary. So when it comes to those special occasions, the right hair accessory can make all the difference. No matter your style, there's a hair accessory out there that's perfect for you. Check out this buying guide to learn how to find the best beautiful hair accessory for your gray hair.
Things To Look For in Beautiful Hair Accessories For Gray Hair
Different hair types can benefit from different types of hair accessories. For example, those with thin or fine hair might want to avoid heavy headbands or clips that could weigh down their locks. Conversely, someone with thick, curly hair might find a lightweight headband is just what they need to tame their mane.
Just like your hair type, you should also consider your hairstyle while buying a hair accessory. For example, a dainty headband would be a perfect finishing touch for your gray hair if you're sporting a sleek and straight' do. On the other hand, if you're rocking beachy waves, some colorful bobby pins added throughout will add just the right amount of personality.
What you'll wear your new hair accessory with is also important. If you're planning on donning a statement piece like a jeweled headband or oversized clip, make sure the rest of your ensemble is fairly subdued so as not to look overdone. On the other hand, if you're going for more of an understated look, feel free to go bolder with your hair accessory choice. You can also look for pearls in your hair accessory to make your hair stand out.
Don't forget to factor in how much you want to spend on a new hair accessory. Whether you prefer high-end designer pieces, hair accessories can range in price from very affordable to quite expensive. Additionally, keep an eye out for sales and discounts. You can often find great deals on hair accessories if you're at the right place.
A cocktail night or a summer brunch, these hair accessories will definitely complement multiple hairstyles, outfits, and looks. From minimalist to beautified appearances, these gray hair accessories are meant to boost your confidence and make you the belle of the ball! However, it is better to steer clear of accessories that can weigh your hair down or tear off strands when used. Also, avoid accessories that are not long-lasting and can ruin your favorite look by peeking out. Lindsay Loo, a cosmetologist says, "When it comes to your grey hair or as I call it wisdom, hair accessories come in so many approachable varieties but here is a Pro Tip: If you or someone you know likes to DIY, making your own hair accessories is one of the most fun things to do!"
Why Trust StyleCraze?
The author of this article, Shiboli Chakraborti, is a hair care enthusiast and has curated this list of the best accessories for gray hair after browsing through online reviews on various e-commerce platforms. This well-researched article ensures high-quality hair ties, bands, and hairpins that can be worn with casual t-shirts and stunning gowns! These hair clips and scrunchies prevent unnecessary hair breakage and offer a strong hold to all your unique hairdos.
Frequently Asked Questions
Are hair accessories in style?
Yes, hair accessories are very much still in style. From pearl hair clips to chunky claw clips, bandana headbands to scrunchies, hair accessories are a go-to to elevate your everyday look.
Can I wear hair accessories with professional or formal wear?
Hair accessories can definitely be paired with professional wear as long as it is elegant and does not overwhelm your formal look. Adding a thin headband or an elegant hairpin is a good way to style your hair for a formal setting. Avoid anything extremely sparkly or chunky.
How do I use hair accessories on grey hair?
You can accessorize your grey hair just like any other hair color. You can add some pop of color to your silver locks for a garden party with the Hula Girl Hibiscus Hair Clips or you can opt for the Kitsch Metallic Scrunchies for your everyday look.
How do I accessorize braided hair?
Braids are easily one of the most efficient hairdos and you can always elevate your braided hair with rings or beads for a classy yet simple look or you can go for fancy hair pins and brooches with your traditional attire.
At what age does it get too old to wear hair accessories?
There is no particular age to when you should or should not wear hair accessories. However, senior people do not usually wear large bows or neon hair clips (but if that is your thing go for it!). What is recommended is a simple and elegant headband.
What hairstyle and accessories should I wear with a party gown?
There are multiple ways you can style your hair when you are wearing a gown. You can either choose to rock a classic messy bun or a low-wrapped bun with some brooches or for a slightly different style, you can go for some loose beachy waves with elegant headbands or tight top knots for that sleek look.
Recommended Articles:
Premature Graying: Causes And Home Remedies To Prevent It