15 Best Hair Brushes Available In India
Give your locks some extra volume and bounce with affordable hair care products.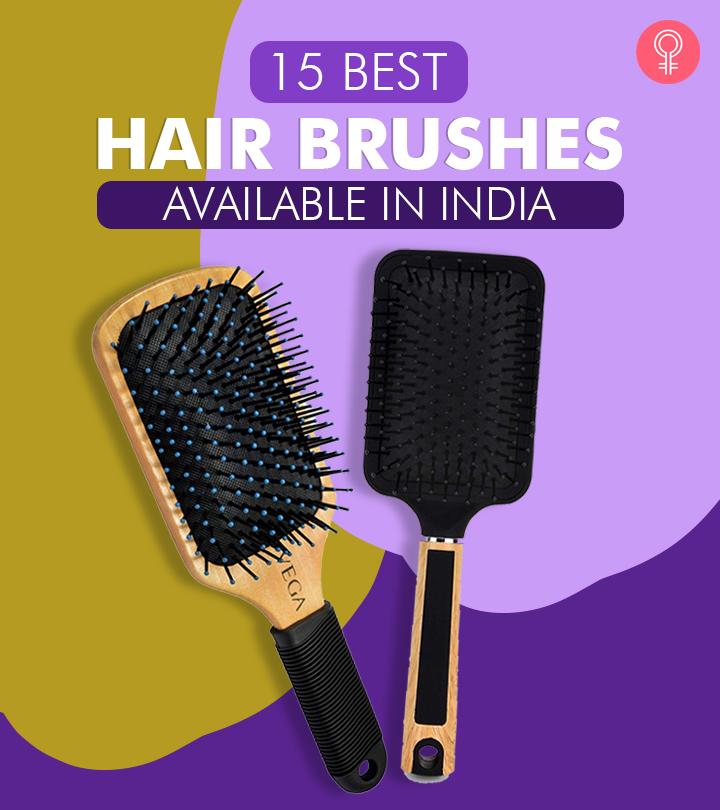 Other than using umpteen hair products and styling tools, a simple yet effective way to tame your unruly mane is by picking the perfect hair brush. A hair brush works wonders to detangle your hair, stimulate the scalp to improve blood circulation, and works along with the blow dryer to help you achieve the perfect style. It also gives you a head massage that leaves you feeling relaxed and rejuvenated. If you are ready to indulge in this simple yet effective hair tool, scroll down and take your pick from our list of the 15 best hair brushes available in India!
15 Best Hair Brushes In India
This hair brush from Vega is suitable for all hair types. It is made of high-quality soft nylon bristles that gently massage the scalp while combing the hair. This brush is ideal for hair styling and smoothening and enhances your curly locks. The bristles have rounded tips that protect the hair from damage through snagging. The brush is available in multiple colors and is suitable for home or salon use.
Specifications
Material: Nylon
Weight: 66 g
Shape: Round
Pros
Lightweight
Easy to use
Easy to clean
Flexible tips
Portable
Comfortable grip
Cons
The balls on the bristles come off easily.
This detangling hair brush from Michel Mercier is a revolutionary product. It gently detangles the hair without tugging or ripping. This brush has 428 bristles of varying heights and widths, which work simultaneously to reduce pressure on the hair. Therefore, you need minimum strokes to untangle the knots, causing no damage to the hair. This classic blue brush is designed especially for thick hair. There are other color variants available for fine hair (pink) and normal hair (green). 
Specifications
Material: Nylon
Weight:36 g
Shape: Flat oval
Pros
Pain-free
Kid-friendly
Can be used on both dry and wet hair
Cons
Not very effective on thick, curly hair
Not easy to clean
Expensive
The Vega Wooden Paddle Brush is a great detangler. It has nylon bristles with ball tips that feel soothing on your scalp. They stimulate a slow massage on the scalp, increasing blood circulation. The air-cushioned pad with a pinhole reduces stress on the hair follicles and allows air to escape from the cushion. This brush is ideal for medium to long hair and helps you achieve smooth and shiny hair.
Specifications
Material: Nylon and Wood
Weight: 118 g
Shape: Rectangular
Pros
Non-slip handle
Square shape covers more hair
Sturdy
For all hair types
Cons
The GUBB USA Paddle Brush is a great choicer for long, medium, and short hair. It offers a painless detangling experience with its soft nylon bristles, which improve blood circulation and provide a gentle massage. The bristles are flexible and have quality ball-tips with an air-cushioned base. These attributes allow the brush to bend and flex according to the head contour. This hair brush also minimizes hair breakage and split ends. It adds volume to straight hair while straightening curly and wavy ones. The comfortable and easy run through the hair provides a stress-free combing experience.
Specifications
Material: Plastic
Weight: 77 g
Shape: Rectangular
Pros
Lightweight
Easy to use
Retractable hair sectioning pin
Provides good back brushing
Easy to clean
Value for money
Cons
None
The FOK Paddle Brush comes with an air-cushioned base, a sturdy body, and flexible bristles with rounded tips. It is suitable for all types and lengths of hair – whether medium or long. The nylon bristles penetrate the hair easily and stimulate the scalp while massaging it. This hair brush removes tangles without snagging and tugging. It grooms the tresses, smoothing and straightening them and adding extra shine for everyday styling.
Specifications
Material: Plastic
Weight: 100 g
Shape: Rectangular
Pros
Lightweight
Comfortable grip
For all hair types
Easy to use
Affordable
Cons
Not sturdy
Ball tips are not long-lasting
The Vega flat brush is ideal for styling and provides volume and body to the hair. It smoothens the hair, gives shape to curls, and polishes the length of the strands. The ball tips on the nylon bristles are placed in nine rows, massaging the scalp gently and detangling the hair of stubborn tangles without any tugging. This hair brush gives the roots a lift and is suitable for all hair types.
Specifications
Material: Nylon
Weight: 112 g
Shape: Rectangular
Pros
Sturdy
Easy to clean
Comfortable grip
Soft on the scalp
Cons
Unsuitable for very thick hair
GUBB USA presents a vent brush that quickens the hair drying process when paired with a hair dryer. It has vented spaces that allow more heat flow to each hair shaft and speed up the blow drying time by 25%. The hair brush has a sleek body with flexible bristles that promise painless detangling. Its ergonomic handle design offers a comfortable grip. The brush has a retractable pin at the end that not only helps clean hair strands stuck within the bristles but also facilitates hair sectioning while styling. The ball-tip bristles gently massage the scalp, improving blood circulation and enhancing hair health.
Specifications
Material: Plastic
Weight: 87 g
Shape: Rectangular
Pros
Lightweight
Rubber handle for easy grip
Hair sectioning pin
Volume booster
Cons
The GUBB Round Brush is part of the company's styler range and is convenient to create different hairstyles. It has soft bristles that glide effortlessly through your tresses, making it easy and pain-free to style the hair.  The pins are soft and flexible and bend to style and shape the hair. The rounded edges of the pinheads protect the scalp from scratches and damage. The handle has a perfect grip to give you control during the brushing and styling process. It is also a perfect brush to have soft curls.
Specifications
Material: Plastic
Weight: 80 g
Shape: Round
Pros
Lightweight
Easy to use
Perfect for back brushing
Firm grip
Cons
Paint peels off easily
Ball tips fall off easily
The Roots Wotta Brush is an ideal after-shower brush to detangle your wet hair in a single stroke with minimum breakage. It has flexible and strong intelliflex bristles and can also be used on dry hair. The soft polytips of the bristles relax the scalp and protect it from snags and cuts. The Flexotec technology allows the brush to bend and flex without friction while providing ultra-sensitive untangling for fine hair.
Specifications
Material: Plastic
Weight: 80 g
Shape: Oval
Pros
Easy to use
Attractive design
Soft cushion
Can be used on wet and dry hair
Cons
Not suitable for thick hair
This detangling and styling brush from Miss & Mam is suitable for both men and women. The wooden brush has antibacterial properties, while its soft bristles brush through the hair gently, providing a relaxing way to start your day. It has a round nylon head that helps untangle stubborn knots while giving the scalp a relaxing massage. This hair brush is strong and durable with a floating air cushion that reduces hair damage and scalp peeling. The flexible bristles have rounded ball tips that penetrate the hair, stimulating the cuticles. This hair brush gives you smooth, straight, and glossy hair.
Specifications
Material: Nylon
Weight: 140 g
Shape: Rectangular
Pros
Sturdy
Less static
Easy to use
For all hair types
Cons
The Beauté Secrets Hair Brush works on all hair types, including extensions and wigs. It has multi-height bristles on alternating rows, which allow it to easily glide through the hair, detangling knots without tugging and snagging. The hair brush gently massages the scalp, improving hair health. It is designed with long teeth to detangle stubborn hair and short teeth to smoothen your hair cuticles. The compact hair styler has a cover that protects it from dirt and damage.
Specifications
Material: Plastic
Weight: 100 g
Shape: Rectangular
Pros
Sturdy
Anti-static
Travel-friendly
Easy to clean
Cons
Uncomfortable to use
Not suited for long, thick hair
The Beauté Secrets Paddle Brush is designed with nylon ball-headed bristles that minimize hair breakage and provide painless detangling of the hair. The soft air cushion decreases brushing pressure and feels gentle against the scalp. The brush massages the scalp and increases blood flow. This promotes healthy hair growth and reduces dandruff. The bristles gently separate the hair strands, unraveling tough tangles. This brush has an extra-long 4.5-inch ergonomic handle for comfortable use.
Specifications
Material: Nylon
Weight: 100 g
Shape: Rectangular
Pros
Easy to use
Ergonomic handle
Comfortable grip
Sturdy
Cons
The Michel Mercier Travel Brush comes with a patented technology that offers pain-free detangling for knotty hair. It has 244 bristles of 12 different heights that apply just the right amount of pressure on the scalp. It does not tear or pull the hair and leaves it silky smooth and shiny. This travel brush fits into any bag and comes in various colors for different hair types – blue for thick hair and green for normal hair.
Specifications
Material: Nylon
Weight: 68 g
Shape: Circular
Pros
Foldable
Ergonomic design
Has a protection cover
For dry and wet hair
Kid-friendly
Cons
Uncomfortable to use
Not suitable for very thick hair
The MINISO Massaging Brush comes with flexible bristles and rubber tips that help exfoliate the dead and dry skin on the scalp. It increases blood circulation and makes the hair healthy and vibrant. This brush can be used for shampooing or massaging the hair, including braids, extensions, and weaves. It also refreshes the mind by promoting blood circulation in the brain. The brush cleanses the hair follicles of dirt and buildup. The easy-grip handle fits comfortably in your palm, giving you greater control and comfort.
Specifications
Material: Rubber
Weight: 90 g
Shape: Oval
Pros
Ergonomic design
Easy grip
Easy to clean
Cons
Not suitable for thick hair
This wooden round-bristle hair brush from Rozia Pro has nylon fiber bristles and is a practical hairstyling accessory for blow drying curly, long, or frizzy hair. It helps straighten and smoothen your tresses and volumizes short, fine, and curly hair. The natural bristles decrease friction between the hair and the comb and reduce the pressure of hairstyling. The brush helps spread the natural hair oil and prevents buildup at the roots. It can safely be used during styling with hot air dryers.
Specifications
Material: Rubber, Boar, Nylon, and Wood
Weight: 50 g
Shape: Round
Pros
Lightweight
Sturdy
High-temperature resistant
Anti-static
Cons
Before you pick any of the above, here's a peek into the types of brushes available on the market. Pick one based on your needs.
Types Of Hair Brushes
There are broadly seven types of hair brushes:
Detangler Brushes: These are designed specifically to detangle knots and tangles. They usually have different sized bristles that do not tug or pull the hair and cause minimum breakage.
Paddle Brushes: These everyday brushes have densely packed bristles that help de-frizz stubborn hair, especially in humid weather conditions. They help you achieve smooth, sleek hair.
Oval Brushes: They are similar to paddle brushes but slightly smaller. They work great for styling your hair into braids and plaits due to their shape.
Vented Brushes: They have vented backs that facilitate airflow and help in drying thick hair faster.
Teaser Brushes: They are usually used by hairstylists as their shape and size help to tease the hair into sections. They are used only on dry hair.
Round Brushes: These brushes are also hot favorites at salons as they are great styling tools. They help add volume to straight hair and define curls.
Folding Brushes: They fold up like wallets and are usually good to keep in the handbag for emergencies.
Brushes can also be classified based on the bristle material, such as boar bristle, nylon bristle, wooden bristle, and metal bristle.
A hair brush might seem insignificant and unworthy of paying too much attention to, but you can notice a great difference to your hair if you pick the right brush. Go through the products listed above, check out their reviews, and make an informed choice for healthy and happy tresses!
Frequently Asked Questions
What size hair brush should I use?
For shoulder-length hair or smaller, the ideal size of the brush should be between 35 mm to 45 mm in diameter. If your brush is too small, your hair may get stuck between the bristles.
Which comb is best for thin hair?
Use a pure boar bristle brush if you have thin hair. Soft bristles with rounded tips and set close together are ideal for fine hair.
How often should you change your hair brush?
Change your hair brush every six months.
Is it better to use a brush or comb?
In terms of styling the hair, a brush works better than a comb. Combs work better on wet hair. A wide-toothed comb detangles wet hair more easily without tugs and tears.
How often should you clean your brush?
You should clean your hair brush every one or two weeks, depending on the usage. In case of heavy use and long hair, wash the brush more frequently. Also, after every brushing session, take out the hair stuck amongst the bristles.
How do you clean your hair brush?
First, pull out the  hair stuck between the bristles. Then, take a bowl  full of warm water. Add a few drops of any gentle shampoo to the water and mix it. In case of a plastic brush, the entire brush should be submerged in water. Allow soaking for 3 to 5 minutes. Scrub with a clean toothbrush, rinse, and allow it to dry. Keep the soaking time to a minimum for wooden brushes.
Why is a wooden brush considered a good option for frizzy hair?
The wooden bristles of brush help massage your scalp with its natural oils. This keeps your hair conditioned and soft and helps in defrizzing it. Wood is smooth on the hair, which reduces breakage. Moreover, it does not conduct electricity and is anti-static.
What are the benefits of using a hairbrush?
A hairbrush not only helps detangle knots with minimal breakage, but also makes the hair easier to manage and style and increases its shine. It stimulates the scalp, increasing blood flow, and stimulates hair growth. It also evenly distributes natural oils. Its gentle bristles exfoliate the scalp, improving scalp health by removing dead skin cells, dirt, and product residue.
Is it necessary to use a hairbrush if I have short hair?
Yes, people with short hair should use a hairbrush for the benefits it offers. A hairbrush also comes in very handy when it comes to styling short locks.
How often should I use a hairbrush?
Brush your hair at least once a day. The amount of time you need to use a hairbrush varies depending on your hair type and needs. If you have long hair that frequently tangles and has dry ends and breakage or want to strengthen your follicles and strands at the root, brushing is a good idea. However, it is important to know when to brush and when not to brush, as too much brushing can cause breakage or damage to your hair. If you have a hair loss or hair breakage problem, consult a trichologist on this.
Recommended Articles