12 Best Hair Clips For Thin Hair
Keep your silky locks in place even on windy days with some cute accessories.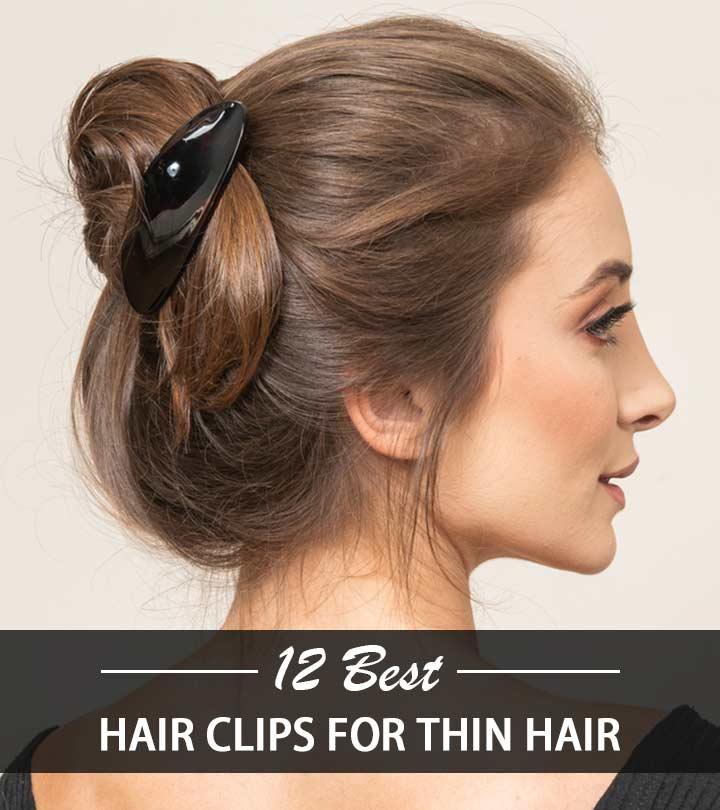 For those who have fine or thin hair, the struggle of finding the right hair clip is real! The best hair clip for fine hair will add that extra grip to avoid your hair from slipping out of place. If you are worried about finding the right one, don't worry. We have carefully gathered a list of the best hair clips that are functional, affordable, and will add a pop of color to your everyday look!
12 Best Hair Clips For Thin Hair
This banana clip from HairZing helps keep your hairstyle intact for a long time. It is designed with rounded fine wire teeth to provide flexibility and elasticity and slide in and out of the hair roots very easily. The double comb design is highly stretchable and can easily cover your hair while providing breathable space for the scalp and hair. It can withstand a large amount of strain.
The product is also cushioned and does not apply much pressure on the hair. It provides an all-day hold to your hairstyle without slipping and sliding or causing pain or headache. This clip is suitable for dry or wet hair. Its surface is covered, coated, and sealed and protects your hair from damage.
Pros
Durable material
Strong grip
Comfortable
Flexible
Cons
These hair barrettes go well with all hairstyles. They are quite long and have a sleek design, making them suitable for covering the entire hair without adding much weight to your head. The clips hold the strands firmly without letting them go loose. The gold plating makes them look attractive. The simple and elegant design can match every outfit.
Pros
Durable
Lightweight
Elegant design
Secure and strong hold
Cons
The HairZing Original Comfy Comb assures convenience and stays comfortably in place all day long. You don't have to re-adjust or loosen it, as the hair clip can hold your hair comfortably without damaging it. Its teeth are wide enough to hold the strands strongly. They slide around your hair roots with ease and lock your hair without friction. This hair clip is lightweight, portable, and does not cause any pain or discomfort on your head. This hair comb can help you create flattering hairstyles in seconds.
Pros
Lightweight
Snug fit
For everyday use
Gentle
Comfortable
Durable
Cons
The Scunci No-Slip Grip is a set of 3 jaw clips designed for fine hair. The patented no-slip grip technology keeps your hair secured and in place for as long as you desire. The wide teeth enclose soft, tiny, silicone ridges that hold your fine hair and strays effectively. They are gentle on your delicate hair and do not tug, slide, or cause pain. The clamp closure of the clip makes it perfect for everyday use. Watch this video to get a detailed review of the product.
Pros
Lightweight
Comfortable wear
Durable
Clamp closure
Non-slip grip technology
No pulling or tugging
Cons
None
The RC ROCHE ORNAMENT Women's Hair Clips offer a firm grip without damaging hair. The bridge-shaped eyelet design adds style to your hair. The package includes six hair clips in three different colors. They are made of premium quality plastic and have efficient springs that help in providing a firm grip to the hair. The 16 interlocking teeth allow you to do section styling. The anti-slip firm grip backed by the strong spring keeps your hair in place. This hair clip set is very convenient to use – all you have to do is twist your hair and slide the hair clip in! Here's a video to help you know more about this product.
Pros
Easy to use
Lightweight
Stylish
No hair damage
Comfortable grip
Prevents creasing your hair
Cons
The Zhooch Banana Hair Clips can clutch your hair firmly with maximum hold and stay comfortable on your head. They are engineered according to the retro vintage style of the 70s and 80s. These clips are made with high-quality plastic to ensure durability. They are lightweight, functional, fashionable, and very comfortable to wear. The teeth are placed strategically so that the hair can be done in any way you like.
Pros
Convenient to use
Sturdy
Lightweight
Retro vintage style
Cons
The KITIIN Claw Clips are made of plastic and ideal for thin hair. They offer hassle-free use, hold the hair firmly, and do not slip, helping you try different hairstyles. The unique butterfly design adds grace to fine hair. These clips are suitable for regular wear as they are very easy to clip on and off. The set includes two hair clips – one in brown and another in a transparent color. 
Pros
Strong hold
Durable
Easy to use
Cons
None
The ACCGLORY hair clips are perfect for pulling your hair back. The set contains five clips in graduating sizes (from 1.4 inches to 4.5 inches) for thick hair and fine hair. The clips are made of fine plastic material with a lister finish and have strong jaws suitable for different hairstyles. The teeth are long enough to grab long hair and assure a strong hold. They will not slip off and remain stable for a long time. These hair clips are very lightweight, portable, and skin-friendly.
Pros
Lightweight
Large and small sizes available
Strong hold
Does not slip or slide
Comfortable
Made with fine plastic material 
Cons
These fine hair clips are designed for fitting thinning, curly, or normal hair into any hairdo. The set contains three claw clips in gray, black, and royal blue colors. They are made of quality resin plastic material and ensure durability. Their strong hold and non-slip quality make them ideal for everyday use. These clips are of great use to people in a hurry to get ready for their morning chores.
Pros
Lightweight
Big size
Portable
Durable plastic material
Firm grip
Cons 
None
The hair clips from Aileam hold your hair well and provide a strong grip without damaging it. They have tortoise celluloid patterns and can be used for all types of hair. These claw clips are 3.3. inches in length, which makes them long enough to hold hair securely. They are made with acrylic resin and material alloy that ensure durability and strength. Their teeth are designed in a way to provide maximum grip to the hair. These clips are suitable to be worn at parties, on journeys, or to work.
Pros
Big teeth
Strong grip
Durable material
Skin-friendly
Cons
May weaken after frequent use.
The CEOZY Shiny Black Tortoise Hair Barrettes can help you tie your hair easily. They impart a simple, elegant look to the hair by maintaining uniformity. Each clip is 2.6 inches long and provides great comfort. The clips do not hurt the head and scalp as they neither pull the strands nor exert excessive pressure on the head.
Pros
Comfortable
Elegant design
No pulling or sliding
Cons
These snap-on hair clips from Bella have a cute daisy flower design. They are made from durable metal and lightweight. Each clip is 2 inches long and keeps the hair intact. They are suitable for toddlers, girls, and women with thin hair.
Pros
Metal construction
Easy to use
Lightweight
Cons
Now that you know what the ideal hair clips for fine hair are, here are some tips on finding the perfect match.
Important Features To Consider While Buying A Hair Clip For Thin Hair
Metal Or Plastic:  Some people are allergic to plastic, while others are allergic to metal. Hence, it is important to choose the material of your hair clip that Does not cause any allergic reaction and is safe for your hair and skin. Metal clips are highly durable, whereas plastic clips can break easily, but they are cheaper than metal ones. Choose the material based on your preference.
Plain Or Decorative: There are different styles of hair clips available to cater to different needs and occasions. If you are buying a hair clip for any special occasion or party, go for a decorative one. For daily wear or office use, you could choose a plain one.
Size: If you have long hair, a medium or large-sized hair clip will be suitable for you. For short hair, a compact or small clip will do the trick.
Sets: Find out how many clips you are getting in a set. A hair clip set is always better than a single piece.
Hair clips are available in a variety of shapes, sizes, colors, and functions, though all of them serve the same purpose. Learn more about them in the next section. 
What Are The Different Types Of Hair Clips?
Barrette: A barrette clip is a clasp that helps hold your hair in place. An updated version of the bobby pin, it was first worn in the mid-19th century, and since then, it never went out of trend. Barrettes are usually made of plastic or metal and have a decked appearance.
Alligator Clip: Also known as the crocodile clip, the alligator clip has serrated jaws designed with a spring on one end and provides a comfortable hold. It is ideal for thin hair and is often used by hairdressers while cutting or styling to hold extra hair coming in the way.
Snap Clip:  Snap clips are the most popular among women and children. They come in a variety of colors and patterns. These clips can easily hold your hair strands, allowing you to style your hair the way you like it.
French Clip: French clips are worn in different styles, depending on their size. They are ideal for holding thick and long hair and are usually worn at the back of the head.
Jaw Clip: Jaw clips are flexible, durable, and easy to use. Also known as claw clips, they have two large teeth attached with the help of spring in the middle. Claw clips can help you sport different styles.
Condor Clip: An elongated version of crocodile clips, condor clips have pointed ends that help in holding your hair in a bun. If you have thick and long hair, condor clips are your go-to.
Before buying hair accessories for thin hair, here are a few things that you should consider, so you do not regret your decision later. 
How To Choose Hair Accessories For Thin Hair
The teeth must overlap tightly: If you are buying a claw clip for your fine hair, ensure that the gap between the teeth is less.
Look for fine teeth combs: For thin hair, a comb with fine teeth is recommended, as it has more teeth than a regular comb, making it efficient and easier to style your hair.
Choose smaller clips: Small clips are lighter. They do not slide down and can hold a good amount of hair in place. Large clips can burden your head and give you headaches.
Go for anti-slip barrettes: Barrettes are quite popular among women and girls as they help in holding the hair strands in place without slipping. Their metal grips are protected with rubber layers for firmness and prevent hair damage. If you have thin hair, go for straight bar hair barrettes as these clips prevent slipping.
Despite all caution, while picking hair clips, if they tend to slip, here is what you can do to make them stay in your hair.
How Do I Get A Hair Clip To Stay In My Hair?
Pull all your hair into a low ponytail and make a half bun to put the clip on your hair firmly. This will prevent your clip from slipping and keep your hair in place.
Spray some hair setting spray to keep your hair in place. This will also hold back clips in their place.
Choose the right area on your hair to put the clip. You can choose to place your hair clip either on the center of your head, behind the ears, or near the temple area, or whatever spot you feel like where it can stay in place and hold your hair firmly.
Choose a clip with a strong grip. When you clip your bun, ensure it has a secure grip around the bun area. A loose grip can ruin your hairstyle.
Clip back the right amount of hair to prevent slipping. Take a section of hair that is equal to the width of your clip. This will provide a good base for a clip to stay secured on your hair all day.
If you are styling your hair, backcombing and ironing your hair can also prevent your hair clip from sliding down.
Why Trust StyleCraze?
Shiboli Chakraborti, the author of this article, is a hair care enthusiast. To help her readers who struggle with fine hair, Shiboli has carefully conducted an in-depth investigation by reading through several reviews online and compiled a list of the best hair clips you must try. They are pocket-friendly, provide just the right grip, and add a splash of color to your daily look.
Frequently Asked Questions
Do hair clips damage your hair?
If worn for longer periods of time, hair clips can weigh your hair down and damage your scalp. They might also pull and tug on your hair while causing bald spots.
Do claw clips work for thin hair?
Yes, definitely. Claw clips are great for thin hair. However, choose small or medium-sized claw clips as the bigger ones might look odd on tresses with less volume.
How do you wear cute hair clips?
To wear cute hair clips, first, select the section of your hair you want to put the clip on. Gently wear the clip in a diagonal direction starting from the tip of your ears. Make sure that the clip is secured to your tresses.
Are hair clips healthy for hair?
Premium-quality hair clips are definitely more gentle on your hair and scalp. However, wearing them for longer hours can lead to hair breakage and irritation on the scalp.
Recommended Articles