11 Best Hair Color Removers That You Can Use At Home – 2023
Flaunt the fabulous hair of your Disney dreams with the right hair styling essentials.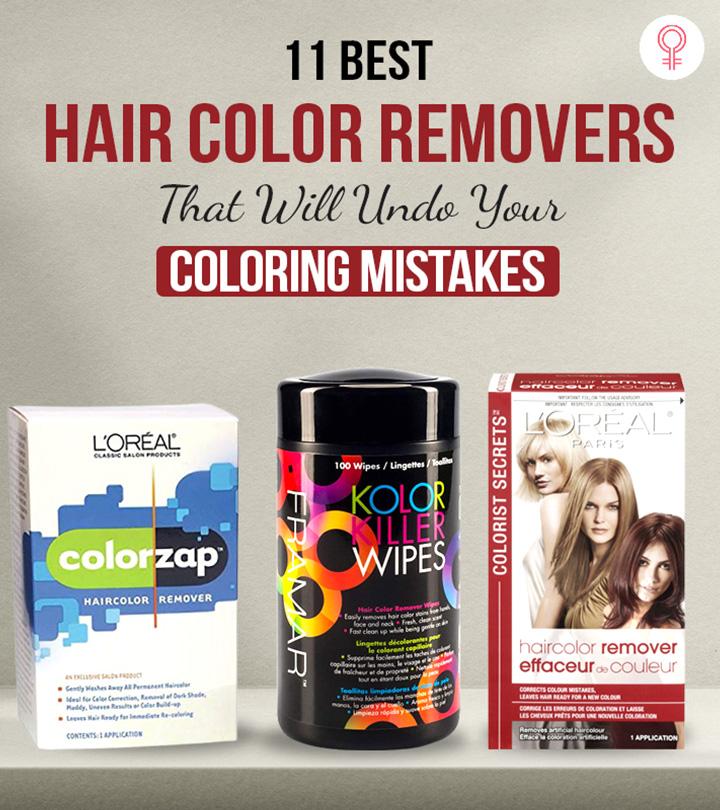 You do not have to deal with uneven and blotchy hair anymore, thanks to the best hair color removers. Discolored hair can be frustrating, and sometimes you feel the urge to get rid of the color you once found interesting.
But visiting the salon every time you need a color correction is inconvenient and unnecessarily expensive. Therefore, it is wise to have a hair color remover in your toiletries. They allow you the freedom to remove dark, unwanted shades and neutralize the color from the comfort of your home. Also, these products are easy to use and come with a detailed instruction manual.
Hair color removers are undoubtedly the best economical solutions for lightening uneven hues. Our list includes detailed reviews of the best-selling and time-tested options to narrow down your search. Swipe up for more information.
11 Best Hair Color Removers
The Color Oops Hair Color Remover is a gentle, quick, and easy fix for all your hair color woes. This non-bleach hair color remover cleans and clears old hair color, prepping it for fresh recoloring. The formula is infused with nourishing ingredients, such as soy protein that strengthens the hair and aloe vera that softens the hair and adds shine. It is not tested on animals, ensuring a guilt-free experience. The product has received positive reviews on Amazon as it washes away tough, oxidative, artificial colors and conditions the hair for added softness.
Pros
Bleach-free
Ammonia-free
Easy to apply
Repairs brittle hair
Vegan
Cruelty-free
Cons
ColourB4 presents an extra strong hair color remover for those pesky reds and stubborn blacks. It is perfect for toning and removing multiple applications, color buildup, and muddy tints, giving you the liberty to change your hair color whenever you want. The product is simple to use and allows immediate recoloring. It can also be used before any salon treatment or first-time coloring. This conditioning buffer curbs reoxidation while strengthening and conditioning the hair. Plus, it takes only 60 minutes!
Pros
Ammonia-free
Bleach-free
Easy to use
Safe
Cons
Expensive
Requires lot of prep work
The Punky Color Colour Off Kit is your go-to solution to create a fresh canvas for the next experiment color on hair. It is an easy-to-use kit specially formulated to gently and effectively remove hair color without damaging or drying out your hair, thereby making it ideal for all hair types, including fragile hair or sun-damaged hair. The kit also has a color removal and neutralizing shampoo that work together to remove color pigments and restore your hair's natural pH balance. Many reviewers agree that the formula is safe for all hair types and gentle enough for use on bleached or chemically treated hair. This hair color removal products kit is designed to remove semi-permanent, demi-permanent, and permanent hair color from your hair.
Pros
pH balanced
Paraben free
100% Cruelty-free
Easy to use
Doesn't strip moisture
Cons
May leave hair frizzy
Can leave hair with a noticeable tint
If you need a product to reverse a coloring blunder, try the One N Only Colorfix Hair Color Remover Kit. This professional-grade formula can correct both major and slight coloring mistakes. You can use it to lighten/darken the color or lift it completely from your tresses. This gentle hair color remover also contains nourishing ingredients like argan oil that minimize hair damage. It is suitable for all hair types, including kinky and wavy hair. This salon-quality hair color remover works best on slightly damp, towel-dried hair.
Pros
Easy to mix and apply
Paraben-free
Sulfate-free
Gluten-free
Ammonia-free
Bleach-free
Cruelty-free
Cons
The professional-grade Colortrak's hair color wipes are an easy and convenient solution to accidental spillage. They quickly clean the mess, leaving behind a polished and clean look. A simple wipe can clear the skin or clothes of any stains and color spills. The tried-and-tested wipes are pre-moistened and infused with nourishing ingredients like aloe vera to keep the hair moisturized. Their pleasant fragrance will refresh your senses. They come in a dispensing canister with 50 towelettes, which makes them easy to carry and use.
Pros
Non-irritating
Easy to use
Pleasant fragrance
Cons
Dries and stings the skin
Most hair color removers dry your hair out. But this kit from Color X-Change is different. This vegan hair color remover involves a two-step process that removes color and protects your tresses from dryness or damage. In this pack, you get Phase-Out, an overnight dye-decolorizer that removes pigments, and Intensive Hair Mask which is infused with nourishing ingredients like shea butter, argan, avocado, coconut, and olive oils.
Pros
Vegan
Gluten-free
Cruelty-free
Ammonia-free
Peroxide-free
PPD-free
Paraben-free
Fragrance-free
Sulfate-free
Alcohol-free
Cons
Requires a few uses to do the whole job
The Framar Kolor Killer Wipes remover hair dyes and colors and are loved by hair colorists, esthetician, and dermatologists across the world. This box of 100 disposable wipes comes in an easy-to-use dispenser. Each wipe is pre-moistened and clears stains and dye residue from the face, neck, ears, nails, arms, and hands. These specially formulated wipes can eliminate the toughest of stains and come in handy while coloring your hair. They are infused with aloe vera, lactic acid, and Dead Sea salt to keep the skin moisturized. According to reviews, the fresh fragrance of the wipes leaves you smelling lovely.
Pros
Multipurpose
Gentle
Easy to use
Pleasant fragrance
Durable dispenser
Cons
The Olaplex No. 4 Bond Maintenance Clarifying Shampoo is all you need to get rid of unwanted color and product buildup. This formulation will neutralize your tresses and restore their vibrant color clarity. Additionally, the clarifying formula helps remove damaging impurities and restores hair volume and shine. It also helps wash away pollutants, hard water minerals and metals, and chlorine. This potent formula is free of animal testing and is certified vegan, ensuring a guilt-free experience. You can use the cleanser to reveal your healthiest hair without worrying about dryness.
Pros
Easy to use
Hydrating
Gentle on the scalp
Removes color build-up on scalp
Suitable for most hair types
Sulfate-free
Cons
May make fine hair greasy
The Color Oops Hair Color Prep System prepares the hair for a new color, removes buildups, and neutralizes color pigments like a pro. This hair dye remover helps you change color shades and get a new hair color easily. It also works to remove permanent as well as semi-permanent hair colors. The formula is specially meant for use on oxidative hair color.
Pros
Easy to use
Bleach-free
Ammonia-free
Cons
Ineffective on red undertones
The Crazy Color Back to Base Hair Color Remover is a powerful professional-grade formula that effectively removes all semi-permanent and permanent hair color types. The best part is that it cleans your hair without damaging it and makes the overall hair color extraction process easy. It has a unique kaolin clay formula that works on stubborn hair color with proven efficacy. It comes in a convenient squeeze packaging for easy application without any mess. This professional hair color remover works on all hair types and is gentle on the hair and scalp, making it safe for use at home.
Pros
Easy to use
Gentle on hair
Works on all hair types
Quick results
Affordable
Convenient packaging
Cons
Unpleasant smell
May cause itching or irritation
This trusted product from L'Oreal is the OG hair color corrector that can correct all your hair dye mistakes. It leaves your hair ready for recoloring within a short time. The formula is suitable for permanent color-treated hair and requires only one application. The color remover does not restore the natural, original hair shade but readies it for recoloring.
Pros
Easy to use
Value for money
Powder formula
Cons
Since you have scrolled so far, it is obvious that you are planning on purchasing a hair color remover. The following section will help you in choosing the right product for the job.
What To Look For In A Hair Color Remover
Avoid These Ingredients: Look for formulas free of ammonia and bleach, as these may damage the hair while removing the hair color. They strip the hair color along with beneficial nutrients. Bleach can also affect the tint of the color.
Look For Hydrating And Reparative Ingredients: Coloring and decoloring could leave your hair dehydrated, dry, and brittle. That's why, it is expert recommended to pick a color remover with nourishing ingredients like aloe vera and plant proteins that provide restorative care to damaged hair.
Read The Label: Reading the label helps you find out what the box contains and if it will help resolve your issue. For example, do you want to get rid of white, red, or gold brassy tones or simply neutralize the colors and prepare your hair for recoloring? Opt for hair color removers that are made with scientifically proven and doctor-approved ingredients to ensure safety and effectiveness. Also, consider removers from trusted brands that are known for rigorously testing their products for safety.
Apart from home remedies, using a hair color remover is the best option to remove unwanted color. Here is how you use a hair color remover.
How Do You Remove Hair Color?
A hair color remover shrinks the color molecules and is easy to wash out. Here's what you need to do:
The remover pack usually comes with two bottles – an activator and a color remover. Mix and shake the ingredients of both bottles together for 30 seconds.
Divide your hair into sections and work the liquid through the hair. Massage it into each strand or apply it on the targeted area with a brush.
Leave the product in your hair for 20-60 minutes.
Rinse your hair with warm water and shampoo. Wash and rinse your hair 3-4 times with the shampoo for 20 minutes.
Rinse off the conditioner with warm water.
Are there any side effects of using hair color removers? Find out in the next section.
Does Hair Color Remover Damage The Hair?
Yes, it can leave your hair dry and limp. Most products come with ammonia and bleach, which strip the color and the natural shine of the hair. Hence, it is important to follow up with a deep conditioner after using a hair color remover.
Why Trust StyleCraze?
The author, Shiboli Chakraborti, is passionate about hair care and devoted to sharing products that make your hair experiences truly amazing. Sometimes when you color your hair, things can go wrong. The author recommends using a color remover to avoid such mishaps. She went online, researched many products and their reviews to bring you this list of the most useful hair color removers. These removers wash away color, have hair care benefits, and are free of harsh elements that can damage your tresses.
Frequently Asked Questions
How many times can you use hair color remover?
You can use hair color remover twice daily to remove unwanted colors from your hair. However, overusing can damage your hair.
Should I wash my hair before using color remover?
Shampoo your hair for at least 24 hours before removing your color to preserve the scalp's natural oil.
Can you dye your hair right after using color remover?
Wait at least two days before re-dyeing or tinting your hair after using a color remover for good results.
Is it better to use bleach or color remover?
Although bleaching highlights your hair more efficiently, overusing it might damage your hair. On the other hand, a color remover will only significantly alter your hair texture, although it may take longer than you think based on how deeply your hair was dyed initially.
Why did my hair get dark again after Color Oops?
If you do not thoroughly rinse the color oops, the hair color you previously had in your hair may reactivate, making it look dark again.
What happens if you leave the color remover on too long?
Leaving your hair color remover for long will be less effective than usual. Instead, it will darken your hair.
How long after color-stripping my hair can I dye it again?
You should wait around two days to re-dye your hair effectively without damaging it.
Recommended Articles