15 Best Hair Color Shades To Cover Your Gray Hair In 2019
When you talk about aging, what is the first thing that comes to your mind? OK, you probably thought of wrinkles. But the second thing that definitely comes to your mind has got to be gray hair. It's kind of a given that once you get to a certain age, your hair will start graying. For most people, it's when they're past 40. But the real kicker lies in premature graying. Your hair could start turning gray early on in your life if you have a vitamin B12 deficiency, regularly bleach your hair, or simply because it's in your genes.
Regardless of age, gray hair has everyone running to drugstores and buying any box dye that remotely matches their natural hair color. But wait! A lot of hair colors out there contain chemicals that can wreak havoc on your tresses. Which is why I've compiled a list of the best and safest hair colors shades that cover your grey hair and look natural!
Top Hair Color Shades To Cover Your Gray Hair
1. Clairol Nice 'n Easy – Natural Dark Blonde
Clairol Nice 'N Easy is a long lasting permanent hair color that promises 100% gray coverage. It's formulated with damage blocking technology and ME+, a hair dye molecule that reduces the chances of people who do not have a hair dye allergy from developing one. Its natural dark blonde shade is perfect for hair that teeters the line between blonde and light brown.
Pros
Can be used on all hair types and textures
Conditions your hair while coloring it
Lasts up to 8 weeks
Cons
Unpleasant smell
Gives your hair a slight orange tinge
Rating
4/5

2. Revlon ColorSilk – Ultra Light Ash Blonde
Revlon ColorSilk is an ammonia-free permanent hair color that offers complete gray coverage. It is formulated with Revlon 3D Color Gel Technology that is a combination of dyes, conditioners, and polymers that give you natural looking and multi-dimensional color from root to tip. The shade Ultra Light Ash Blonde is perfect for anyone who has light to platinum blonde hair with gray undertones.
Pros
Ammonia-free
Enriched with UV Defense that keeps the color vibrant
Easy to apply
Makes hair silky and soft
Cons
Slight red tones
Fades quickly
Rating
3.5/5

3. L'Oreal Paris Excellence Creme – Medium Golden Blonde
L'Oreal Paris Excellence Creme, in its own words, gives you "absolutely gorgeous gray hair coverage" even on the most stubborn grays. Its triple protection system contains ceramide, pro-keratin complex, and collagen that nourish and protect your hair. The Medium Golden Blonde shade works great for anyone who has blonde hair with warm undertones.
Pros
Comes with a ceramide pre-color treatment that protects color treated ends from color buildup
Does not drip
Blends well with your natural hair color
Cons
Dries out your hair
Fades quickly
Rating
3.5/5

4. Wella Professionals Color Charm Permanent Liquid Color – Light Beige Blonde
Wella Professionals Permanent Liquid Color is formulated with Liquifuse Technology that offers fade resistant results and full coverage to the most resistant grays. It also claims to deliver 43% more shine and 60% more conditioning than its competitors. Pick up the shade Light Beige Blonde if you have light to medium warm toned blonde hair.
Pros
Pleasant floral smell
Long lasting
Reasonably priced
Cons
Color may turn out a bit darker than expected
Stains clothes and other work surfaces pretty quickly
Rating
4/5

5. Zotos AGEbeautiful Permanent Liqui-Creme – Strawberry Blonde
Zotos claims that our hair loses volume, manageability, color, moisture and shine as we age and it promises to restore all these with its Age Beautiful Permanent Liqui-Creme range of hair colors. It contains melanin, keratin peptide, silk protein, and a conditioning agent that fight these signs of aging and cover your gray hair completely for up to 8 weeks. What's more? It has the perfect Strawberry Blonde shade for hair that is neither completely blonde nor fully red.
Pros
Liqui-creme consistency makes for easy application
Long lasting
Even color
Fades evenly
Cons
Color may turn out a bit darker than advertised
Rating
4.5/5

6. L'Oreal Paris Superior Preference Color – Lightest Auburn
L'Oreal Paris Superior Preference Hair Color is a translucent gel hair dye formula that covers your gray hair and gives you a super shiny and luminous hair color. It is made with high tenacity dyes that ensure your color does not fade for 8 weeks. The Light Auburn shade works well for anyone with light red, copper-toned hair.
Pros
The conditioner included in the package is infused with golden camelina oil, vitamin E, and a UV filter that nourish your hair
Leaves your hair feeling soft
Washes out quickly
Cons
Rating
4/5

7. L'Oreal Paris Couleur Experte Express Color + Highlights – Ginger Twist
L'Oreal Paris Couleur Experte's claim to fame is that it is the only at-home dual-system coloring kit that comes with a permanent base color and a highlight color that perfectly complements it. You can lighten or deepen your base color, cover your gray, and blend them into your highlights with just this one kit. Anyone with ginger or light brown hair can try out the shade Ginger Twist.
Pros
The highlight color comes in a Blue Hi-Visibility Formula, which makes it easy for you to see which sections of your hair you are highlighting
Precise application with the help of the Control Touch FingerTIP tool included in the kit
Gives your hair a multi-dimensional look
Covers and blends in gray hair
Inexpensive when compared to getting highlights done at a salon
Cons
Amount of highlight color not enough if you have long, thick hair
Highlights are not very prominent
Rating
4/5

8. Schwarzkopf Color Ultime Hair Color Cream – Vintage Red
Schwarzkopf's Color Ultime Hair Color Cream is – as they proclaim – a High Definition Pigment Mix that is designed to complement your natural hair color to give you brilliantly vivid results. It also contains a Diamond Brilliance Serum that makes your hair incredibly shiny and provides a gray coverage color that lasts up to 9 weeks. Try out the shade Vintage Red if you want to look like a bombshell!
Pros
Long lasting
Pleasant smell
Color results just as advertised
Adds shine to your hair
Cons
Grays reappear in just a few washes
Rating
4/5

9. Clairol Natural Instincts Hair Color – Malaysian Cherry (Dark Red)
Clairol Natural Instinct hair color is for anyone who wants to cover their gray hair but does not want the commitment of a permanent hair color. This semi-permanent hair dye contains antioxidants that prevent the formation of highly reactive and damaging molecules to give you healthier hair, gray coverage, and predictable color results. If you have dark red hair, the shade Malaysian Cherry will be a perfect match for you.
Pros
Ammonia-free
10 minutes processing time
Gentle on hair
Fades out naturally and without leaving behind orange tones
Cons
Thin consistency that drips a lot
Rating
4/5

10. Schwarzkopf Keratin Color Intense Caring Color – Red Velvet Brown
Schwarzkopf Keratin Color is specifically designed for mature hair and offers complete coverage to gray hair. It's formulated with Unique Collagen Care Complex and Keratin Coloration that repair damaged hair and cause 80% less breakage than other boxed dyes. But this hair color's USP would have to be its Skin Flattering Pigments that complement your skin tone and make you look younger. Check out the shade Red Velvet Brown if you want to add a gorgeous red tint to your brunette mane.
Pros
Low odor due to Ammonia Control Technology
Good for color-processed, damaged hair
Long lasting
Cons
Rating
4/5

11. L'Oreal Paris Age Perfect By Excellence – Medium Soft Chestnut Brown
L'Oreal Paris' Age Perfect range of hair colors does exactly what you would think it would. It covers all your gray hair to make you look youthful again. It is specifically intended for mature hair that is 70% or more gray. This permanent hair color is formulated with Layered Tone technology that gives your hair a naturally multi-dimensional look and Pro-Keratine Complex that nourishes your hair from within. Go for the Medium Soft Chestnut Brown shade if you have warm-toned brown hair.
Pros
Blends well into your natural hair color
Comes with a comb applicator that makes for an easy and precise application
Leaves your hair feeling soft
Cons
Color turns out darker than expected
Rating
4/5

12. Garnier Nutrisse Ultra Coverage Nourishing Color Creme – Sweet Pecan (Deep Dark Brown)
Garnier Nutrisse Ultra Coverage Nourishing Color Creme uses Cover Plus Technology that covers extra-resistant grays and mimics hair's natural highs and lows to give you a completely natural look. It also comes with a blend of avocado, olive, and shea oils that lock in moisture and condition your hair from within. Pick up the shade Sweet Pecan if you have naturally dark brown hair.
Pros
Pleasant smell
Does not drip
Conditions your hair
Blends in flawlessly with your natural hair color
Cons
Color turns out darker than what is advertised
Rating
4/5

13. John Frieda Precision Foam Color – Deep Brown Black
John Frieda Precision Foam Color comes in a brilliant non-drip foam formula that is easy to spread evenly all over your hair. It saturates each strand with color. Its precise application ensures that you get 100% gray coverage. All brunette and black haired ladies can use the Deep Brown Black shade from this range.
Pro
Easy to apply
Does not drip
Even color
Pleasant smell
Cons
Can leave your hair feeling dry
Fades quickly
Rating
3.5/5

14. Garnier Olia Brilliant Color – Soft Black
Garnier Olia Brilliant Color claims to be "unlike any other traditional hair color" as it is made up of a 60% blend of natural flower oils like sunflower, meadowfoam, passion flower, and camelia. It propels colorant into your hair to give you a vibrant, long lasting color and covers all your grays. Try out the shade Soft Black if you do not have intensely jet black hair.
Pros
Gives even color
Blends with roots seamlessly
Fades slowly
Does not drip or stain
Ammonia-free
Cons
Rating
4/5

15. Vidal Sassoon Pro Series London Luxe Collection – Midnight Muse Blue
Vidal Sassoon Pro Series London Luxe collection is formulated with the VS PrecisionMix Color Creme technology, with which hair dye formulas are mixed to calibrate the right blend of pigments. The resulting color is super vibrant. The shade Midnight Muse Blue is a blue black shade that can be used by anyone with light brown to black hair.
Pros
Pleasant smell
Does not dry out your hair
Cons
Rating
3/5

While coloring your hair is very fun, choosing a shade that will look good on you can be quite a daunting task. So, here's a simple guide you can follow to determine what hair color shades will look best with your skin tone.
How To Choose Hair Color Shades
Ladies with warm toned skin should go for warm toned hair colors like deep chocolate brown, honey blonde, rose gold, and golden blonde.
Platinum blonde, ash blonde, and ash brown pair well with cool skin tones.
Lighter colors like blondes, light brown, and copper complement fair skin while shades of dark brown and maroon flatter dusky skin and darker skin tones.
If you have olive skin, go for dark blonde, browns, and ash toned hues to accentuate your complexion.
Dark shades of blonde and brown with warm highlights look stunning on caramel skin tones.
Warm dark browns and cool light browns go well with wheatish skin complexion.
To determine your skin tone and get a more detailed understanding of what hair color shades you should go for, check out this article!
Banish those grays away and rock your new and improved hair with these brilliant hair colors! And don't forget to comment below to let us know which one you picked out for yourself!

The following two tabs change content below.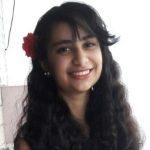 Latest posts by Arshiya Syeda (see all)