The 15 Best Conditioners To Maintain Healthy Hair
Moisturize the weaker strands and prevent split ends from ruining your hair.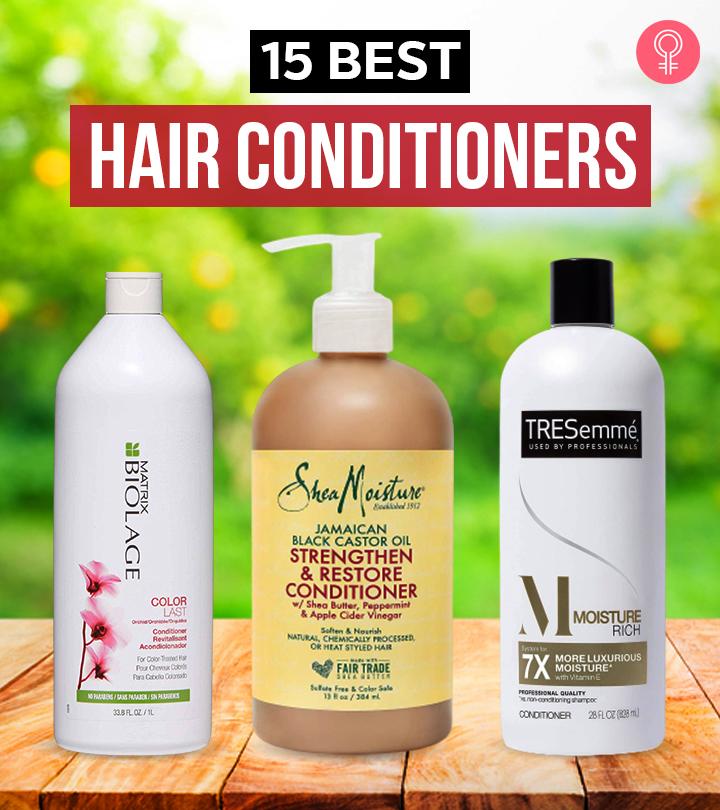 To get the best results from your hair wash, you need a moisturizing conditioner besides a good shampoo. The best conditioner for healthy hair will focus on your lengths, impart nourishment and moisture to your hair to strengthen them, add shine, and prevent split ends. If you find the best conditioner for your hair and use it regularly, you will surely notice a positive change soon.
Check out our compilation of the 15 best conditioners for healthy hair to find the one that best suits you. Keep scrolling!
Top Picks
15 Best Conditioners To Maintain Healthy Hair
Pros
Lightweight formula
Paraben-free
Sulfate-free
Cruelty-free
Minimizes hair static
Pleasant fragrance
Cons
May not suit hair that is too dry or damaged
Dispenses in lumps
Price at the time of publication: $11.95
Pros
Lightweight
Sulfate-free
Silicone-free
Paraben-free
Petroleum-free
Phthalate-free
Mineral oil-free
Cruelty-free
No propylene glycol
Suits most hair types
Safe for colored hair
Pleasant scent
Cons
Price at the time of publication: $30.97
Pros
Moisturizing formula
Improves scalp psoriasis
Boosts shine and softness
Suitable for sensitive scalp
Tangle-free formula
Dermatologist-approved
Color-free formula
Fragrance-free
Paraben-free
Sulfate-free
Aluminum-free
Cons
None

Price at the time of publication: $16.99
Pros
Best suits for dry, damaged hair
Does not weigh hair down
Offers long-lasting shine
Retains natural hair moisture
Cons
Price at the time of publication: $3.89
If you have color-treated, medium to thick hair, the Pureology Hydrate Moisturizing Conditioner would suit you the best. It deeply moisturizes your tresses with the goodness of green tea, jojoba oil, sage, and a signature mix of menthol, greens, and mint.
The conditioner comes with a vegan-free formula. It is free of parabens, sulfates, and mineral oil. It also is cruelty-free. Its original anti-fade complex helps retain hair color vibrancy and offers enduring color pay-off.
The vitamin E, sunflower seed, and UV filters in the product help fight environmental effects like pollution that may otherwise fade the hair color out. It also promotes long-lasting hair shine. It has a lightweight formula that untangles knotty hair and leaves it soft and smooth. This lightweight conditioner works best on thick, dry, colored, bleached, permed, and frizzy hair types.
This conditioner is super-concentrated. A single bottle gives you 70 uses. It also has a pleasant, rejuvenating fragrance.
Pros
Suitable for many hair types
Safe for colored hair
Highly concentrated
Does not weigh your hair down
Gentle on scalp and hair
Paraben-free
Sulfate-free
Mineral oil-free
Cruelty-free
100% vegan
Cons
No pump dispenser
Not suitable for oily hair
Expensive
Price at the time of publication: $71.0
Pros
Soothes scalp
Pleasant fragrance
Sulfate-free
Paraben-free
Phosphate-free
Cons
May make hair rough
Issues with product consistency
Price at the time of publication: $12.0
Pros
Lightweight
Silicone-free
Does not make hair greasy
Cons
Price at the time of publication: $19.99
Pros
Suits most hair types
Pleasant fragrance
Paraben-free
Sulfate-free
Tames flyaways
Cons
Price at the time of publication: $6.57
Pros
Suitable for most hair types
Sulfate-free
Vegan
Cons
Price at the time of publication: $7.97
Pros
Safe, plant-based formula
Paraben-free
Sulfate-free
Phthalate-free
Gluten-free
Dye-free
Formaldehyde-free
Propylene glycol-free
Suits curly hair
Suits color-treated hair
Cons
Cannot detangle long hair
Overpowering coconut smell
Price at the time of publication: $5.33
Pros
Suits sensitive scalp
Suits all hair types
Suits color-treated hair
Sulfate-free
Paraben-free
Dye-free
Pleasant fragrance
Cons
None
Price at the time of publication: $6.43
Pros
Pleasant fragrance
Safe for color-treated hair
Vegan
Paraben-free
Gluten-free
Cons
None
Price at the time of publication: $21.5
The Free & Clear Hair Conditioner adds volume and body to your hair without irritating your scalp. It is gentle even on the most sensitive skin. This non-medicated hair conditioner untangles strands, reduces hair breakage, and leaves your locks smooth and soft.
This moisturizing conditioner hydrates your scalp and hair and helps balance the scalp pH levels. The creamy and thick formula does not leave any residue behind. It is easy to rinse off. The formula is mild on your scalp.
The calming ingredients of this conditioner manage excess oil, prevent tangles, eliminate dandruff, and protect your hair from damage. This product is free of irritants like artificial fragrances, dyes, parabens, lanolin, gluten, betaine, sulfates, preservatives, phosphates, and formaldehyde. It is safe for color- and chemically-treated hair. It is dermatologically-tested as well.
Pros
Suits sensitive scalp
Dermatologically-tested
Safe for color-treated hair
Safe for chemically-treated hair
Boosts hair volume
Paraben-free
Sulfate-free
Phosphate-free
Gluten-free
Lanolin-free
Dye-free
Artificial fragrance-free
Preservative-free
Formaldehyde-free
Cons
May cause breakouts in some
Price at the time of publication: $10.99
The MATRIX Total Results Mega Sleek Conditioner nourishes every strand to leave your hair shiny, healthy, and smooth. The product has the goodness of shea butter that helps fight unwanted frizz or flyaways. It moisturizes and smoothes your hair and helps treat hair damage caused by external environmental elements.
The formula is suitable for dry, colored, damaged, and normal hair. The shea butter helps seal the hair cuticles and controls hair frizz.
Pros
No residue
Pleasant fragrance
Cons
Contains parabens
Consistency could be too thick
Price at the time of publication: $30.0
Pros
Offers long-lasting softness
Safe on colored or permed hair
Does not weigh hair down
Pleasant smell
Comes in a twin pack
Cons
None
Price at the time of publication: $16.99
Conditioners can go a long way in protecting the health and shine of your hair. Before making a purchase, make sure you keep the following pointers in mind.
How To Choose The Best Conditioner For Your Hair
If you want to maintain the health of your hair, it is very important to keep an eye on the ingredient list of your hair care products. Skip those that have chemicals like parabens, sulfates, silicones, petroleum or phthalate. Focus on conditioners that have nourishing components such as coconut oil, jojoba oil, avocado oil, or olive oil. Those whose hair is on the drier side can go for hair products containing shea or cocoa butter.
If you have curly wavy hair, your number one priority should be keeping your locks moisturized. Make sure you condition every time you shampoo your mane. Go for deep conditioning products and make sure to keep it in your hair at least 5-10 minutes post shampooing.
If you have fine and straight hair, opt for lightweight conditioners that would not weigh your hair down. You should avoid products that will cause build-up in your hair or will make your tresses appear lanky and dull. Also, you should wash out your conditioner 3-5 minutes post application.
If you have colored hair, your conditioner needs to be heavy-duty. Since coloring hair causes dryness and damage, you need to buy a conditioner that forms a protective layer over your hair and minimizes further wear and tear. Also, your product should be specially formulated for colored-treated hair, so that the hair color stays fresh for a long time.
Perfumed products are generally a no-go, especially if you have hair that is dry, frizzy or damaged. However, if great smelling hair is something that you absolutely cannot deal without, choose a conditioner with a mild scent.
Conditioners come in a very wide price range – and being expensive does not naturally make it better. No matter the price, go for one that would suit your hair and keep your strands rejuvenated. There are many budget-friendly options in the market as well that offer great hair shine and softness.
Why Trust StyleCraze?
The author of this article, Shiboli Chakraborti is an avid hair care enthusiast who loves finding new products that improve your hair. Hair conditioners moisturize your hair, increasing shine and health, along with other benefits mentioned above. The recommends using these 15 conditioners after conducting intense research and investigations on many products and their reviews. She put these products on this list based on their formula, absence of harsh ingredients, hair care benefits, and additional benefits like color-safeness.
Frequently Asked Questions
Do hair conditioners work?
Yes, hair conditioners do work on your hair to make it smooth and glossy. Using the best conditioner will treat your split ends. They also make your hair easier to style. The best hair conditioners help strengthen the hair shaft, prevent hair fall and breakage, and moisturize hair.
What happens if you leave the conditioner in your hair for too long?
Leaving a hair conditioner in your hair for too long can further harm your damaged hair. Dry, brittle hair is extremely porous and can break easily with the conditioner staying on for too long. Hence, after shampooing, apply the hair conditioner to your wet hair. Massage gently and leave it on for 2 to 3 minutes before you rinse.
Can you use too much conditioner?
No, you should not use too much hair conditioner. Doing so would cover your tresses with heavy build-up, making your hair dull, unmanageable, and lifeless. Not using a conditioner at all will make your hair dry and difficult to comb. Always match the best conditioner for frizzy hair to your hair type and length.
Should you wash all the conditioner out of your hair?
No, do not rinse all the conditioner out of your hair. Place your head under the tap or faucet to rinse out some of the product until your hair is clean. The remnant conditioner will preserve the moisture in the hair.
How long should I leave the conditioner in my hair?
You should leave the conditioner in your hair for 2 to 3 minutes to let your tresses absorb the product. Use a comb to slide through your hair to ensure even distribution of the conditioner. You may rinse after that.
Does it matter what conditioner you use?
Yes, it matters what conditioner you use. Choose the best natural conditioner with no harsh chemicals. Look for products with argan oil, Shea butter, green tea extract, and other plant-based ingredients. Choose conditioners that are free of parabens, sulfates, and other chemicals. Cruelty-free conditioners are a bonus.
Can coconut oil be a conditioner?
Yes, you can use coconut oil as a conditioner to replenish the natural oil balance of your hair. The oil treats hair frizz and keeps your tresses smooth, soft, and manageable.