Top 17 Hair Conditioners Available In India – 2023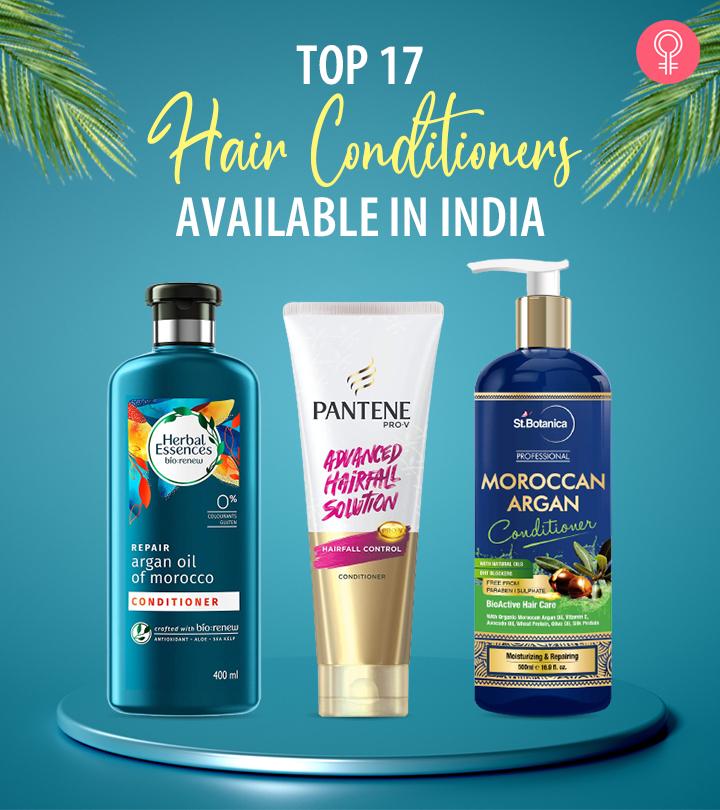 Ever wondered why your hair seems to keep getting drier and duller no matter how many times you wash it? It's probably because you're not conditioning it enough. Many people believe that they can skip on using a hair conditioner because it's not an essential part of their hair care routine. But that could not be further from the truth. Using a conditioner is of paramount importance as it moisturizes and nourishes your hair. This, in turn, reduces frizz and improves the texture of your hair, leaving it feeling softer, smoother, and shinier. So, here we have compiled the 17 best hair conditioners in the Indian market right now that you need to check out!
Best Hair Conditioners In India
Wise women know better than to underestimate the value of a conditioner. Ideally, a conditioner for hair fall should strengthen the hair from root to tip. This is exactly what Pantene Hair Fall Control Conditioner does. It contains powerful Pro-Vitamins that reach deep into each hair strand, nourishing them from within.
Pantene Hair Fall Control Conditioner moisturizes hair from root to tip and prevents split ends and breakage. As it thoroughly moisturizes the hair, there are fewer chances of hair being brittle. Also, it pairs perfectly with Pantene Hair Fall Control Shampoo with complementing cleansing abilities.

Pros
Conditions the hair to make it tame and smoother
Removes frizz and strengthens hair
Affordable
Cons
Contains chemical ingredients
Argan oil is a secret ingredient from the traditional hair care regimen of the past. Unfortunately, we are late to the party, but now that we know, we can capitalize on it. Argan oil hydrates and softens hair. It is high in antioxidants, essential fatty acids, and vitamin E, which help to increase hair's elasticity. On regular application, it can restore shine to dull and damaged hair. It is suitable for all hair types.
Pros
Protects the hair from UV and styling damages
Moisturizes the hair
Revitalizing presence of argan oil
Cons
St. Botanica Moroccan Argan Conditioner is formulated with natural ingredients like Moroccan argan oil, avocado oil, wheat protein, and extra virgin olive oil that nourish and moisturize extremely dry, damaged, and dull hair. It is also enriched with vitamin B5, vitamin E, and silk protein that make your hair smooth, silky, shiny, and bouncy.
This conditioner rejuvenates the hair follicles, improves scalp health, nourishes the hair, and protects it from the harmful UV rays. It also helps increase hair porosity and strengthens the hair. This product is paraben-free, sulfate-free, silicone-free, mineral oil-free, and cruelty-free.
Pros
Formulated with natural ingredients
Nourishes the hair
Suitable for extremely dry, damaged, and dull hair
Makes the hair smooth, silky, shiny, and bouncy
Strengthens the hair
Improves scalp health
Paraben-free
Sulfate-free
Silicone-free
No mineral oil
Cruelty-free
Cons
Organix's Moroccan Argan Oil Conditioner is a fantastic product formulated with the argan oil of Morocco. It penetrates through your hair shaft to hydrate it from within and restore its shine and softness. The conditioner also helps eradicate the build-up of dirt and sweat while nourishing your locks. It helps shield your hair against the damage from styling and pollution.
Pros
Controls frizz
Softens hair and makes it more manageable
Cruelty-free
Pleasant fragrance
A little quantity goes a long way
Paraben-free
Sulfate-free
Cons
The Plum Olive And Macadamia Conditioner is a rich and nourishing conditioner that provides loving care to your hair. The conditioner contains shea butter and olive fractions that are rich in squalene and macadamia oil. These ingredients help soften, detangle, smoothen, and protect your hair. The conditioner also gives a healthy and natural shine to your hair. The conditioner is silicone-free and helps repair chemically-treated hair. The conditioner also contains plant-derived keratin that helps strengthen the hair strands. This conditioner comes in a recyclable bottle.
Pros
Silicone-free
Helps repair chemically-treated hair
Macadamia oil tames frizzy hair
Plant-derived keratin strengthens hair strands
Comes in a 100% recyclable bottle
Cons
None
The L'Oreal Paris Dream Lengths Detangling Conditioner is packed with powerful ingredients – vegetal keratin, vitamins PP and B3, and castor oil that helps in instant detangling of your hair. The key ingredient, keratin, repairs damaged hair fibers, enhances elasticity to reduce breakage, while castor oil reseals the split ends. and also stimulates hair growth.  Additionally, the vitamins protect the hair by making the strands stronger from root to tip.
Pros
Cream texture
Repairs split ends
Reduces frizz
Sulfate-free
Paraben-free
Travel-friendly bottle
Cons
Herbal Essences' Hello Hydration Moisturizing Cleanser claims to provide your locks with lush hydration with its creamy formula that is infused with Hawaiian coconut essences along with orchid extracts. The conditioner is like a drink for your hair and will keep it hydrated, making it silky, smooth, and manageable.
Pros
Pleasant coconut-vanilla fragrance
Large quantity
Makes hair manageable
Defines curls
Cons
Soften and detangle your curls with the RE' EQUIL Murumuru Damage Repair Conditioner. This silicone-free conditioner hydrates your hair, making it soft, smooth, and shiny. It also conditions rough and damaged hair, split ends, and brittle hair. This hair conditioner is enriched with the goodness of organic murumuru butter that locks the moisture to soften the tresses. Additionally, the hydrolyzed pea protein acts as a protective film around each hair strand and retains the natural moisture.
Pros
Suitable for all hair types
Dermatologically-tested
Paraben-free
Sulfate-free
Mineral oil-free
No residue
Cons
Anyone dealing with dry, rough, unmanageable hair needs to try out TRESemme Smooth & Shine Conditioner. Infused with vitamin H and silk protein, this conditioner targets the driest areas of your hair to deeply moisturize them. Its salon-styled finish is the reason why it's one of the top-rated hair conditioners. The lightweight formula of this conditioner helps calm frizz and flyaways.

Pros
Reduces frizz
Reduces dryness and roughness
Does not weigh down hair
Cons
Can give your hair an artificial silicon-like feel
TRESemme Expert Selection Keratin Smooth Conditioner helps restore keratin, i.e., the protein that constitutes 90% of each strand of your hair. It claims to nourish your hair and leave it not only shinier and more manageable but also straighter. Additionally, it can control your frizz for up to 48 hours and is the best conditioner for dry hair.

Pros
Reduces frizz
Reduces dryness
Makes hair soft and smooth
Cons
Does not make your hair straighter
Weighs hair down
Himalaya Herbals Damage Repair Protein Conditioner is enriched with the goodness of protein-rich herbs (aloe, yarrow, chickpea, and bean sprout) that not only condition your hair but also strengthen it, protect it from everyday damage, and reduce hair fall. It claims to work especially well on dry, damaged, and frizzy hair to gently repair and regenerate them.

Pros
Mild, herbal formulation
Leaves hair feeling soft and shiny
Can be used on colored and permed hair
Cruelty-free
Cons
Does not reduce frizz
Does not wash off easily, hence may not be good for oily hair
The BBLUNT Intense Moisture Conditioner is packed with jojoba, vitamin E, wheat germ oil, and hydrolyzed keratin. Vitamin E offers added moisture boost and shine,  jojoba moisturizes your hair from within, and keratin strengthens your hair shaft to prevent breakage and split ends. This hair condition hydrates very dry hair and makes it soft, smooth, and manageable. In addition, it also protects your color-treated hair effectively.
Pros
Salon-tested
Paraben-free
SLS-free
Cruelty-free
Color-safe
Mess-free bottle
Cons
The Richly Replenishing Conditioner from The Body Shop is made with the goodness of shea butter that nourishes dry hair like no other. It makes your hair ultra-soft and smooth, making it manageable and easing the detangling process. It replenishes hair health for dry and damaged hair, making it healthy.
Pros
Suitable for dry, damaged hair
Travel-friendly
Pleasant fragrance
Cons
L'Oreal Paris 6 Oil Nourish Conditioner is (quite obviously) infused with 6 oils – almond, coconut, olive, argan, camelia, and jojoba. It nourishes your hair and leaves it soft, smooth, shiny, thick, and manageable. But the USP of this product would have to be the fact that it can be applied on the scalp to provide nourishment to your roots.

Pros
Reduces frizz
Moisturizes hair and scalp
Leaves hair feeling soft
Pleasant smell
Cons
Not very effective on extremely dry hair
Does not rinse off easily
Wow, Hair Conditioner contains certified organic wheat protein, virgin coconut oil, avocado oil, sweet almond oil, castor oil, jojoba oil, argan oil, vitamin B5 and vitamin E to nourish your hair from within. It also combats frizz, splits, breakage, and hair fall to give you stronger and healthier hair.

Pros
Free of sulfates and parabens
Reduces frizz
Reduces dryness
Adds shine and bounce
Pleasant smell
Cons
May cause hair fall
Very thick consistency
Expensive
Dove Oxygen Moisture Conditioner is specially formulated with Oxyfusion technology to moisturize flat hair without weighing it down. It also adds up to 95% volume to fine-textured hair and leaves it feeling bouncy, soft, and smooth.

Pros
Leaves hair feeling soft and smooth
Does not weigh down hair
Makes hair manageable
Adds bounce
Cons
Contains silicones
Does not reduce frizz
Khadi Natural Shikakai And Honey Herbal Hair Conditioner makes your hair soft and manageable with a fresh and pleasant fragrance. It is blended with the rich goodness of shikakai, honey, almond oil, jojoba oil, aloe vera extracts that deeply nourish the scalp, relieve it from irritations. It also gives strength and shine to the hair. It repairs hair dryness and adds volume to give you healthy, bouncy hair.
Pros
Budget-friendly
Suits all hair types
Nice scent
Suitable for both men and women
Cons
Might cause hair fall for some people
Doesn't lather well
Sunsilk Co-Creations Perfect Straight Conditioner is specially formulated for straight hair. Its Straight-Lock Technology actively controls each strand of your hair and keeps it perfectly aligned to give you straight hair for the next 24 hours. It also claims to penetrate deep into your hair fiber to reduce frizz.

Pros
Conditions hair well
Makes hair soft and smooth
Cons
Misleading product name as it does not actually straighten curly or wavy hair
So, what are you waiting for? Pick out your favorite among these amazing hair conditioners, try it out, and comment below to let us know how it went!
Frequently Asked Questions
What ingredients should I look for or avoid in a hair conditioner for healthy hair?
Look for hair conditioners that contain nourishing ingredients like coconut oil, argan oil, shea butter, glycerin, and keratin. Unless you are aiming for extra slip, avoid products with silicones, as they can weigh down the hair and cause buildup.
How often should I use a hair conditioner in my hair care routine?
Use a hair conditioner after every shampoo routine, typically 2-3 times per week. Overusing or underusing conditioner can affect hair health.
How do I store hair conditioners properly to ensure their effectiveness?
To maintain effectiveness, store hair conditioners in a cool, dry place, away from direct sunlight and humidity. Close the lid tightly after each use to prevent air exposure and contamination
What are some common mistakes people make while using hair conditioners, and how can I avoid them?
Avoid applying conditioner directly to the scalp, as it can lead to greasiness. Instead, focus on the mid-lengths to ends of your hair. Also, avoid using too much product, as it can weigh down your hair and leave a residue and cause buildup.
Can hair conditioners be used on all hair types, including oily hair?
Yes, hair conditioners can be used on all hair types, including oily hair. However, for oily hair, opt for lightweight, oil-free conditioners to avoid excess greasiness.
Recommended Articles: