The 11 Best Hair Crimpers Of 2022 – Reviews And Buying Guide
Transform your hair using affordable products to make it look voluminous and bouncy.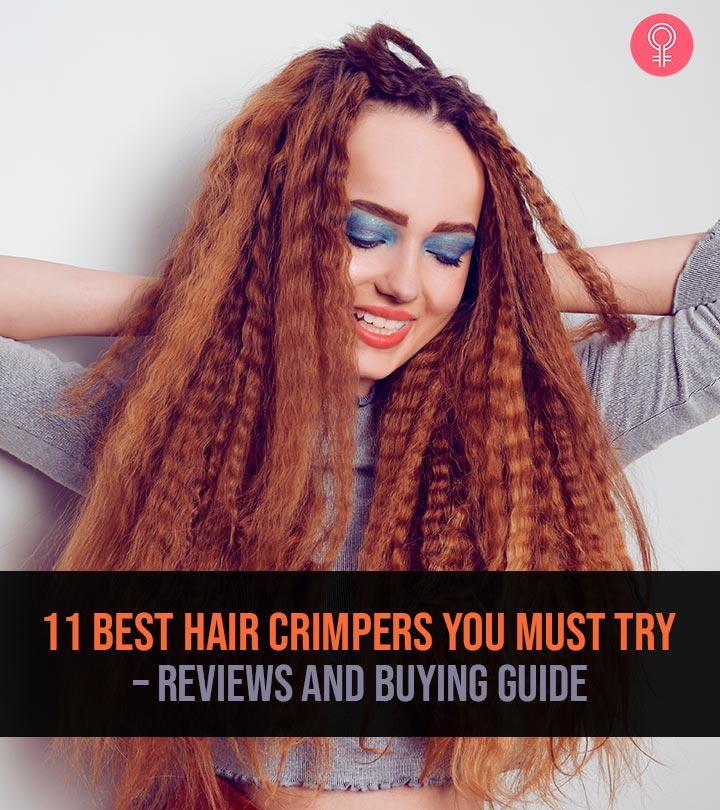 The cyclical nature of fashion has brought some excellent news for fans of the '90s in 2022– crimped hair! When you have the best hair crimper at hand, nothing can stop your locks from looking gorgeously bouncy and voluminous. As easy to use as a hot iron, crimpers can transform any hair into the look of your dreams, from short and thick to long and delicate. If you want to book your spot on the bandwagon and get yourself a crimping iron that zig-zags without a hassle, here's our roundup of the top 11 options available in the market right now. Whether you want to make ripples at a party or add some oomph to your everyday office look, we've got you covered. Keep scrolling to find your favorite one!
11 Best Hair Crimpers Available Right Now
We can safely say that if you buy this product, you are going to love your new look of volumized hair. Bed Head Little Tease Hair Crimper has 1" rippled plates for crimped texture and volume. It is one of the best hair crimpers on the market as it creates an appealing texture with pumped-up volume. This ultra-modern ergonomic crimper is made using tourmaline ceramic technology that glides through your hair for reduced frizz. The one-inch plate helps you create a fine texture but with layered volume.
It can heat up to 400 °F for some quick styling. Whether you use this tool for the perfect crimped look or to tease the roots, it gives you only the best results. Besides styling, this device claims to remove frizz and add a luminescent shine to your locks. Other features like multiple heat settings and instant heat recovery ensure to keep your hair looking fabulous throughout the day. If you are an absolute beginner, this video review might be useful.
Pros
Multiple heat settings
Heats up in 30 seconds
Sleek design
Tangle-free swivel cord
'On' indicator light
Volume control
Comes with a styling guide
Easy to use
3-year limited warranty
Cons
None
Price at the time of publication: $19.99
Want to customize your styling experience? Try the DSHOW 4-In-1 Interchangeable Flat Iron as it allows you to choose from 4 plates to get the desired results. Each set of plates creates different looks – be it straight hair or narrow, medium, or broad crimps. While you are styling, you don't need to worry about burning your hands as this device is insulated. This hair crimper offers 24-hour styling control for frizz-free styles. The auto shut-off function provides extra safety and convenience.
This tool has multiple temperature settings for your specific hair type: 220° for extremely thick curly hair, 200° for coarse and thick hair, 180° for medium hair, 160° for fine hair, and 140° for damaged/very porous hair.
Pros
Heats up in 30 seconds
Dual voltage
360° rotating swivel cord
2 m long power cord
24-hour styling control
Sturdy
Anti-skid button
Easy to use
Cons
None
Price at the time of publication: $35.98
If you are running late but want to create eye-catching crimps in a short duration, this is the product for you. This 2″ wide professional ceramic crimping iron will help you create perfectly layered crimps effortlessly. The device can heat up between 200°F and 450°F. It distributes heat evenly without leaving any hot spots.
This styling tool helps preserve your hair's natural moisture and luster throughout the day. Another interesting feature is the Rheostat Control for temperature variation, which leaves no space for damage. Overall, this product will give you the best results with zero damage. Check out this review for a detailed understanding about the product.
Pros
6' long professional swivel cord
On/Off switch for smooth operation
Power indicator light
Faster styling time
Reduces damage
Heats up in 60 seconds
Suitable for thick and long hair
Suitable for all hair types
1-year warranty
Cons
None
Price at the time of publication: $29.99
Hot Tools 1″ Professional Micro 24K Gold Crimper is the perfect tool for creating light and textured crimps with heaps of volume. It is equipped with a Rheostat Temperature Control Dial with variable heat settings that offer quick styling on a variety of hair types and textures.
This device has a separate on/off switch that makes it easy for you to stop styling in case your hair gets overheated. This helps reduce damage to your hair. It also has an 8' long professional swivel cord that allows full freedom of movement for convenient styling.
Pros
Heats up to 430°F
Provides long-lasting texture
Adds volume
Suitable for all hair types
Gentle and non-damaging
Provides uniform styling
1-year warranty
Cons
Price at the time of publication: $34.82
The Terviiix Zigzag & Straight Women's Hair Crimper comes with 4 colorful and interchangeable plates that help you create multiple hairstyles. The narrow and wide plates instantly add texture and volume to your hair. The plates are infused with nourishing argan oil and keratin, while the tourmaline ceramic technology prevents hair damage and seals the cuticles to prevent split ends. In addition, the crimping iron offers 5 adjustable temperatures ranging from 80 to 430 ℉ to meet your versatile fashion needs. This video review will help you understand more about the product.
Pros
 5 adjustable temperature settings
 60 minutes auto shut off
 4 interchangeable plates
 Safe to use at home
 Durable
 Universal voltage
Cons
Price at the time of publication: $35.99
Inkint Hair Crimper is a 4-in-1 hair crimper for all hair types. This ceramic hair crimper comes with 4 interchangeable tourmaline ceramic plates that provide 24-hour styling control for frizz-free styles. It features 4 individual temperature settings ranging from 320°F/160°C to 430°F/220°C, and it heats up quickly. This crimping iron uses anti-static technology to create 50% less static and flyaways.
Pros
Multiple crimping plates
Heats up quickly
Anti-scalding top
Easy-to-change plates
24-hour styling control
Reduces static and frizz
Suitable for all hair types
Cons
None
Price at the time of publication: $19.99
Pulla Pro Hair Straightener and Crimper is a multifunction styler. It comes with 4 interchangeable plates to help you achieve a variety of hairstyles. It is a professional device with fast heating technology. The adjustable digital temperature control settings make it easy to use on all hair types.
The highlight of this product is that while styling your hair, it emits negative ions that make your hair soft, shiny, and smooth. The plates have been uniquely designed to give you long-lasting volume. The heat settings range from 320°F to 428°F.
Pros
Dual voltage
Insulated front
Offers long-lasting hair volume
Adjustable digital temperature control
Suitable for all hair lengths and textures
Durable
Cost-effective
Travel-friendly
Cons
Can get overheated within seconds
Price at the time of publication: $27.99
LavaTech Crimping Iron is a professional 2" crimping iron. It adds dramatic texture and volume to your hair. This crimping iron has 2" anodized crimping plates with variable heat settings and is suitable for all hair types. It provides even heat distribution and has a power indicator light.
Pros
Adds volume
Adjustable heat settings
Even heat distribution
Suitable for all hair types
Cons
None
Price at the time of publication: $19.01
The Yitrust Iron Hair Crimper has 2″ ceramic plates for tight and shiny crimps. It offers 4 temperature settings ranging from 338.0 ° F to 446.0 ° F. The ergonomic design features an X handle that offers 360-degree rotation, making it easy to style different hair types. The crimping iron comes with a temperature indicator and an anti-scald tip, making the design unique and practically usable. Additionally, the non-slip handle offers a firm and comfortable grip.
Pros
 Travel-friendly
 360-degree rotation
 Ergonomic design
 Anti-scald tips
 Comes with a temperature indicator
 Heats up in 30 seconds
 Universal voltage
Cons
 Too small
 Takes time to crimp
Price at the time of publication: $19.99
The Sam Villa TEXTUR Professional Hair Crimper features tiny ridges on titanium coated plates that give hair lift, volume, and texture 3 times more. The 1″ crimping plate conducts heat evenly and offers 3 heat settings. It also offers a color-treated setting that protects color-treated, adds shine, while ensuring long-lasting color. If you love big braids and updos, this crimper is ideal to use; however, it is advised to pre-texturize your hair before curling or styling.
Pros
 Color-treated setting
 Adjustable temperature control
 Adds volume, lift, texture, and body to the hair
 Perfect for bigger braids and updos
Cons
Price at the time of publication: $149.95
The MINT Hair Crimper gives you well-defined curls in just 3 seconds. It features dual voltage from 110-220V. The 1" ceramic micro-crimping plates give your hair the maximum texture and volume with a constant 415-degree heat. The fast crimping process ensures less damage to your hair, while the ionic ceramic coating adds a healthy shine. This hair crimper is suitable for all hair types and is an ideal choice for the modern woman on the go.
Pros
 Curls hair in 1-3 seconds
 Suitable for all hair types
 1" professional hair crimper
 Prevents moisture loss
 Adds shine to the hair
Cons
Price at the time of publication: $79.97
There are many types of hair crimpers available on the market. Find out more about the different types in the next section.
Types Of Hair Crimpers
Since crimping is a time-consuming process, buying a heavy tool can be inconvenient and stressful. Buying one that fits in your hand easily can help you style your hair without struggling. If you want broad crimps that look like waves, buy a wider hair crimper. But if you wish to get textured crimps that are tightly packed, buy a mini crimper. For short hair, a mini crimper is the best choice. For long and thick hair, large and wide crimpers are the best choices.
Mini Crimper: Want to style your hair in a very finely crimped texture? Many brands offer mini stylers that are designed to create tight crimps in your hair.
Standard: The majority of crimping irons in the market are available in the standard crimping size and style. It is easy to achieve texture and volume with standard crimpers without any difficulty. Most hairstylists use these standard crimping irons in their styling process. Their plates are usually 1" wide.
Wide: Wide crimping irons are often around 1.5" wide. They add almost wave-like crimping texture to your hair. This look is suitable for women of all ages and all hair types.
That was our round-up of the best hair crimpers available and types of hair crimpers on the market right now. Now, check out the important features to look for while buying a hair crimper.
How To Choose The Right Hair Crimper
This guide will take you through the features you need to consider while purchasing a hair crimper.
1. Plate Material
Thanks to the advancement in technology, today we have hair crimpers made of different materials like tourmaline, ceramic, metal, and so on. Tourmaline plates can reach very high temperatures. They are known to be extremely strong and durable. The best part about this material is that it eliminates static in your hair. Since they heat up quickly, they provide guaranteed and faster results. Most professional crimpers are made of tourmaline. They are best suited for coarse and thick hair.
Ceramic plates produce even heat, but they are not a great option for eliminating friction. Therefore, a mix of tourmaline and ceramic is a great option as it causes less friction, less static, and less hair damage. It works best for normal hair types. Also, it is comparatively inexpensive.
2. Temperature Settings
Temperature settings are important as they allow you to work with your hair type in the right way. The temperature you choose needs to suit your hair type. Thick and long hair requires more heat, while limp and short hair requires less heat. Opt for a device that provides multiple heat settings. On the whole, choose a device that heats up quickly.
3. Auto Shut-Off Feature
Auto shut-off is an important feature to consider as it reduces the chances of hair damage. Its main function is to switch off the device when it reaches the set temperature level. This prevents you from burning your tresses.
Now that you are all set to use the product, let's walk you through the simple steps involved in hair crimping.
How To Use A Hair Crimper
Step 1 – Wash Your Hair
Crimping works best on clean and dry hair. To get the best results, use a volumizing shampoo to wash your hair.
Step 2 – Apply Heat Protectant
If you have frizzy or dry hair, apply a heat protectant serum or mousse. You can even spritz on some volumizing mist to hold the crimps for a longer duration.
Step 3 – Blowdry Your Hair
Blowdry your hair on low heat for 10-15 seconds. This will lift the cuticles and prep your tresses for styling.
Step 4 – Remove Tangles
Use a soft-bristled brush to remove all knots and tangles. If there are any knots left in your hair, they can cause hot spots during the styling.
Step 5 – Section Your Hair
Similar to the straightening process, divide your hair into four sections. The crown of your hair must be divided into two segments. The bottom must be divided into two segments. Fasten each section with a salon clip.
Step 6 – Start Crimping
Always start crimping horizontally, section by section. If you want medium crimps, take bigger sections, but if you want a voluminous look, take very little hair. Use equal pressure on each segment and spend at least 5 to 10 seconds before moving on.
Learn more about the benefits of hair crimping in the next section!
How Does A Hair Crimper Benefit You?
You can do many things with this versatile hair styling tool, like adding volume and texture. These include:
Add Volume And Lift At The Roots
You can add volume and lift at the roots by using a hair crimper. This is a trick that is used by hairstyles to add volume to updos and half updos. Crimping also provides more hold to your updos.
Getting An Even Hairstyle
You can section your hair easily with a hair crimper. This gives you an even texture and polished look across the top layer of your hair within minutes. Depending on the product you use, the crimps can be tight or loose. This hairstyle is suitable for events like weddings, birthday parties, family celebrations, holiday parties, and work events.
You can achieve mermaid curls without using a curling iron. Yes, the right hair crimper can give you wavy and mermaid curls.
Crimping is a popular method that professional hairstylists use to prepare your hair for an updo. It adds tons of texture, volume, and hold to your hair and makes it easier to style.
That was our list of the 11 best hair crimpers available right now. We hope this article helps you choose a hair crimper that suits your hair type. Pick your favorite one from this list to get crimped hair!
Frequently Asked Questions
Is hair crimping good for hair?
Yes. Hair crimping adds volume and texture to your hair. It offers a polished look to your hair. However, it is recommended to apply a heat protectant to your tresses before using crimpers.
Can you crimp hair without a crimper?
Yes. You can crimp your hair without a crimper in the following ways-
• Blow dry or air dry your tresses and apply mousse evenly.
• Section your hair and plait them.
• Run a straightener on your braids.
• Undo the plaitings and massage the tresses.
• Spray the hair with a hair mist from a distance and set the strands.
What does crimping do to hair?
Crimping turns your sleek, straight hair into a wavy, zig-zag structure. Crimping also adds the right amount of volume to your hair.
Does crimping hair add volume?
Yes. Crimping your hair adds volume to your tresses. The sleek and straight tresses look bouncy and wavy when crimped using a crimper or a straightener.
Should I straighten my hair before crimping it?
No. Although hair crimping works the best on straight hair, you need not use a straightener to achieve pin-straight hair. Instead, simply dry your tresses completely and comb them straight using a paddle brush.
Recommended Articles
Does A Heat Protectant Really Work?