The 10 Best Hair Crimpers You Need To Try Right Now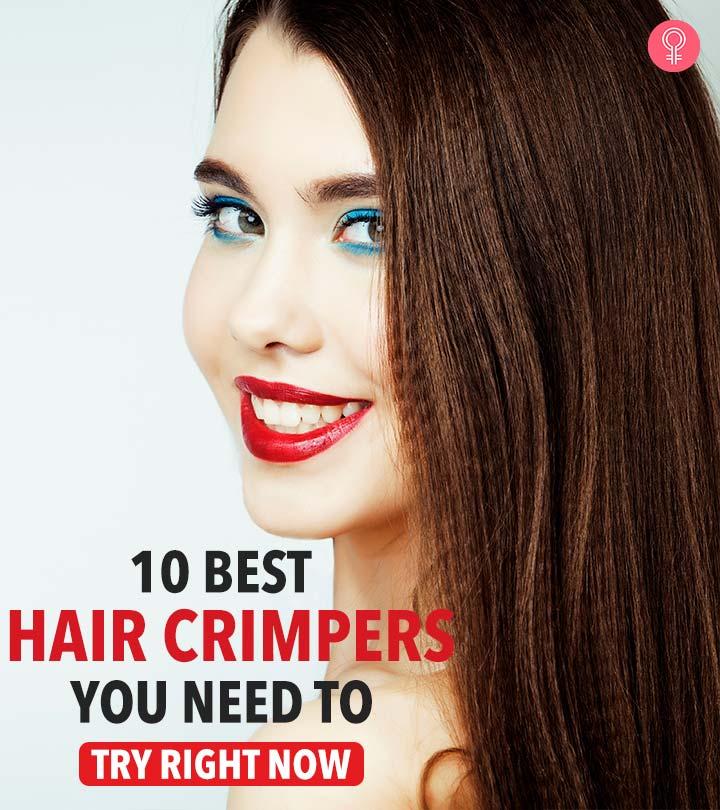 If you think that the 90s' fashion is passé, you are wrong – because crimped hair is back in town, and it looks better than ever! Just like how ripped tights, long hoops, oversized jackets, and high rise jeans have come back in full force, crimped hair is also making a comeback in fashion.
If you grew up in the 90s, chances are you must have spotted every celebrity with crimped hair. The zig-zagged hair with super voluminous look, paired with the little party dress, screams diva. If you want to join in with the rage, try these hot-shot hair crimpers. We have brought you the 10 best hair crimpers on the market along with a buying guide. Scroll through to read more.
Top 10 Hair Crimpers To Buy In 2020
We can safely say that if you buy this product, you are going to love your new look of volumized hair. It is one of the best hair crimpers on the market as it creates an appealing texture with pumped-up volume. The ultra-modern ergonomic crimper is made of tourmaline ceramic that glides through your hair. The one-inch plate helps you create small texture but with a layered volume.
It can heat up to 400 °F for some quick styling. Whether you use this tool for the perfect crimped look or to tease the roots, it gives you only the best. Besides styling, this device claims to remove frizz and add a luminescent shine to your locks. Other features like multiple heat settings and instant heat recovery ensure to keep your hair looking fabulous throughout the day.
Pros
Multiple heat settings
30-second fast heat-up
Sleek design
Tangle-free swivel cord
3-year limited warranty
Comes with a style guide
Cons
None
Rating
4.7/5
If you are running late but want to create eye-catching crimps in a short duration, this is the product for you. With a 2" wide professional ceramic micro crimping iron, you can create perfect layered crimps effortlessly. The device can heat up between 200°F and 450°F. It distributes heat evenly without leaving any hotspots.
This styling tool helps preserve your hair's natural moisture and luster throughout the day. Another interesting feature is the rheostat control for temperature variation, which leaves no space for damage. Overall, this product will give you the best results with zero damage.
Pros
6-feet professional swivel cord
On/Off switch for smooth operation
Power indicator light
Heats up in 60 seconds
Safe for all hair types
Cons
None
Rating
4.7/5
This 3-in-1 professional flat iron functions as a hair crimper, hair waver, and a hair straightener. It helps you create multiple hairstyles with less frizz as it eliminates static from your hair. Since the plates are made of ceramic, they stay gentle on your hair, minimizing damage. The flat iron takes away negative ions from your hair and smoothes the cuticles for a glossy look. For those who have just started using hair crimpers, this product would be a good pick as it comes with an ergonomic handle, which makes it easy for you to operate.
The device has five variable heat settings to suit every hair type. It heats up to 380° F in 30 seconds. It enables quick styling with a super-smooth effect. Another important feature is that it is equipped with a 60-minute auto-off setting for stress-free styling. The device provides you with instructions in case you are unaware of the temperature settings.
Pros
Lock temperature button
Provides good grip for easy styling
Saves your time
Provides constant heat
Allows a variety of hairstyles
Cons
Rating
4.6/5
Hot Tools 1" Professional Micro 24K Gold Crimper is the perfect tool for creating light and textured crimps with heaps of volume. It is equipped with rheostat temperature control dial with variable heat settings that allow quick styling on a variety of hair types and textures.
This device has a separate On/Off switch that makes it easy for you to end the styling in case your hair gets overheated. This helps reduce damage to hair. It also has an 8-ft professional swivel cord that allows full freedom of movement for convenient styling.
Pros
Heats up to 430 °F
Provides long-lasting texture and volume
Creates whimsical crimps on all hair types
Gentle and non-damaging
Provides uniform styling
Cons
Does not support dual voltage.
Rating
4.6/5
Want to customize your styling experience? Try the Dshow 4 In 1 Interchangeable Flat iron as it allows you to choose among four plates to get the desired results. Each set of plates creates different looks – be it deep, medium, narrow, or broad crimps. While you are styling, you don't have to worry about burning your hands, as the device is insulated.
This tool has multiple temperature settings for your specific hair type:
220° for extremely thick curly hair
200° for coarse and thick hair
180° for medium hair
160° for fine hair
140° for damaged/very porous hair
Pros
Heats up in 30 seconds
Supports dual voltage
360-degree rotating swivel cord
2-meter power cord
Anti-skid button
Cons
None
Rating
4.5/5
Conair Infiniti Pro Tourmaline Ceramic hair crimper is a micro-crimping styler that claims to add an instant lift and volume to your roots in less than three steps. It adds volume to your hair (especially to your roots), giving out the impression of perfectly teased roots without the frizz and damage. It provides professional salon-quality results with high speed and accuracy with less heat exposure.
The tourmaline ceramic delivers even heat and prevents hot spots and the resulting hair damage. It also helps prevent static and frizz in your hair. The device heats up to 455 °F and has five temperature settings for long-lasting results. Along with that, the device has another interesting feature – uniform heat recovery, which helps maintain optimum heat levels through the styling process.
Pros
Auto shut-off
30-second heat-up
Suitable for all hair types
Covers large surface within a limited time
Makes your hair look fuller and bouncier
Cons
Leaves a burning smell after styling
Rating
4.4/5
Hiliss Mini Hair Crimper gives volume to the roots for a fuller look. It helps you to create an outrageous crimped look without damage to your tresses. If you have short hair and stubborn baby locks, you are going to love this product as it is exclusively designed for short hair.
The device has three temperature settings to protect your hair and prevent hot spots – high, medium, and low. You can choose the temperature as per your choice. It is one of the best travel crimpers on the market.
Pros
Lightweight and portable
Leaves a uniform crimped look
Reasonably priced
Tangle-free 360°swivel cord
Cons
Rating
4.3/5
Pulla Tourmaline Ceramic Flat Iron is a multifunction styler. It comes with four interchangeable plates to help you achieve a variety of hairstyles. It is a professional set up with fast heating technology. The adjustable digital temperature control settings make it easy to work on all hair types.
The highlight of this product is that while styling your hair, it emits negative ions simultaneously, making your hair more soft, shiny, and smooth. The plates have been uniquely designed to give you long-lasting volume. The maximum heating temperature is 320 °F to 428 °F.
Pros
Supports dual voltage
Insulated front
Suitable for all hair lengths and textures
Durable material
Cost-effective
Cons
Can get overheated within seconds
Rating
4.2/5
This styling tool has four kinds of ceramic plates – small, medium, large, and waver – to suit all hair types of any length. It can style more hair in one go. The ceramic plate eliminates frizz and smoothes dry hair for a salon-finish look.
It maintains optimal temperature throughout the styling process without damaging your tresses. It displays the temperature so that you don't burn your hair while styling. The front-end is insulated to provide safety.
Pros
Supports dual voltage
Suitable for dry and frizzy hair
Ergonomic handle
Travel-friendly
Long-lasting crimps
Cost-friendly
Cons
Rating
4.1/5
This professional styling tool is made of tourmaline ceramic plate heating technology. It emits even heat and eliminates negative ions for a frizz-free and non-drying styling. You can create a variety of crimps with this tool on different hair textures.
Another important feature of this device is the 3D floating plate that follows the direction of the force and stays gentle on your tresses. It protects your hair from splitting and ensures to keep the cuticle safe from burning out. The mini compact design is perfect for travel use. It is light, portable, and user-friendly.
Pros
Heats up in 60 seconds
Distributes even heat
Ergonomic design
Helps reduce static and frizz
Gives you smooth and shiny crimps
Reduces hair breakage
360-degree swivel cord
Comes with a carry bag
Cons
Rating
4/5
That was our round-up of the best hair crimpers available on the market right now. Now, check out the important features to look for while buying a hair crimper.
Hair Crimper Buying Guide
This guide will take you through the features you need to consider while purchasing a hair crimper.
1. Size
Since crimping is a time-consuming process, buying a heavy tool can be inconvenient and stressful. Buying one that fits into your hand easily can help you style your hair without struggling. If you want broadened crimps that look like waves, buy a wider hair crimper. But if you wish to get textured crimps that are tightly packed, buy a mini crimper. For short hair, a mini crimper is the best choice. For long and thick hair, large and wide crimpers are the best choices.
2. Plate Material
Thanks to the advancement in technology, today, we have hair crimpers made of different materials like tourmaline, ceramic, metallic, and so on. Tourmaline plates can reach up to the highest temperatures. They are known to be extremely strong and durable. The best part about this material is that it eliminates static in your hair. Since they heat up quickly, they provide guaranteed and faster results. Most professional crimpers are made of tourmaline. They are best for coarse and thick hair.
On the other hand, ceramic produces even heat, but it is not a great option for eliminating friction. Therefore, a mix of tourmaline and ceramic is a great option as it causes less friction, less static, and less hair damage. It works best for normal hair types. Also, it is comparatively inexpensive.
3. Temperature Settings
Temperature settings are important as they allow you to work with your hair type in the right way. The temperature you choose needs to suit your hair type. Thick and long hair requires high temperature, while limp and short hair requires less temperature. Opt for a device that provides multiple heat settings. On the whole, choose a device that heats up quickly.
4. Auto Shut-off
Auto-shutoff is an important feature to consider as it reduces the chances of hair damage. Its main function is to switch off the device when it reaches the highest default temperature level. This will save you from burning your tresses.
Now that you are all set to use the product, let's walk you through the simple steps involved in the process of hair crimping.
How To Use A Hair Crimper
Step 1 – Wash Your Hair
Crimping works best on clean and dry hair. To get maximum results, use a volumizing shampoo to wash your hair.
Step 2 – Use A Heat Protectant
If you have frizzy or dry hair, apply any heat protectant serum or mousse. You can even spray some volumizing mist to hold the crimps for a longer duration.
Step 3 – Blow Dry Your Hair
Blow dry your hair on low heat for 10-15 seconds. This will lift the cuticles, and at the same time, your tresses will be ready to get styled.
Step 4 – Remove Tangles
Use a soft-bristled brush to eliminate tangles. If there are any knots left in your hair, they might cause hot spots during the styling.
Step 5 – Section Your Hair
Similar to the straightening process, divide your hair into four sections. The crown of your hair must be divided into two segments. The bottom must be divided into two segments. Fasten each section with salon clips.
Step 6 – Start Crimping
Always start crimping horizontally, section by section. If you want medium crimps, take more number of strands and crimp them, but if you want a voluminous look, take little hair. Use equal pressure on each segment and spend at least 5 to 10 seconds before moving on.
Which of the hair crimpers are you going to pick? Why? Do let us know your thoughts by leaving a comment in the box below.
Expert's Answers For Readers' Questions
How are hair crimpers different from hair straighteners?
Crimping irons are similar to flat irons, but the only difference is that they have ridges on the surface of the heating plate. These ridges create a crimped look on your hair. On the other hand, straightening irons eliminate the natural curls from your hair and make it appear straight.
Crimping requires you to hold the two plates together tightly at equal intervals to create crimps. Whereas, in straightening, you can slide the tool through your hair from the root to the tip.
The following two tabs change content below.

Latest posts by Pooja Karkala (see all)

Pooja Karkala
Pooja is a Mass Communications and Psychology graduate. Her education has helped her develop the perfect balance between what the reader wants to know and what the reader has to know. As a classical dancer, she has long, black hair, and she knows the struggle that goes into maintaining it. She believes in home remedies and grandma's secrets for achieving beautiful, luscious hair. When she is not writing, she learns Kuchipudi, practices yoga, and creates doodles.