The 7 Best Hair Curlers Available In India This 2023
Get luscious, swoon-worthy curls with these amazing hot tools.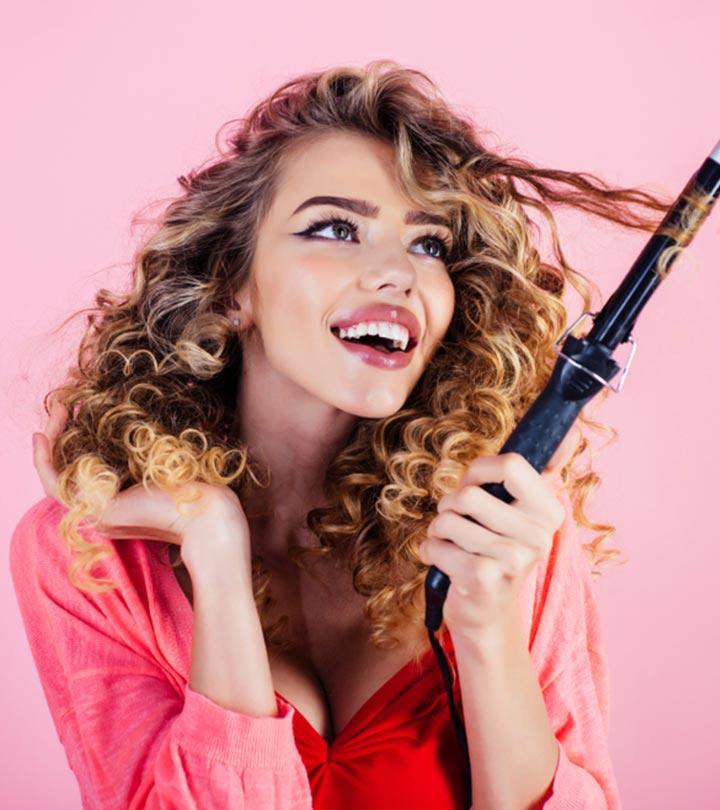 Looking good makes you feel good, and looking different from your natural self also falls under the same category. A little change in appearance helps release dopamine in the brain which automatically makes one feel as good as they would if they were spending quality time with someone they love. Most girls with straight hair feel that it makes them look drab and boring, or so to say, a plain Jane. Girls with straight hair always yearn for a change in their style and hair texture, and the most obvious choice is to curl their hair.
The fastest way to achieve this look is by using a curling iron. There are plenty of options available today with a wide variety of features and more and more girls no longer wish to rely on a hair salon to curl their hair. This is why we have put together a fabulous list of the 7 best hair curlers available in India in 2023 that you can order right away!
Top 7 Hair Curlers In India

The Havells 7 mm Thin Chopstick Curler is a ceramic coated hair curling iron with a voltage of 220-240 V with a frequency of 50-60 Hz. It consumes 25 W of power and also features an advanced element with PTC heating. The power cord of this hair curler is 1.8m long and also includes a safety stand. A hanging loop is also included so you can store it conveniently. The tip of the curler is built in such a way that it will remain cool at all times to avoid any accident or injury. This hair curler takes up to 60 s to heat up completely which means you do not have to wait too long before you can start curling your hair. The rectangular barrel of this hair curler is 7 x 10 mm which results in tight curls that can last longer.
Pros
Comes with a 2-year guarantee
Maximum temperature of 190°C for optimal results.
Features a swivel cord that rotates 360° to avoid the cord from getting tangled.
Includes an LED indicator that turns on when the curler is plugged in with power.
Cons
There may be no option to control the heating temperature.

The Philips Hair Curler is one of the best curling iron with a barrel diameter of 1.6 cm. An LED light blinks to indicate that the device is heated and now ready for use. This hair curling iron for long hair also features a swivel cord that ensures wires do not get tangled and this acts as a safety feature as well. This hair curler is ideal for medium to long hair length and requires 110-220 V and consumes 40 W. If you are looking for bouncy curls then this ceramic hair curler can give you the results you are looking for. The ceramic coat of the wand adds gloss and shine to your hair so you look full of life and glamorous. The barrel has a diameter of 16 mm which is ideal for quick use. The curling iron can be heated up to 200°C and guarantees optimal results with minimal damage to hair.
Pros
2 years warranty included
Heating time is only 60 seconds
Features protective ceramic coating
Includes a power cord that is 1.8 meters long
Features a cool insulated tip so that you do not hurt yourself while styling your hair
Cons
The curler may not work well for very silky hair.

The VEGA Long Curl Hair Curler is one of the best hair curler machines that is pocket friendly. It comes with chrome plates that are coated with ceramic for excellent heat and style output. The tip of the curler is insulated and will never get hot so your hands are protected at all times. The grip on the handle is made of rubber and is comfortable to hold throughout the long process of curling your hair. The curls that you create from this hair curler are smooth and bouncy with a lustrous shine. The long length of the barrel helps you save time especially if you have very long hair. This hair curler also features a special swivel at the base of the barrel that rotates completely so that that power cord does not get tangled. It also features a safety stand so that even if you place the hot curler on a wooden table it will not damage the surface.
Pros
Power consumption is as low as 50 W
The barrel length is 210 mm, barrel diameter is 22 mm.
The hair curler is compatible with 110-240 V, 50-60 Hz
Allows you to adjust the temperature between 80°C to 230°C while you can see the setting on an LCD display.
Cons
The curler may not create very tight curls.

The VEGA Ease Curl Hair Curler is a chrome curling iron coated with ceramic for best results. With a power requirement of 220-240 V and power consumption of 35 W, this hair curling iron is compatible with any power condition. It features an on/off switch along with a light that indicates that the machine is on. Get this hair color and feel relaxed about the way you use it as it comes with a 2-year warranty. This is a clamp type hair curler which will ensure your hair is heated and curled in a fast and efficient manner. The result it provides is tight curls that can be made loose by running your fingers through them. A swivel cord at the base of the barrel ensures that the power cord never gets tangled during use.
Pros
The maximum temperature is 200°C
The tip of the curler remains cool at all times.
Barrel diameter is 19 mm, barrel length is 125 mm.
Features a safety stand so you can keep the curler on any surface even when hot.
Cons
The curling iron may not have an option to set the desired temperature.

The VEGA Smooth Curl Hair Curler can help you achieve curls that are free-flowing within minutes. This is a good hair iron for curls and features a barrel with a diameter of 19 mm. You can create tight curls or wavy curls by choosing the amount of hair you curl at a time. A swivel cord at the base of the barrel makes using the curler easy and does not let the power cord tangle at any time. This hair curler has a temperature range of 120⁰C to 200⁰C so you can be in complete control of the intensity you wish to have. This curling iron comes with a 2-year warranty and also includes a safety stand so that you don't have to be too mindful when you are curling your hair in a rush. All hard surfaces will be safe if you place the hot iron on them. The tip of the hair curler remains cool at all times so that you do not cause any harm to your hands when using the iron.
Pros
Features chrome plates that are coated with ceramic
Features a clamp to hold the hair while it is being heated and curled.
Needs a power supply of 220-240 V, frequency of 50-60 Hz, and consumes 45 W of power.
Includes a power indicator light that turns on when the machine is plugged in and ready for use.
Cons
The clamp may not allow hair to be wrapped quickly around the barrel.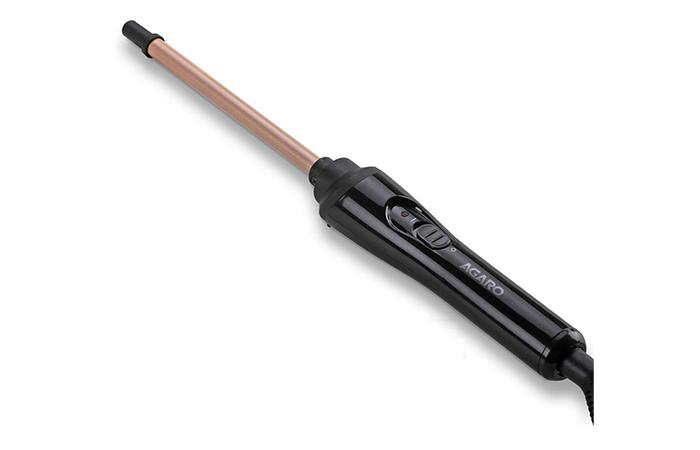 The Agaro Chopstick Hair Curler is coated with a ceramic to ensure even heat distribution through the barrel for faster curling of longer hair. This chopstick style hair curler includes an LED light indicator that turns on when the machine is plugged into power and is heated for use. Curl your hair with this curling iron when your hair is completely dry and make sure to never apply any serum or product on the hair before curling it. The hair curling iron also comes with a 2-year warranty by the manufacturer.
Pros
Barrel diameter is 10 mm, ideal for tight curls.
Features a 360° swivel cord so nothing ever gets tangled.
The tip of the barrel will always remain cool to avoid accidents.
Maximum temperature is 180°C which does not damage the hair a lot.
Cons
The curls may not stay for long on very fine hair.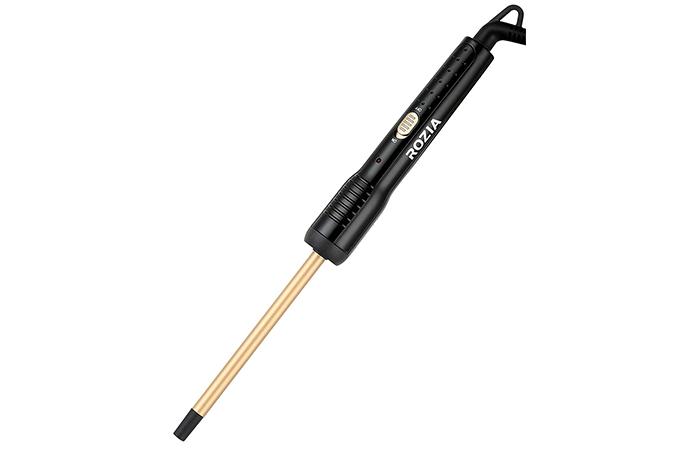 The Rozia Chopstick Hair Curler is one of the best curling irons in India if you are looking for a curler that can give you long-lasting corkscrew curls. Whether you have super straight and fine hair or if you have coarse hair texture, this hair curling wand has the ability to give you rich curls that can last for days if you do not wash your hair. Get professional like curled hair within just a few minutes using this hair curler that has a 2.5 m long cord which is 40% longer than a similar device. This means you can plug the curler into your room and even curl your hair while you stand in front of your mirror in the bathroom. The cord also rotates at 360° so that the long wire never gets tangled.
Pros
Barrel diameter is ½ an inch.
Can be used on damp hair as well.
Suitable for all hair types and lengths.
Features a barrel made of titanium with ceramic plates
Cons
The curling iron may not include a safety stand.
Hair curlers may seem straightforward as a device but some are meant for professionals and some are meant for novices to ease the process for them. Here is a buying guide that will help you choose the best hair curlers available in India in 2023.
Buying Guide For Best Hair Curlers
Hair curlers require a certain amount of practice and flair when using them to get the desired result without spending too much time. While some hair curlers are easy to use some are very meant only for experts. Let's have a look at a few things you need to know before investing in a hair curler.
What Are The Types Of Hair Curlers?
There is a wide variety of hair curlers available in the market today and while the basic function of all of them is the same, their way of operating may differ sometimes. Let's explore the different types of hair curlers:
Clamp Iron:
This is one of the most classic styles of curling irons that are available and something that you can easily identify. It includes a barrel, handles, and clamp. The clamp allows you to shut it and cover the hair while it receives heat.
Spring-Loaded Clamps:
Spring loaded clamps are also a popular type of curling iron that has a spring-loaded kind of design that is easy to use and maneuver while curling your hair. When you press on the clamp, it opens and closes automatically. This is great for beginners.
Marcel Curling Iron:
This is a professional style curling iron often found in hair salons. The clamp may often be spring-loaded and the user may have to hold the clamp to manually shut it. While it gives more control during use, it needs practice.
Wand Irons:
A little different from classic curling irons, wand irons have a straightforward design and include just a handle and a barrel. You need a hands-on approach when using this and most of them include heat-resistant gloves to protect your hands.
Conical Wands:
A popular shape for wands, the conical design has a base that includes a barrel near the handle and tapers into a thin barrel by the end. This helps you create large or smaller curls using the same wand.
Bubble Wands:
Bubble wands are really cool with the barrel-shaped like a string of pearls. It acts as a template and guide for placing your hair in the right way to curl it.
Spiral Wands:
These wands are easy to use and feature a classic barrel overlaid with a thin spiral wound from bottom to the top.
How To Use Hair Curlers?
Hair curlers are fairly easy to use. All you have to do is turn on the machine, once it heats up, roll or wrap a section of your hair around the barrel of the hair curler in a flat manner. Allow it to receive heat for a few seconds and then slowly slide your hair out of the barrel. That's it.
How To Choose The Best Curler?
You may want to keep the following things in mind when choosing a curling iron for yourself:
Material:
Common materials used for making hair curlers are:
Ceramic: Ceramic is the most preferred material as it heats up quickly and can be used in all hair types.
Tourmaline: It is ideal for fine and frizzy hair as it also releases negative ions.
Gold: Curling irons that are gold plated heat quickly and are great for coarse or thick hair.
Titanium: Titanium hair curlers are one of the best options for a professional result.
Curling irons come in different barrel sizes, all of which give different curled results:
a. ¾ inch: Suitable for fine or short hair and tight curls can be achieved too so your hair will look more defined.
b. 1 inch: This is a versatile size of barrel and can be used for all types of hair texture and length.
c. 1.5 inch: This is a perfect size for longer hair and makes the curling process easier. A larger barrel means all of your hair lengths can fit around it and you can achieve wavy curls.
Choose a curling iron that ideally allows you to set or change the temperature. Adjustable heat is helpful especially when you have very fine hair that doesn't need so much exposure to high temperatures.
Suitable Shape:
The shape and style of the curling iron can make a big difference and it is no point getting a curling iron that is too difficult to use for a first-timer.
Additional Features:
In addition to the features mentioned above, some extra helpful elements won't hurt. Additions like a longer cord, quick heating, and auto switch-off go a long way in making life easy when trying to curl your hair.
From loose beach waves to full-blown tight curls, a curling iron can help you achieve any look that you want when used with the right hair product and technique. Women in the 20s had a lady's maid who would do their hair every day before dinner and the curling iron was just gaining popularity back then. While we may no longer have the luxury of a stylist at home we can use hair curlers whenever we want and be ready for an event without having to hit the salon. If you haven't used a hair curler before you will not take more than 2 weeks to master the art as long as you practice and learn to know your hair and curler well. The best hair curlers in India are at par with the best hair curlers in the world and are only a click away before they find a permanent space on your dresser.
Frequently Asked Questions
What size of curling iron is suitable for loose curls?
A 1.5-inch curling iron is perfect to create loose curls on all hair types.
How long are you supposed to hold the curling iron to your hair?
You must hold the curling iron between 5-8 seconds and not longer than that.
Does curling my hair every day make it weak?
Yes, using a curling iron every day will harm your hair and cause damage which may take a very long time to heal.
Are curling irons safe?
Curling irons can cause your hair to become weak and break easily. While using them is safe for that moment, the ill effects are plenty in the long run.
Is it a must to use a heat protectant before curling my hair?
It is not a must, but it is advised to use a heat protectant before applying heat to your hair for curling so that the damage is minimized.
Can I use hairspray before using a curling iron?
No, you should use it only after. If you use hairspray before curling the heat from the iron and chemical from the spray will dry your hair out.
Which material of curling iron should I choose?
A ceramic curling iron is the best for use and also the most popular option available.
How to clean a curling iron?
A few drops of rubbing alcohol on a cotton pad or a paste of 3 parts baking soda and one part water can be used to clean a curling iron efficiently when it is cool and unplugged. Once cleaned wipe it dry.
The following two tabs change content below.