11 Best Hair Cutting Scissors Of 2023: Expert Tips + Buying Guide
Create stunning hairstyles and accentuate your looks with sturdy and handy tools.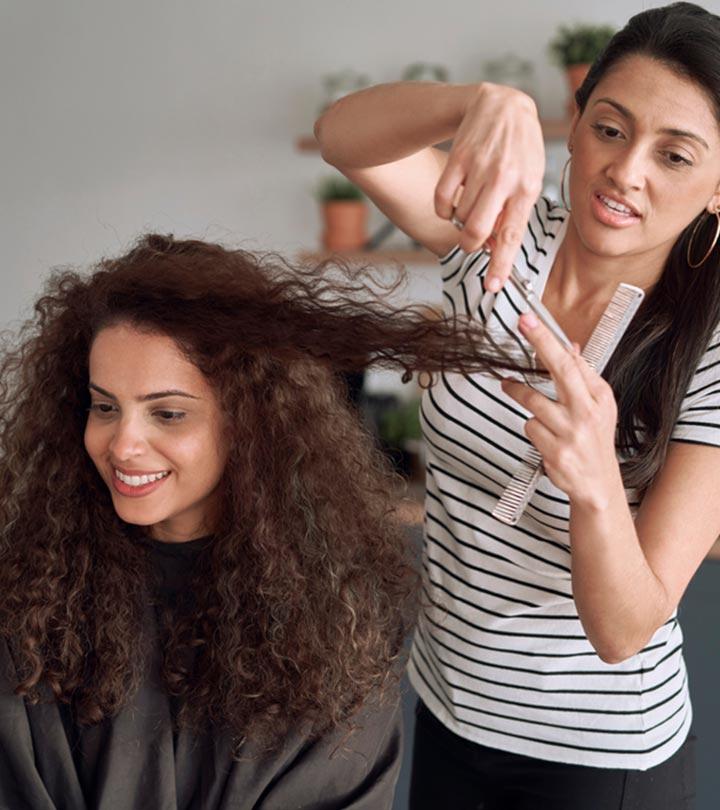 If you can't visit the salon but still want to keep your hair presentable, get your hands on the best hair cutting scissors at the earliest. While conditioning and blowdrying your hair would give you that final look, a pair of hair-cutting scissors helps you trim the extra lengthy strands and flyways to keep your tresses neatly styled and in shape. You can also find these scissors handy to remove body hair and groom yourself better. Hairstyle makes an important part of a person's first impression. How you look and the effort you put in to groom yourself can add those extra bonus points to your overall personality. If you still don't have a pair of hair-cutting scissors, you must get one to understand its various utilities. We have shortlisted the 11 best hair-cutting scissors to help you get started.
Top Picks
11 Best Hair Cutting Scissors In 2023
Pros
Sharp blade edges
Ergonomic patented design
Made of long-lasting stainless steel
Can be used for cutting long and short hair
Cons
The finger holes might be too small for people with big fingers.
Price at the time of publication: $33.99
Pros
Ergonomic design
100% stainless steel
Hand-crafted blades
Non-slip handle for a comfortable grip
Cons
May not work well to trim split ends
Price at the time of publication: $6.79
Pros
Ergonomic grip
Mirror polish exterior
Sharp blades for a clean cut
100% Japanese stainless steel
Cons
The plastic finger ring may become loose.
Price at the time of publication: $15.99
With Fagaci professional shears, you can achieve salon-quality haircuts at home. These shears are popular among both professionals and do-it-yourself hair enthusiasts. They come in a variety of sizes and designs, making them versatile and appropriate for a wide range of hair types. These shears are distinguished by their razor-sharp blades, which provide a very delicate and precise cut. Sharpening and inspecting the blades by professional masters results in a razor-like sharpness that produces a superfine, powerful, and long-lasting edge.
Pros
Superior quality steel
Comfortable
Easy to hold
Versatile
Suitable for various hair types
Cons
Price at the time of publication: $62.99
If you're looking for high-quality shears that are both innovative and affordable, the Cricket S2 Elite Shear Collection is a great option. The Swedish steel used in these hand-polished shears has been tested using cutting-edge steel processes that benefit the steel and extend the blade life. These shears feature a continuous cut convex edge, special leaf spring tension, and a detachable finger rest to maximize efficiency and ease of use.
Pros
High-quality
Long-lasting performance
Smooth and precise cutting
Detachable finger rest
Less drag while cutting
Cons
Limited size options available
Price at the time of publication: $67.95
The Facón Professional Hair Cutting Scissors are ideal for professional barbers and stylists who require precision, comfort, and style. They are ergonomically designed to be as comfortable and efficient as possible when in use. They are stylish, with a sleek and elegant black powder-coated finish and accent gold screw. These scissors are light and perfectly weighted to fit in your hand comfortably, reducing wrist fatigue and strain.
Pros
Professional grade salon quality
Ergonomic design
Versatile
Adjustable tension system
Comfortable finger inserts
Cons
Some may find the finger inserts small and uncomfortable
Price at the time of publication: $9.95
The Tycon Instruments Hair Scissors feature an eye-catching rainbow design that will complement any hairdresser's or barber's collection. It has a Japanese-style design with high-quality J2 stainless steel and a comfortable and firm grip, which makes hair cutting a breeze. The razor edges increase efficiency and precision, resulting in clean, smooth cuts every time. Even during long hair cutting sessions, the ergonomic curved handle and cushioned grips ensure a comfortable and less tiring experience.
Pros
High quality
Versatile
Easy to hold
Includes finger circle protection
Long-lasting
Cons
Price at the time of publication: $11.99
Are you looking for high-quality barber thinning scissors with perfect balance, excellent control, and proper blade alignment? Take a look at these Jimmy Barber Thinning Scissors. These are high-quality 100% stainless steel 6.5-inch black paper-coated hairdressing scissors. These scissors are built to last and will give you a smooth, sharp, and clean cut every time. It also has an adjustable screw that allows you to fine-tune the tension to your liking.
Pros
Durable
High quality finish
Ergonomic design
Comfortable to use
Flexible
Cons
Price at the time of publication: $12.99
Tweezermen's Spirit 2000 Styling Shears are the ideal choice for getting a salon-quality haircut at home! The sharpness and durability of the stainless steel blades ensure a precise, polished haircut every time. The wide finger loops on the plastic handle make it easy to grasp. These shears are great for trimming and maintaining fringe between salon visits.
Pros
High-performance stainless steel blades
Micro-serrated edges
Long-lasting use
Smooth cutting
Cons
Not ideal for larger sections of hair
Price at the time of publication: $16.71
The Elite Unity Hair Cutting Scissor is the ideal choice for both professionals and beginners. The brand's commitment to quality, affordability, and customer satisfaction is evident. The sharp edges are intended to provide a clean cut without damaging the hair or leaving split ends. The lightweight design places no additional strain on wrist motion, making it comfortable to use for extended periods of time. The matte finish gives it a professional appearance, and the razor sharp edges set it apart from others.
Pros
Highly corrosion resistant
Lightweight design
Ergonomic design
Sharp blades
Suitable for all hair types
Cons
Price at the time of publication: $10.97
The Suvorna Professional Hair Cutting Scissors have a premium multi-color titanium coating that is both aesthetically pleasing and functionally durable. These shears feature hollow-ground, convex, razor-edged blades that maintain their edge longer. These shears cut easily and smoothly, making them ideal for both personal and professional use. The tension can be changed thanks to the easy-grip knurled knob on the backing plate, which also features a removable rubber insert and finger rest.
Pros
Durable
Comfortable
Tension adjustment
Precision cutting
Cons
Price at the time of publication: $39.95
How To Choose Hair Cutting Scissors
This will significantly boil down to the type of scissors that you feel most comfortable using. The shape of the shears can also help reduce hand fatigue when cutting hair for prolonged periods. The three basic shapes when it comes to hair cutting scissors are the classic, offset, and crane shape.
The sharper the blade, the easier it is to cut without damaging hair. Having a sharp edge can also reduce the time taken to cut hair and lessen the strain on the fingers, wrist, and hand.
The longer the blade, the better it is. Hair cutting scissors will also have longer blades when compared to regular scissors used for cutting paper. This is because longer blades make hair cutting less tiresome and time-consuming.
Choosing hair cutting scissors can be quite tricky. Some neat and user-friendly features to look out for include adjustable tension knobs, removable rubber inserts, and removable finger rests. While they do aid in terms of functionality, they play an even greater part in making the experience comfortable.
How To Use Hair Cutting Scissors
Step 1: Comb your hair to loosen hair knots.
Step 2: Use one hand to hold a section of your hair.
Step 3: Use your other hand to hold and grip the hair cutting shears.
Step 4: Cut hair according to your desired style.
Step 5: Clean the scissors once you are done.
Why Trust StyleCraze?
The author, Kirtana Divakar, is a hair care enthusiast who loves all things related to hair. She curated this list of the best hair cutting scissors after hours of careful research to bring forth the best for her readers. These scissors have sharp blades and can be used to cut long and short hair. Most of these scissors have hand-crafted blades and an ergonomic grip.
Does cutting your hair with normal scissors damage it?
To keep it simple, the answer to this is a resounding yes. Cutting your hair with scissors that are meant for cutting paper and cardboard can damage your hair. It will damage the ends of your hair and result in split ends. Apart from this, regular scissors may not be sharp enough that will result in jagged edges.
How do I adjust the tension on hair scissors?
This can be simply done by turning the tension knob to the right or the left. Turning it to the right will tighten it, while turning it to the left will loosen it. This results in either a lesser or greater distance between the two blades.
How often should I lubricate hair shears?
To increase the longevity of your hair cutting shears, you should lubricate the blades with scissors oil daily. This ensures that the blades don't jam while cutting hair. This can be done by applying the oil to the pivot of the scissors.
How often should I sharpen hair shears?
While this will vary depending upon the usage and blade quality, an approximate time frame could be anything from four to six months. This is a rough estimate and should not be taken as a rule set in stone.
Does it matter what kind of scissors you cut your hair with?
It does matter as using the wrong kind of scissors can result in irreversible hair damage. There are different types of scissors, depending on the kind of hair cutting required. Using the appropriate pair is essential.
Why are barber shears so expensive?
They are so expensive because of the craftsmanship that goes into designing professional hair cutting scissors. Apart from the premium quality materials used, most are equipped with features that make them easier to use. Features like these include an adjustable tension screw, rubber thumb grips, and even removable finger rests.
Can you carry hair cutting scissors on a plane?
Yes, you can, but only while adhering to certain safety precautions. They must be packed in carry-on luggage and securely packed to prevent injury to baggage inspectors.
Can you trim your beard with scissors?
Yes, you can. However, not all hair cutting scissors are meant for beard trimming. Most beard-cutting scissors have extra sharp blade edges.
Recommended Articles