The 13 Best Hair Detanglers For Every Hair Type And Budget – 2022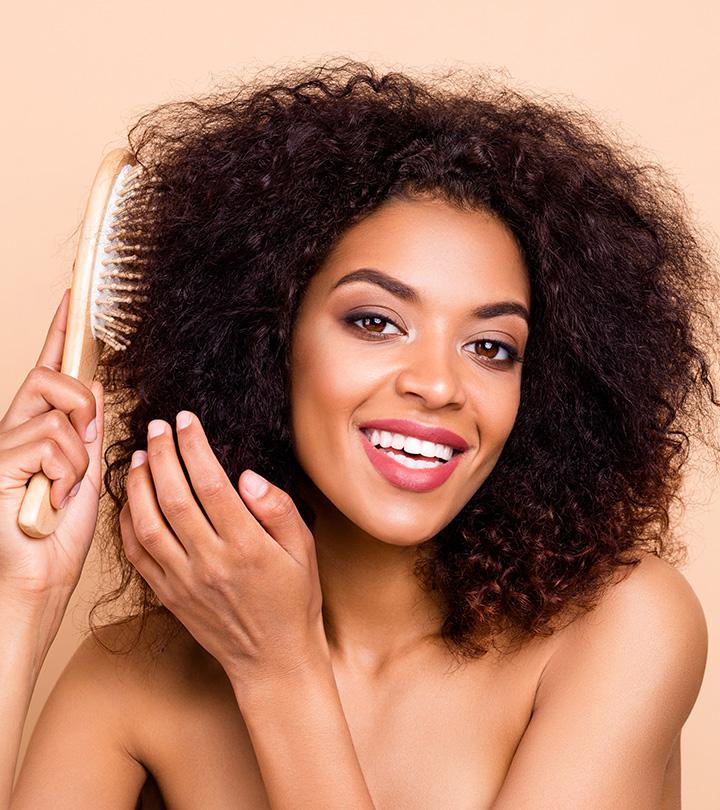 The best hair detanglers have to be one of the most convenient products out there for individuals struggling with having brushable hair that instantly glides through. The knots and tugs are obviously quite painful, and not to mention the ginormous amount of hair fall. Whether you like using conditioners, brushes, creams, or sprays, they share a common purpose. The brush-down would be breezy and smooth if you go through our list of the 13 best hair detanglers of 2022 to help preserve the health of your hair.
What does a detangler do?
A detangler will separate hair knots effortlessly and reduce breakage. Detangling products target every strand of hair to smoothen, soften, and make them more manageable on their own and without the need for forceful combing. They are tough on knots but gentle and nourishing for your hair.
Girls! Brushing hair does not have to be a painful experience anymore. With our exclusive picks below, you'll want to run your hands through your hair at every chance you get. Check out our list of the 15 best detanglers of 2022 for you.
Say No To Knots And Tangles With 13 Best Hair Detanglers Of 2022
A few spritzes of this nourishing blend are all you need for knot-free silky hair. Suitable for all ages, this detangling spray works quickly to detangle stubborn knots and leave hair manageable, soft and moisturized. The naturally-derived formula contains argan oil, jojoba protein, calendula, quinoa extracts, almond oil, and shea butter for intense nourishment. The citrusy spray also has lemon peel extract, safflower seed oil, babassu oil, murumuru butter, chamomile, and vitamin E to leave a silky-smooth look. A fantastic choice if you are looking for a chemical-free product, this one is free from parabens, dyes, silicones, sulfates, synthetic fragrances, and more. This video gives you more information about the product.
Pros:
Child-safe
Hydrating
Lightweight
Hypoallergenic
Dermatologist-tested
Works best on dry, tangle-prone, and curly hair
Cons:
Not suitable if you are sensitive to smell
For damaged and fragile hair, this leave-in mist by Pantene is a great option. Why? Not only will it detangle the knots but also repair the damage, prevent breakage, and restore the original glossy finish. Formulated with antioxidants and castor oil to fortify hair strands, it also reduces split ends and provides light conditioning for styling purposes.
Pros:
Lightweight
Moisturizing
Combats dryness
Promotes healthy-looking hair
Cons:
Are you dealing with knots and frizzes at the same time? Try this leave-in detangler with 25 benefits! This hair-transforming formula penetrates deep into the follicle to protect, moisturize and repair. Plus, it also eases knots and combats dryness effortlessly. Your one-stop solution to banish frizzes, flyaways, and repair damage, this detangling milk contains ultra-nourishing ingredients. The formula is infused with fennel seed oil, coconut oil, sunflower seed extract, olive fruit oil, and camelina sativa seed oil to repair and protect strands. Great for all types of textured hair, try this detangler spray for smooth and manageable curls. Have a look at this video to learn more about the product.
Pros:
Hydrating
Style-friendly
Lightweight
Heat protection
Suitable for coily, medium, and thick hair
Cons:
Slightly expensive
The scent may be strong for some.
Not your regular shampoo, this ultra-conditioning cleanser by Design Essentials will combat dryness and leave hair tangle-free. In most cases, dryness is the reason behind pesky knots, and if your hair is damaged, you must try this moisture-retention shampoo ASAP. It will restore the moisture balance, soften, detangle and smoothen hair with every wash. Non-stripping and gentle formula, it's also free from mineral oil, sulfates, alcohol, silicone, and gluten. So, if you are not a fan of creams and sprays, try this quick-lathering and deep cleansing shampoo for tangle-free and manageable hair.
Pros:
Cruelty-free
Hydrating
Ultra-conditioning
Safe for children
Suitable for daily use
Works best on all hair types, even colored and textured.
Cons:
Meet the ultimate knot separator! Unlike regular hair brushes, this detangler will gently ease those unruly knots with its flexible and bendable bristles. Yep, no painful brushing sessions! It reduces breakage, and the nylon-soft brush bristles also redistribute natural oils to add a healthy shine. Anti-static and with a contoured vented design to allow quick blow-drying and styling, it removes frizz-causing moisture too. High-end, functional, and made of 100% biodegradable material, this detangling brush is good for your hair and the planet.
Pros:
Non-slip
Long bristles
Easy-to-clean
Ergonomic design
Ideal to use on dry and wet hair
Suitable for all types of textured hair
Cons:
May not be sturdy enough for thick hair
For salon-worthy, ultra-smooth, and soft hair, try this silk protein-infused conditioner. A great option for workaholics because it detangles instantly, the leave-in conditioner detangler also repairs and fortifies strands from roots to tips. The powerful silk protein treatment restores the moisture balance, adds shine, and protects hair from everyday environmental stressors like dry wind or humidity. Leaving hair visibly shiny, manageable, and smooth, there's no reason to give this knot-free treatment a miss!
Pros:
Lightweight
No build-ups
Style-friendly
Frizz control
Lighter-than-air finish
Cons:
Busy bees, here's a detangler you'll thank us for! With time-released nutrients and hydration, this detangler will keep your hair knot-free for 3 days. Infused with keratin formula to strengthen and add shine, this game-changer will make those time-consuming brushing sessions quick, painless, and effortless for you. A brand trusted by stylists, it guarantees minimum breakage and frizz control.
Pros:
Color-safe
Weightless
Style-friendly
Heat protection
Ultra-conditioning
Suitable for all hair types
Cons:
It's no secret that shea butter is incredibly moisturizing, and now, you can enjoy its benefits in this leave-in detangler! Great for 3A to 4C and coarse hair types, the infused raw shea butter moisturizes strands to release the most stubborn knots and prevent breakage effortlessly. You can use it pre or post shampooing to reduce styling time and to enjoy bouncy and healthy curls with every use. The formula also contains hair-fortifying ingredients such as argan oil, sea kelp extract, slippery elm bark extract, and marshmallow roots. Also, it's free from harsh chemicals such as phthalates, sulfates, parabens, mineral oil, petrolatum, and more.
Pros:
Color-safe
Cruelty-free
Lightweight
Damage repair
Ultra-conditioning
Maximum manageability
Cons:
This high-end and all-natural detangling primer has ultra-nourishing ingredients for your hair. It detangles instantly and smoothens cuticles with coconut, apricot, and pomegranate. It also protects damaged, drying, photoaging hair and restores natural keratin with Oribe's signature complex (edelweiss flower, watermelon, and lychee). Plus, amla extract hydrates and conditions intensely, whereas tropical hibiscus extract leaves hair touchable-soft by replenishing and locking in moisture. Besides this, amino acid and anti-static complex prevents flyaways and adds a silky-smooth shine. Need we say more?
Pros:
Lightweight
Style-friendly
Heat protection
Damage protection
Cuticle-sealing formula
Effortless combing experience
Cons:
For damaged, dehydrated, and tangle-prone hair, this leave-in treatment will be a boon in disguise. A gel-like formula, it penetrates deep into the follicles and moisturizes from root to tip for effortless detangling. It also tames pesky frizzes and flyaways to leave hair silky-smooth, soft, and naturally shiny. Vegan and herbal blend to restore damaged hair after chemical treatment, its formula contains aloe vera extract, lavender oil, chamomile, calendula, comfrey extract, yarrow, and rosemary oil for intense nourishment.
Pros:
Cruelty-free
UV protection
Weightless formula
Safe for daily use
Suitable for all hair types and textures
Cons:
Some may find the consistency runny
If knots and frizzes are giving you a hard time, rage a war with this instant detangler! The formula softens the hair and leaves them instantly brushable, smooth, and ready to flaunt.  Ultra-moisturizing and infused with plant-based ingredients, the formula tames frizzes, prevents breakage, and repairs damage. It contains morete oil, rahua, organic mango sugar, and sacha inchi to nourish hair and scalp intensely. Besides this, it has the aromas of tropical fruits such as mango and passion fruit and is free from toxic chemicals such as parabens, silicones, sulfates, and gluten.
Pros:
Vegan
Color-safe
UV protection
Deep hydration
Photoprotection
Suitable for all hair types
Cons:
The multiple benefits of this hair detangler spray will blow your mind, not kidding. Besides detangling hair, it hydrates, moisturizes, conditions, and maximizes manageability. Also, it provides thermal protection, moisturizes the scalp, and fortifies strands with an ultra-nourishing and strengthening formula. It contains pracaxi seed, sacha inchi seed, marula oil, argan oil, amino-acid blend, almond seed extract, coconut oil, and more to add an enviable bounce to your tresses. A superfine and lightweight spray for shiny, smooth, and tangle-free hair, this pH-balanced formula is also free from harsh chemicals such as alcohol, sulfates, silicones, essential oils, fragrances, and dyes.
Pros:
Non-sticky
Non-greasy
Weightless
No build-ups
Biocompatible product
Suitable for all hair types
Cons:
Slightly expensive
May not be effective for thick hair
Here's another one for the busy bees! With this 3-in-1 combo of cleanser, conditioner, and detangler, there will be no knots to eliminate. Sounds too good to be true? The co-wash cleanses while conditioning and revitalizing your tresses and curls at the same time. Infused with coconut oil, olive fruit oil, mallow flower, ivy, cucumber fruit, arnica flower, and vitamin E, the detangler increases manageability and promotes hair growth. And as far as frizzes and flyaways are concerned, consider them taken care of. Plus, it is free from sulfates, parabens, mineral oil, artificial color, and other toxic ingredients. Just what you need for freshly shampooed and knot-free hair, save time and hair with this one.
Pros:
Cruelty-free
Lightweight
Moisture balance
Reduces breakage
Prevents split ends
Suitable for all hair types
Cons:
Don't fight the knots; detangle them! There you go, those were the 13 best hair detanglers of 2022 to eliminate knots and tame flyaways effortlessly. If you are still wondering how to pick the right product for your hair or to use one, we have some great tips in our buying guide below.
How To Choose The Best Detangler For Hair?
We've got your detangling needs covered. Look out for these features in the hair detangling products before buying:
Hair type:
Pick a detangler suitable for your hair type. Oil-based detanglers may be slightly heavy for oily hair or turn your hair greasy quicker than usual. However, if you are dealing with dryness or have dryness-prone hair, detanglers with oils, shea butter, and more will be great moisturizers and help detangle knots effortlessly. Also, for oily hair, water-based detanglers would be a fantastic choice.
Hair thickness:
The thicker your hair, the more unruly and stubborn the knots will be. If you have thick hair, it's best to settle for a cream-based detangler or cleansing conditioner to ease the knots. For thin, fragile, or damaged tresses, sprays and conditioners are ideal. And if you have medium or normal hair, detangling brushes would suffice.
Lightweight:
Detanglers are infused with powerful nourishers to restore the moisture balance in your hair to eliminate tangles. But these nourishers can weigh down your hair or leave residue and build-ups. Hence, it's best to choose a lightweight formula.
Thermal protection:
Heat and excessive styling are one of the top reasons why your hair could be turning drier. For the best experience, choose a hair detangler with thermal protection to prevent frizzes, flyaways, and knots.
Non-toxic formula:
Harsh chemicals in your product could also trigger dryness and knots in your hair. Choose a formula free from toxic ingredients such as parabens, sulfates, phthalates, silicones, mineral oils, and more. Also, most detanglers on our list are chemical-free!
How to use a hair detangler?
You can use a detangler before or after washing your hair (may vary from brand to brand). Also, it is a universal rule to go "bottom-up" when detangling knots. Whether dry or damp hair, apply the product or spray on and start detangling way up to ease the knots. A quick tip: if you have thick curls or coils, it's best to detangle them when hair is damp.
Why Trust StyleCraze?
The author of this article, Kirtana Divakar, is a hair care enthusiast who loves checking out and reviewing new hair care products. She has curated a list of the best hair detanglers after hours of research on product specifications and the ingredients used to formulate the detanglers. She also browsed user reviews on several e-commerce websites before shortlisting the products. These products are lightweight, hypoallergenic, and child-safe and work on every hair type.
Frequently Asked Questions
Is hair detangler bad for hair?
No, it is not. Hair detanglers are good for hair as they separate the knots effortlessly and leave hair soft, smooth and shiny. They are also infused with powerful nourishers to fortify strands and restore them to their healthy state.
Is it better to detangle hair wet or dry?
Although it's best to detangle when hair is damp, there are detanglers on the market that you can use on dry hair. Honest Conditioning Detangler and Raw Shea Butter Moisturizing Detangler are great to use on dry hair.
Does leave-in conditioner detangle hair?
Yes, it does. There are leave-in conditioners that are good at detangling stubborn knots effortlessly. If you need one, Mizani 25 Miracle Milk Leave-In Conditioner, It's A 10 Silk Express Miracle Silk Leave-In Conditioner, and Image IntraKera Deep Penetrating Leave-In Conditioner are great options.
Does hair turn greasy after using a detangler?
Yes, if you are using the wrong product for your hair type. Oil-based or cream-based products can turn hair greasy, especially if you have oily hair and scalp. If greasiness is an issue, use products with water-based ingredients such as aloe vera, sea kelp, and more.
Recommended Articles: