15 Best Hair Developers For All Hair Colors And Types
Treat your hair with these hair care essentials for long-lasting bleaching and color.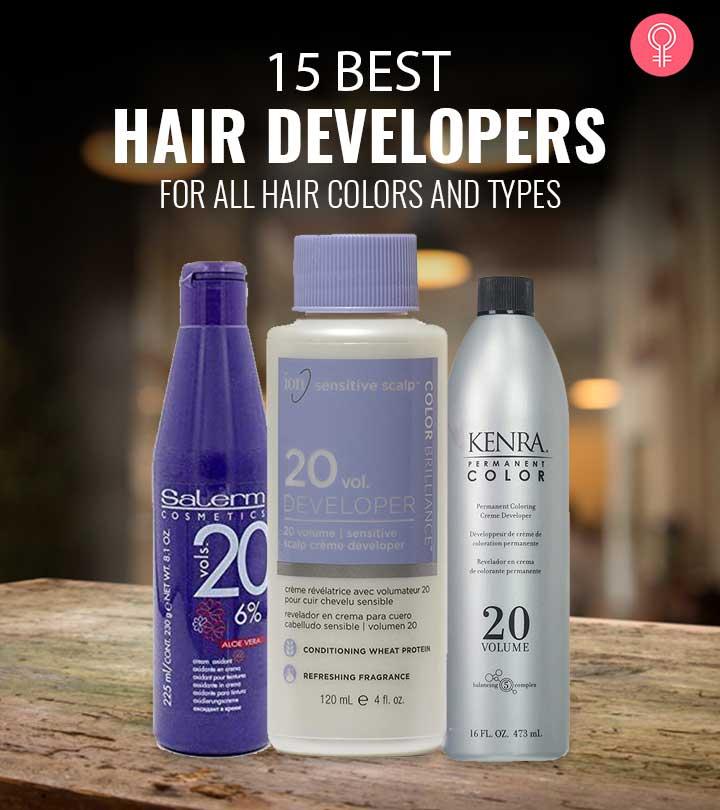 If you love coloring your hair and going to the salon seems like an expensive affair, doing it at home is more practical. But before you do so, having the right products at your disposal is essential. The best hair developer out there will not only match your hair needs but also prevent complications such as burning your scalp. One thing you must keep in mind is that choosing the right developer and knowing how to use it is important to give your hair the color of your choice. We have made a list of the top hair developers suitable for all hair types you can pick from!
What Is A Hair Developer?
A hair developer is an oxidant product that contains hydrogen peroxide. It opens the hair cuticles, allowing deeper penetration of hair color. This gives vibrant color results and helps the color last long. It also oxidizes hair to a lighter shade. Without a developer, you might need multiple dye applications to reach your desired shade of color.
Which Developer To Use For Your Hair Type?
While hair developers come in a recommended volume or strength, you need to choose based on your hair type:
If you have fine or thin hair, opt for a lower than recommended volume strength as thin hair is easiest to dye.
For normal hair, you can use the recommended volume as it will react normally.
Thick hair is difficult to dye, and you would probably benefit more from a developer of higher than recommended volume.
What Level Developer Should You Use With Bleach?
Choose your developer considering the results you expect. Darker hair requires more lifting and lightening, which implies a higher level of developer. Here are the most common levels of developers available on the market.
20 Volume Developer / 6% Peroxide
It provides lifting up to 2 levels and is most compatible with temporary dyes that require weak developers. It is also the most common strength for at-home use.
30 Volume Developer / 9% Peroxide
Depending on your hair type and texture, it can lift your hair to 3-5 levels. It is more suitable for permanent dyeing or lightening. Make sure that you have some experience with hair coloring before using a higher strength developer.
40 Volume Developer / 12% Peroxide
This is the strongest volume that can lift your hair up to 7 levels. It is ideal for lightening or bleaching hair and requires experience to handle safely.
Now that you know how to choose the most suitable hair developer, check out our compilation of the 15 best hair developers for all hair colors and types.
Top 15 Hair Developers For All Hair Colors And Types
Pros
Long-lasting
Easy to apply
Budget-friendly
Can be used with all GK hair colors and lighteners
Stabilized formula
Cons
None

Price at the time of publication: $17.9
Pros
Easy to apply
Stabilized formula
100% grey coverage
Non-drying
Non-irritating
Long-lasting
Affordable
Cons
None
Price at the time of publication: $19.99
The Cream Developer by Parallel Products is a flexible choice for many hair colors and appropriate for a wide range of tints, including dark, light, and medium. The product also helps you enhance your hair color by sticking to your natural tone. The formula opens the cuticle layer of the hair and allows the color to penetrate deeper into the tresses for long-lasting results.
Pros
Nourishing formula
Easy to mix
Long-lasting
Cons
Price at the time of publication: $9.4
Pros
Suitable for all hair types
Non-drip consistency
Easy to apply
Gentle, creme-based formula
Provides great control
Affordable
Cons
May irritate sensitive skin.
Price at the time of publication: $14.15
Pros
Stabilized formula
Can be used in place of liquid peroxide
Non-dripping
Thick consistency
Easy to apply
Affordable
Cons
Price at the time of publication: $10.0
Pros
Offers shine and moisture
Provides color retention
Non-dripping formula
Affordable
Cons
Price at the time of publication: $7.46
The Super Star 20 Volume Cream Peroxide Developer has a non-drip, thick consistency, which makes it comfortable to handle. The stabilized cream peroxide formula provides effective coloring and lifting as expected. It helps you get highlights quickly and with precision. You can get the color you have been dreaming of with this developer. It can also be used in place of liquid peroxide. It will bleach your hair or lift color as needed, so pick the volume and strength based on your hair needs.
Pros
Stabilized formula
Easy to apply
Non-dripping
Can be used in place of liquid peroxide
Thick consistency
Affordable
Cons
May not work well for root touch-ups.
Price at the time of publication: $9.19
Pros
Non-drying
Free from many harsh chemicals
Affordable
Enhances the color of dyes
Lightens hair
Cons
Price at the time of publication: $15
The Ion Sensitive Scalp 30 Volume Creme Developer is ideal when you need lightening up to 3 levels. It mixes well with your preferred hair coloring products and is easy to apply. The formula is enriched with wheat germ protein that conditions the hair and ionic buffers to protect the sensitive scalp against irritation. The refreshing fragrance creates a pleasant experience, whether at the salon or home.
Pros
Gentle on sensitive scalp
Easy to apply
Value for money
Non-drying
Refreshing fragrance
Cons
The color chart can be tricky to figure out.
Price at the time of publication: $19.48
Pros
Provides even color results
Non-irritating formula
Delivers quick results
Available in 4 strengths
Value for money
Cons
Price at the time of publication: $7.44
The Schwarzkopf Professional BLONDME Premium Developer works wonders when it comes to achieving maximum performance and hair care. The product offers 9 levels of lift without compromising on the hair quality. It helps in deep toning, pastel toning, and neutralizing brassy tones. Its bond protection system minimizes hair breakage and stabilizes your hair structure. Its oil-based formula offers long-lasting shine, making it a fantastic option for preserving healthy and vibrant blonde hair.
Pros
Premium quality
Highly effective
Easy to use
Cons
Only recommended for use with BLONDME color products
Price at the time of publication: $19.23
The Ion Sensitive Scalp 20 Volume Creme Developer provides quality lightening for up to 2 levels. You can easily mix it with any of your chosen hair color products and apply it without too much hassle. The nourishing formula contains wheat germ protein, which deeply conditions your hair and prevents it from drying out. The hair developer also has ionic buffers to protect your scalp against irritation from chemicals.
Pros
Refreshing fragrance
Non-drying
Value for money
Easy to apply
Does not irritate sensitive skin
Cons
The color chart is not user-friendly.
Price at the time of publication: $4.35
Pros
Conditions hair
Non-drying
Provides brilliant shine
Suitable for coloring and lightening
Value for money
Cons
Price at the time of publication: $9.99
Pros
Easy to blend
Odorless
Cream-based formula
Available in different strengths
Cons
Price at the time of publication: $4.99
Pros
Long-lasting
Fade-resistant
Gentle formula
Pleasant fragrance
Cons
None
Price at the time of publication: $8.35
Why Trust Stylecraze
Sakshi Bahal, the author of this article, is a hair care enthusiast. Her detailed research and thorough understanding of the products used in hair care bring the best compilation for the readers. The list of the best hair developers is curated after thorough exploration and reading much feedback from trusted online forums. These developers complete your hair color and add a shine to your hair. They also help in the retention of hair color.
Frequently Asked Questions
Should I use a 20 or 30 volume developer?
A 20 volume developer is the highest level that should be used for lifting. However, a 30 volume developer can lighten up to three levels, but it can damage your tresses.
Is hair developer a bleach?
No, a hair developer is not the same as bleach. They are coupled together to create a perfect product for lightening the tresses. A bleaching kit contains bleaching powder and developer mixed and applied to the hair.
How long can you leave a 30 volume developer in your hair?
If you are using a 30 volume developer on your hair, make sure to leave it for 15 to 20 minutes. It is recommended to wash away the product as soon as possible.
How long should I leave a 20 volume developer in my hair?
A 20 volume developer works wonders for lighter hair colors if kept for 10 minutes. For darker hair colors, keep it for 15 to 20 minutes to achieve desired results.
Do you need a hair developer for black hair?
Yes. Black hair needs a 30 volume hair developer to lighten darker tresses. However, using it a lot can damage your tresses and make them dull.
Can I dilute hair developer with conditioner?
While there is no clear evidence that it works, you can try to dilute hair developer with conditioner. The mixture might offer your hair better nourishment while you lighten the tresses.