15 Best Hair Developers For All Hair Colors And Types
Treat your hair with these hair care essentials for long-lasting bleaching and color.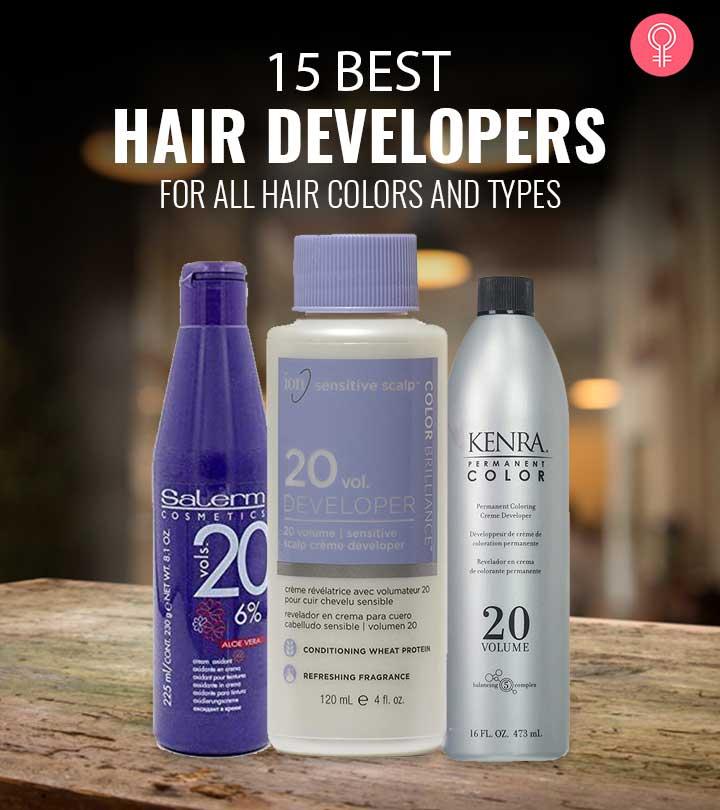 If you love coloring your hair and going to the salon seems like an expensive affair, doing it at home is more practical. But before you do so, having the right products at your disposal is essential. The best hair developer out there will not only match your hair needs but also prevent complications such as burning your scalp. One thing you must keep in mind is that choosing the right developer and knowing how to use it is important to give your hair the color of your choice. We have made a list of the top hair developers suitable for all hair types you can pick from!
What Is A Hair Developer?
A hair developer is an oxidant product that contains hydrogen peroxide. It opens the hair cuticles, allowing deeper penetration of hair color. This gives vibrant color results and helps the color last long. It also oxidizes hair to a lighter shade. Without a developer, you might need multiple dye applications to reach your desired shade of color.
Which Developer To Use For Your Hair Type?
While hair developers come in a recommended volume or strength, you need to choose based on your hair type:
If you have fine or thin hair, opt for a lower than recommended volume strength as thin hair is easiest to dye.
For normal hair, you can use the recommended volume as it will react normally.
Thick hair is difficult to dye, and you would probably benefit more from a developer of higher than recommended volume.
What Level Developer Should You Use With Bleach?
Choose your developer considering the results you expect. Darker hair requires more lifting and lightening, which implies a higher level of developer. Here are the most common levels of developers available on the market.
20 Volume Developer / 6% Peroxide
It provides lifting up to 2 levels and is most compatible with temporary dyes that require weak developers. It is also the most common strength for at-home use.
30 Volume Developer / 9% Peroxide
Depending on your hair type and texture, it can lift your hair to 3-5 levels. It is more suitable for permanent dyeing or lightening. Make sure that you have some experience with hair coloring before using a higher strength developer.
40 Volume Developer / 12% Peroxide
This is the strongest volume that can lift your hair up to 7 levels. It is ideal for lightening or bleaching hair and requires experience to handle safely.
Now that you know how to choose the most suitable hair developer, check out our compilation of the 15 best hair developers for all hair colors and types.
Top 15 Hair Developers For All Hair Colors And Types
The Schwarzkopf Professional Blondme Premium Developer comes in an oil formula that helps maintain the moisture in your hair. The 12% (40 volume) developer is ideal for white blending or lifting on a level 6-7 of the natural base. This luxurious developer is formulated to be compatible with BlondMe Toning and BlondMe Lightener. The product contains a high concentration of mineral oil that preserves the natural moisture balance in your hair.
Pros
Oil-based formula
Reduced water level prevents color dilution
Preserves natural moisture balance in hair
Squeeze bottle tip for convenience does not irritate the skin
Pleasant smell
Value for money
Provides high lift without damage
Cons
None
Price at the time of publication: $20.17
The L'Oreal Professionnel Majicreme 20 Volume Developer can help when you are prepping for a new dye or looking to lift old color. It provides you with stunning and consistent color results. The 6% peroxide, the 20-volume cream formula helps you get moderate lightening with improved color retention. This makes it easy to achieve the beautiful look you have in mind.
Pros
Helps add shine to hair
Cream-based formula
Improves color retention
Does not dry out hair
Non-irritating
Value for money
Provides consistent color
Cons
None
Price at the time of publication: $20.4
The Salon Care 20 Volume Creme Developer deposits color uniformly and provide even lifting. The stabilized formula has a thick creme consistency that is easy to handle. It does not drip and ensures maximum color deposit. It is priced competitively and makes coloring hair at home a breeze.
Pros
Easy to apply
Stabilized formula
Uniform color deposit
Provides even lift
Affordable
Non-irritating
Non-drying
Cons
Price at the time of publication: $12.49
The Wella Koleston Perfect 20 Volume Creme Developer has a gentle creme formula. It maximizes the full potential of the hdc molecules, especially when used in conjunction with koleston perfect colors. The developer ensures intense blending potential, helping you achieve the hair color you desire. The thick and luxurious formula has a non-drip consistency that makes it easy to apply. It sticks well to your hair, giving you fantastic control.
Pros
Suitable for all hair types
Non-drip consistency
Easy to apply
Gentle, creme-based formula
Provides great control
Affordable
Cons
May irritate sensitive skin.
Price at the time of publication: $14.15
The Marianna Super Star 40 Volume Creme Developer is a stabilized cream peroxide developer. It has a thick consistency that does not drip, making it easy to handle. It helps you achieve quick and precise dimensional color results easily. You can also use this product as a substitute for liquid peroxide with gel consistency. The developer effectively bleaches your hair or lifts colors in it to help you reach the hair color you desire.
Pros
Stabilized formula
Can be used in place of liquid peroxide
Non-dripping
Thick consistency
Easy to apply
Affordable
Cons
Price at the time of publication: $10.0
The Satin 20 Volume Silicone Enhanced Developer uses a silicone base to give your hair brilliant shine and intense conditioning. It forms a color-protecting barrier on the fiber of the hair and helps the color last longer. For best results, it is recommended to mix the Satin Developer with Satin Color to create a rich and creamy formula that does not drip and stays in place.
Pros
Silicone base
Conditions hair
Adds shine
Provides color retention
Non-dripping formula
Affordable
Cons
Price at the time of publication: $14.93
The Super Star 20 Volume Cream Peroxide Developer has a non-drip, thick consistency, which makes it comfortable to handle. The stabilized cream peroxide formula provides effective coloring and lifting as expected. It helps you get highlights quickly and with precision. You can get the color you have been dreaming of with this developer. It can also be used in place of liquid peroxide. It will bleach your hair or lift color as needed, so pick the volume and strength based on your hair needs.
Pros
Stabilized formula
Easy to apply
Non-dripping
Can be used in place of liquid peroxide
Thick consistency
Affordable
Cons
May not work well for root touch-ups.
Price at the time of publication: $9.19
The Pravana 20 Volume Creme Developer is formulated to be used along with the ChromaSilk Hair Color. It boasts one of the most advanced formulas for coloring and processing hair. This is also a hair-moisturizing product that provides your hair with proper processing without drying it out. It helps lighten hair and can also be useful for enhancing the color of dyes.
Pros
Lightens hair
Non-drying
Paraben-free
No harsh chemicals
Enhances the color of dyes
Value for money
Cons
Price at the time of publication: $18.89
The Ion Sensitive Scalp 30 Volume Creme Developer is ideal when you need lightening up to 3 levels. It mixes well with your preferred hair coloring products and is easy to apply. The formula is enriched with wheat germ protein that conditions the hair and ionic buffers to protect the sensitive scalp against irritation. The refreshing fragrance creates a pleasant experience, whether at the salon or home.
Pros
Gentle on sensitive scalp
Easy to apply
Value for money
Non-drying
Refreshing fragrance
Cons
The color chart can be tricky to figure out.
Price at the time of publication: $19.48
The Clairol Professional Pure White 30 Volume Creme Developer has a nourishing formula enriched with emollients and conditioners. It is compatible with permanent hair color as well as powder and liquid lighteners of all types. The creamy consistency is easy to apply using a bowl and brush or an applicator bottle. You can get amazing lightening results on dark blonde or dark brown hair.
Pros
Provides even color results
Non-irritating formula
Delivers quick results
Available in 4 strengths
Value for money
Cons
Price at the time of publication: $7.44
The Clairol Professional Crème Permanente Developer is formulated with SOY4PLEX that activates the four signs of healthy-looking hair color – deep conditioning, reflective shine, multi-dimensional shades, and long-lasting results. It comes in different volumes ranging from 10, 20, 30, and 40 that help achieve your desired lift.
Pros
Available in different volumes
Long-lasting
Creamy consistency
Value for money
Cons
None
Price at the time of publication: $5.4
The Ion Sensitive Scalp 20 Volume Creme Developer provides quality lightening for up to 2 levels. You can easily mix it with any of your chosen hair color products and apply it without too much hassle. The nourishing formula contains wheat germ protein, which deeply conditions your hair and prevents it from drying out. The hair developer also has ionic buffers to protect your scalp against irritation from chemicals.
Pros
Refreshing fragrance
Non-drying
Value for money
Easy to apply
Does not irritate sensitive skin
Cons
The color chart is not user-friendly.
Price at the time of publication: $10.95
The Salerm 20 Volume Cream Oxidant is a hair developer that works particularly well for oxidative dyes. It is suitable for both lightening and coloring needs. You can pick from 4 strengths of the hair developer that best suit your requirements. The product contains aloe vera and other conditioning agents that protect the hair from damage and dryness. When done, your hair is left feeling intensely soft and brilliantly shiny.
Pros
Conditions hair
Non-drying
Provides brilliant shine
Suitable for coloring and lightening
Value for money
Cons
Price at the time of publication: $9.99
The Da Vinci 20 Volume Creme Developer comes in a blendable formula that mixes well with coloring products to give you the desired shade of color. It provides high-quality, even results without damaging your hair. The odorless, cream-based formula is available in a variety of strengths, ranging from volume 10 to volume 40, along with semi-permanent and gray eliminator versions.
Pros
Easy to blend
Odorless
Cream-based formula
Available in different strengths
Cons
Price at the time of publication: $4.99
The Wella color charm Creme Developer helps cover white and gray hair and lighten natural hair color. It conditions your hair and ensures long-lasting color results. The gentle formula is fade-resistant and imparts a fruity fragrance to your hair.
Pros
Long-lasting
Fade-resistant
Gentle formula
Pleasant fragrance
Cons
None
Price at the time of publication: $8.35
Why Trust Stylecraze
Sakshi Bahal, the author of this article, is a hair care enthusiast. Her detailed research and thorough understanding of the products used in hair care bring the best compilation for the readers. The list of the best hair developers is curated after thorough exploration and reading much feedback from trusted online forums. These developers complete your hair color and add a shine to your hair. They also help in the retention of hair color.
Frequently Asked Questions
Should I use a 20 or 30 volume developer?
A 20 volume developer is the highest level that should be used for lifting. However, a 30 volume developer can lighten up to three levels, but it can damage your tresses.
Is hair developer a bleach?
No, a hair developer is not the same as bleach. They are coupled together to create a perfect product for lightening the tresses. A bleaching kit contains bleaching powder and developer mixed and applied to the hair.
How long can you leave a 30 volume developer in your hair?
If you are using a 30 volume developer on your hair, make sure to leave it for 15 to 20 minutes. It is recommended to wash away the product as soon as possible.
How long should I leave a 20 volume developer in my hair?
A 20 volume developer works wonders for lighter hair colors if kept for 10 minutes. For darker hair colors, keep it for 15 to 20 minutes to achieve desired results.
Do you need a hair developer for black hair?
Yes. Black hair needs a 30 volume hair developer to lighten darker tresses. However, using it a lot can damage your tresses and make them dull.
Can I dilute hair developer with conditioner?
While there is no clear evidence that it works, you can try to dilute hair developer with conditioner. The mixture might offer your hair better nourishment while you lighten the tresses.
Recommended Articles