The 17 Best Hair Diffusers For Curly Hair In 2022 + Buying Guide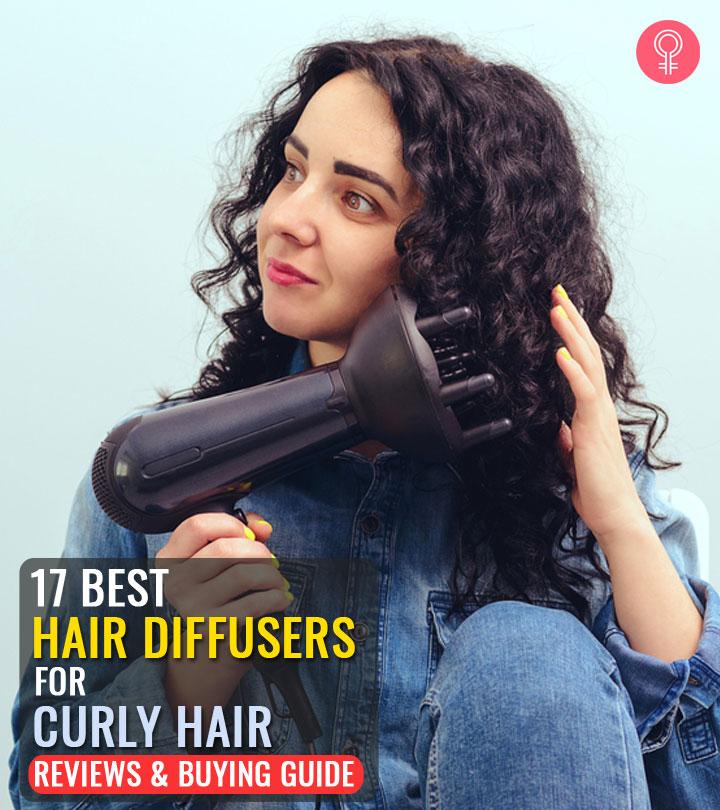 Curly hair has a mind of its own. Women with curly hair will know that their hairstyle depends on how the hair dries after a wash day. But, the best hair diffusers can surely reduce the frizz to a minimum and help form defined curls. A good hair diffuser evenly distributes the air from the dryer to keep your natural curl pattern intact and give you a head full of luscious curls.
Generally, curly hair requires special care and attention. Be it using special products or drying them in a special way, curls are high maintenance. There is a whole 'curly girl' method that people with curly hair follow to maintain and rock their curls. We have listed the best hair diffusers for curly hair that you can incorporate in your hair care routine and your CG method. So, go ahead and check them out now!
17 Best Hair Diffusers For Curly Hair Available Right Now
Xtava Black Orchid Large Hair Diffuser is a professional blowdryer diffuser. This unique hair diffuser is perfect for naturally curly hair. It has a 3D multi-pronged grip, and it provides 360°airflow to reach every hair strand. It tames your curls without disturbing their natural texture. It has long finger-like structures that add volume and definition to your curls. It also has drying vents that dry your hair and style it simultaneously. This diffuser fits dryers that have a 6-inch wide diameter.
Key Features
360° airflow
Secure silicone grips
8"diameter
Over 90 vents for air diffusion
Optimal 3D multi-pronged grip
Pros
Leaves your hair feeling soft
Eliminates frizz
Enhances natural curl and texture
Adds volume
Dries hair quickly
Sturdy
Durable
Suitable for thick hair
Affordable
Cons
This diffuser dryer is ideal for people who want massive volume in their hair. It is created with Tourmaline Technology to fight frizz and impart long-lasting shine to your hair. It has 3 heat and 2-speed settings. You can finish off your hair-drying routine with the cool shot button that releases cool air to set the curls. It enhances your natural curls and gives you silky soft hair.
Key Features
Removable diffuser
Unique dryer design
3 heat and 2 speed settings
Cold shot button
6' tangle-free swivel cord
Pros
Suitable for thick hair
Dries your hair quickly
Comes with a dryer
Does not take up much space
Cons
This professional hair diffuser comes with patented retractable buttons that help it fit on 90% of the hairdryers in the market. It has a diameter of 6" that allows sufficient airflow to each hair strand. It has 211 air holes to add volume to your hair. It dries your hair quickly without damaging it or disturbing its curl pattern. This hair diffuser is ideal for thick, wavy, and long hair.
Key Features
Suitable for hair dryers with a nozzle diameter of 1.7 inches to 2.6 inches
6″ large bowl with 3D massage prongs
211 air holes to add volume
Pros
Adds shine
Adjustable size
Eco-friendly
Retractable buttons to fit a wide range of hair dryers
Water- and fire-resistant
Durable
Cons
This travel-friendly hair diffuser is perfect for carrying around in a suitcase as it is collapsible. Its silicone structure is built to stretch and shrink to fit any blowdryer. It helps you maintain your natural hair texture while eliminating frizz and tangles. It adds volume and definition to flat curls and gives you bouncy curls that last for days.
Key Features
Silicone construction
Connection diameter: 2.25″
Diffuser diameter: 5.25″
Pros
Lightweight
Does not damage your hair
Adds volume
Improves hair texture
Cons
This volumizing hair diffuser lifts your curls while sculpting them. It enhances the texture of your hair and elevates its natural shine. It maintains your curls making them frizzy and gives you silky soft hair within minutes. The fingers of this diffuser extend far to reach every hair strand and give you perfectly volumized curls. It claims to fit a wide range of blowdryers.
Key Features
Fits most Conair blowdryers
Volumizing diffuser
Pros
Minimizes frizz
Improves curl definition
Compact
Suitable for permed and naturally wavy or curly hair
Cons
Does not fit all blowdryers as claimed
KingKam Collapsible Silicone Hair Dryer Diffuser is a lightweight diffuser. This professional diffuser is suitable for nozzle diameters between 1.575"and 1.968".The foldable design ensures that it is easy to put in a handbag or makeup bag. It is durable and travel-friendly with quick drying time features. This hair dryer diffuser saves up to 75% in drying and styling time. Furthermore, it helps diffuse the heat and air from the dryer evenly, which protects the hair from damage.
Key Features
l Foldable and smart collapsible design
l Quick drying time
l Even heat distribution
l Suitable for 575″ to 1.968″nozzle diameters

Pros
Durable
Lightweight
Travel-friendly
High quality
Heat-resistant
Prevents hair damage
Reduces drying and styling time
Cons
Does not fit all hair dryers
BaBylissPRO Nano Titanium Universal Hair Diffuser is used by professional hairstylists in salons. It disperses the airflow of the blowdryer evenly over a large area. It is the perfect diffuser for curly hair as it dries and styles your locks without disturbing their curl pattern. Its finger vents dry your hair gently by penetrating ions into each strand to close the hair's cuticles. Thus, it eliminates frizz and creates soft and bouncy curls.
Key Features
Diffuser lifts hair
Eliminates frizz while drying
Pros
Dries hair quickly
Reduces frizz
Leaves your hair feeling soft and silky
Fits most blowdryers
Suitable for wavy and permed hair
Cons
This premium-quality hair diffuser is made with heat-resistant materials (like silicone) that remain stable at high temperatures without melting or releasing any toxic substances. It has 114 adjustable air vents to distribute the airflow evenly. It builds volume in your hair and eliminates frizz instantly. It helps you achieve soft, shiny, and defined curls within no time. This diffuser is perfect for unruly wavy hair as it creates even and volumized curls with long-lasting shine.
Key Features
Adjustable airflow
114 air outlets
Works great to build volume
Pros
Fits standard hair dryers
Reduces drying time by 37%
Reasonably priced
Heat-resistant
Cons
This tourmaline-based hair diffuser delivers a mix of ionic and infrared heat to enhance your hair's natural texture. It volumizes, defines, and eliminates frizz in one go. This feather-light diffuser is ideal for permed, curly, and fine hair as it distributes heat evenly without over-drying your hair. The finger extensions penetrate your curls and build volume in them. It leaves your hair feeling soft, silky, and healthy.
Key Features
Tourmaline technology
Specifically designed to fit Featherweight 2 and Luxe 2i Dryers
Volumizes and defines curls
Pros
Tames unruly hair
Makes your hair more manageable
Reduces drying time
Eliminates frizz
Durable
Cons
Revlon Blow Drying Diffuser is created with Ceramic Technology that protects your hair from overheating with an even distribution of airflow. It has a relatively large drying surface to soften the airflow and enhance your natural curls and waves. It has an easily attachable design that fits most standard blowdryers. The styling fingers gently lift your hair at the roots to add volume and bounce to your curls. This diffuser is ideal for type 4 hair as it does not damage your cuticles.
Key Features
Ceramic coating
Large drying surface
Volumizing styling fingers
Pros
Controls frizz
Adds shine
Suitable for short curls
Lifts hair
Fits most standard hair dryers
Cons
This universal diffuser fits blowdryers with a diameter of 2.25". It has 12 airflow outlets that dry your hair faster. It is heat-resistant, durable, and lightweight. It is also made with a natural volcanic mineral to infuse micro-hydration into your hair. This helps you dry your hair and style it to perfection within seconds. The fingers of this diffuser lift your hair to give it volume.
Key Features
12 airflow outlets
Faster drying time
Slide-on diffuser
Uses advanced natural ionic technology
Pros
Keeps your hair shiny
Reduces frizz
Adds long-lasting volume
Gentle on the scalp
Suitable for long and thick hair
Cons
Segbeauty Professional Hair Dryer Diffuser is a heat-resistant hair diffuser. It is compatible with blowdryers with a nozzle diameter of 1.73-1.77″. This hair diffuser is made of premium-quality nylon and rubber. It has a deep and big bowl that accomodates lots of your hair at a time. It also helps in adding defined curls and waves to your hair.
This hair diffuser has 114 air outlets and multiple teeth that offer even distribution of heat and protect your hair from damage. Furthermore, it prevents unwanted frizz and dryness.
Key Features
114 adjustable air holes
38% electricity saving
Made of heat-resistant materials
Pros
Adds volume
Protects hair from damage
Salon-quality results
Easy to use
Travel-friendly
Cons
Drybar The Bouncer Diffuser is a universal diffuser. It broadens and reduces the speed of the airflow from your blowdryer to gently dry, define curls, and reduce frizz in naturally curly hair. This diffuser is designed for Buttercup and Baby Buttercup blowdryers, but it fits most other blowdryers. It can give your hair oodles of volume.
Key Features
Designed for Buttercup and Baby Buttercups
Reduces frizz in naturally curly hair
Pros
Universal design
Defines curls
Enhances volume
Lightweight
Travel-friendly
Cons
None
BaBylissPRO Italian Series Diffuser is a slide-on finger diffuser. This diffuser is compatible with Volare V1, Portofino 6600, and Rusk CTC C7500 blowdryers. It helps add volume and maintain healthy, natural-looking curls without any frizz. This diffuser can easily fit and separates hair to enhance waves and curls while adding volume. Furthermore, it can create soft, frizz-free, bouncy curls on naturally curly or permed hair.
Key Features
Fits Volare V1, Portofino 6600, and Rusk CTC C7500 dryers
Gently lifts and separatescurls
Pros
Easy to use
Adds volume
Reduces frizz
Suitable for naturally curly and permed hair
Cons
Yebeauty Hair Diffuser is designed for curly and natural hair. This professional blowdryer diffuser is made of high-quality nylon and rubber which is durable and heat-resistant. It evenly distributes air to protect your hair from damage. This diffuser is suitable for 1.7″ to 2.6″ nozzles.
Key Features
Made of high-quality material
Suitable for nozzle diameters of 1.7″ to 2.6″
Auto-lock/release button
3 silicone non-slip pads
Pros
Durable
High quality
Heat-resistant
Suitable for all hairdryers
Suitable for curly and natural hair
Cons
None
Estink Hair Dryer Diffuser is a high-quality and lightweight diffuser for most blowdryers. It is suitable for blowdryers with an inner diameter of 4.5-6 cms. This diffuser is made of high-quality plastic that is durable and easy to carry. It is designed for permed, naturally wavy, or curly hair. It helps your hair look shinier. Furthermore, it is compact, easy to store, and travel-friendly.
Key Features
Constructed from high-quality materials
Suitable for blowdryerswith an inner diameter of 4.5-6 cms
Pros
Lightweight
Durable
Easy to carry
Compact
Easy to store
Travel-friendly
Suitable for permed, naturally wavy, and curly hair
Cons
SindycurlsMagic Collapsible Silicone Hair Diffuser is a portable hair diffuser. Its unique volumizing design allows you to dry your hair faster. It fights frizz and enhances your hair volume. This hair diffuseris made of flexible and lightweight silicone rubber that can stretch fit blowdryers with 1.6-2″ openings. It is travel-friendly and comes with a convenient drawstring travel bag.
Key Features
Stretch-fits blowdryers with 1.6″ to 2″ openings
Works great on permed and other types of salon-styled hair
Pros
Reduces frizz and tangles
Easy to use
Portable
Travel-friendly
Adds volume
Sturdy
Dries hair quickly
Lightweight
Flexible
Cons
None
Now, let's about how to figure out which diffuser is the best for your hair.
How To Choose The Right Diffuser For Your Hair
Most diffusers have long finger vents that twirl into your curls and define their shape. These diffusers need to be used on a low heat setting to avoid overheating or over drying your hair. Unfortunately, these styling tools cannot be clipped onto to all blow dryers. So, make sure a diffuser can be attached to your blow dryer before buying it. Opting for a universal fit is the best choice.
If your hair has lots of volume, and you want to dry it faster, go for a cup diffuser with prongs. On the other hand, if you have frizzy hair, a sock diffuser is perfect for you as it will not disturb your curls. For super-tight curls, use a diffuser that is in the shape of the hand.
Wondering how to use a diffuser? We've got you covered!
How To Use A Diffuser
Step 1: Wash Your Hair
Wash your hair with a shampoo that is specifically made for curly hair. Once you've washed your hair, let it air-dry for a while before using the diffuser.
Step 2: Apply Serum
Apply a heat-resistant serum to your curls. This not only protects your hair from over-drying but also adds shine.
Step 3: Put The Dryer On A Low-Heat Setting
Set the blow dryer on a low heat setting. This keeps your hair frizz-free.
Step 4: Scrunch Your Hair With The Diffuser
Flip your hair forward and move the diffuser across different sections of hair. Move it in an upward motion, toward your scalp, to get defined and voluminous curls.
That was our list of the 17 best hair diffusers available right now. We hope this article helps you choose a hair diffuser that is suitable for your hair type. Pick your favorite one from this list to get frizz-free and super-defined curls!
Why Trust Stylecraze
Oyendrila Kanjilal is a certified skin care coach with a passion for hair care. Her writing skills are backed by thorough research and user recommendations to present this list of the best hair diffusers for curly hair. She has also included a buying guide and mentioned each product's key features, pros, and cons to help you choose the right one for your hair.
Recommended Articles: