13 Best Hair Dryer Brushes For All Hair Types – 2023
No more wasting your precious morning time drying your hair for half an hour.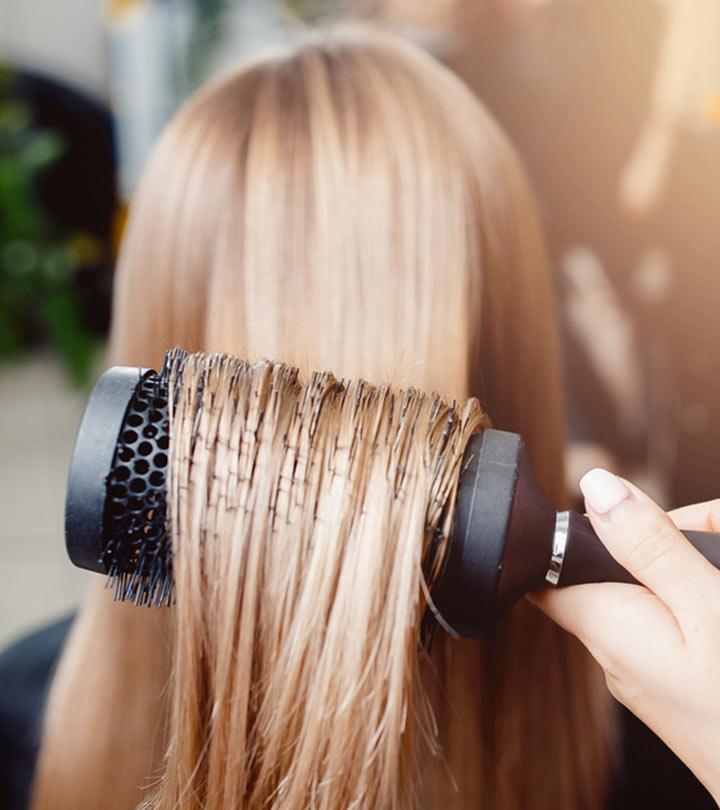 Creating a salon-style blowout or simply drying your hair can be a cumbersome affair when it involves multiple styling products. However, the best hair dryer brushes can provide you with a bouncy blowout and a smooth finish effortlessly. When it comes to hairstyling, hot air brushes are a versatile tool that works as a curling iron, a blow dryer, and a straightener. They help keep your hair dry as well as smooth. In addition, hot air brushes help boost hair volume and give you a freshly-styled look without the hassle of using multiple styling tools.
Mastering that twirly-wrist movement might seem nearly impossible, and while doing it at home, you may find frizzy sections around the back. Luckily, with hot air brushes, you can get professionally styled hair from the comfort of your own home. These brushes feature multiple heat control settings and work on all hair types. What's more? Their wide bristles also help to detangle your hair, and each one of them is equipped with unique features. If you are still unsure which hot air brush will suit your needs best, check out our list of the 13 best hair dryer brushes. Keep scrolling!
The 13 Best Hair Dryer Brushes And How To Use Them
This 3-in-1 hair dryer brush by ACOMYCICI is suitable for both wet and dry hair. It features 2 speed settings and 3 heat settings to meet the needs of different hair textures and styles. The bottom rotary adjustment gear lets you choose the desired temperature setting. It is designed with ionic and tourmaline technology that conditions and smoothens your hair. This device also effectively reduces frizz with its nylon massage pin and tufted bristles. It adds shine to your hair. In addition, the swivel cord offers tangle-free styling.
Pros
Suitable for all hair types
Tangle-free bristles
Long, swivel cord
Lightweight
Cons
Price at the time of publication: $29.99
The Revlon One-Step Hair Dryer And Volumizer Hot Air Brush performs with advanced Ionic technology that offers salon-style finish, less frizz, shiny look, and healthy hair.  The unique oval design helps smoothen the hair; the round edges of the brush allow volumizing the hairstyle. The 3 heat settings with a cool option offer styling flexibility. It is equipped with tangle-free, combination bristles. The innovative air-flow vents provide faster drying and better coverage. To find out more about this product, check this video review out.
Pros
Professional swivel cord
Ceramic technology
Rotating switch
Ergonomic design
Cons
Some faced hair loss issues
Price at the time of publication: $32.49
Style your wet or dry hair with the ikedon Hair Dryer Brush. It's a unique 4-in-1 hairbrush that can dry, curl, straighten, and volumize your hair. The ionic technology retains the moisture of your hair and keeps it nourished, thereby, reducing damage. It features three adjustable temperatures to assist different hairstyles and hair lengths. In addition, the bottom vent design effectively reduces the noise.
Pros
Dual voltage compatibility
Unique round design
Noise reduction design
Hanging loop
Easy to operate
Anti-scald design
Cons
None
Price at the time of publication: $34.99
The ABUNRO Hair Dryer Brush is a one-step hairdryer. It has an oval design that helps volumize your hair from roots. It is designed with a nylon pin and tufted bristles for removing hair tangles and massaging your scalp to keep the hair healthy. The device features three adjustable heat levels and two speed settings that help to straighten, curl, and style your hair as desired. In addition, the negative ion technology eliminates frizz and makes your hair smooth and nourished.
Pros
Suitable for all hair types
Easy to use
Swivel cord
Lightweight
Cons
Price at the time of publication: $38.85
Enhance your hair's volume with the TYMO Hot Air Brush. This hot air brush lifts your hair from the root, making it look more voluminous. It is designed with a titanium barrel and ionic technology that presents even heat distribution to prevent hair damage and breakage. The brush can effectively reduce split ends and frizz and make your hair smooth and shiny. In addition, the nylon pin bristles provide anti-scald protection, and the tufted bristles glide smoothly through your hair. If you are an absolute beginner, this video review might be useful.
Pros
Extra lift at roots
Swivel cord
Multiple temperature control
Cons
May feel too big for short hair
Price at the time of publication: $49.99
ManKami One Step Hair Dryer and Volumizer is a multi-functional dryer with a combination of curler, dryer, and straightener. It adds volume and a brilliant shine to your gorgeous hair in just one single step. Made using ionic technology, it dries your hair much faster taking care to cause little damage to the precious hair. Getting that salon finish is so easy with the unique oval brush that adds volume to the curled ends. The Nylon Pin and Tufted Bristles help detangle the precious tangles easily.
Pros
With 3 temperature and 2 speed mode it styles hair smoothly
Negative ions help reduce frizz and static too
Cons
Has a short life span
Tends to get overheated quickly
Price at the time of publication: $30.99
JOYYUM 1000W Hot Air Brush features a lightweight styler comb kit that is simple and easy to use. Having two attachments, a 1 inch and a 1 ½ inch brush barrel, helps add volume to the crown and the root area as well. The soft nylon bristles help detangle hair gently for all hair lengths be it short or long. The negative ions reduce frizz and smoothes the hair cuticles thereby locking in the moisture.
Pros
Perfect for salon type styling at home
The 360 degrees swivel provides better flexibility in styling your hair easily.
This gadget is ideal for fine hair.
Cons
The locking attachment of the barrel is a wee bit weak.
Price at the time of publication: $39.99
Dry and style your hair with a single device, the HIPPIH Hair Dryer Brush. This hair dryer is designed with three adjustable heating levels to customize the temperature as per your hairstyle. In addition, the temperature control locks the moisture effectively. The nylon pins massage the hair scalp, and the tufted bristles prevent hair tangles.
Pros
Ergonomic handle
Swivel cord
Anti-scald design
Easy to use
Cons
Price at the time of publication: $26.98
Yeed One Step Hair Dryer as the name suggests is a one-step hair dryer and volumizer that dries and smooths hair all at the same time. Designed with long nylon pins and short tufted bristles, this brush helps improve detangling and makes your hair look more fluffy. This tool is more suitable for shoulder length and long hair. The advanced ion technology helps avoid damage to the hair due to the heat giving a smooth shine and look that your hair so deserves.
Pros
Place the brush close to the hair roots for voluminous blowouts
With gear speed and temperature settings it suits all hair types
Reasonably priced
Cons
Not recommended for short hair
Price at the time of publication: $15.0
Hair Sensation Pro Hair Dryer Brush is a 4 in 1 hair dryer and volumizer. With 1100 watts of styling power, this straightening brush provides just the right heat without causing any damage to the hair. It can be placed close to the scalp to achieve that greater lift and volume to your hair. Built with a genuine ion generator that breaks down the water molecules and dries hair faster giving it a shiny and healthy look.
Pros
European inspired nylon pin and tufted bristles detangles hair easily
Airflow vents help faster drying of your hair
It gives effortless, frizz free, and salon-style finish to your hair.
Cons
Price at the time of publication: $59.95
The Soobest Multifunctional Hair Dryer Brush eliminates frizz and makes your hair appear stylish. This quick-drying blow dryer brush is equipped with adjustable heat settings -low, medium, and high – to style your hair as desired. In addition, the low-heat settings lock the moisture, give extra volume to the hair, and lift the hair roots. The nylon tip and bristles glide smoothly on your hair, making it tangle-free.
Pros
Easy to use
Innovative airflow vents
Lightweight
Cooling tip
Swivel cord
Cons
May not be ideal for short hair
Price at the time of publication: $21.99
Beautimeter Hair Dryer Brush is a one-step hair dryer and volumizer. Whatever be the mood, whether you want those voluminous curls and waves or that straight style, this versatile styling tool is the answer. It features an oval barrel with superior heat transfer for long-lasting hairdos. The unique air flow vents allow air to flow to the roots, giving your hair that added lift it so deserves.
Pros
Temperature can be adjusted according to hair thickness
Can be used on Towel-dried hair
The ceramic coating emits negative ions that reduce frizz and prevents breakage.
Cons
Machine heats up very fast
Price at the time of publication: $39.98
Shine your hair while you dry it with the Adagio Blowout Brush. This brush offers multiple functions like volumizing, shining, straightening, and drying your hair. It comes with negative ion technology that moisturizes your hair, reduces hair damage, eliminates frizz, and nourishes your hair. The brush comes with an ergonomic handle. In addition, the blowout brush has a 360° swivel cord that lets you style your hair conveniently.
Pros
Easy to use
Quick-drying
Swivel cord
Travel-friendly
Cons
None
Price at the time of publication: $67.72
Buying Guide
How To Choose A Hair Dryer Brush
There are a few things to keep in mind while making your choice as to which hair dryer brush to purchase.
Type of brush- Hair dryer brushes come in 3 types— tourmaline, ceramic, and chrome where chrome is the cheapest owing to its rough surface which causes snagging or frizziness of hair. Ceramic brushes are slightly more expensive and allow even heating up of the brush. Their smooth surface also helps in less breakage of hair due to almost no snagging. Tourmaline brushes are the most expensive of them all as they heat up the fastest and give the best results.
Size- The size of the barrel of your hair dryer brush will determine the size of your curls. They usually come in 3 sizes, the smallest being more suitable for women with short hair and the largest being suitable for women with longer hair or for those who prefer straight hair.
Grip- The handle of the hair dryer brush should allow for a good grip so as to prevent the brush from slipping and falling.
Heat- If your hair is thinner or more prone to damage, consider buying a hair dryer brush that allows it to heat up at the lowest setting possible as heat can cause a great deal of damage and should be controlled.
Bristles- The brush you choose to buy should be gentle on your hair while having cold tips so as to prevent heat transfer to the scalp.
How To Use A Hair Dryer Brush
A step by step guide to using a hair dryer brush
Wash your hair as usual and dry it using a towel.
Apply a heat-protecting spray.
It is good to divide your hair in sections for even curling or straightening.
Set the temperature of your hair dryer brush and start with the section at the back of your head.
Repeat the same process all around your head.
Apply a little serum for a fine finish.
How To Clean A Hair Dryer Brush
Cleaning a hair dryer brush post use is important so as to prevent any hair and product buildup on the brush and its bristles. Make sure you pull out all the hair stuck in the brush and use a mild shampoo to clean out the bristles. Wipe it dry and make sure no water seeps into the dryer while cleaning the bristles.
Why Trust Stylecraze
The author of this article, Vaishnavi Kothuri, is a hair care aficionado who loves providing the latest hair care solutions to her users. After thorough research and going through multiple feedback online, she assembled this list of the best hair dryer brushes. These brushes boost your hair volume, keep it smooth, and can double as a curling iron as well.
Frequently Asked Questions
Are hair-dryer brushes good?
Hair dryer brushes allow you to style your hair with flexible heat options and make your hair frizz-free and full of volume.
Are heated brushes bad for your hair?
Excessive heat can damage hair therefore a hair drying brush that allows temperature control is preferable along with the use of a heat protection spray.
Can you use hot air brush on wet hair?
Using a hot air brush on very wet hair is not advisable. Drying your hair using a towel and then using a hot air brush is preferable.
Can I use a hair dryer brush on short hair?
Yes, a small sized hair dryer brush is preferable for short hair.
Can I use a hair dryer brush on dry hair?
Hair dryer brushes tend to dry out hair while styling them. Spraying hair with a heat protectant spray before using a hair dryer brush is advisable.
Can we use a volumizer hair dryer brush regularly?
Yes, you can use a volumizer hair dryer brush daily. However, use a heat-protectant spray because too much heat can damage your hair.
Recommended Articles: