11 Best Budget-Friendly Hair Dryers Under $50
Invest in the hairdryer of your dreams without burning a big hole in your pocket.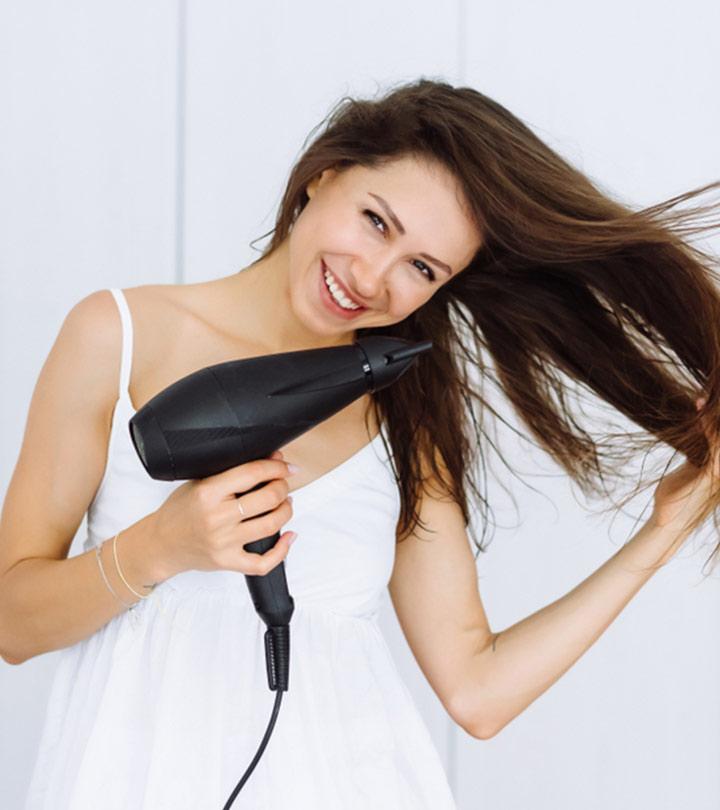 Hairstyles are super important and can either accentuate or utterly destroy your look. But why would you spend money at salons when you can get the best hair dryer under 50 dollars to give you bouncy and frizz-free voluminous hair at home? That's right! After a good hair wash, use the hairdryer to dry your hair and tame all the frizzies and flyaways. You can also try out different techniques and style your hair with ease by yourself. Blown-out hair, even by itself, looks fantastic and lively and there are numerous tutorials online to help you perfect the blow-drying techniques.
So that you can achieve all your hairstyling goals without burning a hole in your pocket, or wasting time commuting to and fro a hair salon, we have got you a list of the best hair dryers under 50 dollars. We have also mentioned the most important features of each so that you can make the best choice for your needs. So, read on!
11 Best Inexpensive Hair Dryers
If you are a frequent traveler, moving around with a bulky hairdryer can be quite inconvenient. But this sleek and compact blow dryer by Revlon makes for a perfect travel-friendly hair styling tool. It has 2 heat and speed settings, which allow you to control airflow depending on your hair type. This lightweight air dryer also enables you to style your hair and set it, thanks to its cool shot setting. This styling tool features anti-slip bumpers to prevent your hand from slipping, a hanging ring for easy storage, and a removable end cap for cleaning and maintenance. Click this video to learn more about the product.
Pros
Compact and lightweight
Travel-friendly
Features cool shot button to style your hair
Available in 3 colors
Easy to use and store
Cons
It is not dual voltage
Tends to overheat quickly
Price at the time of publication: $12.99
A perfect combination of ceramic, ionic and tourmaline technologies, this Remington Damage Protection Hair Dryer dries your hair faster, reduces frizz, and distributes heat evenly, without damaging your hair. It features Advanced Coating Technology that offers three times more protection when styling your hair, while the built-in micro conditioners lend you softer and healthier hair. What's more? It includes diffuser and concentrator attachments for precision and easy styling. With 3 heat and 2 speed settings, it helps you dry your hair at your preferred temperature. Plus, the cold shot button allows you to lock the style. Learn more about the product in this video.
Pros
Features Proprietary Micro Conditioner Technology that softens hair
The 1875-watt power dries hair faster
Cuts down frizz
Diffuser attachment helps define curls
Includes a removable air filter for easy cleaning
Cons
The diffuser may not attach properly
May not be suitable for super curly hair
Price at the time of publication: $19.16
If it seems like your hair takes forever to dry, this hair dryer by KISS will save you a lot of time. It features 3 heat and 2 speed settings and 1875 W power that dries your hair instantly. It makes your hair soft, bouncy, and frizz-free, thanks to the advanced ionic system that preserves moisture and hydrates your hair while also eliminating static and reducing frizz. The Ceramic Tourmaline technology evenly distributes heat while minimizing damage and imparting a glossy finish to your hair. With the addition of 3 attachments and 4 hair clips, it gets easier to style any hair type. This video gives you more information about the product.
Pros
Lightweight
Powerful
Durable
Anti-frizz technology
3 attachments and 4 hair clips
Hanging loop for storage
Ergonomic design
Ideal for both men and women
Cons
Bad placement of power button
Price at the time of publication: $24.71
A hair dryer that is lightweight, powerful, and classic, what's not to love? Conair 1875-Watt Mid-Size Hair Dryer is both convenient and easy on your hair. Thanks to its 1875W powered motor, this hair dryer dries your hair in no time. This all-white tool features an ergonomic handle that provides better grip, while the 2 heat and speed settings helps you control the air flow depending on your hair type and the hairstyle you prefer. It also includes a cool shot feature that helps close your hair shaft without damaging the cuticles, while locking your hairstyle in place.
Pros
Heat and speed settings allows you to control the flow of air
Includes hang ring for easy storage
Cuts down your hair drying time in half
Lightweight and compact
Suitable for all hair types
Cons
Heats up quickly
May not be suitable for long hair
Price at the time of publication: $12.99
One of the best hair dryers in the market, JINRI 1875W Professional Salon Grade Hair Dryer is efficient, durable and easy on the wallet. It has all the features that you need to get a smooth and beautifully blown out hair – 3 temperature settings, 2 speed settings, a cool shot button, and 2 functional concentrator attachments (one for precision styling and the other to define your natural curls). It features an ionic function, which means the blow dryer produces negative ions that locks in moisture and protect your scalp from heat damage, while also eliminating frizz and lending your smooth and silky hair. It uses 1875 W power, which helps dry your hair in an instant.
Pros
Multifunctional and adjustable heat, speed and cool shot settings
Reduces hair drying time and produces low noise
Negative ions function reduces frizz and helps preserve moisture
Includes anti-leakage plug and long cable
Includes concentrator and diffuser attachments, and a removable filter
Cons
Bulky
May not be suitable for thick hair
Price at the time of publication: $49.99
The famous proverb, 'Good things come in small packages,' holds true for this Nano Titanium Travel Dryer by BaBylissPRO. It is compact and lightweight but powerful enough to blow dry all hair types, including thick and coarse hair. Not only does this hair dryer dry your damp hair, but its nano titanium and ionic technology reduces static frizz and protects hair from damage. Its dual voltage and folding handle features make it convenient to carry while traveling.
Pros
Lightweight and portable
Nano titanium and ionic technology
Dual voltage
Features 2 heat/speed settings
Includes removable filter and stand
Cons
May take longer to dry hair
Price at the time of publication: $34.99
Say goodbye to dry and frizzy hair with the help of this sleek and compact hair dryer by NITION. Its ceramic-coated outlet grill is infused with nano silver, argan oil, and tourmaline, which work together to smoothen frizzy hair, repair damaged hair follicles, and protect against UV radiation, leaving you with hair that is soft and shiny. Furthermore, it includes far-infrared heat that penetrates your hair strands for quick drying and delivers uniform heat to reduce damage. It features easy-to-control temperature and airspeed settings and comes with 3 attachments that make your hair styling experience more convenient.
Pros
Comes with removable diffuser, comb, and concentrator attachments
Imbued with nano silver, argan oil, and tourmaline
3 heat and 2 speed settings
Low noise
Includes a hanging loop for a secure storage solution
Anti-leakage plug
Cons
The attachments may not click in instantly
Tends to overheat when used at the highest setting
Price at the time of publication: $42.99
Take complete control of how you want to style your hair with this lightweight ionic hair dryer that features stepless airflow speed selection, which allows you to rotate the speed dial and set any airspeed you prefer. The 2 heat settings and cool shot button, along with 1875 W power dries your hair quickly and sets your hairstyle to last all day. What we love the most about this affordable hair dryer is the inclusion of ionic technology that helps mitigate static frizz, leaving you with silky-smooth and shiny hair.
Pros
Includes concentrator and diffuser attachments to style all hair types
Cool air feature locks in style and moisture
Non-slip handle provides a comfortable grip
Easy-to-clean detachable rear filter
Features hanging loop for convenient storage
Cons
The diffuser attachment may not work well on extremely curly hair
Price at the time of publication: $39.97
Light, quiet and fast is how we describe this super stylish and uniquely designed hair dryer. The Light, quiet, and fast is how we describe this super stylish and uniquely designed hair dryer. The AC motor is fitted in the ultra-thin handle, which makes this hair dryer comfortable to hold and easy to maneuver. It's designed using a negative ionic system that eliminates static frizz while retaining your hair's natural moisture and shine. Besides that, it also features a wide air duct structure and a U-shaped heating wire that dries hair quickly while maintaining constant temperature and also prevents excessive heat from damaging your hair. Moreover, you don't have to worry about neck ache or arm fatigue as this hair dryer is lighter than most dryers.
Pros
Sleek and lightweight
Wide air duct design releases strong and concentrated wind
Features 3 heat and 2 speed settings
Low radiation and noise
Includes 2 concentrator and 1 diffuser nozzles
High heat and impact-resistant
Cons
May take longer to dry thick and coarse hair
Price at the time of publication: $42.99
With 3 heat and 2 speed settings, built-in ionic generator, and tourmaline ceramic-coated grill, this ionic blow dryer from VASLON has all the attractive features that can be found in any high-end hair dryer. Designed with tourmaline ionic technology, this hair dryer produces infrared heat that dries hair from inside out, eliminates frizz, adds shine, providing manageable and gorgeous locks.
Pros
Sleek and lightweight
Adjustable heat and speed settings
Negative ions help condition and soften hair
Dries hair faster
Lightweight and low-noise
Easy-to-clean removable air filter
Cons
An excellent combination of luxury and practicality, this hair dryer cuts down your hair drying time drastically. It features direction technology that helps reduce overheating and prevents damage and eliminates frizz and lends you glossy and lustrous mane. This lightweight hair dryer comes with 6 heat and 2 speed settings that allow you to control the temperature and airflow based on your hair type and texture. It also includes a concentrator attachment and a styling pik to enhance your hairstyle further.
Pros
Direct ion technology
Reduces damage and frizz
Includes concentrator and styling pik attachments
Includes a cool shot feature to set your hairstyle
The rubber-coated body ensures a comfortable grip
Cons
Tends to make a lot of noise
The handle may overheat fast
Price at the time of publication: $33.43
If you are looking for a professional blowout without emptying your pockets by visiting the salon, we have good news for you. You can choose a highly affordable hair dryer under $50 to help you achieve the perfect blowout. The best inexpensive blow dryer can turn out to be as good as the professional one. It can be quite the lifesaver for your hair and wallet, as long as you find one with the right features. So, read on to know what factors to consider while choosing the best budget-friendly hair dryers under $50.
What To Look For In The Best
Budget-Friendly Hair Dryers
Wattage
Usually, hair stylists recommend a wattage of 1500 to 1800. This
will keep your styling time down and eliminate breakage and heat damage.
Consider your hair type when choosing the wattage; thin hair requires a lower
wattage than curly and thick hair which. High-wattage dryers do not burn out
quickly and provide long-lasting results.
Heat And Speed Settings
Your budget-friendly hair dryer should feature adjustable heat and
speed settings. This allows you to choose the degree of heat as per your hairstyle
and type. As with the wattage, lower heat settings will be less damaging to the
hair. For fine hair that dries easily this is an important feature. Look for a
cold button as cool air seals the cuticle and boosts shine.
Accessories
For versatility in your blowout, choose a hair dryer with attachments.
A concentrator nozzle focuses the airflow coming out of the hair dryer to offer
more targeted drying. The concentrator makes it possible to dry specific
sections at a time which is key for de-frizzing and straightening. A diffuser
works by spreading the airstream over a wider area but in a more controlled
way. This helps to set the curls in a scrunched position to hold the shape
longer.
Additional Features
Hair dryers come in different types – iconic, ceramic, and titanium. For hair that is frizzy and difficult to dry, choose the iconic dryer. These dryers work best for closing the cuticle and removing moisture from the hair to make the finish more polished. Dry hair benefits from ceramic or porcelain dryers as the heat is less harsh and more consistent in temperature. If the ceramic-coated outlet grill is infused with nano silver, argan oil, and tourmaline, the dryer helps repair damaged hair and protects it against UV radiation. Choose a lightweight, ergonomic model so you do not tire your arms. If you travel frequently, a compact design is ideal.
With the help of these hair dryers, get gorgeous and salon-like hair at the comfort of your home. And when you can get one at a budget-friendly price, it just seals the deal. Aside from the price, it is important to consider a lot of other factors such as attachments, weight, wattage, airflow, heat settings, and cord length, when it comes to picking the right one. We have put together a list of 11 best hair dryers under $50 that not only dries your hair but also gives enviable blown-out tresses! Which of these dryers can't you wait to try out? Do let us know in the comments below!
Why Trust StyleCraze?
The author, Kirtana Divakar, is a hair care enthusiast and has a good knowledge of essential products to keep your hair frizz-free and healthy. She extensively studied numerous affordable hairdryer options available on the market and browsed hundreds of reviews on trusted online platforms to compile this list of best hair dryers under $50. These easy-to-use and durable products are ideal for taming flyaways and styling your hair in the way you like.
Frequently Asked Questions
Can we use a hair dryer daily?
No. A hair dryer may damage the hair if you heat style your hair daily.
Is a cold hair dryer good for your hair?
Yes. Although it takes longer to dry your hair with a cold dryer, it is a healthier option for the hair.
Is dryer harmful for the hair?
Yes. Regular use of dryers on high temperature settings may damage your hair and scalp health.
Can a hair dryer straighten the hair?
Yes, a hair dryer can help straighten damp hair. Section your hair into smaller bits, comb through and follow the direction of the comb with your dryer while distributing the heat equally.
Which is better: AC or DC hair dryer?
AC hair dryers offer quicker drying results and have longer durability than DC dryers. But they are also more expensive than DC dryers.
How many watts is a good hair dryer?
1800 to 1850 watts is good for quick drying results.
How long do hair dryers last?
A good-quality hair dryer motor may last up to 1000 hours, anywhere between 3-8 years, depending on how often you style your hair.
How can I protect my hair from my hair dryer?
Using a heat protectant spray can help you to create a barrier between your hair cuticles and heat. You can also towel-dry your hair to a good extent before blow-drying it so that there's less exposure to heat. You can use cool settings at the end to prevent the heat from lingering in your hair strands longer.
Can we use a hair dryer daily?
No, it's best not to use a hair dryer daily. Using a blow dryer every day can ruin the hair by stripping the natural oils of the hair, drying out the cuticle, and causing breakage and frizz.
How many watts is a good hair dryer?
For personal use, invest in a hair dryer that has around 1800 to 1875 wattage.
Does an affordable hair dryer provide as good results as an expensive hair dryer?
High-end hair dryers come with good heat control and fast drying power. Products that are comparatively less expensive can work slower and are likely to cause more heat damage.
How long does a hair dryer last?
The average life span of a hair dryer is around 800 hours. The more frequently you blow dry your hair, the sooner you will have to replace it.