13 Best Long-Lasting Hair Dyes That You Need Right Now – 2023
Take center stage with these exquisite colors and look stunning and captivating.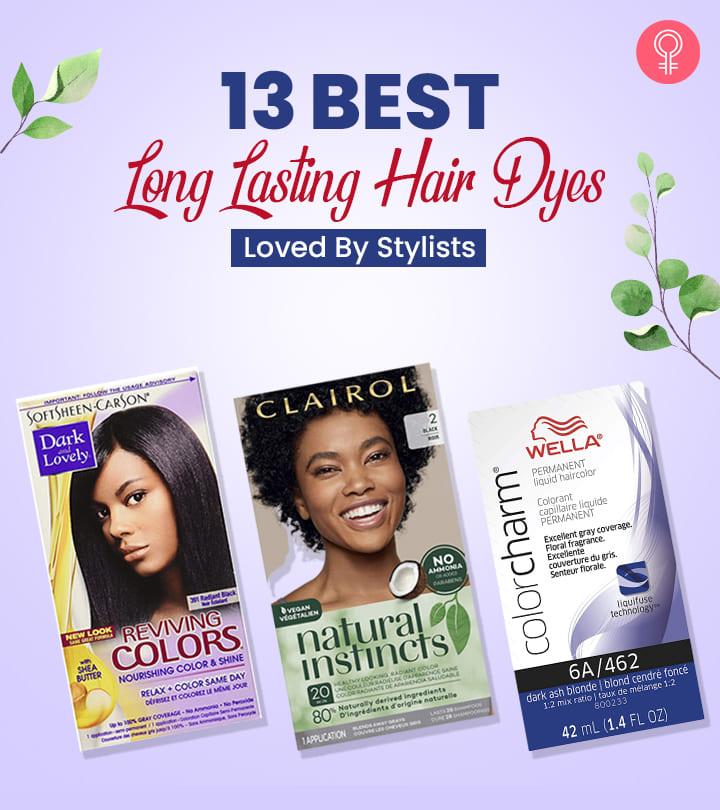 Taking a trip to your favorite salon requires three things: money, time, and travel. Luckily, today there are a bunch of the best long-lasting hair dyes out there to come to your rescue. All you need to do is walk down to your neighborhood drug store, pick the color of your choice, and apply it. Before you do so, keep a few things in mind. Since washing your hair frequently can get the color out of your strands, you can opt for dry shampoos and conditioners specifically formulated for colored hair. With these products in your cabinet, hiding your pesky greys at home is easier than ever. Take a look at some of the top long-lasting hair dyes available online.
Note: Do a patch test before trying out the at-home hair dye kit. Also, go through the instruction manual before coloring your hair.
13 Best Hair Dyes Of 2023
This hair dye from Revlon's ColorSilk range provides long-lasting grey coverage. Its nourishing formula is enriched with keratin and silk amino acids to strengthen your hair. The 3D gel technology reflects multi-dimensional shades with everlasting shine. The kit consists of a cream developer, an ammonia-free dye, a conditioner pouch, hair dye gloves, and an instruction manual. This product is available in 41 shades, including blacks, browns, reds, blondes, and platinum. Here's a video to help you know more about this product from the tester's experience.
Pros
Easy to use
Ammonia-free
Keratin-rich formula
Gentle
Odor-free
100% gray coverage
Value for money
Cons
Price at the time of publication: $22.5
This hair dye from Garnier is infused with Color Boost Technology and nourishing ingredients like avocado, olive, and shea oil to provide rich color and shine to your tresses and lock in moisture. The creme formula contains grape seed fruit oil to nourish the hair. It penetrates the hair fibers to nourish them from within and aid more color retention. The Sweet Colashadegives your hair a rich, luscious brown hue while covering the grays. Each color kit comes with a developer, a color creme, a fruit oil ampule, a conditioner, gloves, and an insert. This video takes you through this product's details, as tested by the reviewer.
Pros
Non-drip formula
100% gray coverage
Easy to use
Ammonia-free
Cons
Price at the time of publication: $15.98
This Smokey Silver shade from L'Oreal Paris lends shiny, shimmery tones to your locks and delivers intense shine. The hair dye is inspired by fashionable trends and gives salon-quality results to your hair. Each kit comes with a color crème, a conditioner crème, and a serum. The power shimmer conditioner enhances smoothness and lends a long-lasting shine to your hair. This range includes over 50 bold shades – from rose gold, platinum blonde, metallic brown, and bright red to blue black – to flatter all hair types. For a more detailed review of this product, here's a video that details the reviewer's experience of testing it. o.
Pros
Full coverage
Not brassy
Easy to use
Non-fading
Cons
Price at the time of publication: $9.95
The Schwarzkopf Got2b Metallic Silver shade will give you a multidimensional color with an everlasting shine. You can cover grays, lighten dark roots, or add metallic hues to your beautiful locks. This blonde hair dye is a one-time-use box containing a color creme, a developer lotion, and an after-treatment tube color. It also includes a pair of gloves to prevent staining your hands and an instruction leaflet. The permanent formula goes easy on locks and works only on bleached blonde and light blondes.
Pros
Easy to use
Anti-fading
Permanent
Cons
Price at the time of publication: $8.95
The shade Black Noir from Clairol Natural Instinctsblends seamlessly into your hair for 100% coverage in one application. The demi-permanent,non-fading color stays on your hair even after 28 washes. Its gentle formula is infused with coconut oil and aloe vera to deliver smoothness and shine to your tresses. This hair dye is formulated with all-natural ingredients and makes your hair look radiant and fresh. Reviewers are satisfied with the 100% gray coverage and the lack of harsh ammonia smell, making it easy to use. This range features 38 flattering and natural-looking shades to add an extra boost of color to your hair.
Pros
Mess-free application
Easy to use
Full coverage
Gentle hair dye
Vegan
Ammonia-free
Paraben-free
Cons
Price at the time of publication: $20.97
The Schwarzkopf Keratin Color is formulated with a keratin care complex to offer a radiant shine to your tresses. Ruby Noir is a rich maroon shade that offers intense color and minimizes breakage – thanks to the unique anti-breakage technology that repairs and protects the hair's inner structure. It evenly spreads color, even over textured hair, giving you a greater color payoff and avoiding a patchy mishap. The kit includes a pre-color serum to condition your hair, a color cream, and a k-bond complex.
Pros
100% gray coverage
Easy to apply
Non-drying
Non-fading
Cons
Price at the time of publication: $9.76
The Naturtint Permanent Hair Color gel is formulated with plant-based ingredients to deliver the smoothest and richest hues to your hair. It consists of plant and seed oils with proven efficacy in enhancing hair and scalp health. It is infused with nourishing oils – olive, meadowfoam seed, and soy – that moisturize and strengthen the hair shafts and prevent breakage. This kit comes with a hair colorant, a developer, and a MultiCare mask for extra protection from dryness. While the hair dye colorant and developer together transfer pigments to the tresses, the hair mask revives the natural beauty of your hair. The shade Brown-Black complements all skin tones and hair types.
Pros
Non-drip
Moisturizing
Clinically-tested formula
Dermatologically tested
Easy to use
Paraben-free
SLS/SLES-free
Artificial fragrance-free
Vegan
Cruelty-free
Cons
Price at the time of publication: $14.99
The Herbaceuticals Naturcolor Hair Color is a herbal gel formula that is easy to apply and works fast to color your hair. Its Italian pigments are infused with botanicals and plant extracts that impart vibrant, true-to-tone, and long-lasting color to your hair. It provides a natural look and does not fade easily. The colors effectively cover all grays, and it takes less than an hour to finish the dying process. It is ideal for people who want to avoid too many chemical treatments. This dye is also available in 30 other colors, which can be used individually or blended for new customized colors.
Pros
Herbal ingredients
Paraben-free
Ammonia-free colorant
Resorcinol-free
Available in 31 colors
Safe for permed or color-treated hair.
Cons
Price at the time of publication: $16.95
The INH Semi Permanent Hair Color adds a vibrant semi-permanent color to your hair. This deep, color-depositing, nourishing conditioner delivers a perfect tint to your grays and light-toned hair. The vegan hair dye provides nourishment and hydration while depositing bright pigments. The hair also becomes silky and glossy with a soft and smooth texture. The DIY hair dye is beginner-friendly, easy to use, and needs just 20 minutes of application. This semi-permanent hair dye can be used on its own or mixed with other tints for custom-made hues. Enjoy your nourished and vibrant hair for a long time with this vegan dye!
Pros
DIY-friendly
Vegan and cruelty-free
Ammonia hydrate-free
Bleach-free
Paraben-free
Sulfate-free
Peroxide-free
Best on blonde or bleached hair
Intermixable shades
Cons
Price at the time of publication: $18
The Softsheen-Carson Dark and Lovely Reviving Colors in the shade Radiant Black has a one-step application formula to give instant results. It is formulated with vital nourishing ingredients that are key to the healthy growth of your hair. The goodness of advanced moisturizing agents like shea butter, avocado oil, and vitamin E delivers a brilliant shine to your hair.
Pros
Easy to use
Moisturizing
Suitable for relaxed hair
Ammonia-free
Peroxide-free
Cons
Price at the time of publication: $4.97
For salon-style hair coloring, pick the Better Natured Liqui Creme Hair Dye and cover all your grays. The color lasts vibrantly for up to eight weeks. This dye deposits radiant color pigments while it deeply conditions the hair. The formula is made with natural ingredients, making it safe for colored or chemically-treated hair. In a panel test, all women participants agreed it delivers salon-quality results, and 94% of women agreed it provides optimal gray coverage. A triple-plant blend of Tahitian palm milk, coconut milk, and orchid milk deeply conditions the hair and scalp. The kit includes everything you will require to color your hair.
Pros
100% gray coverage
Rich color that lasts for 8 weeks
92% naturally-derived
Vegan
Paraben-free
Cons
Price at the time of publication: $25
Try the Arctic Fox Semi-Permanent Hair Color Dye – the perfect solution for adding stunning and vibrant color to your locks! This vegan, cruelty-free hair dye is made with nourishing ingredients that leave your hair healthy and vibrant. It is an easy-to-use formula that can be used on any hair type or texture. The colors last up to 8-10 washes and can be easily blended to create unique and beautiful looks. With over 20 colors to choose from, you can find the perfect shade to match your style. Give your hair the makeover it deserves with this premium hair dye!
Pros
Non-GMO
Ammonia and PPD-free
Silicone-free
Sulfate-free
Paraben-free
Peroxide-free
Phthalate-free
Vegan and cruelty-free
Cons
The color may vary according to your existing hair color.
Price at the time of publication: $12.99
Dye your hair a midnight black color with Discovery Naturals Natural Henna Hair Dye. It is free of chemicals and blends naturally into the hair. You can also dye your beard with this color. It is easy to use and comes in a mess-free sachet. This black hair dye is a blend of botanicals, herbs, and henna making the hair vibrant as well as shiny and soft. The henna color coats each hair strand and provides a natural and vibrant hair dyed locks. Organic henna also adds volume and makes the hair manageable and healthy. It cleanses and detoxifies the scalp while smoothing out split ends and increasing hair growth.
Pros
100% natural
Organic
Ammonia-free
Chemical-free
Preservation-free
PPD-free
Peroxide-free
Cruelty-free
Eco-friendly packaging
Cons
Price at the time of publication: $16.95
There are various purposes for applying hair dyes such as trying to cover gray hair, making a style statement, or just for a look change! Coloring your hair can cause hair damage if you don't apply the right product. Therefore, you must look at some important factors before selecting the right hair dyes for your precious tresses. Here is the buying guide for your help.
Things To Consider While Choosing The Best Hair Dyes
You must look out for hair dyes that are devoid of harmful chemicals. Go for natural hair dyes that include natural ingredients that you are not allergic to, and are alcohol-free, GMO-free, gluten-free, cruelty-free, odor-free, and dermatologically-tested.
Also, avoid using hair dyes that contain PPD (para-phenylenediamine), hydrogen peroxide, ammonia, DMDM hydantoin, parabens, lead acetate, resorcinol, and other harmful ingredients that might not suit sensitive skin. Also be careful while picking up hair dye caps or hair dye brushes as these too can cause several skin allergies and irritation as well as hair damage.
If you wish to hide your gray hair, search for a hair color that particularly includes gray covering. If you want to cover your hair without altering the natural color of your hair much, go with a dye shade that is close to your natural hair color.
If you are selecting the hair dye color for styling then you must consider your skin tone as an important factor. One of the most crucial factors in picking the perfect hair color whether it is pastel hair dye or red hair dye, is really the hue of your skin tone. The right color will complement your complexion and enhance its beauty, while the wrong one could make it appear dull and boring.
Why Trust StyleCraze?
Shiboli Chakraborti is a certified skin care coach and hair care expert. She loves trying out products recommended by stylists to review and recommend to her readers. So, she did extensive research and curated the list of the best long-lasting hair dyes loved by stylists to make the job easier for you. They are gentle, easy to use, and long-lasting.
Frequently Asked Questions
Should the hair be wet or dry when dying?
The hair should be dry while you dye your hair. However, some formulas can also be used on wet hair.
Is it better to dye hair at home or at the salon?
If you are going for more than two shades on your hair, it is always better to visit a salon.
Why does my hair fall out when I dye it?
It is common to experience hair loss after dying due to chemicals present in the dye.
What happens if you rub hair dye into your scalp?
If the hair dye is laden with chemicals, it may irritate your hair or cause an allergy. This may result in hair loss and cause more sensitivity issues.
Does hair dye absorb into the scalp?
When you dye your hair, you may absorb a small amount of chemicals through your scalp.
What hair dye mistakes should you avoid?
Make sure not to wash your hair the same day you color, for the color to absorb better. Also, do not keep color dye on hair for too long as it might cause damage, and avoid applying color to the scalp to get desired results.
What are some hair dye aftercare tips to remember?
Wait at least two days before shampooing your hair after you have got a dye job done. And wash your hair less often to preserve hair color. Also, keep in mind to use color conditioners or purple shampoo if you have opted for high-maintenance colors to maintain your hair's vitality.
Recommended Articles