13 Best Hair Extensions For Thick Hair In 2023!
Clip these accessories to your natural tresses to gain an over-the-top and fancier look!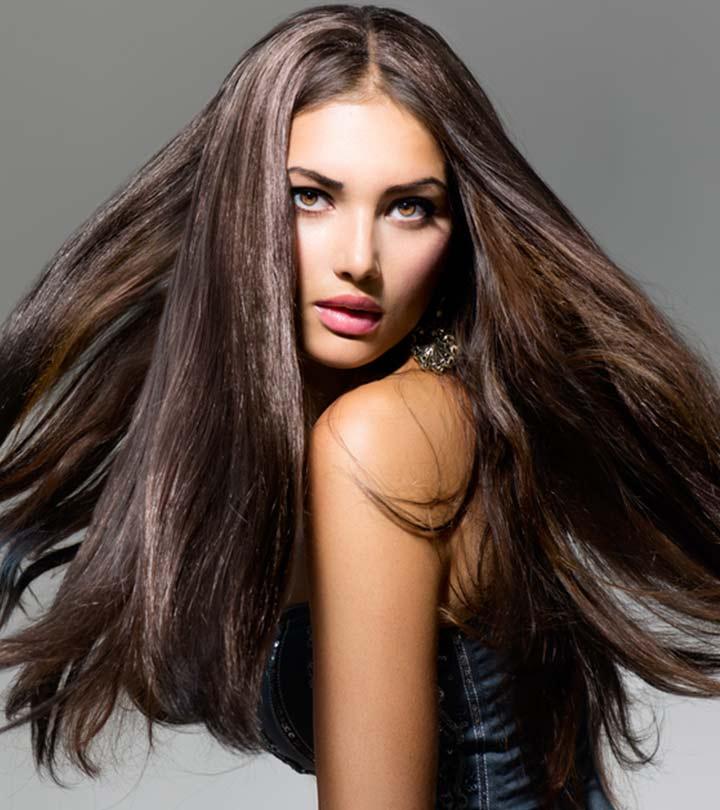 If you have landed here looking for the best extensions for thick hair, you are in the right place. While many people think hair extensions are usually available and required for thin, fine hair, there are many variations available for thick hair as well. Hair extensions come in various shapes and sizes, including the ones that may add length to your naturally thick hair, or those that may give you a fancier, dramatic, or even an elegant look. Hair extension maintenance, washing, and wear are easy and can make you ready for that impromptu gala night in a matter of minutes. With that kind of convenience, fun, and style all wrapped in one, you must be now eager to try one for yourself. Wondering where to start? Worry not, we have shortlisted the 13 best hair extension styles for thick hair to help you rock that hairstyle of your choice!
Top 13 Best Hair Extensions For Thick Hair That You Must Try!
Blending with natural hair like a dream, these 70g dark brown extensions come with 16 high-quality clips that ensure a tight grip on the hair. Also, it has red undertones and is safe for curling, straightening, and various other styling purposes too. Besides this, these extensions have a well-crafted double weft with the thickness running from the top to the end. Yep, brunette beauties, give it a try!
Pros
Premium quality and 100% Remy human hair
Adds length, volume, and can be dyed
Easy-to-wear, comfort-friendly, and tangle-free
Cons
May not deliver a fuller look
Slightly shiny
Price at the time of publication: $37.99
Excess styling may ruin your hair texture, which is why extensions are the best alternative. Like this one for instance by GEELOOK can be colored, straightened, and even curled just like your natural tresses. Made of 100% Remy hair, the brand crafts extensions with uncut hair ends so you can cut them as per your requirements to get curly hair extensions. Also, the hair is weaved and has a double weft to offer a comfortable fit. Reviewers highly recommend this extension for its built-in clips that allow easy wear and removal.
Pros
Premium-quality 60g hair extensions
Adds length to your tresses
Ensures a healthy and bouncy look
Soft, split end-free, and tangle-free
Easy to wear, maintain, and wash
Cons
Price at the time of publication: $29.77
Extensions that do not have a breathable weft can get uncomfortable or rather sweaty after a few hours! Hence, these 120g clip-in hair extensions by Goo Goo are a must-try. Ethically sourced and made of 100% Remy human hair, these straight hair extensions also have stainless steel clips with silicone to ensure a tight grip. Besides this, the weft is hand-crafted to provide a comfortable and breathable fit. Wear it and flaunt it all day without feeling the itch to get it off. With proper hair extension care, they can last for a long time.
Pros
9A grade human hair
Quick and easy-to-wear
Adds thickness and volume
Ensures no damage to your hair or scalp
Shed-free, soft, and silky-straight
Safe and suitable to color, dye, or style
Cons
It might get tangled if not washed and dried with care.
Price at the time of publication: $70.99
These blonde hair extensions are a great pick for those who fancy naturally long tresses but have no time to maintain them. Let's be honest— maintaining long hair takes effort, extra care, and can be time-consuming. So, to give your tresses a bounce and voluminous uplift, these 160g extensions would be ideal. Soft, smooth, and with no split-ends, they are crafted with a thicker weft and attached with same-colored clips, so they are undetectable. Just what you need to wear on your special days or date nights, turn into a real-life blonde hair goddess with these gorgeous extensions. Its heat-resistant material and instant volume have made it a favorite among reviewers.
Pros
Made of 100% Remy hair extension
Guarantees salon-grade quality
Ensures a tight grip with high-quality clips
Slip-proof, odor-free, and promises minimal shedding
Easy to wear, style, color, and highlight
Cons
The color might bleed while washing.
Price at the time of publication: $130.9
Crafted to look like relaxed black hair, these Yaki straight 120g extensions will make you fall in love with your new virgin hair extensions hair look instantly! So much that you'll never want to step out without wearing them on. And if you are wondering whether they are safe for your natural hair? The brand assures minimal to no damage and ensures to keep all the cuticles intact. Also, it has a strong weft with high-quality stainless-steel clips and silicone for a strong grip. Many reviewers recommend this extension for its easy blendability and high-quality texture. Gorgeous hair in seconds, anyone?
Pros
Made of 100% Remy and virgin hair
High-quality and ensures no slipping
Blends with natural hair seamlessly
Suitable for dyeing, curling, and straightening
It can be washed and dried like natural hair.
Cons
Thin and may not add a lot of volume
Price at the time of publication: $59.9
These natural black 220g hair extensions will make your inner hair goddess scream with joy. Being an instant volumizer and lengthening savior, get ready to witness some jealous stares wherever you go! Easy-to-wear and soft, they are super-versatile and can be heat styled up to 140 ◦ Celsius. Designed to blend in with natural black hair, don't blame us if it gets challenging to differentiate between extensions and real hair. Give it a try!
Pros
Quick and easy-to-wear
Easy to maintain and wash
Ensures no damage to natural hair
Hair extension removal is easy with the clips
Cons
Price at the time of publication: $13.99
Rock these mushroom brown ombre wavy hair extensions like a stunner on date nights, parties, and special occasions! Besides adding volume and length to your already gorgeous tresses, these will add a trendier look and style too. Its no-slip tape tabs have made it a must-buy for many reviewers. So, if you are missing on those salon appointments or wondering how to have a classy hairdo within minutes, these 50g balayage hair extensions with a strong grip will be ideal. Try it!
Pros
Grade 9A real human hair
Safe to color, style, and trim
Soft, silky-straight, and tangle-free
Easy-to-wear and won't damage natural hair
Ensures no split ends and blends in seamlessly
Ideal for those with straight, thick, and thin hair
Cons
The adhesive may not last long.
Price at the time of publication: $77.79
Jet black and beautiful, these 120g hair extensions are a godsend for those who like to prep up on the go! Easy-to-wear, all you have to do is clip these on and brush them to blend in seamlessly with your natural tresses. Ideal for busy bees and travelers or those who love to experiment with their hair, these extensions can be heat styled under 180◦ Celsius. Now, who's ready to make a showstopping entry with their gorgeous hairdo?
Pros
Made of 100% real human hair
Ensures minimal shedding and tangle-free
Easy to wear and maintain
The double weft provides a comfortable fit.
It can be washed, curled, straightened, and restyled.
Cons
Price at the time of publication: $129.32
What makes these hair extensions different from others? The brand promises a lifespan of up to 12 months! With 20 clips in 10 pieces of double wefts guaranteeing a comfortable fit as well as a fuller and longer look, one needn't worry about slipping with these extensions on. And the best part— these off-black 240g extensions have brown undertones to blend seamlessly with your natural black hair. Black-haired beauties, where y'all at?
Pros
Ensures quick and easy installation
Made of 100% natural Remy human hair
Promises no damage to natural hair
Safe to dye, style, and heat style
Ideal for beginners and professionals
Cons
Price at the time of publication: $218.99
Let every day be a good hair day with these gorgeous dark brown extensions for all the brunette beauties! Use it to create an ombre effect or blend it with your brunette crown to give it a long and defined look; these 80g hair extensions promise stunning results only. Made of 100% Remy human hair to fit with your natural tresses, they are silky-smooth, soft, and reusable for up to 12 months too. Give them a try!
Pros
Easy-to-wear without professional help
Guarantees quick installation with one-layer weft
Ensures a comfortable fit all day long
Tangle-free, shed-free, and durable
Ideal for thick and straight hair
Cons
Price at the time of publication: $66.2
Haircut gone wrong? These kinky-straight extensions would be a great option for Indian, Brazilian, and Mongolian hair types. So, if you are annoyed for having ended up with a wrong haircut before a special occasion, these extensions will bring back the volume and length instantly. Also, will they slip? No chance! These 130g hair extensions by Annora are designed with 18 clips for a strong and comfortable grip all day. Wear on to enjoy its stunning black bliss!
Pros
Made of 100% real human hair
Ensures a glossy shine and extra volume
Safe to dye, style, rewash, and trim
Tangle-free, shed-free, and long-lasting
The black clips are undetectable and strong.
Cons
It might be slightly uncomfortable to wear all day long.
Price at the time of publication: $38.06
Rapunzel who? Be your own Disney princess with these super long 220g synthetic hair extensions! Making all your long-hair dreams come true, these extensions are so easy to wear that you can turn your flat tresses to fab within seconds. Also, a great option for those who are looking for a fuller look, these clip-ins have more volume on the weft to give you that desirable look instantly. Besides this, you get the freedom to add volume wherever you need, unlike those 1-piece clip-ins. Try it!
Pros
Made of soft and matte-finished synthetic fiber
Ensures a comfortable and secure fit all-day
Heat-friendly, easy-to-comb, and natural-looking
The clips are made of high-quality stainless steel.
Cons
Price at the time of publication: $18.99
Lastly, these gorgeous golden locks to make your tresses the star of every party! Crafted with double wefts to add volume from the top to the ends, they also have high-quality clips with a soft rubber layer to provide a comfortable fit. Also, these clips ensure no damage to your natural hair or scalp, so you can wear them comfortably without feeling the slip or itch. Want more? These 100g extensions are naturally-processed and are easy to wear and wash too.
Pros
Made of 100% Remy human hair
Durable and long-lasting
Tangle-free, shed-free, and odor-free
Safe to dye, curl, perm, and trim
Cons
Price at the time of publication: $39.99
Itching to try one, aren't you? So are we! There you go, those were the 13 best hair extensions for thick hair to try this year. If you are still unsure about how to pick the right one, then check out our buying guide below.
Buying Guide
Type of Hair Extensions
Ideally, professionals would advise only two types of hair extensions that can be worn with or without professional help. They are:
Clip-in Extension: Easy to set up on natural hair with tick-tack clips on the base, these extensions are crafted in contour shapes. Also, they are designed with a double or single weft, thus giving users an option to choose as per the required volume. However, what makes them a favorite among users is that they can be reused frequently and they cause no damage to natural hair.
Tape-in Extension: These extensions are crafted with glue on either side to stick to your natural hair or scalp. Mostly, a heated tool is used to ready the tape for sticking, which is why professional help is required with tape-in extensions if you are not an expert. Plus, they need to be placed correctly in one go to avoid a gluey mess.
Cosmetologist Lindsay Loo says, "Treat your hair extension like your own hair. When you cleanse them, use a gentle shampoo. When you heat style, use a heat protectant. This will help with longevity."
How to Choose The Right Thickness Of Hair Extensions?
Whether you want to add length, volume, or both, here's how you can select the right thickness:
120g Set: Ideal for those with fine or thin hair, a 120g set will add the right amount of thickness and length to your tresses.
160g Set: If your hair thickness falls anywhere between thin to medium types, then the 160g set is a great option for you. Plus, they are ideal for those with short hair too.
180g Set: This set is also suitable for those with thin to medium hair types; however, the weft has more volume of hair. So, if you are looking for a fuller look, this set will be a great pick for your hair type.
220g Set: Hailed as one of the most popular hair sets by all, 220g set extensions are advisable for those with medium to thick hair. Making your tresses look fuller, longer, and style-friendly, 220g set also blend in seamlessly with thick hair.
How Do You Blend Extensions With Thick Hair?
Here are some steps for you: 
First thing first, you must pick the right material that'll blend seamlessly with your natural tresses. Ideally, you must opt for 100% pure Remy human hair for the best results.
Secondly, choose the right thickness for your hair type.
Lastly, you either brush them gently, or you can straighten or curl to get that undetectable and seamless look.
Why Trust StyleCraze?
Medha Deb, who authored this article, is a haircare enthusiast and finds joy in helping her readers buy the most effective and safe hair care products. She embarked on a journey to find the best extensions for thick hair. After reading several customer reviews and product details, she compiled a list of them. These listed items are convenient to use and they give you your desired length and style.
Frequently Asked Questions
Do hair extensions work on thick hair?
Yes, hair extensions work on thick hair, making it look fuller. However, select heavier extensions that will blend with your hair texture.
How do you hide extensions in thick hair?
Place your extensions a little bit higher on your head than usual. Your natural hair will appear longer and thicker as you add more extensions, creating a gorgeously subtle blend and hiding extensions in thick hair.
How many grams of extensions do you need for thick hair?
You need 150–200 grams of extensions for thick hair.
How many hair extensions do I need for volume?
The desired effect determines how many strands are used. For example, three bundles of extensions weighing 50–100 grams are sufficient for thickening. Five to seven bundles weighing 120-240 grams are good for adding length.
Can you see hair extensions when your hair is up?
Yes, if you wear your hair up in a bun or ponytail, the hair extension may be visible. You can instead look for ponytail-hair extensions.
Are extensions good for thick hair?
Yes, absolutely. Clip-in extensions, especially 220g, will make your thick hair look fuller and longer instantly. Also, they blend in seamlessly with naturally thick hair.
Is 120g hair extensions thick?
120g hair extensions offer the right kind of thickness for those with thin or fine hair. So, if you are looking for extensions for thick hair, 120g hair extensions may not give you the right volume.
Is 100g of hair enough for a full head?
For those with thin hair, 100g to 120g hair extensions would be ideal for full coverage. However, if you have thick hair, then you will need 150g and above for the best result.
Are tape-in extensions good for thick hair?
Tape-in extensions require professional help to align them correctly on the roots. Also, the glue may damage your natural hair or scalp. However, on a different note, they deliver a natural look making them ideal for thick hair too.
Recommended Articles