11 Best Hair Fibers To Buy In 2023 – Reviews & Buying Guide
Try these listed hair fibers that give your hair a fuller, natural, and thicker appearance.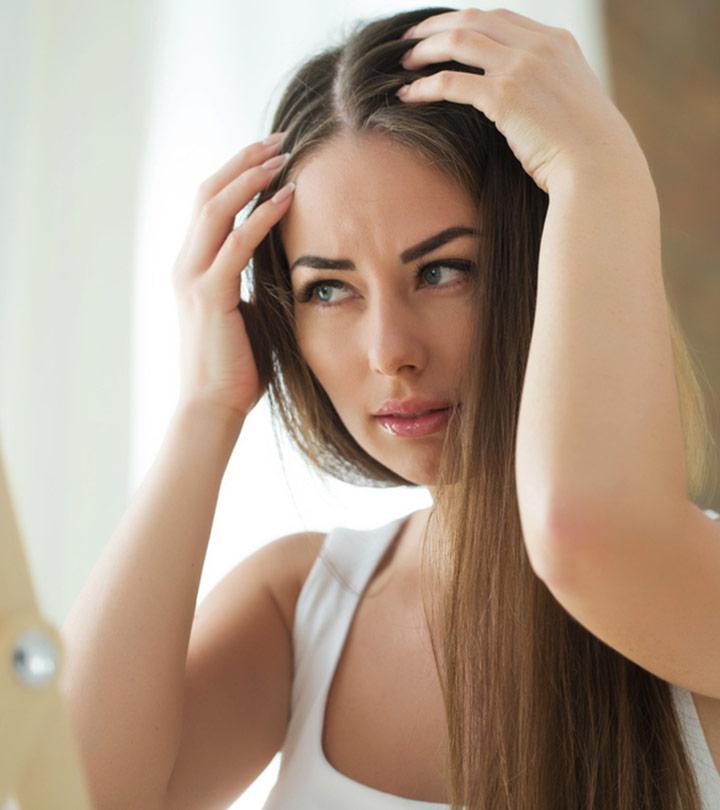 Balding at a young age can be pretty embarrassing, and people look for all possible treatments and hacks to restore their flowing tresses. Hair fibers are one of the various treatments people opt for. And we must admit that they're impressive.
Licensed cosmetologist and expert hairstylist, Laura Dale says, "Hair fibers are such a game changer, they give a thicker look to thin or fine hair instantly!"
In this article, we will introduce you to the best hair fibers available in the market today and help you determine a perfect fit for your needs.
What Are Hair Fibers
Hair fibers act as a hair concealing product, giving your hair a thicker, fuller, and natural look. The fibers are made of hair-like components or keratin proteins of real hair. They are tiny particles that cling to your real hair from the shafts, making your bald patches appear full. They come in the form of powder or spray for applying on your head or beard. These hair concealers match the color of your original hair, giving your thinning patches a good volume.
But how do you know which product delivers the best hair fibers for your hair? Here are the 11 best hair fibers, chosen for all types of hair concealing needs.
Top 11 Best Hair Fibers To Buy In 2023
You have an opportunity to fill your bald spots with a hair concealer, making your hairline look like before. These keratin hair fibers intertwine with your real hair to give you a fuller, natural look. The keratin protein is made from high-grade natural protein of real hair. The fibers are statically charged building blocks that resist sweat, rain, and wind. You can apply this product anytime and remove it later using shampoo. They are also a perfect hair camouflage for covering color-treated hair regrowth or graying hair. Before purchasing, you can also check this YouTube video for a brief review of this product.
Pros
Does not rub off
For all hair types
Can cover large areas
Available in 9 shades
Lends instant thick hair
Cons
Might need professional help for hairline use
Price at the time of publication: $46.95
These hair fibers work on your finest, thinnest hair, giving it a fuller appearance. The fibers have a static coating that helps them cling to your hair without causing any damage. Your hair will look naturally thick. You can use this product like a spray and dab gently to help the fibers disperse evenly on all your thinning areas. Once applied, they are undetectable through your original hair. These hair fibers for thinning hair are perfect for all hair types, and last through rain, sweat, and wind.
Pros
Perfect for graying roots
Long-lasting results
Contains keratin protein
Easily removable with shampoo
Covers partition lining or extension tracks
Cons
Might not be suitable for sensitive skin
Price at the time of publication: $44.79
If you have sensitive skin, you probably are very careful with the type of products you use. This is the best hair fiber product for you, as it's 100% natural and hypoallergenic. It is an ultra-light, clump-free formula that looks and feels like your natural hair. These second-generation hair fibers seamlessly bond with your hair, giving you a thicker and fuller hair appearance. Febron hair fibers go completely undetected in front of camera flashlights, which is perfect for models and actors. The fibers last all day, don't clog pores, and also resist rain, sweat, and wind. You can also check this detailed review to know more about the final results after using this product.
Pros
Silica-free
Waterproof
Hypoallergenic
Ultra-light formula
No ammonium chloride
Not tested on animals
No alcohol, gluten, or parabens
Cons
Price at the time of publication: $36.95
These hair filler fibers are perfect for your thinning hair and balding spots. Get Back Gorgeous By Gen8 Hair Fibers does all that and also gives you a shiny texture that you so desire. It will look like your real hair, concealing perfectly because of the electrostatically charged feature. There are vivid shades available, giving you at least one perfect match for your original hair. And it is one of the best hair fiber products as it's made cruelty-free! Also, the brand claims to give you a 100% money-back guarantee if you are not satisfied.
Pros
Shiny texture
Conceals hair loss
100% undetectable
Non-clumping formula
Visible results in 30 seconds
Paraben and sulfate-free
Sweat and rain-resistant
Cons
Price at the time of publication: $17.95
If you are looking for hair fibers that give instant results, this product is one of the best for you! With this Infinity Hair Loss Concealer, you can cover the largest bald spots easily because of its thickening feature. Formulated with keratin protein, you get a 100% natural look. These black hair fibers come with a pump applicator that helps in easy application, locking the powder in place. For an honest review, you can have a look at this video by a haircare enthusiast.
Pros
Includes keratin fibers
Lasts for a week
For men and women
30-second solution
Resists rain, sweat, and wind
Cons
May not be suitable for light-colored hair
Now your hair can look healthier with a fuller, thicker hair look! Cuvva Hair Building Fibers will make your hair shiny and cover-up bald patches for a natural-looking appearance. It looks so natural and undetectable that you can make this hair fiber powder your regular go-to! These fibers are resilient to your sweat and even windy and rainy climatic conditions. No matter the ethnic diversity, these keratin hair fibers will be perfect for your hair camouflage needs. Even if you wear a toupee, it helps cover the hairline seams. It is also great for root touch-ups between your salon coloring treatments.
Pros
For all hair types
Statically charged fibers
Hides shiny bald patches
Dermatologist-tested
Available in 4 different colors
Instant coverage and volume
Comes with a packet of silica gel
Cons
Price at the time of publication: $21.95
Samson Hair Fibers are tiny particles that act like hair shafts, making your hair look fuller and darker. The fibers bond seamlessly with your hair, giving a natural-looking appearance. Even people who have recently gone through hair transplant can use these fibers to fill the gaps on their scalp. You can easily pull it off in the spotlight without giving it away. These ultra-lightweight hair fibers for thinning hair are great for all-day events as it stays put even through sweat, wind, or rain.
Pros
Lasts all day
Undetectable coverage
No irritation or allergies
Available in 11 colors
Comes in a reusable bottle
Electrostatic energizing process
Safe for hair undergoing medical treatment
Cons
Some people may find it flaky.
Price at the time of publication: $15.95
It can be annoying when hair fibers rub off on pillows or clothes. With Hair Illusion Hair Fibers, you can be assured that they not only do not stain, but also aren't flaky. The fibers last much longer if you wear a nightcap before sleeping. It is made of 100% natural fibers, giving your hair a fuller and thicker look. It also works discreetly on beards or thick, curly hair, making it perfect for multiple types of applications. It is a synthetic-free hair concealer for people, which makes it an ideal product or those who do not prefer chemicalized hair fibers. Pro tip: It works best with Hair Illusion hair fibers spray.
Pros
Non-staining
Non-flaky
Durable
Easy application
100% natural fibers
For all hair types
Shows results in 60 seconds
Cons
The tiny container may dispense a very small amount of product.
Price at the time of publication: $12.99
If you desire thick, fuller-looking locks, then the Hair Building Fibers by Minute Hair is the product for you. The product has a non-comedogenic formula that doesn't feel heavy on the scalp or clog your pores. The fibers are made from keratin protein which mimics your hair. It instantly concealed the areas where you experience hair loss. The best part is – it looks seamlessly natural when you opt for the right shade.
Pros
Instant results
Undetectable coverage
Blends easily
Non-comedogenic
Hypoallergenic
Easy to use
Cons
May not hold well without hair spray
Price at the time of publication: $15.99
Disguise your visible scalp using hair fibers such as this Boost N Blend Hair Fiber For Thinning Hair. It is formulated with 100% natural cotton, without any synthetic keratin base. This vegan product will lend you lush hair and radiate healthy hair quality. It is specially designed for women facing hair loss post-pregnancy or during menopause. Whether you are sweating during your gym exercise or it's raining, this hair fiber product can resist it all, sticking by your natural hair.
Pros
Vegan
Lends 10 times fuller hair
Provides gray hair coverage
Cotton fiber formula
Works in 20 seconds
Non-staining or smearing
Sweat, rain, and wind-resistant
Cons
Might not be suitable for sensitive scalp
Price at the time of publication: $34.98
Boldify Hair Thickening Fibers are perfect for hairline, crown, or temple bald coverage. The follicle-mimicking powder molecules deliver a natural-looking finish without any clumps. The fibers seamlessly blend and provide an undetectable finish, just the way you like it. The brand claims to provide a color-match guarantee too! These hair building fibers are cruelty-free and easy to apply, making it one of the best hair fibers in the industry. The best part is that it is a waterproof hair fiber product, great for your gym classes or hiking trips.
Pros
Long-lasting
Mishap-free
Cruelty-free
100% plant-based
Clump-free formula
No chemicals added
Cons
May not be suitable for wide coverage
Price at the time of publication: $22.45
Each hair building fiber has its own benefits. It might be confusing to pick the best hair fibers to conceal hair thinning and loss. In this buying guide, we have tried to clear all doubts that you might have about hair fibers.
Buying Guide
How To Choose The Best Hair Fibers Product
Choosing the best hair fibers is not as confusing if you know exactly what you are looking for. Here are a few intricate details to remember:
Color: The color of the fiber must match your hair. A black fiber might look good on black-brown hair, but the same hue might make a world of difference when used on other hair colors. Also, the color matters while covering graying or colored roots. All hair building fibers come in multiple colors.
Application: Not all hair fibers are easy to apply. While some take barely 30 seconds to settle in, others have a whole process of applying, dabbing, and spraying. Either way, you can select the one that best suits your needs. For example, for models who go for shoots, a quick applicator is important.
Ingredients: Any harmful ingredient will give you temporary results but long-term hair damage. Try to avoid silica, parabens, rayon, or sulfate formulas. Instead, go for 100% natural hair fibers or protein-based keratin fibers. You could also look for something that's vegan and cruelty-free.
Environment: Factors such as heat, humidity, rain, or wind directly affect the hair fibers. Get the product that resists all of that and delivers a concealing look at the same time. If you regularly go to the gym, perspiration-resilient hair fiber is essential.
Skin-friendly: It is not possible to use any product on a sensitive scalp. Irritation, scalp rashes, or burning sensation is often observed on those with sensitive skin. You can choose natural, hypoallergenic hair fiber for that. Make sure to test on a small patch of your skin for a day before applying it to the entire head.
How To Use Hair Fibers In The Right Way
Hair fibers come in different types of bottles, changing the way they are used. The three basic types are liquid, spray, and powder. The right way is to follow the instructions on the manual according to your hair type. Here are a few common steps you can follow:
Step 1: Spot the thinning and bald spots on your scalp or beard.
Step 2: Apply the hair fibers in the correct amount, good enough for it to adhere to your existing hair. Wait for a few seconds and dab them to spread evenly across the area. You can rely on the applicator to do the job well. If you use a hair thickening fiber spray, the application will not be messy.
Step 3: Keep a cloth on your forehead, perfectly in sync with the shape of your original hairline. Then sprinkle the hair fibers on the crown and temple accordingly. Let the color settle with your natural hair. The cloth helps prevent skin-staining.
Step 4: Use a hair spray that holds the hair fibers, making them stay longer, especially on the crown.
Why Trust Stylecraze?
The author, Kirtana Divakar, is a hair care enthusiast and loves to help her readers choose the appropriate hair care solutions. She listed the best hair fibers after reading several product reviews and customer feedback from trusted online sources and brand websites. These products can conceal your hair loss instantly, providing your hair a thicker, fuller, and natural look.
Frequently Asked Questions
Do hair fibers grow hair?
Hair fibers give your hair a fuller, thicker volume and a natural-looking texture. They do not promote hair growth.
Do hair fibers cause dandruff?
Natural or keratin protein-based hair fibers do not cause dandruff.
Are hair fibers bad for your hair?
Hair fibers conceal your thinning hair and bald spots. They are made of natural or keratin protein that do not harm your hair.
Can hair fibers cause hair loss?
Choose a product that is not made of harmful chemicals. In general, hair fibers do not cause hair loss.
Are hair fibers safe to use?
Yes, hair fibers are safe to use. They come with an applicator that makes it easy to use. If you have a sensitive scalp, choose a product that is hypoallergenic to avoid irritation or rashes.
Are hair fibers sweat-proof?
Most natural and keratin-based hair fibers are sweat, wind, or rain-resistant. Read the product description to double check before buying.
Recommended Articles