What Is A Hair Glaze? 10 Best Hair Glazes To Buy In 2023
These amazing hair glazes instantly make your lifeless tresses look glossy and healthy.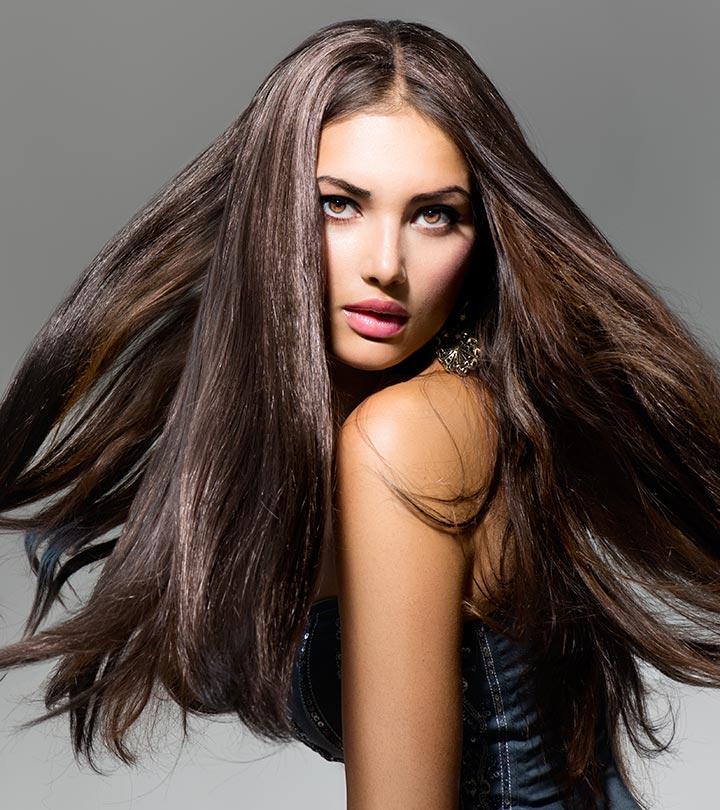 No matter how shiny your tresses are, everyone has bad hair days. Times like these call for reinforcements, and what better way to solve the problem than with the best hair glazes? These are miracle toners that infuse life into your locks and make them feel more luscious, glossy, and hydrated. Want to try it out? Here are all the facts you ought to know about this product.
What Is A Hair Glaze?
A hair glaze is a chemical hair treatment that contains water-soluble silicones that provide shine to hair. It can be tinted or clear and offers a semi-permanent color for your hair. It boosts the shine and simultaneously brightens your current hair color.
A hair glaze contains protective compounds that shield your hair against pollution and heat. It also moisturizes your hair and adds elasticity to each strand. It can be used to groom and style your hair.
Hair glaze contains ceramides that penetrate the hair cuticles to seal the surface. This way, your hair becomes soft, bouncy, and shiny in just one use. Usually, these treatments last for up to two weeks.
While these treatments are used in salons, you can also do them yourself at home. Here, we have rounded up a list of 10 best hair glazes you can choose from.
10 Best Hair Glazes You Need To Try Right Now
Got lifeless hair that is severely damaged? Try John Frieda Luminous Glaze Clear Shine Gloss to restore shine and silky texture to your hair. This nourishing color glaze is infused with mild dye and shine boosters that increase the depth and vitality of each strand. It is a non-permanent hair color, and it will neither lift nor lighten your current hair color, yet it imparts a luminous glow to color-treated hair. This salon-inspired product adds intense shine to your hair while the pore-menders fill in the damaged areas in the cuticles and deliver a polished, even surface. You may check this video of the tester's experience for a better understanding of this product.
Pros
Safe for natural and colored hair
Free of ammonia and peroxide
Can be used as a pre-wash treatment
Processes quickly
Cons
Price at the time of publication: $9.72
Kenra's Curl Control Glaze imparts shine to each strand and adds definition to it for a multi-tonal dimension. It controls frizz and protects your hair against humidity. It softens your locks and leaves you with visibly shiny and ultra-silky hair. It is a non-drying formula that provides a 60-hour hold, making your hair more manageable and smooth. It also helps extend the longevity of your hair color.  This frizz-control formula provides thermal protection up to 450° F. This video review of the tester's experience will help you learn more about the product.
Pros
Adds volume
Ideal for limp and fragile curls
Tames unruly curls
Provides you with highly defined curls
Not tested on animals
Cons
Price at the time of publication: $19.99
This conditioning glaze is formulated with Oribe's signature complex – a blend of watermelon, lychee, and edelweiss flower extracts. These ingredients defend your hair against oxidative stress, aging, and dryness. They restore depleted natural keratins and improve your hair's vitality and elasticity. The formula contains quinoa protein that prevents your hair color from fading and gives it a vibrant color. It also contains a blend of passionflower and cupuacu that strengthens and protects dry and brittle hair. This hair glaze delivers intense shine that continues to improve with use. Dawna Jarvis, Licensed Cosmetologist, says, "This is a top-selling product in our salon. It works amazingly on color-treated hair."
Pros
Does not weigh your hair down
Vegan and cruelty-free
Enhances your highlights
Leaves your hair soft, smooth, and silky
Cons
Price at the time of publication: $58.0
CHI Volume Booster Liquid Bodifying Glaze is infused with ionic and cationic hydration interlink technology that helps build strength and resilience in your hair. It provides volume, body, and thickness to your hair. It protects your hair from the daily use of heat styling tools. This heat protection glaze also allows you to create multiple textures with a long-lasting, flexible hold. This weightless formula adds incredible shine to dull and lifeless hair.
Pros
Free of parabens
Adds volume that lasts for days
Ideal for thin and dry hair
Controls frizz
Cons
Price at the time of publication: $38.99
Scruples Enforce Extra Firm Sculpting Glaze is infused with a protective barrier complex that helps create a body with an extra firm hold that lasts all day and night. It molds and shapes your hair by adding definition and texture to your tresses. It moisturizes your hair and protects it against humidity. This non-sticky formula can be used as a setting lotion for long-lasting style.
Pros
Water-soluble formula
Adds volume to your hair
Controls frizz and tames unruly hair
Gives your hair body and manageability
Cons
This alcohol-free formula is a thickening fluid that adds body and long-lasting luminous shine to your hair. It adds definition to your hair and delivers a reflective shine to it. It controls static and protects your hair against humidity. The formula is powered with anti-aging properties that keep the shine from fading away. It works well on curly to wavy hair types.
Pros
Color safe
Free of sulfates and parabens
Contains thermal and UV protectants
Reduces breakage
Does not weigh your hair down
Cons
Price at the time of publication: $17.96
Ouidad Shine Glaze Serum is created especially to add luminosity to curly hair. The formula is infused with shimmer-enhancing micro-crystals that add a reflective, brilliant shine to each strand. It is light and water-soluble and does not weigh your hair down. This non-greasy hair glaze is a perfect product for styling and shaping your curls. It can be used to quickly fix unruly hair and smoothen out frizz and flyaways. This gloss serum keeps hair soft and silky without overdrying.
Pros
Requires a little product per use
Ideal for curly to kinky hair
Adds long-lasting shine
Cons
Price at the time of publication: $20.0
This color-boosting hair mask is created especially for color-treated hair. It claims to preserve your hair color and deeply nourish the cuticles. It conditions your hair and adds a vibrant shine to it. The formula is powered with exotic and nourishing ingredients like musk rose oil and goji berry extract that deeply nourish the hair fiber and prevent your hair color from fading. This product can be used as a weekly treatment on fine hair.
Pros
Nice fragrance
Suitable for all hair types
Provides a polished look
Long-lasting results
A little product goes a long way
Cons
Price at the time of publication: $82.99
The Eufora Style Sculpture Light Styling Glaze offers a frizz-free hold for styling all hair types and textures. The gentle formula manages and controls dry and damaged hair effectively. It leaves hair appearing shinier, frizz-free, and keeps it fresh throughout the day. This non-greasy formula helps eliminate flaking and dullness and also helps in repairing the roots from within. The composition of natural oils energizes the follicles and locks in hydration.
Pros
Non-greasy
Lightweight
Micro-fine finish
Long-lasting
Flake-free
Gluten-free
Cons
Price at the time of publication: $33.5
The L'ANGE HAIR Glazé Hair Lotion is a professional hair styling product that works effectively on all hair types and textures. Its gentle formula deeply moisturizes and locks in shine for smoother-looking hair and helps enhance the natural color of the hair. The antioxidant-rich formula works well to retain volume and tame frizz for a radiant finish. The powerful composition of natural and nourishing ingredients in this professional styling glaze, such as jojoba oil and sunflower seeds, help replenish hair and impart nourishment. Jojoba oil imparts much-needed moisturization and sunflower seed extracts help combat against free radical damage. The formula also offers tangle- and frizz-free tresses with an ultra-dewy, salon-quality finish. Many reviewers mentioned that they gave their thin hair voluminous, shiny, controlled frizz, without making their hair feel greasy.
Pros
Natural ingredients
Moisturizing formula
Offers dewy finish
Adds volume
Paraben-free
Cons
Price at the time of publication: $19.5
Things To Consider Before Buying The Best Hair Glazes
Hair Health: Choose a hair glaze that imparts both shine and strength to your strands. It must reduce breakage and make the follicles soft. Pick a products that gets rid of frizz and tangling to make the hair more manageable.
Protection: look for products that protect your hair from all external pollutants. These include heat, UV radiation, and dirt. The best glazes keep the hair hydrated from root to tip. This ensures a polished look and protects the scalp from drying which helps to reduce hair fall and thinning. It gives strength to dried and lifeless hair, making it silky, shiny, and vibrant in texture. "Using a glaze on your hair will keep it shiny and soft," says Dawna Jarvis, Licensed Cosmetologist.
Ingredients To Avoid: ensure that all your hair care products are free from harmful chemicals. Avoid any traces of ammonia, peroxide, paraben, phthalate, and sulfate. Such chemicals take off the natural moisture from your scalp and weigh down the hair strands. They render the hair weak, brittle, and vulnerable to breakage. Many people also prefer hair glazes that are gluten-free, vegan, and are cruelty-free. You can also get your hands on clinically-proven ingredients to see the best results without any potential irritation. Watch video reviews about the ingredients and formulation and how it will suit your skin.
Long-Lasting Impact: choose products that keep the hair shiny and smooth for a long time. The glaze should add volume to your hair strands. Pick products where you require to apply less amount of hair gloss. Look for natural ingredients such as lactic acid, vitamins, and essential oils. These help to improve hair health and make the strands nutrient-rich after every use.
Other Features: use hair glazes that have a mild and pleasant natural scent. The glosses with an overpowering smell can prove irritating. Look for non-sticky or non-greasy products that leave no residue on the strands. The product must be cost-effective, good quality, and not cause any undesired side-effects on your scalp or strands. Look for clinically tested formulations to avoid side effects.
Why Trust Stylecraze
The author of this article, Pooja Karkala, is a haircare connoisseur who enjoys experimenting with the latest products. After scavenging multiple websites and user reviews, she has shortlisted some of the best hair glazes. You can pick the one that would suit your hair type the most by reading the detailed description along with the pros and cons for each product shared in this post.


Recommended Articles: