7 Best Hair Growth Inhibitors – 2020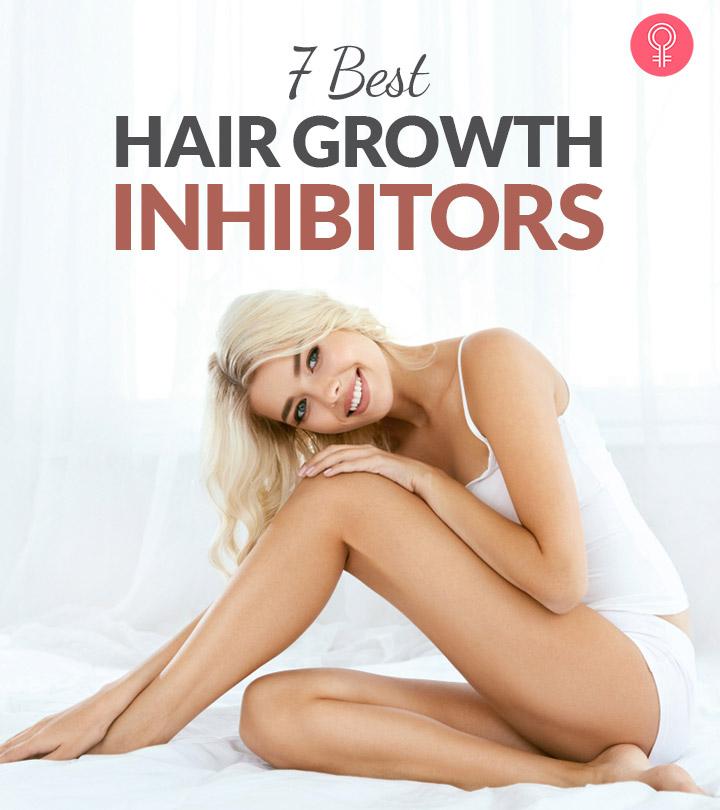 Hair removal methods like shaving, hair removal creams, laser treatments, waxing, sugaring, and threading remove hair with varying results. However, your hair starts to regrow quickly, and sometimes it is not possible to remove it frequently. A hair growth inhibitor is a perfect solution to this problem. Not only does it delay hair growth, but its continuous usage also helps in removing ingrown hair over an extended period of time.
Hair growth inhibitors are topically applied on the skin in conjunction with other hair removal methods to keep your skin free from excess body hair. They work best after removing hair and take some time to show tangible results. These inhibitors deplete the supply of nutrients to the hair follicles which leads to reduced hair growth. Hair growth inhibitors have been known to work better on light hair than dark hair. They also tend to be more effective in removing facial hair which is shorter and finer.
In this article, we have reviewed the 7 best hair growth inhibitors currently available. Keep reading to learn more about the pros and cons of each product so you can choose the one that best suits you!
7 Best Hair Growth Inhibitors
Completely Bare Don't Grow There Body Moisturizer & Hair Inhibitor is innovative and highly effective. It contains CB Tri-complex and Capislow that help reduce your need for frequent hair removal. Capislow is proven to reduce hair density, hair length, and hair growth. It is made with natural ingredients like the extracts of lemongrass, green tea, white willow bark, and shea butter. These natural plant extracts help in decreasing the growth of hair follicles. Shea butter hydrates and nourishes the skin, leaving your skin feeling soft and smooth for a long time. This body moisturizer and hair inhibitor also contains powerful anti-inflammatory ingredients to prevent razor bumps and soothe your skin. The blend of essential oils in it protects the moisture barrier of your skin.
Pros
Lightweight
Cruelty-free
Moisturizes skin
All-natural ingredients
Paraben-free
Phthalate-free
Hypoallergenic
Vegan
Cons
Similar Products
Matt Miller StopHair Hair Reducing Spray mimics the process of male pattern baldness to reduce hair growth. Its unique patented blend saturates the hair follicles to naturally inhibit hair growth. This clear, odorless topical solution reduces the nutrient concentration in the hair follicles to stunt hair growth. This hair inhibitor was developed by Matt Miller (an Australian chemist) with all-natural ingredients such as citrus extracts, special enzymes, and purified plant extracts. These intensely moisturizing ingredients help in hydrating the skin. They also have antibacterial properties. This spray is safe to use anywhere on the body after any hair removal method (waxing, laser, epilation, depilation, shaving, hair removal cream, etc.). StopHair's formula is gentle on your skin and can be used on sensitive areas like the bikini line. This is a natural permanent hair removal method that is effective on both men and women.
Pros
Easy to use
Reduces hair thickness
Natural ingredients
Clinically tested
Vegan
Cruelty-free
Suitable for sensitive skin
No harsh chemicals
Free of artificial dyes
Cons
Takes up to 12 weeks to show results
Does not remove hair permanently
Similar Products
GiGi SlowGrow Hair Minimizer is another effective aftercare treatment. It is infused with ingredients like natural papaya enzymes, argan oil, and other botanical extracts that naturally reduce hair growth by inhibiting the growth of hair cells. Its special anti-keratinization formula will make the hair finer and easier to remove when waxing. It prevents stubble, bumps, and spiky ingrown hair and leaves your skin feeling smooth and silky. This gentle lotion is moisturizing and restores the skin's optimal pH level. This odorless, non-greasy lotion can be applied daily to stop the hair from growing back quickly. This is one of the best hair inhibiting products available to get rid of unwanted pubic hair. The natural moisturizers in this lotion help in keeping your skin soft and smooth.
Pros
Non-greasy
Gets absorbed quickly
Slows down the formation of new hair
Moisturizes the skin
Contains natural botanical Ingredients
Cons
Contains parabens
Not suitable for sensitive skin
Similar Products
Vivostar Hair Inhibitor is a safe and effective way to reduce hair regrowth. Since it is made with natural ingredients, it does not irritate the skin. It contains natural essential oils that reduce hair regeneration and regrowth. The white magnolia flower extract in it is an astringent, anti-allergic, and anti-inflammatory agent. The Alchemilla vulgaris extracts help in reducing pigmentation, which is helpful for treating dark spots that appear after hair removal. Finally, hyaluronic acid provides intense hydration to make your skin look soft and supple. This non-irritating inhibitor spray is safe and can be used daily to prevent hair regrowth. Using it for a month will get rid of unwanted and excess body hair. Vivostart Hair Inhibitor works better on light, fine hair than thicker, longer hair. It reduces hair growth without any side effects.
Pros
Easy to use
Natural permanent hair removal
Does not cause skin irritation
Painless
Does not cause black spots
Smoothens the skin
Prevents hair regeneration
Cons
Similar Products
Pinpoxe Hair Growth Inhibitor serum spray has a unique formula to reduce hair growth after hair removal. It can be used in conjunction with any hair removal method (waxing, laser, epilation, depilation, shaving, hair removal cream, etc.) to slow the hair regrowth process. The active ingredients in it reduce the hair shaft width and interfere with hair's natural growth. The antibacterial agents in this serum protect, nourish, and moisturize the skin. This hair growth-inhibiting serum spray is safe enough to use on the delicate bikini area to reduce pubic hair. The purified plant extracts in it naturally inhibit the nutrients from reaching the hair follicle, thereby delaying hair growth. The essential oils in this formula also help in reducing the hair density. The serum oil helps keep the skin smooth and soft. This unisex hair inhibitor is safe and effective on all parts of the body. Using this spray over a period of time will help in preventing the growth of unwanted body hair.
Pros
Vegan
Hydrates the skin
Smoothens the skin
Delays hair growth
Cruelty-free
Does not cause irritation
Gentle formula
Cons
Expensive
Takes time to show results
Similar Products
Nisim Kalo Post Epilating Spray is a safe hair growth inhibitor that works effectively on both men and women. It helps in preventing 10% of the hair from growing back after using any hair removal method. The spray is gentle to remove facial hair from the upper lip, chin, and around the eyebrows. It can be used to prevent or reduce hair growth on all parts of the body like arms, back, legs, underarms, and chest. You will notice results after about 2-3 hair removal sessions. The hair inhibitor gets rid of the fine, light hair that grows after hair removal. Each subsequent use slowly weakens and reduces hair growth until it stops growing permanently. It can take up to 10-15 sessions to remove hair completely.
Pros
Noticeable results in just 2-3 uses
Soothing and effective
Natural ingredients
Convenient spray bottle for effortless application
Safe on all body parts
Suitable for all skin types
Cons
Contains parabens
Strong fragrance
Use Smooth Hair Inhibiting Spray for lasting results after hair removal by waxing, shaving, laser treatments, or depilatory creams. It contains natural ingredients that make it safe to use even on sensitive areas, such as the bikini line, without causing irritation, burning, or breakouts. The hydrating and antibacterial plant and citrus extracts in it moisturize and protect the skin. The spray reduces nutrient availability to the hair follicles, resulting in reduced thickness and growth of hair. Its continuous use reduces hair growth permanently. This gentle liquid formula leaves the skin soft and smooth without any unsightly film or residue.
Pros
All-natural ingredients
Lasting results
Easy to use
Mess-free application
Easy to apply
Cons
Most inhibitors use botanical extracts that show limited results or take a long time to show results. However, they are a safer alternative to harsh toxic chemicals that can cause skin irritation and damage. Most inhibitors contain antibacterial agents and provide hydration to leave your skin silky smooth and hair-free. Try out a product from this list and let us know about your experience in the comments section below!
Recommended Articles