15 Best Hairstylists Reviewed Hair Growth Oils For Long Strands – 2023
Boost hair volume and strengthen your strands with nourishing hair oils.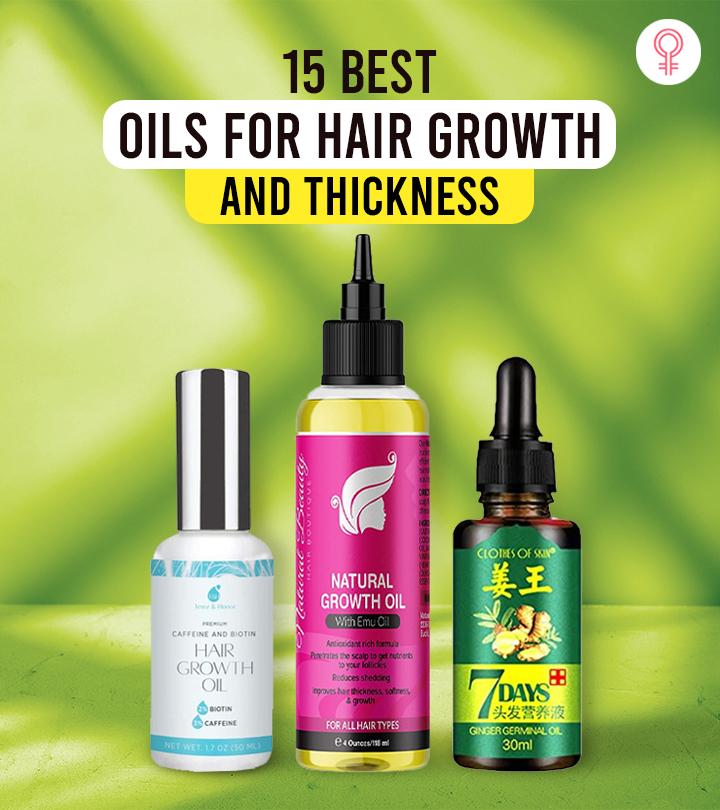 The goal to flaunt long, thick hair is one that we all share in common. While a healthy diet and a good hair regimen are critical to great hair, exposure to pollution can lead to frequent hair loss. To tackle this, using the best hair growth oils can stimulate hair growth and enhance thickness. With a wide range of oils available out there, we have handpicked some of the best products to give you voluminous and healthy hair. They have received numerous positive reviews from customers on various forums. So, go ahead and give this article some attention and your hair some love!
The 15 Best Hair Growth Oils For Thicker, Longer Strands – 2023
The Wild Growth Hair Oil is a hair regrowth treatment that nourishes the scalp and hair. It acts as a conditioner that helps your hair become softer and less brittle. It also helps detangle your hair easily, creating an easier comb-out experience and resulting in less breakage and split ends. This hair oil also helps reduce the time you spend blow-drying your hair, which means it minimizes damage to your hair.
Key Ingredients: Olive Oil, Jojoba Oil, Coconut Oil, Vitamin D
Pros
Lightweight
Softens the hair
Non-greasy
Delivers fast results
Suitable for all hair types
Cons
The Essy Naturals Hair Growth Oil nourishes and strengthens thinning and weak hair and makes it smoother and shinier with less frizz and breakage. This hair oil is filled with vitamins, antioxidants, and nutrients that effectively stimulate stronger and faster hair growth. It is ideal for both men and women. It contains castor oil, which is filled with omega-6 essential fatty acids, minerals, proteins, and vitamin E. It is a natural antibacterial and antifungal oil that promotes healthier and stronger hair. It acts as a hair growth stimulant and also contains caffeine compounds that stimulate the hair follicles to speed up hair growth.
Key Ingredients: Castor Oil, Caffeine Compounds, Rosemary Oil, and Biotin
Pros
Cruelty-free
Sulfate-free
Paraben-free
Suitable for all hair types
Mild scent
Soothing effect on the scalp
Cons
The Mamaearth Onion Oil For Hair Growth & Hair Fall Control helps battle hair loss and restores the nutrients lost due to exposure to pollution and harmful chemicals. It contains onion oil and Redensyl that work synergistically to encourage new hair growth. Bhringraj oil and almond oil nourish the scalp. A vast blend of nourishing oils – such as sunflower oil, amla oil, and hibiscus oil – also help make your hair strong from the inside and shinier on the outside.
Key Ingredients: Onion Oil, Redensyl, Bhringraj Oil, Almond Oil, Sunflower Oil, Amla Oil, and Hibiscus Oil
Pros
Dermatologically tested
Sulfate-free
Paraben-free
Hypoallergenic
Safe for chemically-treated hair
Non-sticky
Cons
The Mane Choice Hair Growth Oil is a multivitamin scalp nourishing oil that is the perfect blend of vitamins and essential nutrients. It is formulated to support natural hair growth and retention. This formula is enriched with vitamins C and D and nourishing oils that help revitalize and restore your hair to make it healthier, longer, and thicker. This natural oil blend stimulates hair growth from the roots and nourishes the scalp without adding extra weight or a greasy feeling. It also improves your overall hair quality and reduces shedding and breakage.
Key Ingredients: Castor Oil, Jojoba Oil, Sunflower Seed Oil, and Soybean Oil
Pros
l Suitable for all hair types
l Lightweight
l Just a little product required per use
l Pleasant fragrance
Cons
The Kaleidoscope Miracle Drops Hair Growth Oil is an amazing hair treatment for hair growth and regrowth as it prevents hair loss and is made from all-natural ingredients. This hair growth treatment product is formulated to help with hair loss, hair thinning, breakage, dry and itchy scalp, alopecia, psoriasis, and seborrheic dermatitis. This oil cleans and heals the scalp with tea tree oil. It contains natural, nourishing ingredients like peppermint oil, Aloe barbadensis leaf extract, ylang-ylang, geranium, and vitamins, A, D, and E.
Key Ingredients: Tea Tree Oil, Peppermint Oil, Aloe Barbadensis Leaf Extract, Ylang Ylang,
Geranium, Vitamins, A, D, and E.
Pros
Gets absorbed quickly
Non-greasy
Combats dry scalp
Lightweight
Cons
May irritate sensitive scalp
The GENIUS STEM Hair Growth Oil works by naturally activating the dormant hair follicle germ tissues on the scalp. It promotes rapid growth thanks to the bio-active nutrients and unique organic ingredients present in its formula that are essential for hair growth. This nourishing growth oil strengthens thinning and weak hair and creates noticeably thicker, fuller, and healthier hair. It also makes your hair much smoother and shinier with less frizz and breakage.
Key Ingredients: Biotin
Pros
Cruelty-free
Paraben-free
Sulfate-free
Nourishes the scalp
Reduces frizz
Cons
The Bronner Brothers Tropical Roots Growth Oil contains natural ingredients from plant herbs and oils, including the tropical goodness of pineapple and guava that help stimulate hair growth. This oil seals in shine and moisture, keeps your hair frizz-free, and adds a natural luster to it, making it perfect for managing frizzy hair. This lightweight hair oil is suitable for all hair types, though it is best for starting and maintaining braids, locks, and twists.
Key Ingredients: Pineapple and Guava
Pros
l Paraben-free
l Lightweight
l Pleasant fragrance
l Ideal for braids and dreadlocks
Cons
Not suitable for all hair types
The Terez & Honor Hair Growth Oil is great for making thinning and weak hair noticeably thicker, fuller, and healthier. It also reduces frizz and breakage significantly. This anti-thinning, hair growth oil contains caffeine compounds that stimulate the hair follicles to speed up the hair growth process. It also contains biotin that aids hair growth. The oil is packed with other nourishing ingredients like olive, castor, coconut, and rosemary oils that promote healthier and stronger hair. Additionally, this potent formula is not tested on animals, making it an ethical option.
Key Ingredients: Caffeine Compounds, Biotin, Castor Oil, Rosemary Oil, Coconut Oil, Olive Oil
Pros
Suitable for all hair types
Prevents split ends
Replenishes the scalp's natural oils
Non-sticky
Cons
The Difeel Premium Hair Oil is infused with the goodness of rosemary oil, mint oil, and biotin to strengthen the locks. This is an invigorating formula that boosts hair growth and adds ease and shine to your hair. This strengthening hair oil helps repair damaged hair from deep within the roots. This blended formula locks in moisture and softness with the presence of natural oils. The biotin in the formula promotes hair health and tames frizziness. Its non-greasy consistency is made with select, power-packed natural ingredients and is devoid of any harmful chemicals.
Pros
Natural ingredients
Helps in promoting hair shine
Sulfate-free
Phthalate-free
Paraben-free
Color-safe formula
Cons
The Kate Blanc Cosmetics Castor Oil is made of pure, cold-pressed castor oil to boost hair growth and replenish hair roots. The gentle formula helps grow longer and thicker hair easily. It functions as a natural hair treatment option for brittle hair and a dry scalp. The oil is a potent blend of the natural properties of castor oil that add to volume and prevent the growth of dandruff. This oil is multipurpose and can be used for boosting hair health, eyebrow volume, and nail growth too.
Pros
Organic formula
Offers anti-aging benefits
Lightweight
Reduces hair breakage
Hexane-free
Cons
The Life & Pursuits Bhringraj Hair Growth Oil provides deeper nourishment for radiant hair and a healthy scalp. A gentle massage with this oil can function as a great scalp therapy and replenish the roots with much-needed nutrition. This hair oil is a potent blend of rich oils infused with natural herbs to enhance hair health. The key ingredient, bhringraj oil has proven efficacy in preventing hair fall and nourishing the hair roots. The amla extract in the formula works as a conditioner, while the hibiscus extract stimulates hair growth. The neem and methi extracts enhance hair growth rate, while ginger extract offers relief from dandruff. The formula improves the overall volume and texture of your hair. This oil can also act as a natural moisturizer for glossy, flake-free hair.
Pros
Nourishing formula
Helps in improving hair texture
Provides dandruff treatment
Natural ingredients
Offers glossy finish
Flake-free
Vegan
Cruelty-free
Paraben-free
GMO-free
Cons
The Aliver Rosemary Essential Oil is made with natural hair growth ingredients, with no artificial additives or harmful chemicals. This organic formula boosts hair growth if you gently massage it on the scalp for deep nourishment. Its regular application purifies the scalp and enhances the hair follicles. This power-packed oil also helps control excessive sebum production and adds shine to dry hair. Also, It is suitable for all hair types and serves multi-functional purposes such as aromatherapy and skin care.
Pros
Organic formula
Minimize gray hair
Improves blood circulation
Reduces dandruff
Cons
The Indie Earth Red Onion Oil is a 100% natural and pure product that promotes hair growth and reduces scalp problems like dandruff. The red onion present in this oil is a great source of sulfur and amino acids, which are components of keratin. Keratin is known to be a sulfur-rich nutrient that is needed for growing strong and thick hair. It, thus, stops hair loss and promotes hair growth. Sulfur also helps to promote collagen production, which, in turn, helps the production of healthy skin cells and hair growth.
Key Ingredients: Red Onion Extract,  Sunflower Oil, Argan Oil, Jojoba Oil, Hibiscus Extract, Aloe Vera, Indian Gooseberry, Curry Leaf, Ginseng Extract
Pros
Lightweight
Soothing effect
Mild fragrance
Non-greasy
Cons
Not suitable for sensitive scalp
Flaunt your luscious and voluminous locks with the Wild Growth Hair Oil, a product highly praised by many reviewers. It is enriched with a potent blend of hair oils, herb extracts, and essential oils, that work deep into the roots to strengthen and moisturize. A gentle massage with this oil can function as a scalp health therapy that boosts the rate of natural hair growth. The oil promotes frizz-free, detangled, and thicker locks. The rich plant-based formula hydrates and softens hair, while making detangling easier. It makes the tresses less prone to split ends and hair breakage.
Pros
Natural ingredients
Moisturizing formula
Lightweight
Silicone-free
Mild fragrance
Cons
The Herbal Nutrition Labs Hair Growth Oil can stop hair loss quickly. It is the best oil for hair loss, regrowth, and thinning edges for black women. This hair oil is great for getting longer, thicker, and stronger hair.It also causes less breakage.
Key Ingredients: Organic Cow's Milk, Organic Indian Gooseberry, Organic Bhringraj, Organic Sesame Seed Oil, and Organic Licorice
Pros
Pleasant fragrance
Non-greasy
100% organic
Fast-absorbing oil
Cons
Why Trust StyleCraze?
The author, Oyendrila Kanjilal, is well-versed in hair care. She has researched the best hair growth oils and browsed through online reviews to curate the perfect list for her readers. Her well-researched article ensures high-quality hair growth oils, which are non-greasy, lightweight, and suitable for every hair type. Not only are these oils cruelty-free, but they're also mildly scented and safe for chemically treated hair.
Frequently Asked Questions
Do hair growth oils really work?
Yes, but not all hair growth oil works for everyone. It is important to try out different products before choosing one that really works on your hair type. It's important to remember that it can take 6-8 weeks of use before you can see visible results.
Does castor oil aid hair growth?
Castor oil is rich in ricinoleic acid, which is a type of fatty acid that fights inflammation. When applied to the scalp, it enhances the health of the hair follicles and, in turn, promotes hair growth.
Why is my hair not growing?
Hair can stop growing or grow slowly for various reasons like age, genetics, hormones, or stress. Evaluating your lifestyle or a shift in your regular lifestyle can help determine and solve your hair growth problem. Split ends will also result in breakages, leading to loss in hair growth. Regular small trims will keep your hair healthy and allow your hair to reach its maximum length potential.
At what age does hair stop growing?
Hair does not stop growing when it reaches a specific length. The growth phase of hair is generally determined by genetics and can last anywhere between two and six years.
Can we use hair growth oil daily?
Yes, you can use your hair growth oil daily if your tresses are too dry.
Can I apply hair growth oil to wet hair?
Yes, you can use your hair growth oil on wet hair. Applying it on wet tresses nourishes them and protects them from frizz.
Recommened Articles