8 Best Hair Growth Serums Available In India
Get stronger and longer locks with hair growth-supporting formulas.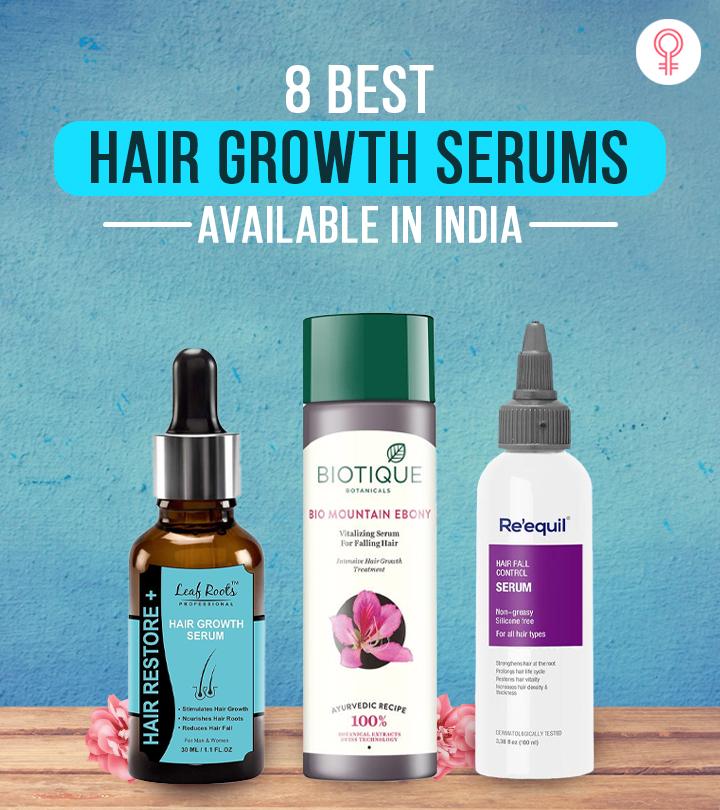 Stress, pollution, hormones, climate, water quality – any or all of these factors affect hair growth. With increasing levels of these factors, hair issues like pattern balding, alopecia, and hair thinning are becoming prevalent in all age groups. But you can control this domino effect by introducing hair growth serums to your existing hair care routine.
Hair growth serums are oil- or water-based treatments that contain high-quality growth-boosting ingredients to naturally stimulate dormant hair follicles. They also treat underlying scalp conditions and prevent hair breakage and hair loss in women and men. If this is just what your hair needs, scroll down to find the 8 best hair growth serums in India.
8 Best Hair Growth Serums Of 2023 You Should Try
The Bio Mountain Ebony Vitalizing Serum from Biotique stimulates new hair growth by nourishing the roots, follicles, and scalp. It soothes flaky, dry scalp and relieves irritation and itching.
This intensive hair growth serum is formulated with mountain ebony extracts that have stimulating and scalp-healing properties. They also have natural astringent and antibacterial properties. The serum also contains pure extracts of long pepper, glycyrrhizin, neem, mulethi (licorice), lac tree, and mint (pudina).The base of natural Himalayan water helps cleanse your scalp and hair shafts of pollutants, dust, and grime.
Key Ingredients: Mountain ebony stem, Pudina oil, Kusumbhi oil, Neem bark, Long pepper (Pippali) fruit, and Mulethi stem
Pros
Pleasant smell
Suitable for daily use
Non-greasy
Unisex
Cons
May dry the hair out
May cause hair fall when discontinued
Contains sulfates
The Biotin Hair Growth Serum by PUREAUTY Naturals combines the revitalizing power of biotin with potent botanicals to naturally boost hair growth. It contains a proprietary formula with follicle-stimulating ingredients like wheat germ extract, pro-vitamin B5, vitamin E, soy amino acids, and pea sprout extract.
These ingredients get directly absorbed into the scalp, cuticles, and hair strands and provide essential amino acids, fats, and nutrients to rebuild and strengthen the new and existing hair fibers. This increases hair retention and controls hair fall and breakage. This hair growth serum leaves hair looking healthy, thick, soft, and well-styled with regular use.
Key Ingredients: Biotin, Panthenol, Lactic acid, Soybean extract, VitaminE, and Peppermint oil
Pros
Cruelty-free
Revitalizing scent
Easy to apply
Absorbed quickly
Lightweight
Cons
The Re'equil Hair Fall Control Serum is a lightweight, oil-free formula that easily penetrates the scalp to nourish the hair roots. Its active ingredients, Cressatine® (watercress and Indian cress extracts) and Aminexil, stimulate hair growth and keep more hair follicles in the growth stage, increasing hair density. They inhibit the production of DHT, which is the primary cause of hair loss.
The horse chestnut extract and biotin improve blood circulation to the hair shafts and aid cell regeneration and hair growth. This hair fall serum is dermatologically tested and free of parabens, sulfates, mineral oil, and silicones. It is certified safe on all hair types and has not been tested on animals.
Key Ingredients: Cressatine, Aminexil, Horse chestnut seed extract, and Biotin
Pros
Paraben-free
Silicone-free
Dermatologically tested
SLS-free
Unisex
Lightweight
Mineral oil-free
Cruelty-free
Cons
Sticky
May make the hair dry and frizzy
The anveya Hair Growth Vitalizer contains Redensyl®, an award-winning, patented ingredient that promotes intensive hair growth. It activates the hair stem cells to begin new growth cycles, restoring hair volume and density.
This serum also contains nourishing botanicals like argan oil, hydrolyzed wheat protein, green tea extract, and chamomile oil. These revitalize hair strands and control breakage and hair fall.
This product does not contain harmful chemicals like parabens, SLS/SLES, alcohol, mineral oil, ammonia, or petroleum. It is recommended to use it every day before going to bed for about three months.
Key Ingredients: Redensyl®, Argan oil, Green tea extract, Chamomile oil, and Hydrolyzed wheat protein
Pros
Silicone-free
Sulfate-free
Lightweight
Paraben-free
Alcohol-free
Mineral oil-free
Unisex
Ammonia-free
Cons
Expensive
Overwhelming fragrance
The TRICHOEDGÉ Hair Serum from derma Essentia is formulated using Advanced Swiss Noval Technology to promote hair regeneration. It contains clinically proven, dermatologically-tested ingredients, including Redensyl®, Hairgenyl, Cressatine, basil root extract, coconut oil, larch wood extract, and Aloe vera extract that soothe and nourish dry scalp and follicles to control hair thinning and loss.
Redensyl®boosts the dermal papilla cells and reactivates the hair follicles to stimulate hair growth. Hairgenyl is rich in peptides that arrest hair loss, stimulate regrowth, and increase hair density,  while Cressatine prolongs the growth phase of the hair stem cells while strengthening the existing hair shafts. Basil root and larch wood extracts regulate hormonal imbalances to support hair regeneration. This lightweight serum does not contain sulfates, parabens, or mineral oil.
Key Ingredients: Redensyl®, Hairgenyl, Cressatine, Basil root extract, Sunflower seed oil, Coconut oil, and Larch wood extract 
Pros
Non-greasy
Cruelty-free
Dermatologically tested
Paraben-free
Sulfate-free
Unisex
Cons
Worsens dandruff
Leaves thick residue
Hair Lift by ENN is a non-greasy hair growth serum that restores the moisture and nutrient balance in your scalp and hair fibers. It contains rosemary oil, cedarwood, and argan oil that have distinct promotive roles. Rosemary oil, along with lavender and peppermint oil, has anti-inflammatory and relaxing effects on the scalp and follicles. They improve blood circulation and treat dry scalp issues. Cedarwood extract regulates the sebum/oil secretion and controls hair fall and infections.
Argan oil, with its essential fats and vitamin E content, enhances hair elasticity and restores shine to lifeless hair. This uplifting serum prevents premature graying and addresses the specific concerns of mature, aging hair. Its unique, vegan formula is made without parabens, GMOs, and harmful chemicals and is cruelty-free.
Key Ingredients: Cedarwood extract, Rosemary oil, Peppermint oil, and Argan oil 
Pros
Lightweight
Vegan
Non-greasy
Leaves no residue
Paraben-free
No GMO
Cruelty-free
Has anti-graying properties
Defines waves and curls
Cons
None
The Folirich Hair Growth Serum by Regaliz is enriched with peptide complexes that naturally boost scalp health and hair growth. These amino acid complexes work on strengthening the hair follicles and preventing their aging. They augment hair shaft anchorage to the activated follicles, resulting in longer, healthier, and rapidly growing hair.
These complexes also soothe inflammation in the scalp and inhibit pathways responsible for alopecia and patterned baldness. This revitalizing serum improves circulation in the follicles and elasticity in hair fibers. This drastically reduces the rate of hair loss and breakage. Using this hair growth serum regularly for about three months can reduce chronic hair loss in men and women.
Key Ingredients: Acetyl tetrapeptide-3 and Biotinyl tripeptide complex, Apigenin, Oleanolic acid, Biochanin A, and Amino acid complex
Pros
Pleasant scent
Prevents alopecia
Easily absorbed
Dermatologist-recommended
Cons
None
If you are looking for a hair growth serum with all-natural ingredients, the Leaf Roots Hair Growth Serum is the best option. It promotes intensive hair growth with red onion extract, curry leaves, biotin, cedarwood oil, and hibiscus extract.
The serum contains anti-inflammatory and soothing oils of rosemary, tea tree, grapeseed, bhringraj, along with fenugreek, brahmi, and neem extracts. These treat dry, itchy scalp and nourish the follicles. Moisturizing oils from coconut, olive, avocado, olive, black castor, argan, and jojoba penetrate the hair shafts and restore the growth and elasticity of old and new hair. With regular use, this serum turns your hair smooth, soft, thick, and healthy.
Key Ingredients: Biotin, Cedarwood oil, Hibiscus extract, Red onion, Argan oil, Curry leaves, and Avocado oil
Pros
Non-sticky
Adds shine
Unisex
Cons
None
The above-listed hair growth serums stimulate hair follicles to support the growth of new hair. They also nourish the hair shafts to ensure stronger hair anchorage in the follicles. Hair growth serums have several other positive effects on hair health. Check them out in the following section.
What Are The Benefits Of Using Hair Growth Serums?
Hair growth serums:
Nourish the scalp, follicles, hair shafts, and cuticles.
Easily penetrate the hair fibers to provide nutrients and moisture.
Prevent hair fall and breakage.
No product buildup or oily residue.
Add natural shine to hair strands.
Protect the hair and scalp from pollutants, dust, sun (UV) damage, heat, chemicals, etc.
Seal moisture in color- and heat-treated hair.
Help in styling and holding hairstyles for a long time.
Keep the hair frizz-free, well-styled, and manageable.
Most of them are leave-in; hair rinsing steps are not mandatory.
These are all the right reasons you should own a hair growth serum if you have not used one yet. The following points can help in picking the right serum for your hair-
Things To Consider While Purchasing A Hair Growth Serum
Serum And Hair Types: Specific hair growth serums are available for each hair type. You can find serums for normal, dry, oily, frizzy, color-treated, fine, and damaged hair. Choose one depending on your hair type for the best results.
Ingredients: A hair growth serum should stimulate growth and nourish your hair and scalp. Natural extracts of watercress, cedarwood, sunflower seeds, aloe vera, green tea leaves, wheat germ, and soybean provide essential amino acids to the hair follicles.
Coconut, argan, sesame seed, olive, avocado, and castor seed oils supplement vitamin E and essential fats and antioxidants that soothe dry scalp, itching, and irritation. Peptide complexes and biotin act at a cellular level to prolong the hair growth phase and slow down breakage. Choose a serum that has a balanced composition with preferably natural ingredients. This way, your hair stays healthy and grows naturally.
Price: Serums can get expensive because they contain high-quality ingredients and show promising results. But beware of over-priced serums that show an exquisite composition and under-perform. Check their websites and reviews to know the value for your money. Start with a product that is not too expensive because you need to use it regularly for over three months to get expected results. Do not settle for something cheap either –as it might end up damaging your hair.
Hair growth serums are a great investment. The struggle is only until you find a suitable product. Find out your hair type, which ingredients suit your scalp, and which do not. Once you have that figured, use any from the above list of 8 bestselling hair growth serums and say goodbye to nagging hair woes permanently.
Frequently Asked Questions
How do hair growth serums actually work?
Hair growth serums stimulate fair follicles, nourish the hair and scalp, improve blood circulation, and support the growth of new hair. They also prevent breakage and hair loss.
Are hair growth serums effective for all types of hair?
Hair growth serums are effective for all types of hair, however, the results may vary with individual hair needs. For best results, it's crucial to select a hair growth serum that has been specially formulated for the type and need of your hair.
Are there any age restrictions or limitations for using hair growth serums?
Hair growth serums are generally safe. However, when it comes to children and teenagers, it's best to consult a pediatrician or dermatologist for proper remedy.
What are some common myths or misconceptions about hair growth serums?
•Fast hair growth: While hair growth serums can encourage hair growth, they cannot speed up the natural hair growth cycle.
•Regrowth of hair on bald spots: Hair growth serums may promote hair growth, but they may not be effective for regrowing hair in areas with complete bald spots.
•Instant results: Hair growth takes time; therefore, it might take several weeks or months of regular use to see noticeable results.
Recommended Articles