10 Best Hair Growth Tonics That Actually Work – 2019
Hair fall is a common health disorder that people experience at least once in their lives. Every second person you come across might be suffering from one or another type of hair problem. While one may be dejected with acute hair loss, the other one may be trying to trigger dull and frizzy hair. In short, the list of hair problems is quite long. Fortunately, no hair problem is incurable. In India, one comes across hundreds of hair tonics that help revitalize hair. Also, there are ample medicines and treatments one may avail to get rid of hair problems. If you happen to be one of them, here is a list containing the top 10 hair tonics you can try for revitalizing your hair growth.
Top 10 Hair Growth Tonics In India
Picking the top 10 hair growth tonics from a large array of products may be tricky. Moreover, these hair-vitalizing products differ in their functioning area. The list comprises of the most popular products, which are easily available everywhere. While purchasing a hair tonic, one should consider a few basics. First, the main components of the product need to be considered. Secondly, you need to find out whether the product involves any risk or allergic factor, and finally the cost of the product.
1. Livon Hair Gain Tonic
Frequently advertised on television, Livon hair gain tonic is a popular hair growth tonic available in India. The product helps prevent hair follicle shrinkage effectively. This product claims to contain a root energizer formula that expedites hair growth.


2. Aloe Veda Bhringaraj Scalp Tonic
The product is a good combination of Bhringaraj oil (Eclipta Alba) and other natural herbs like Amla, India Liquorice Root extracts, coconut oil, coconut milk, Neela Amari oil, goat's milk, buffalo milk and cow milk. Regular use of this oil nourishes the scalp generously. It strengthens the hair follicles, inhibits dandruff and caters to hair growth.


3. VLCC Aroma Hair Strengthening Oil
VLCC, a celebrated brand in India, has come up with ample health and beauty products. This product from VLCC is an all-round tonic for the hair that prevents hair fall and promotes hair growth. Safe to use, this product is worth trying.


4. Dove Elixir Hairfall Rescue Oil
Dove Elixir Hairfall Rescue hair oil is ideal to be used on a regular basis. This is a non-sticky formula for nourishing and replenishing the hair. Loaded with natural herbs, this is another great tonic for hair growth.


5. Lotus Herbals Kera-Veda Active Herbal Tonic-Hairoots
This product from Lotus helps in supplying essential nutrients to the hair roots and scalp. It promotes hair growth and revitalizes the hair. In addition, this oil controls the spate of dandruff and cleanses the scalp gently.


6. Khadi Ayurvedic Hair Regrowth Tonic
An entirely Ayurvedic product, Khadi hair regrowth tonic contains a host of natural ingredients that do a lot of good to the scalp and provide hair nourishment. Regular use of the product can show real improvement as claimed by the manufacturers.


7. L'Oreal Paris Fall Repair 3X Anti-Hairfall Tonic
Many people suffering from hair fall have reported this tonic to be useful. The product contains an arginine-based formula that helps build broken hair fiber and boosts microcirculation to the hair roots.


8. Biotique Bio Bhringaraj Fresh Growth Therapeutic Hair Oil
An all-rounder product, Biotique fresh tonic is perfect for one who prefers using natural products. Suitable for all hair types, regular application of this oil will help nourish the scalp and revitalize hair growth.


9. Jovees Hair Pack
Jovees hair pack is a pocket-friendly product that has gained popularity everywhere within a short time of its launch. The formula contains a great combination of herbs like Bhringaraj, Amla, Palasbeej, and Jatamanasi, which are considered best for hair growth.


10. Sesa Hair Oil
A new addition to the list, Sesa hair oil is another hair growth product that is well-liked widely all over India. Enriched with the goodness of natural herbs, this oil promises to prevent hair loss and boost hair growth simultaneously.


*Subject to Availability
If you do not want a store-bought tonic, here is a recipe for one you can make at home.
DIY – Homemade Hair Tonic For Hair Growth
What Do You Need?
Mustard oil, fenugreek seeds and of course you should know how to work with the stove!
What To Do?
Take around half a liter mustard oil.
Pour all of it into a pan which is to be heated later.
Take some fenugreek seeds. (you needn't do the heart art like me)
Ignite the stove and place the pan containing oil on low flame. Do not boil the oil by keeping it on high flame. Wait for the seeds to slowly turn black. That would take just about 10-15 minutes.

After the said time, sieve out the oil in a bottle or any preferable storage container. Discard the seeds.
You can clearly see the difference in the color of the oil. Mustard oil is generally golden brown in color where it has turned blackish brown with fenugreek essence after heating it with the seeds. Not only this, but the fragrance also changes; you can recognize the fenugreek essence by sniffing the oil.
There you have it – your own homemade hair growth tonic!
How To Use
Oil your hair with this potion a night before you plan to wash your hair. If not so, massage with it at least 1 hour before head wash but the former idea would give better results in my experience. That is it, no hard work and no multi-step procedure to follow every three days.
Trust me; I am the living proof that this tonic works like magic! Not only does it enhance hair growth but also turns the hair brown over a period of usage. If you do happen to like brown hair, use it alternatively with amla hair oil. I have passed on this recipe to many of my friends and most of them have witnessed great results.
[ Read: Bhringraj Oil For Hair Growth ]
Suggestions For Alternate Changes
You can mix this tonic with olive oil in equal or less quantity if you wish to have both length and volume. Personally, this tonic enhances the length and olive oil enhances volume for my hair; that is why I suggest you try this combination too.
Note: You have to be patient and make it a part of your hair care regime permanently because hair doesn't grow overnight unless you are Rapunzel's descendent!
This easy-to-make tonic for hair growth is sure to give you the hair of your dreams. Do try it and come back to share your experience with us!
[ Read: Ayurvedic Tips For Hair Growth ]

The following two tabs change content below.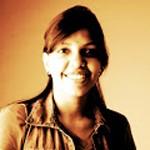 Latest posts by Shruti Goenka (see all)