17 Best Hair Lightening Products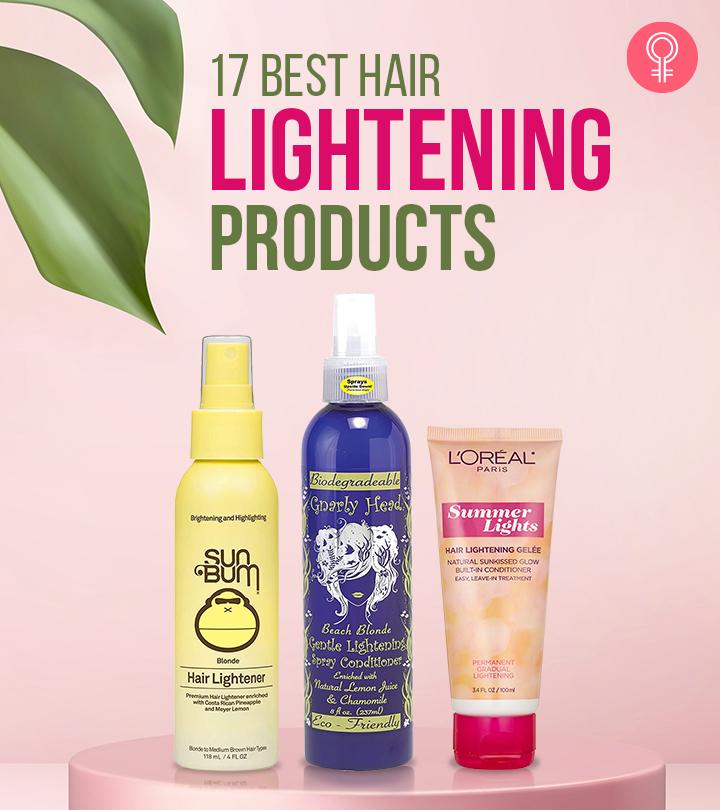 Nothing can match the feeling of newly colored hair. But over time, you will notice the color fading or unwanted brassy hues, especially in blonde hair. Fret not! These issues can be prevented with the help of lightening products. Hair lightening products keep blonde hair fresh in terms of color and vibrance. In this article, we have listed the 17 best hair lightening products available online. Scroll down to check them out!
17 Best Hair Lightening Products
The Camomila Intea Natural Blond Hair Solution is a permanent hair lightening spray for achieving the desired blonde shades. It is formulated with chamomile flower extract that lightens brown and dark blond hair.
This product boosts the highlight color and restores the natural blonde hair tone. It lightens brown hair up to three shades. It also protects the hair and imparts shine. This product is pharmaceutically developed and tested and does not leave stains or unpleasant odors. It is free of silicone, parabens, and ammonia.
Pros
Silicone-free
Paraben-free
Ammonia-free
Pharmaceutically developed and tested
Non-damaging
Non-staining
Cons
The Schwarzkopf BlondMe Bond Enforcing Premium Lightener 9+ Dust Free Powder uses integrated lift technology that gives your hair up to 9 levels of lift. The soft-to-solid formula has an easy to work consistency for a smooth application. Moreover, it also neutralizes warm yellow brassy undertones, making your hair fresh and seem freshly-colored. It also protects the hair during development to prevent hair breakage.
Pros
9 levels of lift
Easy to use consistency
Neutralizes warm undertones
Cons
None
The Sun Bum Blonde Hair Lightener is formulated with Hawaiian Lehua honey and lemon. These ingredients brighten the hair by amplifying the natural effects of sun rays to create subtle tones and highlights. This lightener also contains nutrient-rich ingredients like Costa Rican pineapple and meyer lemon that make the hair healthy.
It protects the hair from frizz and humidity. This lightener also prevents oxidizing the hair from UV rays. The color-rich regimen treats hair dullness. You can use it with a hair dryer to enhance the lightening process. This cruelty-free product is vegan and does not contain gluten and parabens.
Pros
Gluten-free
Cruelty-free
Paraben-free
Vegan
Prevents UV oxidizing
Provides frizz and humidity control
Cons
Contains hydrogen peroxide
The Wella Blondor Multi Blonde Dust-free Powder Lightener with Tri-lightening complex provides an intense and vibrant color effect. It is formulated with high-quality ingredients that lighten the hair without damage.
Pros
Easy to apply
Mild formula
Cons
Might stain the hair with orange tones
The John Frieda Sheer Blonde Go Blonder Lightening Spray lightens blonde hair by up to two shades without any damage. It is formulated with a blend of citrus and chamomile that provide thermal protection to the hair and prevent heat damage.
The patent-pending technology blends fixative and conditioning polymers to retain hydrogen peroxide, enabling lightening control. This heat-activated spray is suitable for natural, color-treated, or highlighted hair. For best results, use this lightening spray on wet hair with a curling wand or flat iron.
Note: Do not use this product on naturally dark or intensely bleached hair. Also, do not use it more than 10 times in between color treatments.
Pros
Provides thermal protection
Suitable for natural, color-treated, or highlighted hair
Cons
The Wella Color Charm Powder Lightener provides up to seven levels of lifted color. It locks in moisture and enhances its effectiveness on the hair by protecting the oil system. This lightener is ideal for on and off scalp application techniques. It is suitable for highlights, full hair lightening, regrowth application, and color correction. You can use this product with foils or balayage techniques.
Pros
7 levels of lightening
Moisturizes the hair
Cons
The Blond Forte Perfect Blond Extra Strength Hair Lightener contains a high-performance bleaching formula with a quad lightening complex. This complex ensures quick and bright hair lightening.
This lightener also contains anti-yellow molecules that prevent brassiness in blonde hair. It can be used for on and off scalp applications. This dust-free and non-dripping product lightens the hair up to seven levels. It locks in moisture to make the hair healthy, shiny, and strong.
Pros
Non-dripping
Dust-free
Provides 7 levels of lightening
Pleasant fragrance
Cons
Might cause a burning sensation
The Manzanilla Grisi Gold Hair Lotion is a 2-in-1 hair product that lightens and detangles the hair. It is formulated with natural chamomile extract, which adds golden sparkles to the hair. This hair lotion removes knots and makes the hair manageable.
Pros
Detangles the hair
Adds golden sparkles
Cons
Sticky
Might weigh the hair down
The Schwarzkopf Got2B Be En-lightened Permanent Lightener lightens blonde hair by up to eight levels. It has an anti-yellow effect to prevent blonde hair from turning brassy. This product comes with a developer lotion in an applicator bottle, a booster sachet, a color-after-treatment sachet, a pair of gloves, and an application tip.
Pros
Provides eight levels of lightening
Comes with an applicator
Cons
Contains SLS, parabens, and alcohol
The Clairol Professional BW2 Powder Lightener offers balanced lightening to create highlights easily. It can be used with foils, balayage technique, and on or off scalp applications. This lightener is dust-free, which minimizes the powder flyaway. The creamy texture is easy to apply on the hair.
Pros
Dust-free
Prevents flyaways
Easy to apply
Cons
May cause a burning sensation
The L'Oreal Super Blue Creme Oil Lightener is made with an extra-lightening formula for full-head blonding. It lightens the hair by removing any natural or artificial pigments. During application, the lightener sticks onto the hair easily to prevent overlapping.
This on-the-scalp lightener comes with a built-in dabber to prevent brassiness. It remains moist throughout the application process and is easy to rinse off. This dust-free product makes your hair shiny and healthy.
Pros
Dust-free
Adds shine
Easy to rinse off
Cons
The Gnarly Head Beach Blonde Gentle Lightening Spray Conditioner contains natural lemon juice and chamomile extract. Lemon juice lightens the hair without any damage, while chamomile protects and nourishes the hair. This lightener detangles the hair and can be used in or out of the sun. It can either be left on the hair or rinsed off. This gentle formula is vegan and gluten-free.
Pros
Gluten-free
Vegan
Gentle formula
Detangles the hair
Biodegradable
Eco-friendly
Cons
Might make the hair heavy
The L'Oreal Paris Summer Lights Hair Lightening Geleé imparts a natural sun-kissed radiance to the hair. This leave-in hair lightening treatment can be used for highlighting the hair or full head coloring. The gel formula ensures a mess-free application. This hair lightener requires heat activation from hair dryers or sun rays. It is also free of silicone.
Note: Do not use this product on color-treated, gray, or dark hair.
Pros
Silicone -free
Adds shine
Easy to apply
Cons
The ion Color Brilliance Creme Oil Lightener is formulated with nutrient-rich wheat protein and argan oil. It offers the highest degree of lightness without any damage so that the color shade can be customized easily. This lightener retains hair moisture and can be used for on and off scalp applications. It is easy to apply and suitable for all hair types.
Pros
Suitable for all hair types
Easy to apply
Cons
None
The John Frieda Beach Blonde Sun Streaks Lightening Spray gives your hair a beachy, sun-kissed appearance. It creates subtle and permanent highlights. This lightening spray is formulated with natural lemon that lightens the hair without any irritation or damage. It is easy to apply and free of silicone.
Pros
Silicone-free
Easy to apply
Cons
The Pravana Pure Light Power Lightener lifts and lightens natural hair color without any damage like puffing or swelling. It contains hydrolyzed keratin, which fortifies the hair making it strong, smooth, and shiny.
This lightener contains a violet-based, specialized time-released formula with high-quality ingredients. It lightens the hair up to seven levels without any brassy tones. You can use it with other hair color products to achieve the desired shade. This gentle formula does not contain parabens, phthalates, cocamide DEA, formaldehyde, or sulfates.
Pros
Paraben-free
Phthalate-free
Cocamide DEA-free
Formaldehyde-free
Sulfate-free
Gentle formula
Cons
None
The Clairol Professional Violet Kaleidocolors Tonal Powder Lightener offers hair lightening up to four levels. It adds iridescent cool tones to the color to prevent any brassy hues. This hair lightener is formulated with highly conditioning aloe vera that hydrates the hair. It is ideal for medium brown to light blond hair.
Pros
Easy to apply
Provides four levels of lightening
Non-drying
Cons
Might leave a purple tint
If you are new to the lightening game, consider these points to nail it correctly.
How To Lighten Your Hair: What To Consider For Beginners
Skin And Hair Color: Pick a color based on your hair and skin tones. If you are warm-toned, pick a warm-toned color. If you are cool-toned, opt for a lightener with cool undertones.
Preferred Lightening Method: Apart from a lightener, other options like bleach or natural ingredients like green tea and lemon also help lighten the hair. Choose one that suits you the best.
Instructions: Follow the directions strictly when using hair lighteners or bleach. Also, have someone to help you if you are new to this. If left on for long, bleach and some lighteners can damage the hair or cause irritation.
Maintenance: Lighteners can dry the hair and make it prone to damage. Maintain your hair health with oil or deep conditioning treatments. Use products made specifically for color-treated or bleached hair as they contain ingredients that replenish and restore the hair.
That was our round-up of the top hair lightening products and some tips for you before taking the lightening plunge. These lightening products will help you achieve the desire hair color in no time. Pick your favorite product from our list today!
Recommended Articles