12 Best Hair Masks For Hair Growth That Actually Work – 2022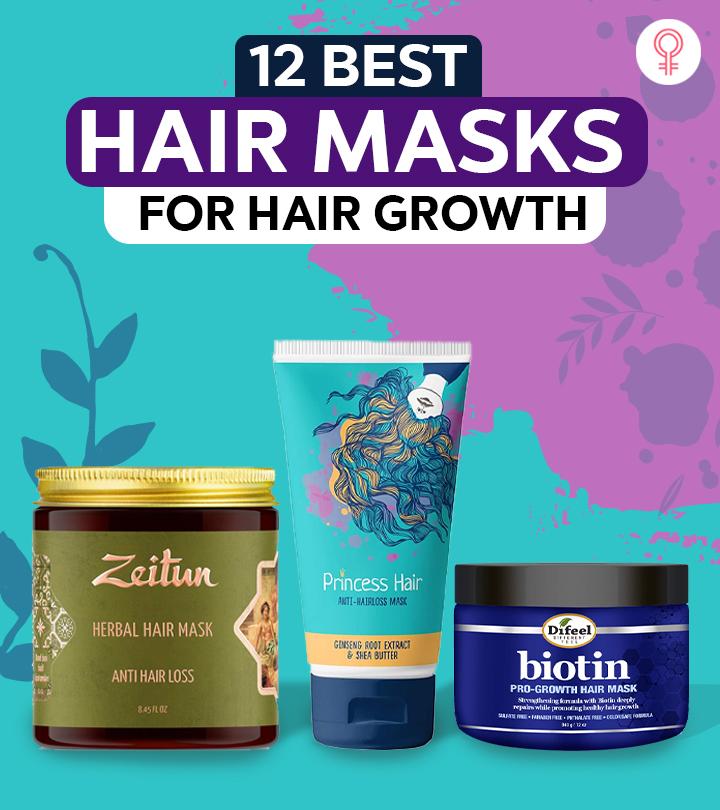 Hair masks are the perfect solution for damaged and dull hair. To make it easy for you to choose the best hair mask for hair growth, we have curated a list of the top products in the market. If thinning hair is one of your biggest concerns, you are going to find this list handy. Pollution, stress, and chemical treatments can wreak havoc on your hair, and finding the right hair mask can do wonders to replenish your hair with essential nutrients and moisture.
We have listed the 12 best hair masks for hair growth that are worth your money. Scroll down to choose the product that suits your hair the best!
What Are Hair Masks?
Hair masks work on our hair in the same way a face mask works on our face. Hair masks generally contain active hydrating ingredients, like natural oils and butter. They nourish, condition, and hydrate your hair and impart instant shine.
A hair mask has intensive conditioning properties that help nutrients penetrate deeper than your regular conditioner. Some hair masks should be applied before shampooing, while others come as a leave-on mask to be used after shampooing your hair.
The next section is a detailed review of the 12 best hair masks for hair growth. Keep reading ahead to select the product that suits you best.
The 12 Best Hair Masks For Hair Growth
The Chebe Powder by roselle NATURALSis made with a combination of all-natural ingredients like lavender, prunus, resin, clove, Arabic gum, oils, and fragrance. These super moisturizing ingredients strengthen the hair shaft, reduce breakage, and promote hair growth. This hair treatment was used for centuries by the Bassara women in Chad.
Key Ingredients: Lavender croton, Prunus mahaleb, Resin, Clove, Arabic gum, Vegetable oil, and Perfume
Pros
All-natural
Long-lasting results
A little goes a long way
Cons
The Herbal Hair Mask by Zeitun treats hair loss and strengthens the hair roots and follicles. It helps stimulate the growth of new hair and boosts the texture and density of the hair. This hair mask repairs damage and imparts shine and softness to your hair.
It is made of powerful strengthening ingredients that aid hair growth, like organic Dead Sea mud, rosemary extract, burdock extract, coconut oil, jojoba oil, olive oil, and black cumin oil. The Indian amla in the mask contains vitamin C that strengthens your hair follicles. This mask is suitable for all hair types – light or dark, straight or curly – and can be used by both men and women. It is 100% vegan and does not contain silicones, parabens, or mineral oils.
Key Ingredients: Olive oil, Bay leaf oil, Black seed oil, Coconut oil, Dead Sea mud, Lactic acid, and Amla
Pros
Smells good
Paraben-free
Cruelty-free
100% vegan
Silicone-free
Mineral oil-free
Reduces dandruff
Cons
May cause scalp itching.
The Coconut Hair Mask by New York Biology is made with 100% natural ingredients. This conditioning hair treatment is excellent for hair growth. The unique combination of argan oil and coconut oil makes it perfect for thin hair. The hair mask also helps treat and prevent common hair problems like dandruff and lice.
Coconut oil penetrates the hair shaft and locks in moisture to prevent dryness and deeply hydrate your scalp and hair. The hair growth mask helps treat and prevent breakage and split ends. It helps your hair grow longer and voluminous and imparts shine, luster, and softness to the strands. This mask is free of parabens, sulfates, and alcohol.
Key Ingredients: Coconut oil, Rosehip oil, and Argan oil
Pros
Cruelty-free
Paraben-free
Alcohol-free
Sulfate-free
Affordable
Cons
The Coconut Avocado Hair Mask by Botanic Hearth cosmeceuticals is a deep conditioning hair growth mask rich in antioxidants. It moisturizes, stimulates, and deeply nourishes over-processed, dry, and damaged hair. Ingredients like coconut oil, avocado extract, argan oil, vitamin E, and vitamin B5 help smooth frizz, seal in moisture, and make your hair look healthy.
This hair mask is formulated with avocados that are richin potassium, amino acids, and proteins to stimulate hair growth. The fatty acids and vitamin Block moisture in the hair cells and strengthen the hair roots and strands. This hair mask also protects the hair from environmental aggressors and damage. It is gentle for daily use and safe on color-treated hair.
Key Ingredients: Shea butter, Coconut oil, Argan oil, Rosehip seed oil, Avocado extract, Vitamin E, and Vitamin B5
Pros
Sulfate-free
Paraben-free
Color-safe
Cruelty-free
Pleasant smell
Cons
Not suitable for naturally curly hair.
The Microstem Hair Thickening Mask by cel is an advanced formula that stimulates hair growth. The formula contains keratin and biotin to nourish the roots, reduce hair fall, deep condition and hydrate the hair, and impart shine.
The cutting-edge scientific enhancements used in this formula include ingredients like ginseng and stem cell extract, which help restore heat damaged, color damaged, and environmentally damaged hair from the very first use. The professional-grade argan oil ensures that both your hair and scalp remain healthy.
This hair mask is suitable for all hair types: curly, wavy, straight, thick, thin, short, or long hair. The powerful anti-frizz treatment restores lost nutrients and minerals to dull and damaged hair and leaves it soft, smooth, and shiny. Biotin, ginseng, and keratin boost blood flow to the scalp. This aids the delivery of optimum vitamins and minerals to prevent thinning and shedding.
Key Ingredients: Keratin, Biotin, Ginseng, Stem cell extract, and Argan oil
Pros
Cruelty-free
Paraben-free
Sulfate-free
Suitable for all hair types
Color-safe
Cons
The biotin Pro-Growth Hair Mask by Difeel is best suited for hair loss issues. It is organically formulated to repair damaged hair and promote hair growth. The active biotin is an essential part of the vitamin B family and plays an essential role in the health of your hair. This hair growth mask promotes long hair by strengthening the hair follicles. It keeps your hair color vibrant while making your hair manageable, soft, and shiny.
Key Ingredients: Biotin
Pros
Phthalate-free
Cruelty-free
Color-safe
Paraben-free
Sulfate-free
Affordable
Cons
The Hair Growth Support Hairmask by NOURISH Beaute is powered by patented baicapil, a blend of three organic ingredients that help reverse hair fall and aid in natural hair growth. This mask results in thicker, healthier, and smoother-looking hair.
It is loaded with shea butter, coconut oil, castor oil, aloe leaf juice, chia seed oil, wheat germ, panthenol (vitamin B5), and soybean extract. This hair mask also contains Baobab Tein NPNF, a plant-derived 5-in-1 anti-aging solution. It helps repair and strengthen damaged hair, protects from UV rays and heat treatments, and moisturizes and nourishes the hair follicles.
Key Ingredients: Biacapil, Baobab Tein, Shea butter, Coconut oil, Castor oil, Aloe leaf juice, Chia seed oil, Wheat germ, and Soybean extract
Pros
All-natural ingredients
Paraben-free
Cruelty-free
Gluten-free
Hormone-free
Sulfate-free
Cons
The Hair Growth Mask by DERMOFUTURE is enriched with nutrients that cause hair follicles to be more active and capable of development. It also stimulates hair growth and increases overall density.
This hair mask contains a Malscreen black Ex 3 complex that helps maintain hair color and makes your hair glossy. Caffeine stimulates the hair follicles and activates hair growth, while nettle improves the condition of the hair and scalp. This mask restores the natural hydration balance of the scalp and helps eliminate dandruff.
Key Ingredients: Caffeine, Nettle, and Malscreen black EX 3 complex
Pros
Anti-dandruff
Paraben-free
Unisex
Cons
The Anti-Hairloss Mask by Princess Hair is formulated with the Maxi-Growth complex, a combination of a high concentration of ginseng, collagen, and ceramides. These three ingredients stimulate maximum hair growth to give you long and luscious locks. The soothing effect reduces irritation and helps moisturize the scalp to keep your hair healthy and full of volume. This hair mask also contains shea butter, which gives the mask a thick texture and makes your hair glossy and healthy-looking.
Key Ingredients: Ginseng root extract, Shea butter, Collagen, and Ceramides
Pros
No residue
Easy to wash off
Cons
The Regenerating Hair Mask With Argan Oil by NOAH aids hair growth and regeneration. It uses only ECOCERT certified ingredients derived from organic plants and flowers using traditional methods of extraction and distillation.
The main ingredient of this mask is argan oil that regenerates the hair from scalp to root. It works wonders on split ends, controls frizz, prevents hair loss, imparts shine, and nourishes your hair. This hair mask also repairs any damage caused by blow drying, flat ironing, and sun exposure. It is suitable for all hair types and does not contain silicones, parabens, or mineral oils.
Key Ingredients: Argan oil
Pros
Mineral oil-free
Organic certified ingredients
Sulfate-free
Paraben-free
Silicone-free
Cruelty-free
Cons
The indie Earth Red Onion Anti Hair Loss & Hair Growth Hair Mask is made from Indian Ayurvedic medicines that help prevent extreme hair fall and hydrate dry scalp. It repairs the hair follicles from within to promote healthy, thicker-looking hair and prevents moisture loss due to heat styling and blow drying.
Red onion is rich in quercetin, a powerful antioxidant that is highly effective for hair fall and hair regrowth. The neem oil in the mask eliminates scalp infections and hair thinning caused by pollution, stress, and medications. Jojoba oil prevents hair loss, strengthens hair, and prevents dryness. Jatamansi prevents premature graying of hair and makes it healthy from the roots. Other vital ingredients include Indian gooseberry extract, bhringraj extract, hibiscus extract, and cold-pressed Moroccan argan oil.
Key Ingredients: Red onion, Neem oil, Jojoba oil, Jatamansi, Bhringraj extract, Argan oil, Tea tree oil, and Wheat germ oil
Pros
Smells good
Color-safe
Paraben-free
Mineral oil-free
Vegan
Suitable for all hair types
Cons
The CASTOR OIL PRO-GROWTH HAIR MASK by nature's spirit helps your hair grow by deeply conditioning and hydrating your hair. It induces volume and nourishes your hair. It has naturally derived ingredients like sweet almond oil, rosemary leaf extract, aloe vera leaf extract, chamomile flower extract, coffee leaf extract, and coffee seed extract. These natural oils and extracts stimulate and soothe your scalp without stripping out essential moisture.
Key Ingredients: Castor oil, Almond oil, Rosemary leaf extract, Aloe vera extract, Chamomile, and Coffee extract
Pros
100% natural oils
Paraben-free
Sulfate-free
Affordable
Cons
Are you still wondering about the advantages of using a hair mask? The next section gives detailed information about how a hair mask can help you.
What Are The Benefits Of Using A Hair Mask?
The benefits of the hair mask differ according to the type and the active ingredients. The most common benefits are:
Helps decrease friction
Detangles your hair
Tames frizz
Improves manageability
Reduces hair damage and breakage
Provides intense moisturization
Imparts gloss and shine
If you have read this far, you must be convinced of the importance of using a hair mask. It is now time to understand how to choose the product that resonates with your hair type.
How To Choose The Best Hair Mask For Hair Growth
Check the ingredients in your hair mask. It is better to choose one with natural ingredients. Toxic chemical scan damage your hair and irritate a sensitive scalp. If you are looking at a mask for hair growth, check for active ingredients like keratin, biotin, niacin, peppermint oil, argan oil, jojoba oil, etc.
Choose a hair mask based on your hair type. If you have colored your hair, ensure that the mask is color-safe and contains ingredients like olive oil and shea butter. Else, the chemicals or ingredients can make your color fade.
If you have dry and damaged hair, go for a mask with hydrating ingredients like fruit oils, shea butter, and keratin. If you have thin or fine hair, go for a mask with lightweight oils like jojoba oil or almond oil to avoid weighing your hair down. If you have coarse hair, go for masks with avocado, shea butter, and coconut oil to smoothen and hydrate your strands.
Hair masks can aid hair growth, but they are not the only option. You can also opt for a few natural methods.
Tips To Make Your Hair Grow Naturally
Go for regular scalp massages – they help stimulate hair growth by improving blood circulation to the scalp.
Minimize hairstyling and the use of chemical hair products to prevent hair damage and breakage.
What you eat has a huge impact on your hair health. Consume foods rich in protein, like fish, whole grains, and nuts.
Over shampooing strips off the natural moisture from your hair, resulting in dry, brittle hair. Hence, shampoo your hair 2-3 times a week. Avoid products that contain harsh and toxic chemicals to prevent damage.
That was our round-up of the 12 best hair masks for hair growth. Make them a part of your regular hair care routine. But don't overdo it–use them once a week for long and luscious hair. What are you waiting for? Add the mask you have been eyeing to your cart, and have a happy hair day!
Why Trust StyleCraze?
The author of this article, Shiboli Chakraborti, is a haircare enthusiast who loves looking for one-stop solutions to all your hair woes. She understands that thinning hair is a matter of concern. Don't worry. Shiboli used her excellent research skills to go through product formulations on websites and customer testimonials online to bring you the best hair masks for thinning hair. These hair masks are made of organic ingredients that keep your hair healthy and strong.
Frequently Asked Questions
What ingredients work well in a hair mask?
Organic ingredients work well in a hair mask. You can opt for a hair mask having olive oil, coconut oil, shea butter, aloe vera, jojoba oil, etc.
How should I use a hair mask?
1. Use hair masks after shampooing to get rid of any buildup in the hair and allow the mask to penetrate and nourish your hair.
2. Apply the mask from the mid to the ends of the hair. Do not apply it directly to the scalp.
3. Comb the hair mask through the strands thoroughly.
How often should I use a hair mask?
You should use a hydrating hair mask at least once a week. But if your hair feels or looks drier or more damaged than usual, you can use it about twice a week.
What happens when I overuse a hair mask?
Overusing a hair mask can make your hair brittle, greasy, and limp.
Recommended Articles