11 Best Hair Masks Available in India For Every Hair Type (2020)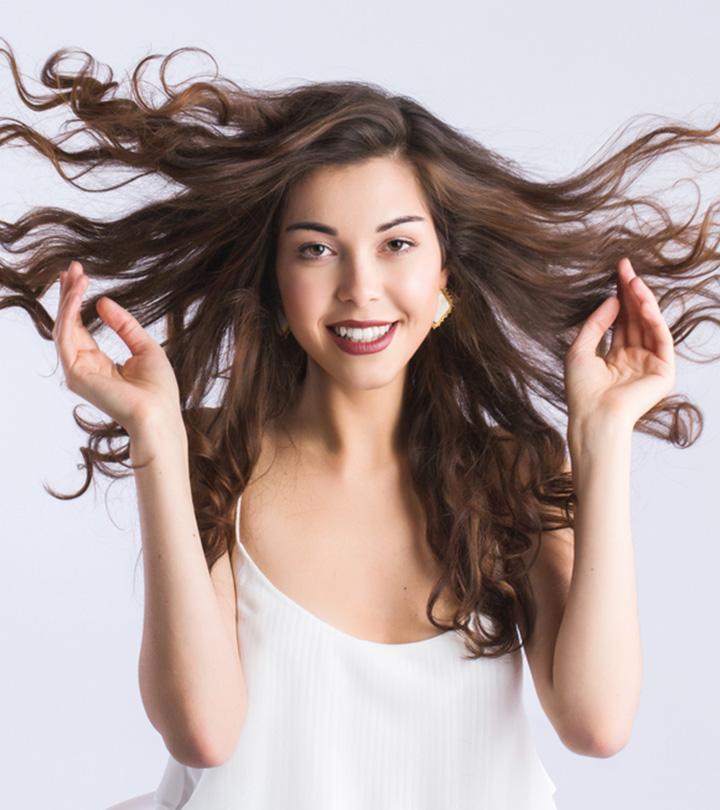 What does our age-old haircare routine mostly comprise? Oiling, shampooing, and conditioning. And that's what most girls do to their hair to keep it clean and nourished. But the question to ask here is, is that enough to keep it protected from the stressful city life? Hair damage is caused due to many reasons including environmental factors and lifestyle choices. To correct it, one must lay their hands on the right treatment. The best fodder for rough and damaged hair is a hair mask which hydrates and repairs the hair making it more manageable. Hence, to get back the lustrous mane, you need one of the best hair masks based on your hair type.
Our list of some of the best hair masks along with some application tips and a buying guide will help you learn more about hair masks and decide which one to add to your hair care routine. 
11 Best Hair Masks Available in India For Every Hair Type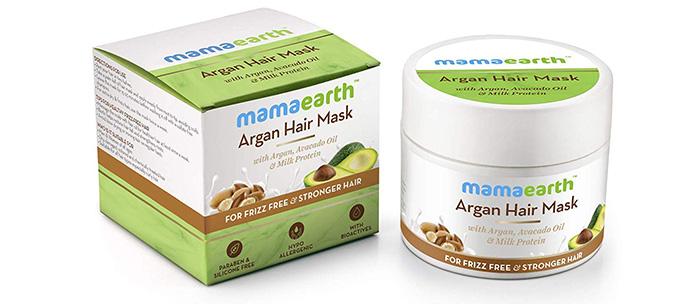 Mamaearth's nourishing treatment pack made of argan and avocado oil claims to make hair lustrous and silky. An ideal solution for frizzy hair, this one treats split ends and cures dandruff off the scalp. Other herbal ingredients like tea tree oil nourish the roots and unclog the hair follicles, making the scalp healthier for thicker hair growth. One of the best hair masks in the market today, it also works as a collagen supplement in strengthening hair and protecting it from unhealthy breakage.
Pros:
Infused with tea tree oil
Does not include any harmful chemicals
Clinically tested and certified as toxin-free
Dermatologist-recommended
Hypoallergenic
Fragrance-free 
Cons:
Does not work too well on dry and wavy hair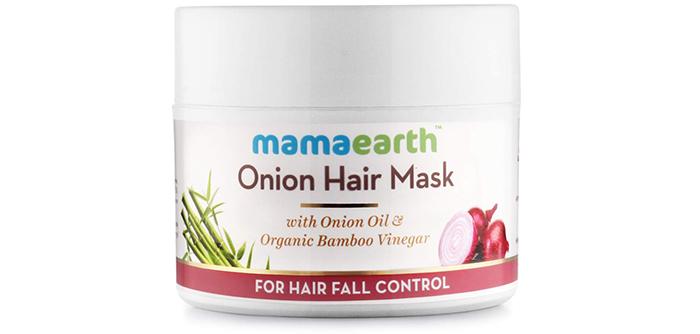 Onion is a miracle ingredient when it comes to hair nourishment. It works on the hair roots by strengthening them and reducing hair fall. This product from Mamaearth is infused with not just onion but organic bamboo vinegar as well to offer a strong antibacterial action, thus keeping the scalp moist and hydrated. Reduce the dryness and itchiness of the scalp by keeping it cool and happy— get your Mamaearth Onion Hair Mask today. 
Pros:
Onion oil reduces hair fall
Made of natural ingredients
Free of chemicals like paraben, sulfate, and SLS
Fragrance and artificial color-free
Dermatologically-tested
Mineral oil-free
Petroleum-free 
Cons: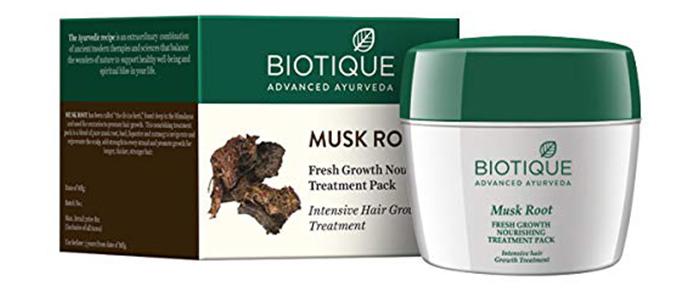 Say no to synthetic and harsh chemical-infused products as we bring to you the Biotique Musk Root Treatment Pack with the goodness of Ayurveda. The solution includes a blend of musk root, bael extracts, nutmeg, bhringraj, neem, amla, aheda, and a few other ayurvedic ingredients that rejuvenate the hair from its roots and nourish the scalp. Apply it once a week by mixing it with some egg and yogurt and leaving it on for 30 minutes. Watch your hair find the glorious shine, color, and lush from this exceptional hair mask.
Pros:
Enriched with musk root and bael extracts
Can be used by both men and women
Suits all hair types
Safe and effective
Free of chemicals
Free of preservatives
Cruelty-free 
Cons:

As directed in the product name, the hair mask protects the hair by repairing it from within. L'Oreal Paris Total Repair 5 Masque claims to work extensively on 5 types of damages— hair fall, roughness, dullness, dryness, and split-ends. Infused with ceramide and proteins, the hair mask can also be used as a conditioner after a shampoo session. Apply this repairing cream along the lengths of the hair for about an hour, rinse it off to find the lustrous silky tresses back.
Pros:
Can be replaced with a conditioner
Comes with ceramide cement repairs
Reverses 5 signs of damage
Infused with protein 
Cons:
Does not work too well on an oily scalp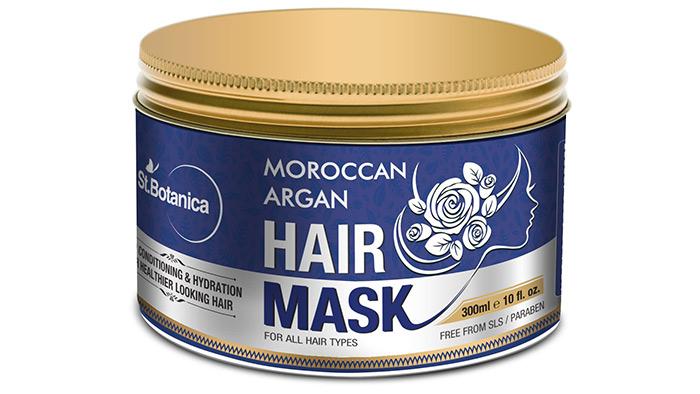 StBotanica's Moroccan Argan Hair Mask believes in a holistic approach to healing the root cause of hair damage. A unique combination of natural argan oil, vitamin B5, and vitamin E reaches every hair follicle and moisturizes it from the root turning the hair strand thick and smooth. The effective botanical formulation is free of all toxins and includes some powerful organic substances that give you a spa-like treatment. With this Moroccan Argan Hair Mask, you need not bother about the dead and frizzy split-ends anymore.
Pros:
Argan oil-enriched
Hydrates and conditions deeply
Free of harmful chemicals
No SLS and no colors used
Paraben and sulfate-free
Recommended for both men and women 
Cons:
Not recommended for dry and frizzy hair 
Pamper your hair with the power of red onion extracts and black seed oil with Wow Skin Science's Hair Mask. Enriched with a combination of natural ingredients that nourishes weak and brittle hair, this hair mask strengthens the roots, diminishes hair breakage, and reduces hair loss. The hair mask was designed keeping the health factor in mind— it is free of harsh chemicals like silicones, parabens, and artificial colors. As advised by the brand, apply it once a week to condition your strands from within and give it volume and shine.
Pros:
Improves the tensile strength of the hair
Infused with red onion extracts and black seed oil
Mask rich in antioxidants, nutrients, and Vitamin-E
Paraben and silicone-free
Mineral oil-free
Color-free 
Cons:
Slightly harsh on a few skin types 
Straight hair is not as difficult to manage as curly hair; more so when it turns frizzy and coarse. For that uncontrollable thick, rough, and curly mane, Schwarzkopf Professional has designed a keratin-infused treatment mask that gives the hair a smoother finish and visible shine. The product with its creamy formulation claims to reduce static formation, making the hair frizz-free. Now, get any hairstyle you want because with this treatment mask, managing hair becomes a cakewalk.
Pros:
A cream-based product
An ultimate frizz-control formula
With Bonacure smooth perfect treatment
Infused with keratin and amino compound
A combination of cationic polymers and silicone oils 
Cons:
The product adds moisture to the hair making it slightly oily.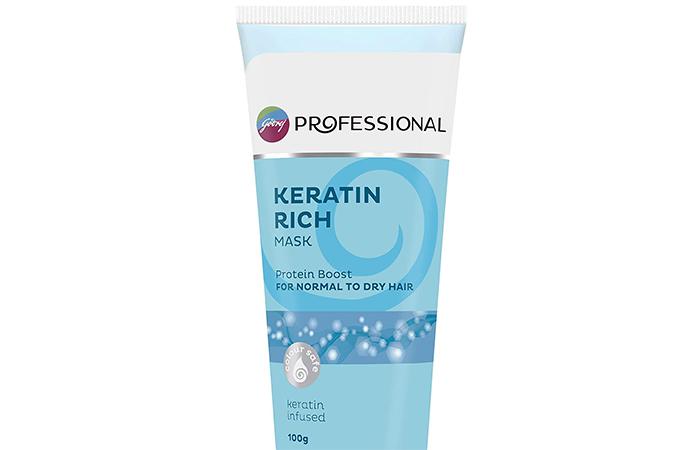 Specially designed for Indian hair, this keratin-rich hair mask is also loaded with quinoa for extra bounce and shine. The protein-boosted, normal-to-dry haircare formula manages the insufficient production of sebum on the scalp by keeping it hydrated and moisturized. The best feature of the hair mask is that it works safely on color-treated hair. Follow the Godrej Professional Hair regime word by word as mentioned in the back of the packaging for the best results.
Pros:
A quinoa-rich mask
Infused with keratin
Color-safe
Fragrance-free 
Cons:
Expensive
Does not suit oily hair type 
Tired of staring at broken strands on a hairbrush with the fear of losing all your hair one day? Oriental Botanics Red Onion Hair Mask's 26 nutrient oil is a great defense against hair fall and split ends. Along with those nutritious oils, the product formulation also includes rich plant extracts with bioactive constituents to increase the resilience power of the hair. Feed your hair all things good for a beautiful and nourished hair and a noticeably prettier look. Get the Oriental Botanics hair mask today.
Pros:
A blend of 26 natural oils
Repairs damaged hair
Infused with bioactive constituent rich plant extracts
Free of harmful chemicals
Paraben, phthalates, and sulfate free
Safe for long-term use
Suits all hair types 
Cons: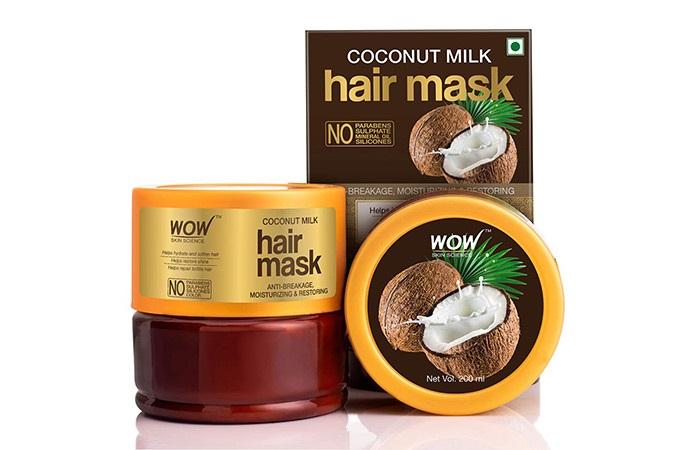 Damaged hair from excess styling, blow-drying, and flat-ironing? Help revive them with this hair mask infused with rich coconut milk and shea butter to hydrate chemically-treated hair. This mask and its organic ingredients enter the roots of the hair, repair it, and protect it from further breakage. It is suitable for all hair types and smoothens the rough hair cuticles by giving it a silky shine and texture. Say hello to shiny and silky strands again; get yourself the Wow Skin Science Coconut Milk Hair Mask.
Pros:
Adds smoothness and shine
Mask forms a barrier to lock in the hydration
Coconut oil and shea butter for improving hair texture
Paraben, mineral oils, silicones, and color-free 
Cons:
Not very effective on oily-hair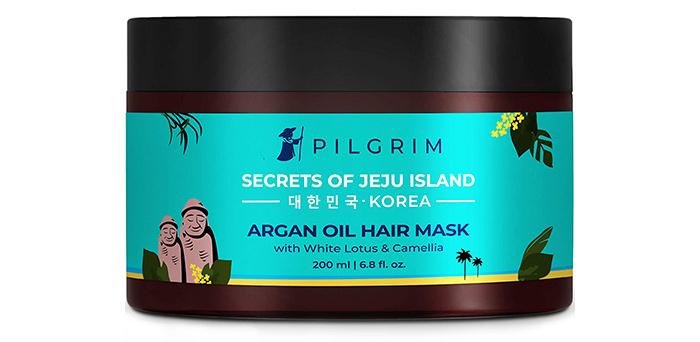 The best way to correct chemically treated, dry, and damaged hair is with a good-quality nutrition-infused hair mask. Pilgrim is one such high-quality premium argan oil-rich hair mask brand that gives your lifeless hair extra shine and bounce. The good ol' argan oil combined with essential oils and natural ingredients forms an herbal solution that locks in the moisture and treats frizzy and damaged hair. Try it once a week and bring the hair to life with a softer, shinier, silkier finish.
Pros:
Infused with essential oils
Mineral oil-free
Sulphate-free
Paraben-free
No toxins 
Cons:
Contains a silicon oil called dimethicone in very little quantity 
Buying a hair mask can still be easy, but applying it the right way would make all the difference. Whether you wear a curly, frizzy, wavy, or straight mane, hair masks would bring back the goddess-like shine and lush in minutes. Let's discuss the step-by-step process of achieving that.
How To Apply Hair Masks Correctly?
Only a few simple steps are required to be followed to apply a hair mask correctly. But before delving into that, it's very important to know that you don't necessarily have to have a hair problem to use hair masks. A haircare routine involving hair masks can be followed by everyone who wants to keep their hair healthy, hydrated, and nourished. And to get out-of-the-world results from hair masks, certain procedures of the application must be followed.
Step 1:
Clean the hair thoroughly with tap water to start the procedure. Then wait for it to dry so that the mask doesn't drip off within minutes of application.
Step 2:
Once the hair has dried out completely, apply the mask throughout the scalp gently. Use your fingertips to massage the mask evenly so that it reaches the roots of the hair.
Step 3:
Let the mask rest on the hair for some time. This way, the nourishment from the ingredients would reach the hair follicles and nurture it from the roots.
Step 4:
Finally, rinse the mask from your hair with the help of a very mild shampoo so that the nutrients are not washed off entirely.
The above steps are proven as the most effective way of applying hair masks. Though the application isn't the be-all and end-all of the entire process, a lot depends on the quality and formulation of the product. A small buying guide on what features you need to look for in a good-quality hair mask will help you decide which one to go for.
How To Choose The Best Hair Mask For Your Hair?
Daily work pressure and exposure to pollution, dust, and different chemicals or tools used for instant hairstyling might have damaging effects on your hair. A hair mask with the following features will help you bring back the necessary shine and nourishment needed for healthy hair.
Ingredients decide which hair mask would suit which hair type. If you have dry hair, then go for a product with natural oils and moisturizers. For treating already damaged and frizzy hair, look for a product with keratin as it works on the damage and gives your hair strands a smoother look. Natural and organic ingredients like tomato, aloe vera, lemon juice, strawberries, etc, work best on an oily scalp. Find products infused with natural ingredients for such skin types. And finally, when it comes to silicones, the ingredient is quite debatable and it works well on some hair types and not so well on some. Silicones like dimethicone or amodimethicone protect from environmental damages and prevent moisture loss. On the other hand, some opt for silicone-free masks as these also nourish the scalp and turn the hair healthier, lighter, and voluminous. Choose the one according to your preference.   
Harmful chemicals like sulfates, paraben, SLS, and a few more toxins can cause long-term damage to the hair cuticles. Make sure that your hair mask is free of all the harmful ingredients that aren't advisable for healthy hair. Going for an herbal mask in such cases is always the best option. Check for the ingredients in the product packaging to know more about the inclusion of toxins. 
There are some high-budget hair masks available in the market that look too fancy from the outside but serve the same purpose as the moderately priced ones. Price does not always decide the quality of a product. Hence the best suggestion would be to do a bit of your own research before deciding on which product to purchase.
Straight, curly, wavy, blonde, brunette, red or black— every hair color and texture deserves love and pampering. You can always get your desired hairstyles with wigs, heat styling, extensions, and dyes without worrying about damaging the hair. Post-treatment of the damaged hair through oiling, shampooing, conditioning, and now by using a few of the best hair masks can help you get the shine and the bounce back. Refer to our list above to find the best one to match your requirements.
Frequently Asked Questions
How often should I use the hair mask?
Hair experts suggest applying hair masks at least once a week. If there are any serious hair damages or complete frizziness, then increase it to 2-3 times a week.
How long should I leave the hair mask on my hair?
The duration might vary from one product to the other and would always be mentioned in the product packaging. Some hair types require the mask to rest in for a little longer than others for maximum effect. Ideally, 15-20 minutes is the maximum time duration advised by hair experts. When in any hurry, the treatment must be given a minimum of 3-5 minutes time.
Is it the right thing to wash my hair before applying the hair mask?
Washing the hair before applying a hair mask is necessary. Damp hair helps the mask set well onto the scalp. But make sure to pat the hair dry with a towel to remove all the excess water and save the mask from dripping off.
The following two tabs change content below.