10 Best Hair Milks For Natural Hair In 2023 To Bless Your Tresses
For healthy, luscious locks that fulfill hair dreams and make you stand apart from the crowd.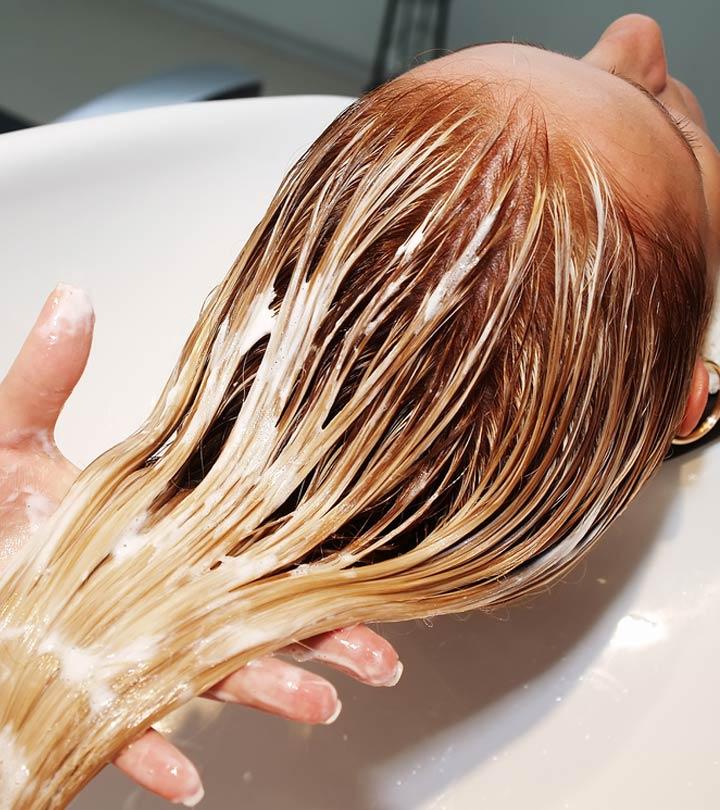 Rough and tangled hair is a nightmare for everyone, and what you need to keep them at bay is the best hair milk for natural hair. Why we like milk as an answer to making the unmanageable tresses tame is, it feels like a tonic to rejuvenate your hair and bring back shine and nourishment to it. So, no matter how brittle, dry, and frizzy your hair gets due to pollution and damage, milk is good enough to reverse it and revive it and make it look glossy and healthy again. The best part is, we have one for every kind of hair texture, and so no matter how thick or thin your hair is, you can surely revive its natural shine. Here are the 10 top hair milks for natural hair with numerous positive reviews that will give you your gorgeous-looking hair back.
Top 10 Hair Milks For Natural Hair 2023
Let your hair bask in this flaxseed-infused recipe to revive to its natural glory! Considering flaxseed is rich in Omega fatty acids and used widely for reducing hair loss, the formula also contains coconut milk, marshmallow roots, avocado, and more, thus making it an ultra-nourishing tonic for all hair types. No less than moisture therapy for your tresses, give it a try! In this YouTube video, you will find a detailed review of a tester's experience of using the product.
Pros
Hydrating milk for hair
Suitable for daily use
Provides intense moisture
Protects hair while styling
Detangles, repairs, and adds softness
Eliminates split-ends and makes hair manageable
Sulfate-free, paraben-free, petroleum-free, and mineral oil-free
Ideal for chronically dry, coily, curly, wavy, and kinky hair
Cons
Thick consistency
Contains fragrance
Price at the time of publication: $9.98
Let your curls breathe and dance with this leave-in conditioner by OGX! Packed with nourishing ingredients, it contains the goodness of citrus oil, sweet honey, and coconut oil to drench your curls and make them spring. From enhancing hair quality, taming the frizz to adding a decadent shine to your spirals and waves, you can thank us later for introducing this creamy blend to you! Check out this video featuring a tester's experience of using the conditioner on YouTube to gain a detailed understanding of the product.
Pros
Hydrates and detangles hair
Adds softness, shine, and bounce
Boost volume and makes hair manageable
Ideal for coarse, medium, to textured curly and wavy hair
Cons
Thick consistency
It may weigh down thin hair.
Price at the time of publication: $6.97
Why It's Worth Buying: More than 5,800 customers have given this curl-defining hair milk positive reviews on Amazon.
Happy curls days are back! Here's a hair milk that'll make you want to flaunt your curls all the time. Letting your brush or fingers run through your tresses without getting stuck in knots, this soothing lotion is formulated with natural ingredients. It has coconut oil to provide intense hydration and reduce breakage, and neem oil and silk protein to detangle the knots and add shine and softness. Besides this, the main ingredient— shea butter, treats damaged, dry, and chemically-treated hair intensely to repair and restore the health of the hair. If you want to know more about this product, check out this video on YouTube detailing a reviewer's experience of using this hair milk.
Pros
Ultra-conditioning leave-in moisturizer
Tames the frizz and enhances definition
Leaves curls manageable, soft, and shiny
Creamy, color-safe, and sulfate-free
Suitable for thick curly, kinky, and wavy hair
Cons
It may turn slightly greasy.
Dispensing the cream may be a hassle.
Price at the time of publication: $8.69
Are you looking for a mess-free application? Then, this spray will make the session a joy for you and your hair! Get ready to enjoy the 12 good effects of milk_shake Incredible Milk that will make you fall in love with your hair all over again. From detangling, protecting against UV rays, adding volume, maintaining color-treated hair to controlling frizz, and more, there's nothing that this spray cannot do. Plus, it contains organic murumuru butter that ensures intense hydration and nourishment for your tresses. Also, it's travel-friendly, so you can manage your hair anywhere, anytime! Its delicious smell and sleek finish have made it a favorite among reviewers.
Pros
Hassle-free conditioning
Leave-in treatment for all hair types
Protects from heat styling
Adds shine and softness
Repairs and strengthens with vitamin A
Smoothens the cuticles and eliminates split ends
Cons
Price at the time of publication: $25.5
Call it the ultimate detangler if you like because, with this hair milk containing macadamia nuts and vanilla in your kitty, your curls will always be tangle-free. Making hair brushing sessions effortless and smooth, the macadamia seed oil also claims to prevent breakage and strengthen hair from the core. Besides this, the formula also contains rice milk, which is high in vitamin A, B12, and D, and slippery elm bark for quick detangling. Yep, tangle-free curls, anyone?
Pros
Leave-in conditioner with a creamy consistency
Boosts edge control
Nourishes and strengthens strands
Provides intense moisture to eliminate dryness
Adds smoothness, shine, and improves hair texture
Ideal for all types of curls and textured hair
Cons
It may turn greasy on thin hair.
Not ideal if you are sensitive to smell
Price at the time of publication: $13.96
Whether you like avocado or not (who doesn't?), this hair milk ensures to quench your hair's thirst for nourishment. So, if you are dealing with dry, damaged, coarse, or brittle hair, then this hair milk is the tonic you need to revive and repair the strands. Also, it contains certified organic ingredients other than avocado, thus making it an all-natural, safe, and mild leave-in blend for your tresses. Do not skip it!
Pros
Suitable to use daily
Safe for all hair types
Boosts length retention
Adds softness and smoothness
Leaves hair manageable and tangle-free
Cons
It might take time to absorb.
It may weigh down thin hair.
Price at the time of publication: $10.43
Detangling knots hurts, doesn't it? But to children, it hurts even more. So, if your child ends up running away or avoiding every time you offer to brush their hair, then you must try this hair detangler! With a gentle formula packed with coconut oil, shea butter, and sunflower oil, it provides nutrients, prevents breakage, and softens hair with every spray. Also, no matter how tough the tangles are, it ensures to detangle effortlessly so you can brush without tugging or breakage. Yep, just what you need to make hair brushing a joy for your li'l ones. Try it!
Pros
Improves flexibility and restores moisture
Ensures hassle-free and tug-free styling
Strengthens hair and promotes natural hair growth
Free of parabens, sulfate, DEA (diethanolamine), and formaldehyde
Suitable for low porosity, natural, frizzy, dry, curly, and wavy hair
Cons
Hair may turn slightly sticky
Price at the time of publication: $10.86
When it comes to dry and damaged hair, you must stick to something natural, gentle, and effective! Like this hair milk, for instance, with sweet raw honey and agave nectar is ideal for intense moisture and nourishment that your hair needs. Reviving your locks, protecting them, and moisturizing, this hair milk prevents breakage, eliminates split-ends, and softens hair too.  Also, it is packed with umpteen natural ingredients, making it a safe and gentle option for all.
Pros
Suitable for all hair types
Protect against daily damage
Eliminates knots and detangles gently
Adds smoothness with intense and deep condition
Sulfate-free, paraben-free, petroleum-free, and mineral oil-free
Free from artificial color and cruelty-free
Cons
It may turn slightly sticky.
Price at the time of publication: $10.49
How about a botanical tonic for your hair? A hair milk with aloe vera, coconut water, hemp oil, and tea tree oil, this solution claims to hydrate your parched follicles, improve scalp health, and also strengthen and promote hair growth. Since your hair needs nutrients to grow and look healthier, this hair milk contains botanical extracts and powerful vitamin biotin that ensures improved hair elasticity and stimulates hair growth. Want more? It's free from all harsh chemicals, making it just the perfect hair milk for curly hair!
Pros
Gentle hydrating milk
Reduces hair breakage
Provides heat protection during styling
Cruelty-free and safe for daily use
Promotes thicker and strong hair
Suitable for 4b-4c natural hair, curly, and coily hair types
Sulfate-free, paraben-free, phthalate-free, and contains no artificial color
Cons
Price at the time of publication: $14.99
For hair that needs intense hydration, The Mane Choice's Heavenly Halo Hair Milk could be the solution. Ideal for chronically dry, damaged, coarse, and brittle hair, watch your strands and scalp feel rejuvenated with this softening milk. More like a thirst quencher that provides instant soothing and intense moisture, the formula is packed with premium nourishing ingredients, thus making it all the more special. It contains palmarosa oil, yucca root, umutango oil, soy, and burdock root oil that helps to strengthen and nourish hair inside out. Give it a try!
Pros
Leaves hair manageable, soft, and shiny
Ensures intense moisture and long-lasting repair
Eliminates dryness and promotes hair growth
Suitable for all types of hair and textures
Cons
Expensive
Packaging may be a hassle
Price at the time of publication: $22.99
Goodbye dryness, hello gorgeous tresses! There you go, those were the 10 best hair milks for natural hair. Are you still thinking about why you need one? Check out our buying guide to know more about its benefits.
Buying Guide
How Will Hair Milk Benefit Natural Hair?
Hair milk is an ultra-nourishing formula with natural ingredients that work together to provide intense nourishment to your hair, inside out. A must-have for those suffering from dry, damaged, or brittle hair since post-shower conditioning may not be enough. Here are some of the benefits of a hair milk:
Detangles and removes knots
Adds softness, shine, and smoothness
Adds volumes and makes hair look healthier
Enhances hair texture and defines curls and waves
Provides intense hydration and reduces breakage
Smoothens cuticles and eliminates split ends
Some of them are infused with hair growth benefits
More like a tonic for hair to look livelier, bouncy, and decadent
How To Use Hair Milk On Natural Hair?
Usage may vary depending on whether you have a spray or normal dispenser. Ideally, hair milk should be applied or sprayed on towel-dried hair before you move on to styling it. And the steps are simple. All you have to do is take a pea-size amount or an amount depending on your hair length and gently apply on your tresses from roots to tips. In addition, they aid in hair styling, making them ideal for twist-outs, braids, and other protective styles.
Why Trust StyleCraze?
The author of this article, Medha Deb, is a haircare enthusiast who understands that having rough and unmanageable hair can be a complete nightmare. She believes that the ideal hair milk is the answer to managing frizzy hair. She carefully combed through user feedback and curated this list of the finest hair milk available in the market. These products detangle your hair, eliminate split ends, make your hair soft and smooth, making it perfect for daily use.
Frequently Asked Questions
Is Milk Good For Natural Hair?
Yes, both hair milk and natural milk is good for hair. Though hair milk is applied post-shower on towel-dried hair, you can apply low-fat milk an hour before you shower to tame the frizz and add softness to your tresses.
Is Hair Milk A Moisturizer?
Hair milk is not only a moisturizer but also provides intense hydration, nourishment, and conditioning to dry, damaged, thirsty and coarse hair.
Can I Wash My Natural Hair With Milk?
Milk may weigh down your natural hair and might feel greasy a few hours later. So, ideally, you must use either coconut milk or low-fat milk if you are planning to have a milk hair wash.
Can you use hair milk daily on natural hair?
Yes. Use hair milk before shampooing the hair.
Can I apply hair milk overnight?
No. Applying hair milk overnight will over-moisturize the hair, weighing it down.
Does hair milk prevent or stimulate hair fall?
No. Hair milk protein only helps strengthen the hair, while calcium helps in hair growth.
Does hair milk straighten your hair?
Yes. Anecdotal evidence suggests that hair milk is a natural hair straightening ingredient.