15 Best Hair Mousses Available In India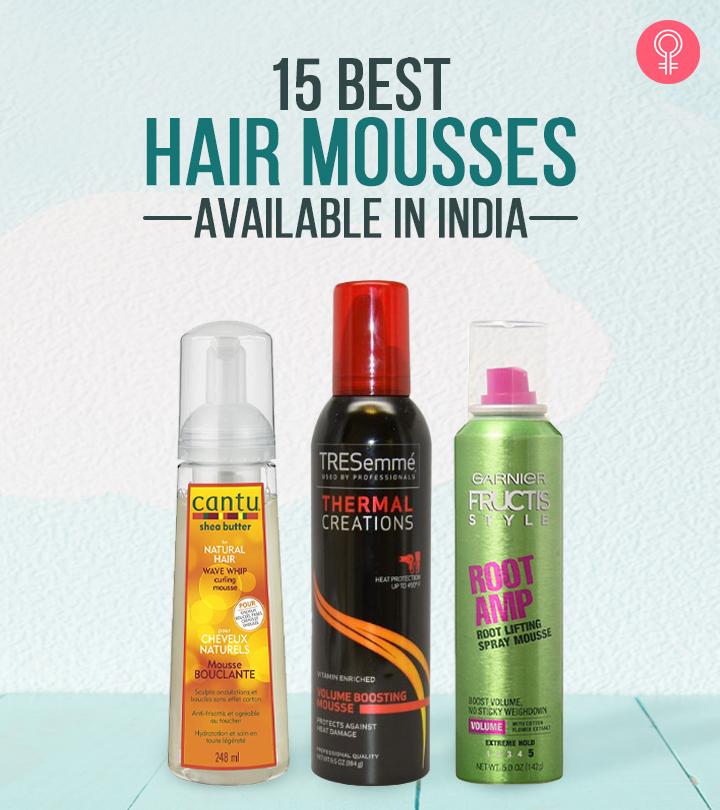 Looking for a product that can add that extra oomph to your hairstyle? A hair mousse can transform your look without a salon trip. Style your hair, control frizz, and enhance volume with just one quick application. Get the magic in your hands by choosing from our list of 15 best hair mousses available in India. Scroll down to check them out!
15 Best Hair Mousses Available in India
The Style Curl Construct Creation Mousse from GARNIER FRUCTIS offers extreme hold and long-lasting shine for curls. This lightweight product controls frizz and minimizes flyaways. It contains nourishing shea butter and fruit micro-waxes that give your curls a smooth, sleek look without any buildup. This mousse provides a weightless bounce without making hair crunchy and brittle.
Pros
Lightweight
Long-lasting (up to 24 hours)
Extra strong hold
Non-crunchy
Easy to use
Cons
The MOROCCANOIL Volumizing Mousse is infused with argan oil to condition your hair while adding volume. This long-lasting mousse has anti-static agents to fight frizz and make your hair look smooth and shiny. It also prevents flaking and limits oil development. Its flexible hold leaves the hair feeling light to allow hairstyling with lift and bounce.
Pros
Non-sticky
Adds volume
Non-flaky
Long-lasting
Flexible hold
Lightweight
Cons
Not suitable for thin hair.
The Wave Whip Curling Mousse from cantu is formulated with pure shea butter that enhances your curls while moisturizing and maintaining hair health. It conditions the hair shaft to help style and define natural waves. This lightweight mousse adds volume without any buildup and crunch. It is perfect for enhancing natural curls and permed hair and imparts a weightless, shiny, and smooth look.
Pros
Paraben-free
Phthalate-free
Cruelty-free
Sulfate-free
Dye-free
Cons
Not suitable for thick, long hair.
The Style Root Amp Spray Mousse from GARNIER FRUCTIS is enriched with cotton flower extracts to provide extreme volume from root to tips without making your hair dry and brittle. It is easy to apply and gives an instant lift to hair without any residue and flaky buildup. Use this product to achieve long-lasting hold and tame frizz.
Pros
Paraben-free
Gluten-free
Dye-free
Lanolin-free
Cons
The L'OREAL PARIS Curve It Curl Elastic Mousse provides long-lasting hold and definition to curly hair without any stickiness or buildup. It creates soft curls that have a natural bounce and shine. This lightweight formula can be used to build styles without making hair brittle, crunchy, or dry. It spreads evenly through your hair to control frizz and enhance your curls.
Pros
Non-crunchy
Long-lasting
Lightweight
Cons
Not suitable for thick, long hair.
The Thermafuse fixxe Extreme Volume Mousse is a lightweight product that provides thermal protection while repairing heat damaged hair. In addition to conditioning, it detangles and smoothes the hair for easy styling. It also boosts volume and provides instant body and long-lasting hold.
Pros
Vegan
Paraben-free
Sodium chloride-free
Sulfate-free
Cruelty-free
Cons
Not suitable for oily hair.
This hair mousse is infused with hibiscus essence to give your hair a tropical fragrance while eliminating frizz and flyaways. It creates loose waves for a soft and natural tousled look. This lightweight formula is gentle enough for daily use and offers a long-lasting hold, minus the stiffness and crunch.
Pros
Paraben-free
Silicone-free
Colorant-free
Color-safe
pH-balancing
Cruelty-free
Cons
None
Enliven Hair Mousse strengthens and maintains healthy hair. The amino pro-vitamin B5 helps to replace the lost amino acids in the hair. The ingredients infused in this mousse make hair look healthier. This hair mousse, when applied to damp hair, allows you to style your hair easily.
Pros
Suitable for all hair types
Pleasant scent
Price worthy
Easy-to-use bottle
Cons
The Thermal Creations Volume Boosting Mousse from TRESemmé has a moisture-locking, vitamin-enriched formula that protects the hair from heat-styling tool damage. It contains ingredients like niacinamide, glycerin, and biotin to nourish the hair and make it soft, supple, and shiny. These ingredients also moisturize the hair shafts and control frizz and flyaways. The unique polymers provide volume and flexibility to the hair for easy styling and long-lasting hold.
Pros
Heat protectant
Long-lasting
Value for money
Cons
The UNITE Elevate Mousse is enriched with argan oil to protect the hair from UV rays and the damage caused by heat styling tools. It nourishes the hair to keep it healthy with long-lasting shine. This mousse has incredible memory to hold a style for days. It creates volume, makes the hair supple, and provides an easy-to-manage texture.
Pros
Cruelty-free
Heat protectant
UV ray protection
Cons
The TRESemme Tres Mousse provides superior control without leaving your hair sticky or stiff. The lightweight formula is easy to apply and prepares the hair for any style. This mousse builds volume, keeps stray hair in place, and eliminates frizz. The alcohol-free formula does not dry out the hair and is effective in hot and humid weather conditions.
Pros
Paraben-free
Dye-free
Alcohol-free
Aluminum-free
Humidity resistant
Cons
None
This hair mousse from BROCATO is fortified with conditioning agents like chamomile flower extract, soy protein, and panthenol. The two super volumizers, butylene glycol and glycerin, impart exceptional fullness and manageable volume to the hair. The styling agents in this mousse provide deep conditioning, moisturization, and flexibility for hairstyling. This hair mousse is ideal for enhancing curls and wavy hair and eliminating frizz.
Pros
Cons
This volumizing hair mousse from L'OREAL PARIS strengthens the hair fibers and coats the strands with moisture to make them smooth and shiny. It strengthens the hair and creates volume from root to tip. It also offers flexible control to make the hair look fuller. Use it on wavy or fine hair to give it a glossy, frizz-free look.
Pros
Long-lasting
Volumizing
Adds shine
Fragrance-free
Suitable for weak and fine hair
Value for money
Cons
None
The Herbal Essences Totally Twisted Curl Boosting Mousse keeps humidity at bay for all-day frizz control. It gives a natural bounce to curls and waves and has a refreshing fragrance of mixed berry essences. This pH-balanced formula imparts definition and shine to hair and is gentle enough for daily use.
Pros
Paraben-free
Silicone-free
Dye-free
Color-safe
pH-balanced
Cruelty-free
Cons
Not suitable for thick hair.
The SACHAJUNA Hair Mousse is enriched with the signature Ocean Silk Technology, which improves elasticity while moisturizing the hair to give it shine. This styling product adds volume and body to the hair without leaving any residue and offers flexible hold for easy styling.
Pros
Cruelty-free
Vegan
Paraben-free
Cons
Not suitable for fine hair.
A hair mousse is an amazing styling accessory that allows you to do so much more with your hair. Given below is a list of benefits of using a hair mousse.
Benefits Of Using A Hair Mousse
Protects the hair from heat styling damage.
Sets your curls like no other product can.
Adds amazing volume.
Tames frizz and controls flyaways.
Allows experimentation with new hairstyles.
Enhances shine and definition.
Works on all types of hair.
Gives the hair a natural bounce.
If you are convinced about the many advantages of using a hair mousse, it is time to learn the best way to use it. Read ahead for directions to use.
How To Use A Hair Mousse
Shampoo and towel dry your hair. A hair mousse works best on clean damp hair, although a few can be used between hair wash days.
Divide your hair into sections and apply small amounts of the product to each. Make sure not to overdo it as it can weigh your hair down.
Apply the mousse from the roots to the tips, gradually adding more of the product.
Blow dry using the right attachments as per your hairstyle. A diffuser is best for curly hair.
Dry the hair in an upward motion for maximum volume and lift.
Style and define your curls and waves using a comb or paddle brush.
If you are confused about which product will suit you best, listed below are a few things to keep in mind while choosing a hair mousse.
How To Choose The Best Hair Mousse
Ingredients: Choose a hair mousse with natural ingredients that repair and nourish the hair. Some mousses also moisturize and protect the hair from heat damage.
Formula: Most mousses come in foam aerosol sprays and can be easily applied without making your hair greasy. Avoid chemicals and alcohol as they can dry out your hair.
Hold: The amount of hold you need depends on your desired hairstyle. For a natural look, go for a mousse with light hold. If the hairstyle is elaborate and needs to stay in place for a long time, you need one with strong hold.
A hair mousse is a styling accessory that offers the versatility of many products rolled into one. Pick one from our list of 15 best hair mousses available in India to add long-lasting volume and definition to your hair.

Recommended Articles
The following two tabs change content below.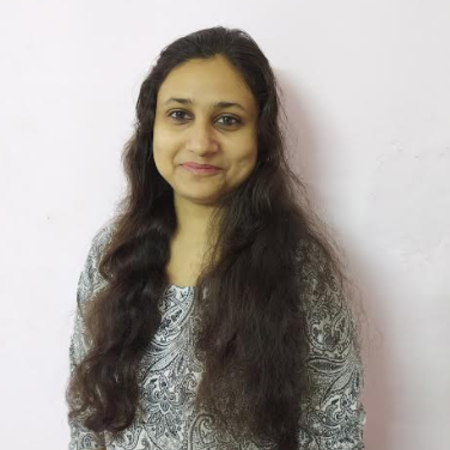 Shiboli has a master's degree in English literature from The English and Foreign Languages University, Hyderabad, and is a certified...
more