9 Best Anti-Dandruff Hair Oils Of 2023
Rejuvenate your dry, dull, and itchy scalp daily with non-sticky anti-dandruff oils.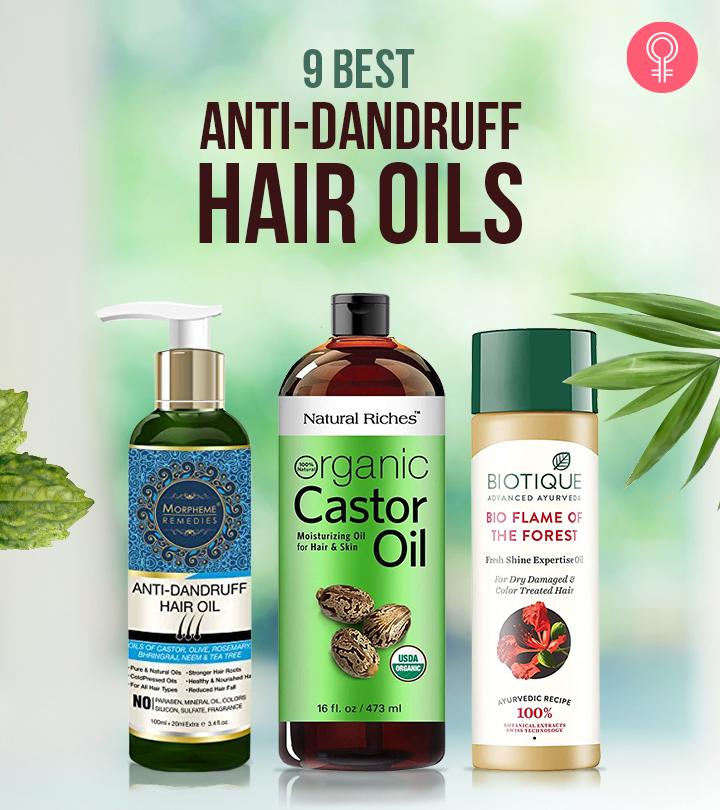 Best hair oil for dandruff is probably one of the most asked questions on the internet when dealing with dandruff. Because let's face it, there are a ton of brands making anti-dandruff hair oils, and all of them claim to be the best. But are they the best options? Well, look no further than our comprehensive and well research list of the best anti-dandruff hair oils that you can buy!
9 Best Hair Oils For Dandruff
The Nutrient Riches Organic Castor oil can make your hair smooth and healthy. It contains 100% pure castor oil, which is rich in omega 6 and 9 fatty acids, vitamins, minerals, and proteins. These ingredients provide various benefits to the hair and skin. This oil penetrates the scalp and strengthens the roots from within to aid hair growth. It locks in moisture to eliminate dandruff and dry scalp and thickens the hair strands to prevent hair loss and split ends and impart shine.
Pros
No harsh chemicals
Mineral oil-free
Promotes hair growth
Cons
Price at the time of publication: $16.95
Pros
Contains natural ingredients
Nourishes the scalp
Suitable for all hair types
Cons
Price at the time of publication: $9.97
Price at the time of publication: $18.0
Pros
Nice fragrance
Makes the hair soft
Tames frizz
Imparts shine
Cons
Price at the time of publication: $5.19
The Sulfur 8 Medicated Anti-Dandruff Oil provides complete protection for your hair. It controls scalp itching and flaking and eliminates dandruff. This oil contains aloe leaf juice, jojoba seed oil, and hydrolyzed collagen that inhibit the growth of bacteria and fungi and prevent infections.
Pyrithione zinc has antibacterial and antifungal properties that help treat dandruff. This oil makes your hair soft and soothes dry and itchy scalp. This lightweight, non-greasy formula helps in restoring the natural health of your hair and making it shiny, voluminous, and manageable.
Pros
Non-greasy
Lightweight
Imparts shine
Restores dry, brittle hair
Suitable for chemically treated hair
Cons
None
Price at the time of publication: $8.71
The NuZen Gold Herbal Hair Oil promotes healthy hair growth by strengthening the roots and stimulating and nourishing the hair follicles and scalp. It contains coconut oil, fenugreek, juice of hibiscus flower, hibiscus leaf, gooseberry, and citrus lemon. These ingredients revitalize, strengthen, and protect the hair from free radical damage and eliminate dandruff and toxins from the scalp. This intensive hair treatment repairs dry, brittle, and damaged hair and strengthens thinning hair to make it thicker, fuller, and shinier.
Pros
Promotes hair growth
Imparts shine
Unisex
Cons
Price at the time of publication: $32.38
The Kazima Premium Onion Herbal Hair Oil can eliminate dandruff and promote hair growth. It intensely nourishes the hair and scalp, strengthens the hair roots, stimulates hair growth, and reduces hair loss. It also contains aloe vera gel and olive oil that soothe the scalp and impart shine. This oil penetrates your scalp and nourishes it while controlling hair fall and dandruff. It is suitable for all hair types.
Pros
Controls hair fall
Imparts shine
Gets absorbed easily
Suitable for all hair types
Cons
Price at the time of publication: $19.95
Dr. JRK's dano Anti-Dandruff Treatment controls and eliminates dandruff. It contains hibiscus flower, dyer's oleander, senna flower, neem leaves, and coconut oil that prevent hair fall and protect the hair from bacterial and fungal infections. Coconut oil hydrates the hair and scalp and controls itching. This product inhibits the growth of Pityrosporum ovale that causes seborrheic dermatitis. It is suitable for all hair types.
Pros
Non-sticky
Clinically proven
Controls hair fall
Cons
Price at the time of publication: $24.99
This hair oil from BIOTIQUE contains Flame of the Forest flowers and hibiscus extracts that promote hair growth and enhance luster. It also contains amla and shikakai that nourish your hair and scalp, reduce flaking, give your scalp a collagen boost, and protect the hair and scalp from free radical damage. This formula preserves your perms and hair color and is suitable for use in men and women.
Pros
Promotes hair growth
Imparts shine
Suitable for color-treated hair
Contains natural ingredients
Cons
Price at the time of publication: $40.44
This hair oil from Silk & Stones helps prevent the buildup of flakes and dandruff on the scalp. It hydrates and strengthens the hair and makes it shiny. This oil contains vitamins and nutrients that promote hair growth by nourishing the follicles and roots and improve hair texture. It revitalizes dull and damaged hair and is suitable for everyday use. This product is free of preservatives, metallics, and chemicals.
Pros
Vegan
Gluten-free
Cruelty-free
Prevents premature graying
Promotes hair growth
Cons
None
Price at the time of publication: $17.99
Dandruff is a common issue for people with dry, itchy scalps. Many products on the market claim to cure dandruff, but not all of them work as advertised. Check out this buying guide to learn what to consider when buying the best anti-dandruff hair oil.
What To Consider When Buying Hair Oil For Dandruff – Buying Guide
Your hair type is a vital determinant of which hair oil to use. For example, coconut hair oil is recommended for dry and frizzy hair. Another anti-frizz hair oil is argan oil. To prevent itchiness and thinning hair, choose tea tree oil.
The ingredients play an important factor when buying hair oil for dandruff. Look for castor oil, rosemary oil, tea tree oil, and neem oil to eliminate dandruff and itchiness. Overall, look for products that contain natural ingredients, minerals, and essential oils.
Avoid ingredients like pyrithione zinc, ketoconazole, and coal tar, as they can have potential side effects. Instead, opt for hair oils that are free from sulfates and parabens.
Opt for a hair oil that has additional beneficial oils. For example, to prevent dryness, look for ingredients like vitamin E, olive oil, jojoba oil, etc. You can also incorporate hair oil with aloe vera juice to soothe the scalp and have a relaxing feeling.
You can find a lot of hair oils on the market that claim to cure dandruff, but few of them are approved by dermatologists. It will ensure the results show whether they are safe to use.
To make your hair strong, moisturize your hair with a nourishing hair oil infused with various beneficial oils. Look for protein-rich oil that is essential for healthy and shiny hair. You should also look for oils that have keratin, as this protein can strengthen the hair shaft. Finally, to make your hair shiny, choose an oil with fatty acids and vitamins A, B1, and B12.
If you want to treat dandruff, you need to keep your scalp clean and moisturized. This is where an anti-dandruff hair oil can help. Choose any of the hair oils mentioned above to get rid of dandruff. But remember, changes don't happen overnight. Consistency is important. Use these hair oils regularly and watch your hair transform.
Why Trust StyleCraze?
The author, Shiboli Chakraborti, is hair care enthusiast. She put together this list of the top anti-dandruff hair oils after carefully considering multiple online reviews from users. She also looked closely at the ingredients and formulations of the options available in this category to shortlist the safest and most effective ones. The products listed here can help you solve dandruff issues while nourishing and replenishing your hair and scalp.
Frequently Asked Questions
Can I oil my hair if I have dandruff?
Yes, you can oil your hair even if you have dandruff. In fact, certain oils can help alleviate dandruff symptoms by moisturizing the scalp and providing essential nutrients. If you have a dry scalp, oils will help moisturize the scalp and reduce flaking.
Does coconut oil increase dandruff?
No, coconut oil helps in nourishing your scalp and hair and treating dandruff. Coconut oil is an excellent natural moisturizer, which can help to hydrate and soothe a dry, itchy scalp
Can dandruff cause hair loss?
Dandruff doesn't cause hair loss directly. However, it can be a reason for hair loss. Dandruff results in scratching, which can damage your hair follicles and result in the loss of your hair.
Should I wash my hair every day if I have dandruff?
No. Washing your hair with an anti-dandruff shampoo 2-3 times a week is sufficient.
Does drinking water reduce dandruff?
Dehydration is a common reason for a dry scalp. Hence, drinking at least 8 glasses of water a day can help hydrate your scalp and reduce flaking. However, you need to use an anti-dandruff shampoo to get rid of dandruff.