9 Best Hair Oils For Dry Hair That Reduce Breakage – 2023
Bank on the mystical abilities of nourishing oils to revitalize dull and damaged hair.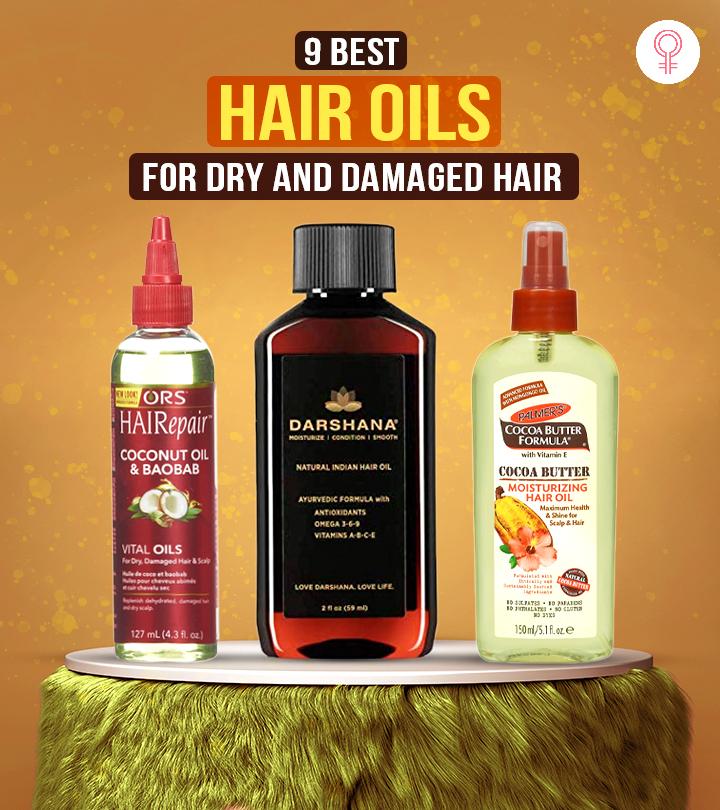 Dry, brittle hair can lead to frequent hair fall and damage. Getting your hands on the best hair oil for dry hair is essential to keep your tresses well-nourished and damage-free. While there are many commercial treatments available, oiling your hair regularly is the best way to retain the moisture of your scalp and hair. To help you get started, we have shortlisted the 9 best hair oils that can help you manage your dry tresses better.
9 Best Hair Oils Of 2023 For Dry And Damaged Hair
The Hairfinity Nourishing Botanical Oil is free of chemicals and is derived from natural ingredients and essential oils. Its perfect formula will help repair your damaged hair and pamper your scalp. It enhances hair elasticity and makes your hair healthy and voluminous. This botanical oil is ideal for all hair types, including chemical-treated and natural-textured hair. It also may help treat hair loss issues, including alopecia and hairline thinning. This video will help you understand the product better.
This oil was found to reduce hair breakage by 95%. It also seals scalp moisture and fights hair frizz.
Key Ingredients: Hydrolyzed collagen, coconut oil, sweet almond oil, grapeseed oil, apricot oil, jojoba oil, moringa oil, olive oil, vitamin E, and essential oils (lavender, thyme, cinnamon, rosemary, cedar, peppermint)
Pros
Sulfate-free
Silicone-free
Paraben-free
Phthalate-free
Mineral oil-free
Petroleum-free
Fragrance-free
Cons
None
Price at the time of publication: $25.99
The OGX Coconut Miracle Oil is ideal for dry, frizzy, and coarse hair. It contains Moroccan argan oil that hydrates hair strands and follicles. The vanilla bean extract, tangerine, and tiare essence treat your senses and leave your hair smelling fresh. Coconut oil makes the hair look lustrous, soft, and glossy. This chemical-free hair care formula is mild and keeps the hair shaft nourished and revived. It is free of parabens and sulfates. Check out the detailed review of the product in this video.
Key Ingredients: Vanilla bean extract, tiare essence, Moroccan argan oil, coconut oil, and tangerine
Pros
Paraben-free
Sulfate-free
Cons
None
Price at the time of publication: $7.34
The Mizani 25 Miracle Nourishing Oil moisturizes and protects hair. This leave-in formula is lightweight and is suitable for dull, dry, and color-treated hair. It contains coconut oil, jojoba oil, and olive oil that fight frizz and flyaways. These oils make your hair lustrous, glossy, and healthy. This formula gets instantly absorbed and deeply penetrates the hair shaft. It is 99% biodegradable. It also leaves your hair manageable.
Key Ingredients: Coconut oil, olive oil, jojoba oil, and sunflower oil
Pros
Biodegradable formula
Color-safe
Multipurpose
Fast-absorbing
Cons
None
Price at the time of publication: $24.0
The roselle Naturals Chebe Hair Oil helps strengthen and lubricate the hair. It also helps prevent hair breakage and shedding. The product is ideal for hot oil treatments and also offers a finished look. The ultra-moisturizing properties of chebe powder can be attributed to lavender croton, resin, gum arabic, prunus mahaleb, resin, clove, gum Arabic, and vegetable oil. This powerful blend of natural herbs and spices helps seal hair moisture and repairs dehydrated hair. Chebe hair oil gives you a head full of long, healthy, lustrous, and voluminous hair.
Key Ingredients: Organic olive oil, chebe powder, resin, clove, castor oil, and peppermint oil
Pros
Lightweight
Fights hair shedding
Cons
None
Price at the time of publication: $9.99
The ORS Hairepair Vital Oils is a product rich in minerals, vitamins, and fatty acids. It gets quickly absorbed into the hair shaft and scalp. Its sweet almond oil is an emollient that seals moisture and hydrates dry scalp and hair strands. The coconut oil replenishes and restores the moisture content. The oil suits even chemically treated hair. The grapeseed oil in the product is rich in antioxidants. It penetrates faster and protects and hydrates the hair. The baobab oil is rich in vitamins A, D, E, and F, and revitalizes weak hair. These oils work without weighing the hair down. The product suits all hair types and textures.
Key Ingredients: Coconut oil, grapeseed oil, baobab oil, and sweet almond oil
Pros
Lightweight
Suits all hair types
Fast-absorbing
Cons
Price at the time of publication: $6.5
The Darshana Natural Hair Oil is rich in vitamins, fatty acids, and antioxidants. This ayurvedic formula contains organic sunflower seed oil, coconut oil, fenugreek seed, and castor oil that moisturize and condition your hair shaft. The extracts of Chinese hibiscus, acacia, and water hyssop promotes hair strength, vitality, and radiance. This oil is enriched with Indian pennywort extract that is a good source of vitamin C. This extract stimulates hair follicles and promotes healthier hair. The grapefruit peel oil renders the product a natural citrus scent. It absorbs quickly and controls hair frizz. It is free of parabens, sulfates, silicones, mineral oil, and artificial colors. It also is cruelty-free.
Key Ingredients: Organic sunflower seed oil, castor oil, coconut oil, apricot kernel oil, olive oil, linseed extract, acacia extract, water hyssop extract, Indian pennywort extract, orange, and grapefruit peel oil
Pros
Mineral oil-free
Sulfate-free
Paraben-free
Silicone-free
Mineral oil-free
Artificial fragrance-free
Cruelty-free
Cons
None
Price at the time of publication: $39.0
The Difeel Argan Premium Hair Oil is rich in essential fatty acids, vitamin E, and minerals. Argan oil penetrates the hair shaft and revitalizes each hair strand. It also detangles hair and makes it more manageable, radiant, and soft. This product is free of petroleum, alcohol, mineral oil, and preservatives.
Key Ingredients: Argan oil, fruit extract, and fruit oil
Pros
Petroleum-free
Alcohol-free
Mineral oil-free
Preservative-free
Cons
Price at the time of publication: $7.75
The Ouai Hair Oil is a powerful blend of several oils and extracts. It contains galanga root extract that protects each hair follicle from the harmful UV rays. It also keeps the hair color from fading. This formula contains ama oil, a blend of amaranth seed extract and sunflower oil, which strengthens hair and repels humidity. It also contains a blend of Asian borage oils that nourish hair, smoothen split ends, and fight hair frizz. Baobab oil restores your hair health. This superlight product is crafted to make styling easier and adds extra gloss to hair. It is free of parabens and sulfates. It is also color-safe and cruelty-free.
Key Ingredients: Amla oil, borage oil, baobab seed oil, and African galanga root extract
Pros
Sulfate-free
Paraben-free
Color-safe
Cruelty-free
Lightweight
Cons
None
Price at the time of publication: $28.0
The Palmer's Cocoa Butter Formula Moisturizing Hair Oil is an excellent blend of cocoa butter, peppermint oil, biotin, and vitamin E. The peppermint oil has antifungal properties that soothe an itchy scalp. Biotin revitalizes the hair while vitamin E provides nourishment. This oil also promotes hair growth.
Key Ingredients: Cocoa butter, peppermint oil, biotin, and vitamin E
Pros
Relieves itchy scalp
No animal testing
Cons
Price at the time of publication: $8.78
Dry hair is a common problem faced by many. It causes itchiness, dullness, and hair loss. Hair oil not only helps in moisturizing the dry tresses but also protects them from external damage. For this reason, you need to buy the right oil for your dry strands. There are a few things you should consider before purchasing a suitable product.
What To Consider When Buying Oil For Dry Hair – Buying Guide
Ingredients to pick: Choose a hair oil with nourishing and hydrating ingredients like coconut, argan, jojoba, almond, olive, and grapeseed that are good for dry hair. They reduce breakage and make your hair look healthy and hydrated. Make sure to get a product with a moisturizing and protective effect.
Ingredients to avoid: Look for labels like chemical-free. Avoid chemical ingredients like parabens, sulfates, GMO, silicones, phthalates, mineral oils, and added fragrances. These ingredients are harmful for the hair and reduce the natural moisture of your tresses.
Formulation: Always do research about the formulation of hair oil. It should be non-greasy, non-sticky, and skin-friendly. It should be lightweight with quick-absorption properties and must be ideal for chemically-treated hair.
Hair concerns: Make sure that you choose an oil ideal for your hair concerns. Ingredients like argan oil and jojoba oil, and coconut oil are the most common ones which are excellent for very dry or damaged hair. They make hair stronger and prevent breakage. Castor and olive oil make your hair appear thick and fuller while preventing hair loss. Also, choose formulations with neem if you have dandruff or itchy scalp.
Additional benefits: Ensure the product you choose is a volumizing one. It should add extra volume to your hair without having a greasy or heavy feeling. You should choose hair oils that combat frizziness and prevent your hair from developing split ends. This is especially important if you have curly or wavy hair.
Conclusion
These hair oils could be better alternatives to commercial options for treating dry, damaged hair. Pick one that suits your needs the best. With regular use, you can revive your hair health and shine.
Why Trust StyleCraze?
The author of this article, Shiboli Chakraborti, is a hair care aficionado who loves trying out different hair care products. She has curated this list of the best hair oils for dry hair after conducting in-depth research to help her readers make the best pick. She too uses hair oil as a remedy to eliminate the dryness of her tresses, and the recommendations in this post include some of her top picks.
Frequently Asked Questions
Can hair oils make your hair dry?
No. Hair oils seal moisture. Using them also stimulates blood circulation. These oils do not make your hair dry.
Does too much hair oil damage hair?
Application of excess hair oil can disturb the natural oil equilibrium of the scalp and make hair more fragile and prone to damage. It is important to wash excess oil off the hair.
What is dry hair a sign of?
Dry hair could be caused due to underlying health problems that keep your hair from retaining moisture. It could be a sign of nutritional deficiencies too.
Can dry hair be restored?
Yes, dry hair can be restored with regular nourishment with the right products.
Why is my hair so dry?
Several factors can make hair dry. These include excess heat styling, sun exposure, humidity, etc.
Should we comb hair after oiling?
Do not comb your hair right after oiling. Hair at this point would be vulnerable, and combing could cause hair breakage and hair loss.
Which hair oil is good for daily use?
The ORS HAIRepair Vital Oils are good for daily use. It is lightweight, enriched with minerals, vitamins, and fatty acids, and easily absorbed.
How often should I apply oil to dry hair?
Oiling your dry hair twice or thrice weekly is ideal to keep it moisturized and nourished.
How much oiling is good for dry hair?
Use 1 or 2 spoonfuls for fine hair and 1/4th cup for thick hair.
Recommended Articles