12 Best Hair Oils For Dry Hair – 2023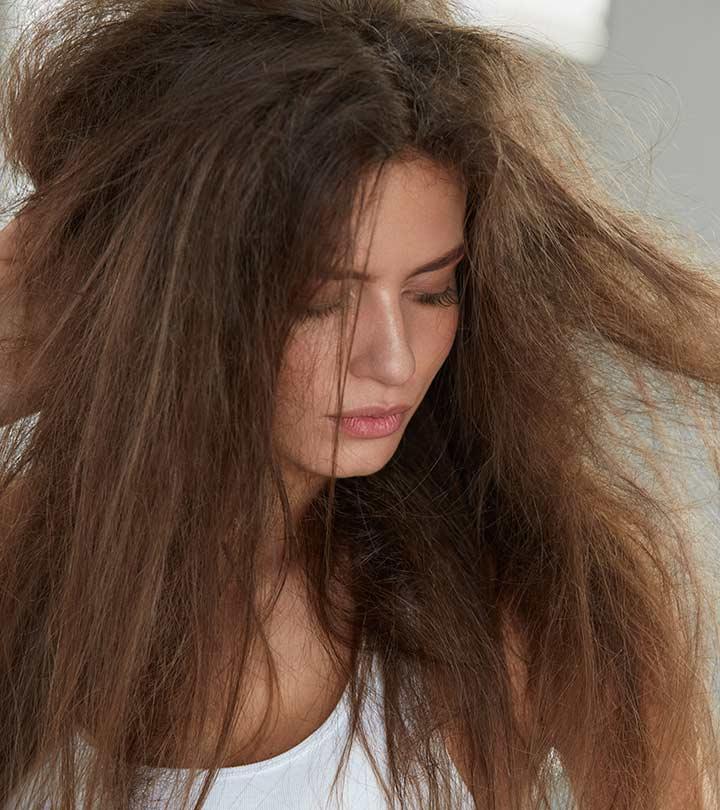 Dry hair. We've all experienced it at some point in our lives and know what a pain it is to make it look healthy again. And if you grew up in an Indian household, there's a 100% chance that your mother and grandmother chided you to oil your hair every single day to combat dryness. You may not have listened to them but it will do your dry hair a whole load of good if you heed their advice now. Hair oils – whether coconut, almond, herbal, or any other kind – are natural moisturizing agents that can hydrate your hair and nourish it from within. That they're so easily available is just another great reason to opt for oil treatment for dry hair. And you're in luck because I've compiled a list of the best hair oils for dry hair available in the market right now!
Top 12 Hair Oils For Dry Hair
Khadi Naturals Herbal Hair Oil is the blend of an astounding 18 herbal oils that combat a ton of hair problems. While mint, camphor, and eucalyptus oils relieve stress and protect your hair from environmental damage, herbs like amla, bhringraj, and neem moisturize and deep condition it. This is the best hair oil for dry hair as it works especially well on chemically treated and overexposed hair.
Pros
Light and non-sticky
Conditions and softens hair
Reduces frizz
Reduces hair fall and promotes hair growth
Has a cooling sensation on the scalp
Washes off easily
Cons
Thin, runny consistency
Strong smell 
This organic hair oil by Life & Pursuits is enriched with Ayurvedic herbs that enhance your hair health. It contains Bhringraj, neem, hibiscus, amla, methi, and ginger that promote hair growth and prevent hair loss. This cold-pressed oil helps improve the overall texture of your hair and reduces dandruff. It moisturizes and conditions the hair, imparting natural shine.
Pros
Contains ayurvedic ingredients
Paraben-free
No synthetic fragrances
Mineral oil-free
No harmful chemicals
Cons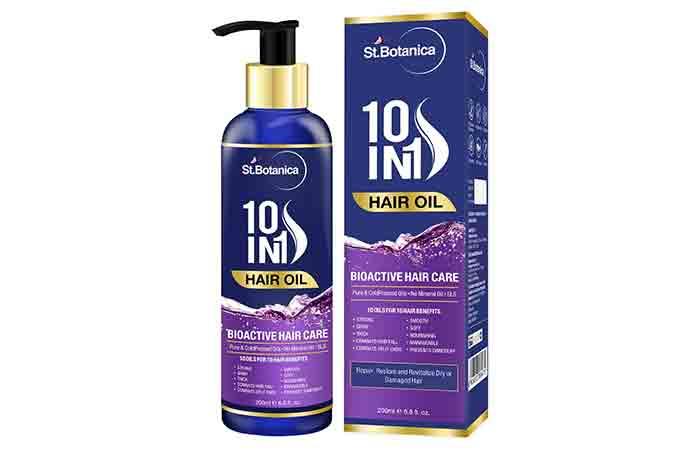 The St. Botanica 10 In 1 Hair Oil is made from natural and pure oils. The olive oil combined with other ingredients works wonders to keep your hair healthy. The castor oil in the blend contains ricinoleic acid that improves blood circulation in the scalp. The bhringraj oil is a great solution for a receding hairline, and hair dryness and dandruff. The ten oils work together to make your hair strong, shiny, and thick. They combat split ends and make hair smooth. The oil is free of mineral oil, sulfates, silicone, and parabens.
Pros
Sulfate-free
Paraben-free
Silicone-free
Mineral oil-free
No artificial fragrance
No additives or chemicals
Castor oil improves scalp blood circulation
deal for all hair types
Cons
None
Kama Ayurveda Bringadi Intensive Hair Treatment claims to be the secret to Indians' lush, glossy hair and makes a strong case for it. This Ayurvedic product contains a potent herbs blended into sesame oil and milk. It contains indigo, false daisy, gooseberry, licorice, and balloon vine that deep condition your dry hair while promoting hair growth and preventing scalp infections. This makes it arguably the best oil for dry hair. 
Pros
Light and non-sticky
Makes hair softer and smoother
Reduces frizz
Reduces hair fall
Reduces dandruff
Prevents premature graying
Has a calming effect
Can be applied just 30 minutes before washing off
Cons
Expensive
Strong smell
Takes time to show results 
[ Read: DIY Hair Oils For Different Hair Problems ]
If your hair is dull and graying along with being dry, then Dabur Amla Hair Oil is going to be your best friend. This nourishing hair oil extracted from Indian gooseberries claims to moisturize your hair and scalp, promote hair growth, and control premature graying of hair.
Pros
Moisturizes hair
Not very sticky
Does darken gray hair
Washes off easily
Cons
Strong smell
Open bottle mouth design makes it very prone to spillage
Trust in the healing effects of Ayurveda and try out Parachute Advansed Ayurvedic Hot Oil to treat your dry hair. Its coconut oil base is infused with Ayurvedic warming oil like black pepper oil, white thyme oil, black oil, and hibiscus extracts that blend together to hydrate your hair, stimulate hair growth, and deep condition it from within.
Pros
Makes hair softer and more manageable
Stimulates hair growth
Does not solidify during winter as it stays naturally warm
Cons
Contains artificial fragrance
Cannot be left on overnight as it is a deep conditioning treatment
Blossom Kochhar Aroma Magic Stimulate Hair Oil is a blend of ylang ylang, cedarwood, and rosemary essential oils. And the benefits of essential oils for dry hair are astounding! It primarily aims to combat dry hair and hair fall and – as its name suggests – stimulate new hair growth. It is the best hair oil for dry scalp as it claims to reduce itchiness and dandruff on your scalp.
Pros
Reduces dryness of hair and scalp
Gets absorbed quickly
Non-sticky
Reduces itchiness and has a soothing effect
Pleasant fragrance
Cons
Does not stimulate hair growth as claimed
The Moroccanoil Treatment makes your hair smooth and manageable. It is enriched with argan oil and linseed extracts that reduce your hair's drying time and tame frizz and flyaways. This oil repairs the lost proteins of your hair and strengthens it. Fatty acids, omega-3 oils, and vitamins make your hair shiny, and antioxidants help protect your hair. This hair oil reverses hair damage caused by heat styling and harsh environmental factors.
Pros
Alcohol-free
Long-lasting
Pleasant fragrance
Tames frizz and flyaways
Absorbed quickly
Cons
Price at the time of publication: $48.0
[ Read: How And When To Apply Hair Oil According To Ayurveda ]
The Organix Renewing Argan Oil Of Morocco Extra Penetrating Oil (now that's a mouthful) is a potent formula made especially for dry, coarse hair. This argan oil blend promises to penetrate your dry hair and moisturize, renew, and soften it while protecting it from the heat generated from styling tools and UV damage. 
Pros
Light and non-sticky
Makes hair soft, smooth, and manageable
Reduces frizz
Pleasant smell
Can be used every day 
Cons
If the thought of walking around with slicked down, oily hair does not appeal to you, then you should check out Bajaj Almond Drops Hair Oil. Since it's a sweet almond oil, it contains vitamin E that not only hydrates your hair but also helps you retain that moisture. This light hair oil is also not sticky and makes your hair look healthy and shiny.
Pros
Light and non-sticky
Softens hair
Good bottle design that dispenses oil in drops
Cons 
Contains 77% mineral oil and just 20% actual almond oil 
A common problem that people with dry hair experience is dandruff. And Garnier Ultra Doux Nourishing Hair Oil claims to shoot both those birds with one gun. This blend of coconut, wheatgerm, and almond oils combats dryness, and nourishes and softens it from within. It also contains an active purifying agent that gets rid of dandruff with regular use.
Pros
Light and non-sticky
Gently moisturizes hair
Good bottle that dispenses the oil in drops
Pleasant smell
Cons
Does not treat dandruff
Thin consistency
Does not get absorbed into the hair and scalp
Nihar Naturals Shanti Badam Amla Hair Oil is a blend of coconut, almond, and gooseberry oils. Not only does it claim to hydrate your dry hair, strengthen your hair follicles, and reduce dandruff and graying, but also claims to do so while providing a cooling sensation on your head.
Pros
Light and non-sticky
Softens hair
Cons
Contains mineral oil
Strong smell 
[ Also Try – Juene Hair Oil ]
Now that you have had a look at the best hair oils for dry hair, it's time to guide you through some essential points to consider when buying one for your hair needs. Keep scrolling to find out more!
Things To Consider When Buying A Hair Oil For Dry Hair
Natural ingredients are safe to use as they do not cause any allergic reactions. Besides, they are more effective and provide quick results. Go for coconut, almond, olive, avocado, or jojoba oil. These natural oils help in strengthening the hair while adding shine to it. Besides, they have moisturizing properties that supply adequate moisture content to the hair and keep them free from frizz and dullness. Jojoba oil is similar to the natural oil or sebum produced by the scalp. Therefore, it works brilliantly for treating scalp and hair dryness. This oil provides optimum nourishment to the scalp and hair to reveal smooth, frizz-free, and shiny strands.
Hair texture is necessary to consider when buying a hair oil for dry hair:
For thin or fine hair: Look for a light and nourishing hair oil that does not weigh down your strands. Oils like avocado oil and extra virgin olive oil are an ideal choice for thin hair.
For thick and coarse hair: Look for a rich oil that will help manage frizz and smoothen your hair. Grape seed oil and coconut oil are best suited for thick hair.
 And that's all folks! That's my rundown of the best hair oils for dry hair! Say goodbye to your dry hair woes now and comment below to let us know which hair oil you picked out for yourself!
Frequently Asked Questions
Is coconut oil good for dry and damaged hair?
Yes, coconut oil is excellent for repairing dry and damaged hair.
Should I apply hair oil if I have dandruff?
Yes, you can apply coconut oil, olive oil or tea tree oil to remove dandruff. Just make sure to apply a low to moderate amount of oil otherwise it may create buildup on your scalp and increase dandruff.
Can you use hair oil and hair serum together?
It is best not to use hair oil and hair serum together as they can create too much buildup on your scalp.
Is it OK to apply oil after bath on wet hair?
It is OK to apply oil after a bath as long as you don't mind having oily hair throughout the day.
What oils repair damaged hair?
Coconut oil and argan oil repair damaged hair most effectively.
Recommended Articles: