10 Best Hair Perfumes Available In India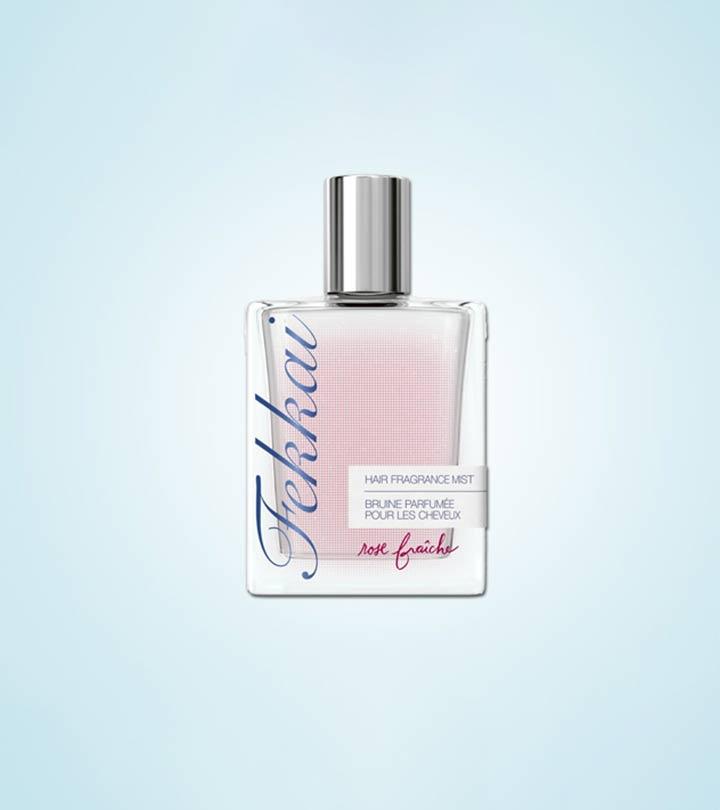 Do you feel long, lustrous tresses add oodles of beauty and charm to your personality? Do you have a weakness for makeup and cosmetics and love to follow the latest style trends? Well, if you want to know the secret to becoming a fashionista reading this post may be of help.
Fragrance can add elegance and confidence to your personality. Do you know hair perfumes are the hottest product in the world of cosmetics today? Find out in this article a list of top ten hair perfumes.
Best Hair Perfumes – Top 10:
Many women like to wear the intoxicating smell of their perfume in their hair. The hair perfume from Oribe has a lovely combination of citrus and woody fragrances.
Refresh your hair with the sweet and floral notes of Bella Vita Organic Hair Perfume. It offers a long-lasting fragrance and is non-sticky. This unisex perfume is suitable for all hair types.
The hair mist comes in a combination of jasmine and patchouli scent. If you want to stand out from the crowd, this hair perfume is a great choice. People who love subtle and soft fragrances might not find the mist very suitable.
If you like a strong fragrance with subtle undertones, then this one is perfect for you. The infusion of chypre and amber makes the mist special. It is very affordable as it costs $35 only.
[ Read: How To Make Your Own Perfume ]
The hair mist has the perfect amalgamation and balance of floral and feminine notes. Applying this hair perfume will surely make you a head-turner.
The Kate Spade Walk On Air perfume comes in a white floral, citrus, and leafy scent. It has sweet layers of lily of the valley, magnolia, and crinum lily.  This shampoo-like hair mist also contains vitamins and proteins that protect the hair and keep it healthy.
7. Frederic Malle Carnal Flower Hair Mist:
When you compare other hair perfumes with this one, you will find that the cost of this perfume is high at $170. But just one spray is enough to mesmerize you with its fragrance. You will not regret this investment. The gardenia-infused hair fragrance spray is an iconic product, and you are sure to fall in love with this royal fragrance.
8. Bottega Veneta Luxury Hair Mist:
Bottega Veneta Luxury hair mist is among the best hair perfumes available in the market. People who are fond of the brand are sure to love the subtle Italian-coast fragrance that adds style and elegance to your look.
9. Acqua Di Gioia Hair Mist:
If you are a beach person and love the sea, this hair perfume spray will become a favorite of yours in no time. The hair mist bottle captures the fresh smell of the Mediterranean Sea. You can easily pick this one at $25 only.
The combination of amber and jasmine fragrance works just right for you. Using the perfume on your tresses will add glamor to your appearance and turn you into a style diva.
These are the best hair perfumes you can buy online. However, before you start shopping, consider the essential points listed below.
Things To Consider Before Buying A Hair Perfume
We all have brand loyalties. If you already use a hair perfume by a particular brand, it is best to stick to that brand as you are familiar with it. However, if you are new to it, always go for a well-known brand. Reputable brands never compromise on quality and offer you a wide range of options. Moreover, good brands also offer testers or sample size products to check if the perfume suits you and matches your expectations.
Check the ingredient list. Avoid any product that contains potential allergens like essential oils or any other ingredient you are allergic to.
Scent
Check the type of fragrance. Most of the brands offer fruity, floral, musky, and other types of fragrances. See if the fragrance is mild or overpowering. Always go for a mild perfume as it adds a subtle scent to your hair that lingers all day.
Lasting Power
A long-lasting hair perfume will make your hair smell great all day long. Hair perfumes usually linger for a longer time than body perfumes since hair is more absorbent. Determine how long the fragrance of a perfume lasts before buying it.
*Subject to Availability
If you love using hair perfumes, please tell us your favorite one.

Recommended Articles:
The following two tabs change content below.