13 Best Hair Pomades For Women
Get the sleek, model-off-duty look that keeps baby hair in place and flattens flyaways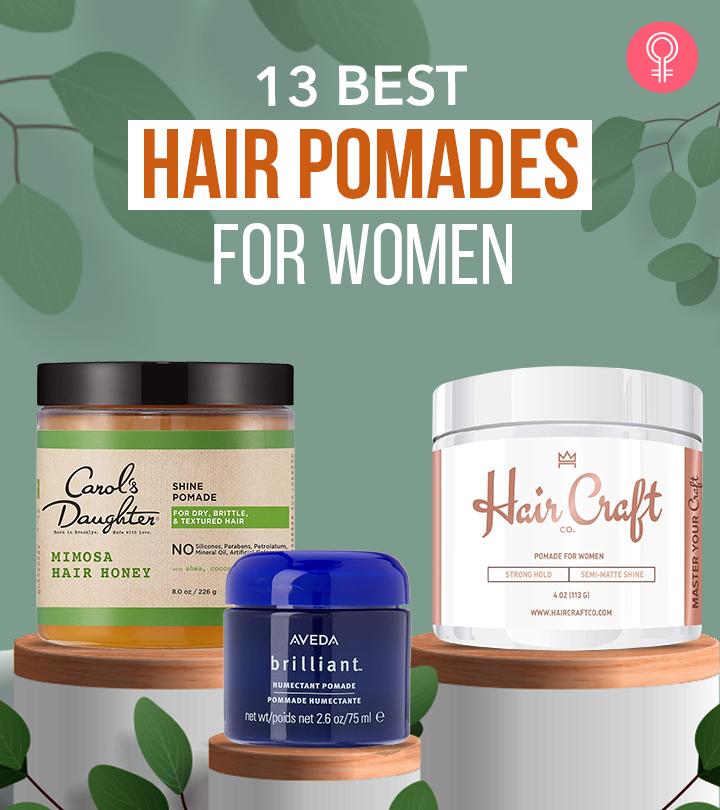 The best hair pomade for women is not too oily and greasy compared to wax, making hair feel more sturdy and rigid. Many hair pomades are best suited for those who need to boost the shine in their hair and make it feel more lustrous. If hair serums are your go-to frizz tamer, a good pomade will help maintain your hairdo of the day with ease and for a long time due to its creamy texture. Moreover, it feels very light on the scalp while keeping all the flyaway hair in place. Take a look at the following hair pomades, made especially for women.
13 Best Hair Pomades For Women
The Carol's Daughter Mimosa Hair Honey smoothens your hair and imparts shine. It provides deep scalp moisturization and helps control frizz. This hair pomade contains rosemary and cocoa and shea butters and is suitable for women with natural 4C curls to 1C waves. Here's a personal review video to help you get a better understanding of the product.



Pros
Pleasant fragrance
Paraben-free
Mineral oil-free
Petroleum-free
No artificial colors
Cons

Pro Tip
For fine, silky strands, choose a pomade that has a low-to-medium shine level. For naturally coarse hair, opt for a product that adds a little extra moisture to reduce frizz and offers a glossy finish.
Price at the time of publication: $19.88
The American Crew Pomade makes your hair malleable and easy to style without any oily or greasy residue. It keeps your hairstyle intact for a long time and doesn't make it look crusty. This pomade is lightweight and does not leave any residue after combing.
Pros
Non-greasy
Mild fragrance
Long-lasting
Lightweight
Non-drying
Cons

Pro Tip
Rub the product between your palms to warm it up slightly before applying it on your strands. This makes it easier to evenly distribute the product on your hair.
Price at the time of publication: $10.25
The Suavecita Pomade is non-greasy, lightweight, and holds the hair for long. The water-based formula can be washed easily. This pomade does not dry out your hair or cause flakes. It maintains your hair health, tames frizz and flyaways, and keeps your hairstyle intact.
Pros
Lightweight
Non-greasy
Non-drying
Pleasant fragrance
Long-lasting
Cons
Price at the time of publication: $11.99
The Cantu Shea Butter Hair Dressing Pomade imparts shine to the hair, prevents frizz, and adds texture and hold. It is made with pure shea butter that replaces vital moisture of the hair. This pomade helps make the hair strong and healthy. Click here to check out a detailed personal review of this product.
Pros
Suitable for all hair types
Pleasant fragrance
Lightweight
Color-safe
Cons

Quick Tip
Use hair pomade on freshly washed hair without any existing hair products. This ensures a better hold and styling experience.
Price at the time of publication: $4.28
The giovanni Wicked Texture The Definition Of Pomade is lightweight and does not strip the natural oils of your hair. This pomade contains proteins, vitamins, and minerals that nourish and strengthen the hair. It is easy to apply and keeps your hair in place for a long time.
Pros
Lightweight
Easy to apply
Cruelty-free
Paraben-free
Sulfate-free
Silicone-free
Vegan
Color-safe
Cons
Price at the time of publication: $12.27
The Aveda Brilliant Humectant Pomade adds moisture and texture to your curls. It is enriched with botanical extracts and bladderwrack that help nourish the hair and keep it soft and manageable throughout the day. This hair pomade tames frizz and unruly flyaways by locking moisture into the hair strands.
Pros
Paraben-free
Pleasant fragrance
Offers good hold
Cons
Price at the time of publication: $29.76
The Organic Pomade is a gentle, chemical-free, lightweight formula that delivers a soft hold. It is excellent for people with itchy, dry scalps and suitable for all hair types. This product contains organic ingredients that may promote healthy hair growth. It contains olive, coconut, sunflower, lavender, and tea tree oils that nourish your scalp, manage your frizz, and revitalize your hair.
Pros
Non-GMO
Gluten-free
Cruelty-free
Alcohol-free
Paraben-free
Silicone-free
Sulfate-free
Mild rosemary scent
Cons
None
Price at the time of publication: $18.99
The L'ANGE HAIR Salt + Sea Texturizing Pomade makes your damp and dry hair look fuller and thicker. It provides body to your fine hair and creates a tousled beachy look with a light hold on your hair. The hydrating formula is rich in sea salt, kelp extracts, and shea butter that nourish and condition your hair, leaving it lustrous, manageable, and touchably soft.
Pros
Polishes your hair
Provides lush volume
Hydrates the hair
Sulfate-free
Paraben-free
Cons
None
Price at the time of publication: $17.5
Say goodbye to frizz, tangles, and flyaways with the Goiple Hair Wax Stick. This styling stick smoothes hair that is out of place. It makes partings and wig outlines neat. The wax also nourishes, minimizing hair damage and providing strength and flexibility to long manes. The hair looks healthy and shiny, and becomes soft to touch. It imparts a natural look that lasts for a whole day. This wax stick is good for working on small areas and detailing. The lightweight formula does not make the hair heavy whether you use it on damp or dry hair. It is ideal for giving yourself a spiked punky look!
Pros
Alcohol-free
Flexible
Non-flakey
Non-greasy
Long-lasting
Suits all kinds of hair
Strong hold
Cons
Price at the time of publication: $5.99
The Garnier Fructis Pure Clean Finishing Paste keeps your hair well-defined for almost 24 hours. It is made with acacia gum that adds shine to your hair without any stickiness. This product is free of silicones, parabens, and artificial dyes. To understand the nuances of the product in detail, you can check out this review.
Pros
Long-lasting
Silicone-free
Paraben-free
No artificial dyes
Non-sticky
Cons
Price at the time of publication: $3.49
The OUAI Matte Pomade adds a subtle, textured look to your hair. It provides medium control and creates a soft hair edge for that relaxed look while offering the hair a matte finish. This hair pomade helps revive and volumize limp, lifeless hair and is suitable for all hair types.
Pros
Pleasant fragrance
Suitable for all hair types
Paraben-free
Cons
Price at the time of publication: $24.0
The TRENDstarter Pomade offers you shiny and professionally styled hair in the comfort of your home. The water-based formula is lightweight and suitable for curly and straight hair types. This hair pomade provides a stronghold and can be washed easily.
Pros
Suitable for curly and straight hair
Lightweight
Easy to wash
Cons
None
Price at the time of publication: $14.99
The Truss Fix Pomade helps you style your hair in creative ways. It is enriched with fatty acids that boost hair elasticity. This pomade contains Illipe butter that moisturizes the scalp and nourishes the hair. The phytonutrients repair damaged hair and protect the hair against UV rays and hot styling tools. The natural oils, rich in vitamins, help strengthen your air.
Pros
Color-safe
Protects the hair again external aggressors
Suitable for both men and women
Cons
None
Price at the time of publication: $25.2
How To Choose The Best Hair Pomade For Women
Pomades have long been associated with men's hairstyles, however, they've now evolved as an important part of a women's hairstyling routine as well. Regardless of your hair length and type, there are plenty of hair pomades for women available in the market. The trick is to find the right one for you, and here's how you can find it. Below are a few points to take into account, before buying a new hair pomade.
In general, hair pomades can be divided into three major categories: oil-based, water-based, and unorthodox water-based.
Oil-based: Oil-based pomades have ingredients such as petrolatum, petroleum, paraffin, or mineral oil. These are most suitable for thick and coarse hair types, and are ideal to provide maxima hold and shine. However, since they are water insoluble, they are difficult to wash off completely, and may leave a lot of residue on your hair.
Water-based: Water-based or gel pomades, on the other hand, provide a soft hold with increased flexibility. Look for 'water,' or 'aqua,' as an ingredient and the word, 'water-soluble.' These are great for all hair types and ideal for warmer seasons. Unlike oil-based pomades, these leave no residue.
Unorthodox water-based (UWB): These are unique hybrid formulations that combine the best features of water and oil based pomades. UWBs are essentially water-based but include secondary oil-based ingredients like petroleum, lanolin, and beeswax. It gives you the strength and hold of an oil-based pomade with a water-based pomade washability.
A pomade that may work for curly hair, may not work for straight hair and vice versa. This is because it provides different results on different hair types. Here's how to pick the right pomade for your hair type:
An oil-based and hydrating pomade is exactly what your hair needs for well-defined and bouncy curls
The right pomade for wavy hair leaves your hair with a soft and tousled look, without weighing them down. Go for a creamy and medium-hold pomade to get those perfect beach waves.
Go with a maximum hold water-based pomade to keep your hair looking smooth and lustrous. Straight hair can do with just a tiny bit of pomade run through the strands to keep the shape intact.
A pomade providing a strong hold and hydration is the best to tame those flyaways. Look for moisturizing ingredients in order to ensure that your hair doesn't get dried down, resulting in even more frizz.
When you have fine or thin hair, volume and density is a priority. This is why a lightweight thickening pomade is best for your hair type. It provides volume and definition in order to make your hair appear more fuller.
While most people think pomades are just for short hair, it is so far from the truth. Here are a few tricks to help you find the best pomade for your hair length.
Short hair does best with a heavy wax-based pomade that provides texture. It gives your hair an edgy look that lasts longer.
Unlike short hair, long hair is more prone to frizz and flyaways. This is why it is best to use a water-based, medium-hold pomade that leaves a light and silky finish.
Infographic: How To Style Your Hair With A Pomade (With Some Pro Tips)
Pomades are popular, especially because of how easy it is to use them and how long-lasting the effects are compared to other hair styling products. While styling your hair does not require a guide, knowing how to use a pomade to style your locks correctly will surely prove handy. Read the infographic below to know how you can use a pomade the right way and learn a few tips to perfect the process.


If your goal is to have smooth texture, fine edges, and maximum hold, you need the best hair pomades. Hair pomade has a long-standing reputation, especially for those who have short hair. They help to boost hair shine and make your hair look more lustrous. The reviewed products are devoid of synthetic preservatives and fragrances. In addition, hair pomades help in manageable hairstyling as they can tame frizz and flyaways. While purchasing a hair pomade, check the ingredients list to ensure that it is suitable for your particular hair type.
Why Trust StyleCraze?
The author, Oyendrila Kanjilal, is a hair care enthusiast who knows what's best for your hair. She is aware of the texture, requirements, and care needed for the different hair types. She has gone through multiple site comparisons and reviewed several customer testimonials before shortlisting these best hair pomades for women. These non-greasy hair pomades help keep your hairstyle in place while taming the frizz and flyways, making your hair look smooth, shiny, and lustrous as well.
Frequently Asked Questions
What type of pomade is good?
A creamy, lightweight pomade that is not too oily or greasy is ideal for keeping your hairstyles in place for a long time.
Is pomade good for women's hair?
Yes. Pomades are great for styling women's hair. They do not leave your hair feeling crunchy and add texture and definition to the wavy tresses.
Is it okay to sleep with a pomade in your hair?
No, sleeping with pomade in your hair can affect your hair health. It can leave heavy residues in your hair and cause hair loss. Also, excessive pomade on your hair can leave stains on your pillows.
Can pomade cause hair loss?
No, proper use of pomades will not cause hair loss and thinning. Improper care of your scalp and not cleaning the pomade after every use can lead to the accumulation of residues and cause hair fall.
How to use hair pomade to style your hair?
• Pick a pomade finish based on your hair type. If you have oily hair, go for a matte finish, and opt for a shiny finish, if you have dry tresses.
• Keep your hair slightly wet post-washing it.
• Scoop the product out and rub it between your fingers in circular motions.
• Apply on your hair roots with gentle movements.
• Run your palms on all parts of your hair and spread it out evenly.
• Comb out the excess product and set your desired style.
What are the benefits of using a hair pomade?
Pomades hold the hairstyle for a long period. They lock moisture in your hair and nourish the tresses from the roots. Also, certain pomades contain sulfur that promote healthy hair growth.