11 Best Hair Powder Sprays To Use If You Want Bouncy Hair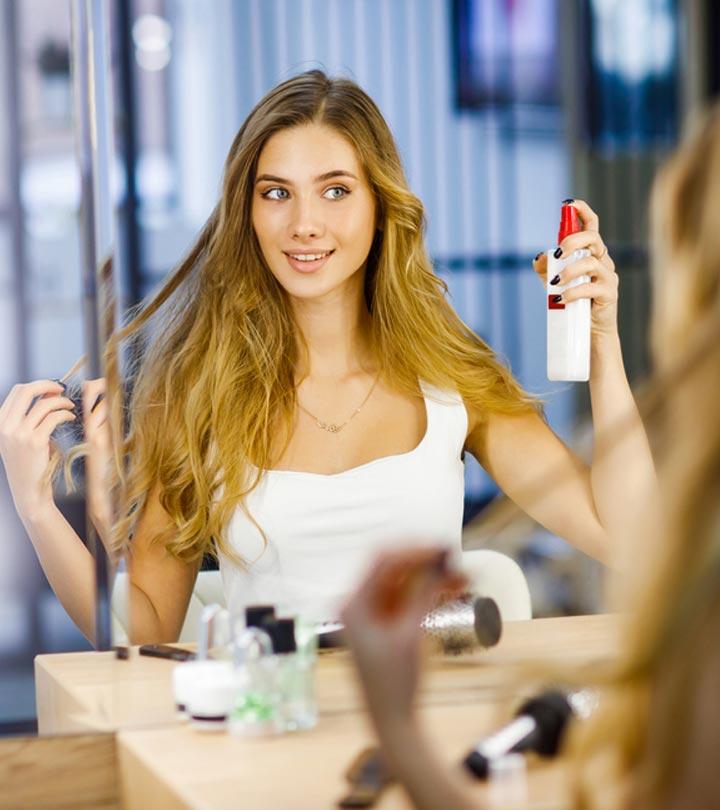 Isn't the day you wash your hair just the best? Your hair feels bouncy, has volume, is smooth and clean. And honestly, one of the best hair days in the week is the day you shampoo it. So, how do you keep up the good hair in the following days of the week? Well, that is where the dry powder sprays come into play.
While dry shampoos are seen as a popular choice, not many realize that it can make your roots stiff and harm your hair with regular use. A powder hair spray will pump up the volume in your tresses when you are looking for an alternative to dry shampoo, which you should use if your hair is feeling greasy. We take a look at some of the best hair powder sprays in the market to create a curated list for you. Here's a guide to the 11 best hair powder sprays that will lend you bouncy hair.
11 Best Hair Powder Sprays Of 2020 To Add Volume To Your Hair
Looking for a quick fix to style your hair? Well, when you don't have time to shampoo and blow-dry, this Oribe Dry Texturizing Spray will serve as an excellent alternative. This invisible dry spray builds in incredible volume to offer you glamorous-looking hair. The zeolite crystalline in its formula absorbs dirt and oil and keeps your hair odor-free. All while the pro-vitamin B5 conditions your hair, the Oribe signature complex prevents keratin deterioration, and the mango plus aloe extracts hydrate your hair. This hair texturizer powder is also a great powder spray for thinning hair and is safe for color and keratin-treated tresses.
Pros
Vegetarian
Gluten-free
Sulfate-free
Cruelty-free
Paraben-free
Approved by PETA
Cons
Stressed over your dull and lifeless hair? Well, add instant maximizing volume with a few spritzes of this Design.Me PUFF.ME Powder Spray. Topped with a volumizing spray pump on the top, it is easy to use and leaves you with stylish and bouncy hair. Just point, spray, and massage it over your hair. This hair volumizing powder sets a good base for a range of hairstyles, from up dos to braids. You can also restyle your hair with an iron after the application.
Pros
Vegan
Cruelty-free
Sulfate-free
Paraben-free
Cons
May need a thorough rinse to wash-off the product
Say goodbye to flat and unkempt hair and hello to gorgeous, luxurious, and voluminous hair within seconds. This Boldify Hair Volumizing Powder is a great alternative to dry shampoo that leaves your hair messy. This aloe vera and coconut oil-infused formula clears away dirt and oil to leave you with fuller and silky hair without any white or sticky residue. It is the best hair powder for volume.
Pros
Lightweight
Cruelty-free
Money-back guarantee
Laser-targeting spray nozzle
Cons
Amplify and give some life to your tresses with this Drybar Triple Sec 3-in-1. The crystal clear microporous minerals (zeolite) in the formula separate hair strands to give the appearance of a fuller and bouncier hairstyle. This finishing spray has a blanc scent with notes of amber, coconut, and vanilla. Ideal for use on dry hair, it also lends a matte texture to your hair.
Pros
Cruelty-free
Sulfate-free
Paraben-free
Instant texture refresher
Cons
May not be suitable for wet hair looks
Need a dry powder spray that will hold your messy bun in place or just add body to your tresses when you let them loose? Then this Schwarzkopf Got2b Volumaniac Bodifying Spray Powder will do the magic. This hair thickening powder spray gives your hair an instant boost of volume with its unique dry powder spray formula that is free of parabens and sulfates.
Pros
Affordable
Light control
No stickiness
Free of residue
Cons
Down with oily hair two days after shampooing? Well, instead of going through the whole shampooing routine again, just liven up the bounce in your hair with this SEVICH Miracle Volume Powder. This volumizing hair powder spray will absorb the excess oil and moisture near your root tips to keep your hair dry and bouncy for a flattering look.
Pros
Lightweight
Easy to carry
High-pressure nozzle
Suitable for color-treated hair
Cons
May leave a white residue
Whether you have fine, thick, straight, or curly hair, and you are looking to add some extra oomph to your hair, you need to try this Bumble and Bumble Blondish Hair Powder Spray. This texturizing hair powder spray boosts your tresses with instant volume and makes them manageable for styling. You can spray some of this amazing formula to keep your hair dry and make it appear fuller on a humid day.
Pros
Cruelty-free
Boosts texture
Enhances hair's natural color
Suited for color-treated hair
Cons
Who doesn't love for their hair to gently flow around their face for that warm and glamorous look? Well, unless this is a movie, the chances of your hair staying in place is pretty thin. Hence, we have found you this dry powder finishing spray for a "hair-doo" that stays in place. Just a few spritzes of this Kevin Murphy DOO.OVER Dry Powder Spray will leave your hair looking velvety soft, with a silky finish.
Pros
Lightweight
Smells lovely
Offers great volume
Allows for natural hair movements
Cons
Lift your spirits by boosting volume to your gorgeous tresses for that effortlessly looking flowy hair-do with this amika: Vandal Volume Powder Spray. This formula works on your roots to give your hair that instant lift and creates a puff mid-length to provide the appearance of volume. It also lends a beautiful texture to your hair and delivers a matte finish.
Pros
Cruelty-free
Vegetarian-friendly
Featherlight formula
Great tousled hair finish
Suited for color and keratin-treated hair
Cons
The scent may be a bit too overwhelming.
Powered with rooibos leaf, truffle, and basil flower extracts, this blowpro Textstyle Dry Texture Spray delivers a smooth finish that allows you to still comb through your hair despite the extra volume. This is one of the best products in the market that is not only easy to use, but also lets you style your hair any way you like as the product soaks in the oil to avoid a messy situation later.
Pros
Styles in seconds
Lightweight formula
Free from harsh chemicals
The style lasts until the next day.
Cons
Spruce up your hairstyle by giving it an extra bounce with this eVO Haze Styling Powder Spray that adds definition to your hair by giving it a matte finish. It absorbs excess oil from the roots to the tips and separates strands to give an appearance of a smooth and glamorous hair look. Just a few spritzes of this product and voila, you have gorgeous-looking lustrous hair.
Pros
Sulfate-free
Removes dirt
Refillable pump
Great for all hair types
Makes it easy to style hair
Cons
Now that you are all caught up with the best hair powder sprays in the market, here's how you can pick the one that suits you best.
How To Choose A Hair Powder Spray
Here are a few parameters you can judge this product by.
Ingredients: Make sure you steer clear of any styling spray that uses harsh chemicals since it can do real damage during the process of setting your hair.
Sustainable: You may want to invest in a brand that not only offers a product that is great for your hair, but also makes environmentally responsible choices during its making.
Volume control: Ideally, you may not want to use too much product in your hair. So, test out which product gives maximum instant bounce with minimum product.
Formula: You do not want to use a formula that weighs your hair down, especially when you are looking for something that makes it flow light. Pick a formula that is light and washes off easily.
Hair powder sprays will add texture and volume to your hair without making it oily. So, on days you feel like you are encountering the worst of your hair nightmares, just spray some on for a little boost. Prep your thin hair for updos, or add some quick oomph to let those lovely hair locks loose and do their thing. Also, can we talk about how dry hair powders have proven to be such lifesavers when you travel to a humid place, especially when you are near a beach and want to rock that bikini look with your gorgeous hair flowing down the curves of your face? We hope our guide to the 11 best hair powder sprays helps you find a product that becomes a part of your hairstyle routine.
Frequently Asked Questions
Is styling powder bad for your hair?
It can be, yes. Hence, it is advisable to rinse your hair right after you get back home because it could harm your hair, especially if it has harsh chemicals.
Does hair powder cause hair loss?
Overuse of hair powder can lead to hair loss. Hence, it is advisable not to use it as a substitute for shampooing and conditioning.
Is volumizing powder bad for hair?
On its own, it isn't bad for your hair. But if you have a sensitive scalp that you aren't taking care of and using a formula with sulfates and parabens, then yes, it could be bad for your hair.
Recommended Articles