10 Best Hair Products For Braids In 2023
Keep your hairstyles tight and secured with affordable hair products that are effective.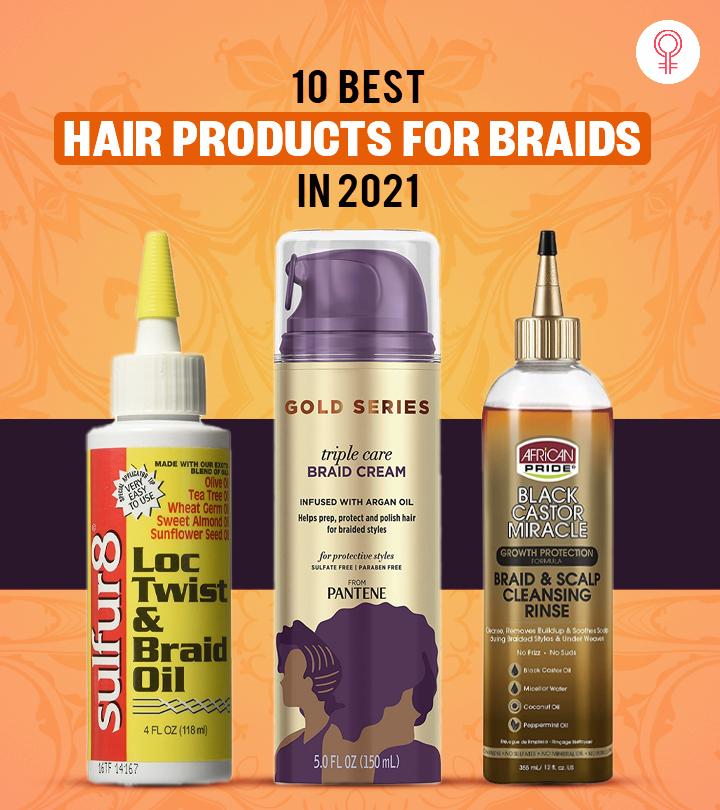 We love an intricate braid but sometimes ignore the right and best hair products for braids required to make a beautiful look. Not only is braiding a great way to tame textured hair, but it is also a good practice to reduce your hair from breakage, provided you tie it loosely. Sometimes, we need a tight braid to last the whole day, so that's when you make use of the right kind of hair products to nourish those locks deeply. Here are the ten best hair products for braids that will maintain elasticity and strength. Thanks to essential oils and other hair growth ingredients!
10 Best Hair Products That Pamper And Protect Your Braids
The Diamond Edges Braid Tamer by BLACK PANTHER STRONG! is a non-sticky pomade for braids, locs, and frizzy edges. It is enriched with deeply nourishing oils from coconut, jojoba nuts, sunflower seeds, and castor seeds that lock in moisture and seal the cuticles. Aloe leaf extract maintains the sebum balance in the scalp, preventing dryness, itching, and dandruff. This pomade holds the hair well while braiding and fixes the baby hair and flya ways at the edges. The natural oils protect the braids from heat, sweat, and humidity and do not form cakey or sticky layers on the scalp. If you want to know more about the benefits of this product, check out this quick review on YouTube.
Key Ingredients: Castor oil, Sunflower oil, Jojoba oil, Coconut oil, Glycerin, and Aloe leaf extract
Pros
Strong hold
Non-cakey
Long-lasting
Non-sticky
Easy to rinse
Alcohol-free
Honey-free
Cons
Price at the time of publication: $16.49
The Triple Care Braid Cream from Pantene's Gold Series is a moisture-locking and texture-enhancing styling product. It is infused with pure argan oil that releases the built-up stress from braiding on the scalp and hair. The provitaminB5 and vitamin E condition the braids and prevent dryness and breakage. This cream also controls frizz and adds a subtle shine to the braids and locs. The formula is thick enough to spread well on textured hair but is non-greasy and does not build up in the cuticles. Here's an honest review of the product.
Key Ingredients: Argan oil, Panthenol, Histidine, and Salicylic acid
Pros
Paraben-free
Sulfate-free
Adds shine
Non-greasy
Cons
Price at the time of publication: $5.99
The Carol's Daughter Curl Defining Butter is enriched with moisturizing ingredients like agave, avocado oil, honey, shea butter, and other rich oils that keep your curls defined for 24 hours. The silicon- and paraben-free formula conditions your curly or kinky tresses and adds a natural shine without leaving any greasy residue. This hair butter detangles knots and imparts a smooth texture to your hair, ideal for clean braids. Scoop out a generous amount of product and rub it between your palms, then apply it evenly to your damp hair from the roots to the ends. Next, style your hair into braids, and voila! Enjoy your smooth and healthy-looking braids.
Key Ingredients: Agave nectar, Coconut oil, Honey, and Shea butter
Pros
Adds shine
Leaves no residue
Pleasant fragrance
Silicon-free
Paraben-free
Cons
Price at the time of publication: $11.97
This cleansing rinse gently detoxes and conditions hair under braids and/or weaves. It also calms scalp itching and reduces frizz, making styling a breeze. This cleansing rinse from African Pride comes with a moisturizing base of black castor oil and coconut oil that nourish and promote hair growth. Growth factors like apricot extract, wheat protein, and vitaminsB5 and E help in repairing stressed hair and cuticles. This cleansing rinse is naturally formulated to maintain and protect textured hair that needs regular weaving, braiding, and/or twisting. Here's a video featuring a detailed review of the product.
Key Ingredients: Black castor oil, Wheat protein, Panthenol, Apricot extract, Coconut oil, Peppermint oil, and Vitamin E
Pros
Gentle
Paraben-free
Sulfate-free
Long-lasting
Mineral oil-free
Petrolatum-free
Cons
Price at the time of publication: $21.0
The Tropical Moringa Pearly BraidOut Glaze defines and flexibly holds braids, twists, and fly a ways. It seals moisture and restores softness and shine to the hair. This braid glaze is enriched with moringa seed oil and vitamins A, D, and E that deeply penetrate the hair shafts to replenish and restore nutrient balance. It boosts strength, elasticity, and shine and helps styling last longer. This glaze is absorbed quickly into your scalp and hair fibers and visibly minimizes shedding and breakage. Iis easy to rinse off and one of the best options for wash-n-go.
Key Ingredients: Castor oil, Moringa seed oil, Aloe leaf juice, Celery seed extract, Green tea extract, and Vitamins A, D, and E
Pros
Flexible hold
Adds shine
Absorbed instantly
Long-lasting
Doesn't stiffen hair
Alcohol-free
Polymer-free
Cons
Price at the time of publication: $14.99
This braid oil is made with an exotic blend of sunflower seed, olive, sweet almond, tea tree, and wheat germ oils and is a magic potion for braided hair. This rich and nourishing oil blend moisturizes and conditions the braids, twists, and locs. It restores the natural sheen and texture of hair shafts and promotes healthy growth. The unique blend of oils leave the scalp and cuticles with a soothing, cool sensation as they release built-up tension. The weightless formula makes it easy to spread and seep, leaving no residue on the scalp.
Key Ingredients: Sunflower seed oil, Olive oil, Sweet almond oil, Tea tree oil, and Vitamin E
Pros
Easy to use
Adds shines
Non-greasy
Absorbed quickly
Long-lasting
Cons
Price at the time of publication: $6.99
The Jojoba Oil and Ucuuba Butter Track Tension and Itch Relief Serum by Shea Moisture is just what your braids need. This shea butter-based serum is infused with jojoba seed, ucuuba nut, carrot seed, and peppermint oils that instantly relieve tension and itching in the scalp caused by tightly braided styles and sewn-in weaves. It deeply hydrates the hair shafts to reduce breakage and hair fall. The oil blend restores the shine, smoothness, and strength to textured hair with regular use.
Key Ingredients: Shea butter, Jojoba seed oil, Ucuuba nut oil, Carrot seed oil, Oat bran extract, Rice protein, and Witch hazel extract
Pros
Non-greasy
Weightless formula
Pleasant scent
Suitable for children
Cons
Price at the time of publication: $29.9
The Murray's Spray Unlock™ is a perfect solution for quickly and safely removing braids and weaves without damaging the hair. It comes with a special herb and oil blend infused in a castor oil base. Hence, this spray is an excellent preparing and conditioning agent. It also contains salicylic acid that fights dry scalp and issues like seborrheic dermatitis. These ingredients prevent breakage and hair fall by protecting and nourishing fragile hair. Due to its weightless and chemically safe composition, this spray can be used on natural and synthetic hair.
Key Ingredients: Special herb and oil blend, Castor oil, and Salicylic acid
Pros
Works on natural and synthetic hair
Pleasant fragrance
Easy to use
Cons
Price at the time of publication: $6.25
This conditioner by Kuza gives incredible hold and deeply moisturizes hair and scalp under braids or weaves. It is enriched with natural beeswax and paraffin wax that supply essential fats and emollients to dry and stressed textured hair. This conditioner restores the moisture balance and releases the tension in the scalp due to braiding. It can also be used as a pomade to seal the braids, locs, twists, and other looks on kinky and coily hair.
Key Ingredients: Natural beeswax and Paraffin wax
Pros
No residue
Helps in easy styling
Can be used as a pomade
Cons
Price at the time of publication: $9.96
This is a rinse-free hair cleanser that maintains and cleanses braids thoroughly without disturbing them. The shampoo is specially formulated with salicylic acid, a scalp-soothing ingredient that reduces itching, dryness, and dandruff. Aloe vera powder and vitamin E give a boost of hydration and nourishment to relieve the stress and tension on the scalp. This unique shampoo spray will leave your hair with a fresh, lingering smell while rejuvenating and pampering it.
Key Ingredients: Salicylic acid, vitamin E, and Aloe vera powder
Pros
Rinse-free formula
Gentle
Pleasant scent
Easy to use
Cons
Price at the time of publication: $14.09
Why Trust Stylecraze
Oyendrila Kanjilal is a certified skin care coach with a deep interest in reviewing skin care and hair care products for her readers. She scanned multiple products before curating this list of the best hair products for healthy and luscious braids. In addition to researching all products thoroughly, she compared their features and benefits to help you pick a product best suited to your preferences.
Frequently Asked Questions
Why do braiders use mousse?
Hair braiders use foam mousse rather than hair gels while braiding to prevent flakes and buildup. Hair mousses are lightweight and also provide a smooth finish. They help your braids last longer, control frizz, and keep them healthy and shiny.
Should I put any product in my hair before braiding?
It is better to moisturize and hydrate your hair before wearing braids. Use products rich in natural ingredients like coconut oil or olive oil that offer deep moisturization.
How do you moisturize braids?
Use leave-in conditioners and natural oils to moisturize your braids. Spray crude oil or apply conditioner to your hair, starting from your scalp and moving down to your hair tips.
Why do my braids itch at night?
Braids that stay long dry out due to lack of moisture. Not washing the hair for long days accumulates sebum, dead skin cells, and pollution that can cause itching.
What oil do you use for braids?
You can choose hair oils based on your hair type. Ideally, coconut oil, castor oil, and peppermint oil are blended to keep your hair moisturized, soothe itching, and prevent breakage.
Should I put gel on my braids?
Gels and pomades are the easiest products to avoid frizzy braids. A good gel coats the hair and conceals split ends and flyaways
How long should you keep braids in?
Usually, braids last between two to eight weeks, depending on your hair type and style of braiding. Regular cleansing and moisturizing will increase the longevity of the braids.
Recommended Articles